If you have a dream travel bucket list, I bet many of you have the Aurora or Northern lights on it. We have all seen many of those magical pictures and videos of green lights dancing in the sky and it immediately ignites a pleasant sense of wonder that we dream of experiencing one day. For its fame, stunning view and uniqueness, this effect is over used in pictures as filters even in locations where you can never see the lights. I keep seeing such fake pictures over and over. This blog aims to capture my research into hunting Aurora that I used to plan my trip to the Scandinavian Arctic North, as well as my experience of seeing them. I will go in detail about all the facts and tips that can help you increase your chances of seeing them.
I spent a week road tripping in the north of Norway, Sweden and Finland, in January 2019, and had my first Aurora experience in Abisko, Sweden. I will also share the Aurora experience from a group of my friends who visited Tromso one week after my trip. They planned the trip getting inspired by our trip and the tips we had for them worked very well, which is added is to give you another real story of Aurora chasing.
I spent some time looking at the top Aurora pictures posted on Facebook by travel companies that offer Aurora trips and traced the location of their pictures. You can also check the Instagram hashtags #aurora or #northernlights, but note that many times they only have the main city name. What worked for me the best to spot locations was by tracking pictures uploaded by top photographers in 500pix.com. Believe it or not, this was an epic idea, as many photographers had tagged locations and I pinned them all. In my case, I was going to drive around Tromso, Abisko and through Finland and doing this activity, I had a list of all locations that I would try driving through to chase the Auroras (shared below)
The best advice for someone who do not go on road trip is to really pay for the agencies if you can afford to. These agencies have so many different aurora watching camps in different regions around a city and they have their agents watching the sky. This network makes it easy for them to communicate if Aurora is seen in one place and they will quickly take you to the right places. It is a bit expensive like 100 quid or so per person, so if you can't afford it you can try hunting yourself by going to right locations.
Having said that, northern Arctic cities are very famous for Aurora and if there is a clear sky you can see them anywhere, a bit outside the city. Weather is really the key player.
Doing all the above studies, I planned a one week road trip in the Arctic North aiming to cover Norway, Sweden and Finland, staying in their major cities Tromso, Abisko and Lyngen. I chose these cities for not just to hunt auroras but also to explore other Arctic adventures during this time. It was pretty cool to drive around in the twilight watching the stunning snow scenery throughout. Here is the road trip route I took during my trip.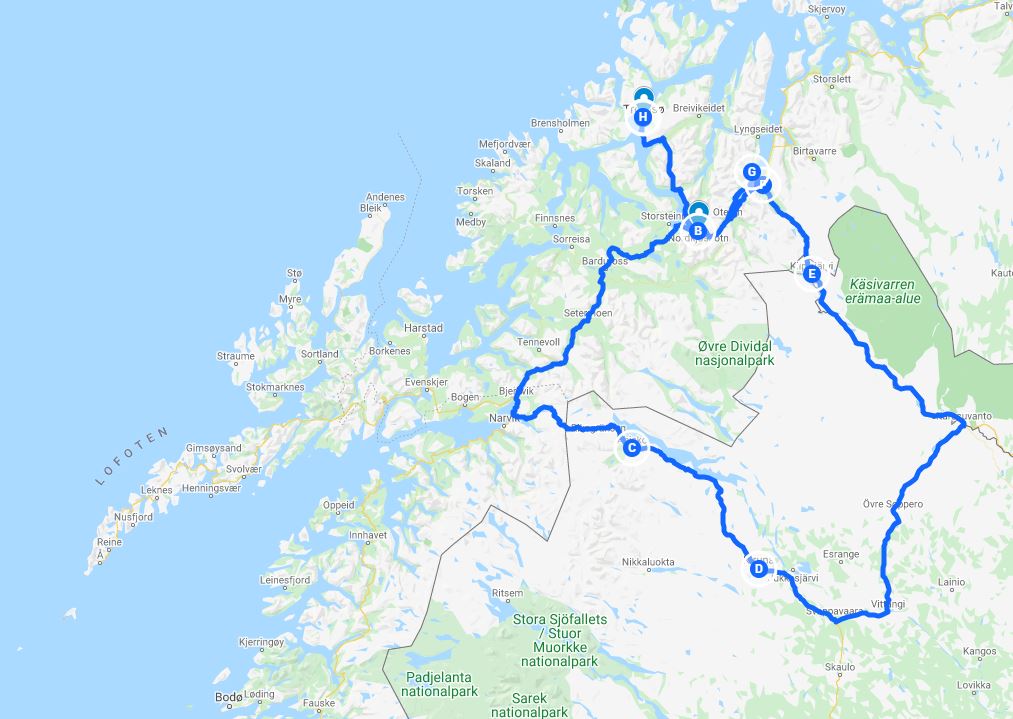 Here is a list of all top places I had visited and are known for seeing Auroras. Check each on Google and you will see stunning Aurora pictures.
In the Tromso city, if you climb up the funicular you will get a great view of the city (best city view I have ever seen in my life so far, don't miss it if you go). If there is a clear sky you will have the same view as my magnet in the travel board.
The Lyngen Alps area is located a bit out of Tromso and is a very nice location in the country side to hunt auroras. This area is filled with Fjords and there are many activities here like dog sledding, snowmobiling etc. There are multiple day excursions from Tromso for all this if you don't want to go to Lyngen yourself.
I had my first Aurora experience in Abisko, Sweden on the second day of the trip. My friends and I waited for over 4 hours or so before we had this experience. It was very cloudy initially. When I looked at my pictures, I saw I have all moments captured from the beginning of when sky started being clearer and created a short video out of it to give you a feeling of the experience.
I was not lucky to see them in Tromso, but my friends saw them during their chase trip with the company Tromso Safari. I am sharing some of their best shots. They saw the lights around the Fjords, how cool!
We both went with the company Tromso Safari as their Facebook page shows lot of pictures everyday. I would recommend going by an agency as like I said, they know exactly where to go and have agents everywhere. You can board Tromso Safari bus from the Tromso city center.
Please leave any questions as comments, I will be happy to answer and improve the article fixing if any missing information.