Welcome to Planet Hopper Girl, a travel destinations & road trip blog that provides authentic, first-hand travel advice for exploring scenic routes and destinations across the world. Our mission is to inspire your adventures with images of faraway lands, road trip itineraries, and destination guides. Get ready to follow an exploratory lifestyle by adding epic travel experiences–across the globe–to your bucket list!
Do you love road trips? Then you are at the right place. I take routes you might have never thought about visiting before, and am always looking to try new things! There are some great itineraries that give a flavor of my road trip style as well as what is on my bucket list to explore, so if you're looking for inspiration then keep reading!
Are you looking for a UK adventure? Since 2016, I have been exploring UK by road covering scenic routes in Scotland, England and Wales. Whether it's exploring remote corners of Scotland or discovering hidden gems in Wales, we want to show you what makes UK so special with our range of road trips exploring UK countryside and cities.
I have been road tripping around Europe, USA and UK since last five years checking some off my bucket list destinations and routes in these continents. Get help from my recommended "travel resources and guides" to make your adventures a reality. Let us start planning…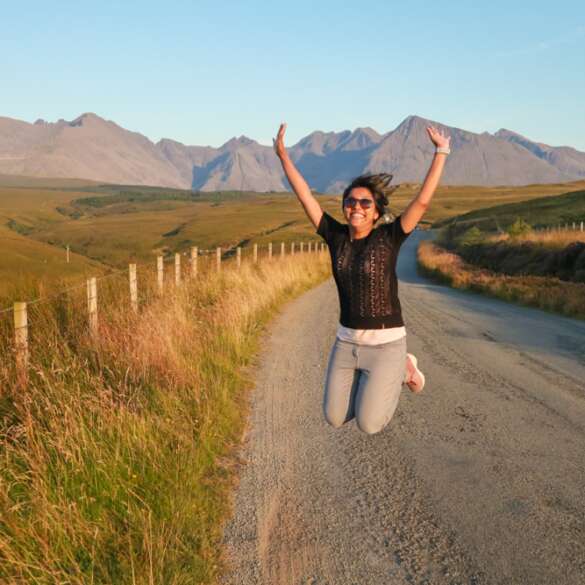 Hi, I am Jumana, the founder of Planet Hopper Girl and a strong advocate for travelling as a key medium for personal growth and connecting with one's true self. I am a technologist by profession and a passionate explorer in my spare time. Ever since I was 15 years old, I have been travelling as both an expat and tourist across 3 continents. My favourite type of travel is "On the Road" and I've perfected road trip planning over my time exploring Europe, UK and USA through road trips. You can find more about my travels on this blog where you'll also find guides to help you plan affordable adventure vacations or follow in my footsteps!