Winter is a wonderland for many, especially for those who do not live in regions which do not have snowy winters. Although even for those who live in winter heavy regions, fun outdoor activities in winter and snow are still delightful. Snow sports and ice adventures in winter are very popular amongst locals in these regions besides attracting tourists from all around the world. Ski resorts are very popular in the alpine regions of Europe, Scotland, Canada and northern USA. In this blog, I have tried to collate an ultimate winter bucket list for outdoor activities in winter, both adventurous as well as simple activities that can be enjoyed by kids, families as well as couples. Moreover, I also cover the top winter vacation destinations in the world where you can plan to visit to experience some of these activities. I am a big winter fan especially as I used to dream of snow when I grew up in a tropical climate, so putting this together has been great fun personally. This is a winter bucket list that I need to check off one by one as well. Let us walk through the winter bucket list ideas to target!
Fun Outdoor Activities in Winter for Your Winter Travel Bucket List
Here is a collection of top winter adventure ideas to add to your winter bucket list for when you visit different parts of the world during this season. Most of them are fun outdoor activities in winter that are also normally available as guided tours in all the suitable countries mentioned below.
1- Northern Lights Chasing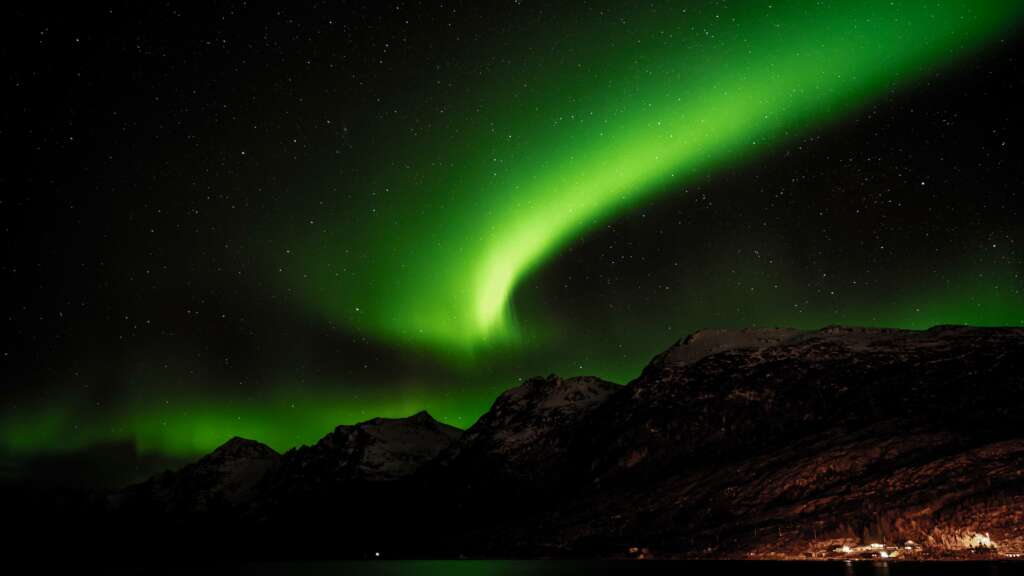 The famous natural magic show in the sky, also known as the Aurora Borealis or the Northern Lights, ranks number 1 on the winter bucket list. The best places to see the Northern Lights fall in the Arctic regions of the planet. For more details on planning your Northern Lights Chasing dream trip and increasing your chances of seeing them, checkout the guide to chase the Northern Lights which covers the best time to go and the top locations in the world to see the lights.
2- Dog Sledding / Reindeer Sledding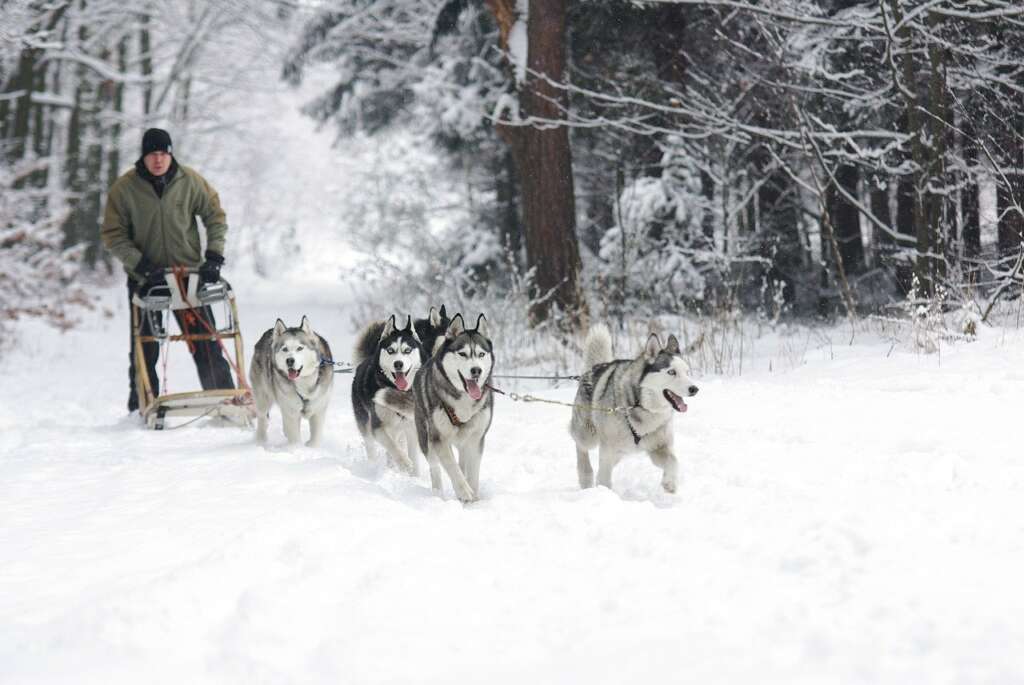 Image by badamczak80 from Pixabay
Dog sledding is a must do outdoor winter activity in the Arctic regions that is undoubtedly a great fun day out with the huskies. It is one of the best winter activities to experience in Arctic Scandinavia, Iceland, Alaska or Canada and I recommend adding it to your winter bucket list from my own personal experience of a dog sledding adventure in Tromso Norway.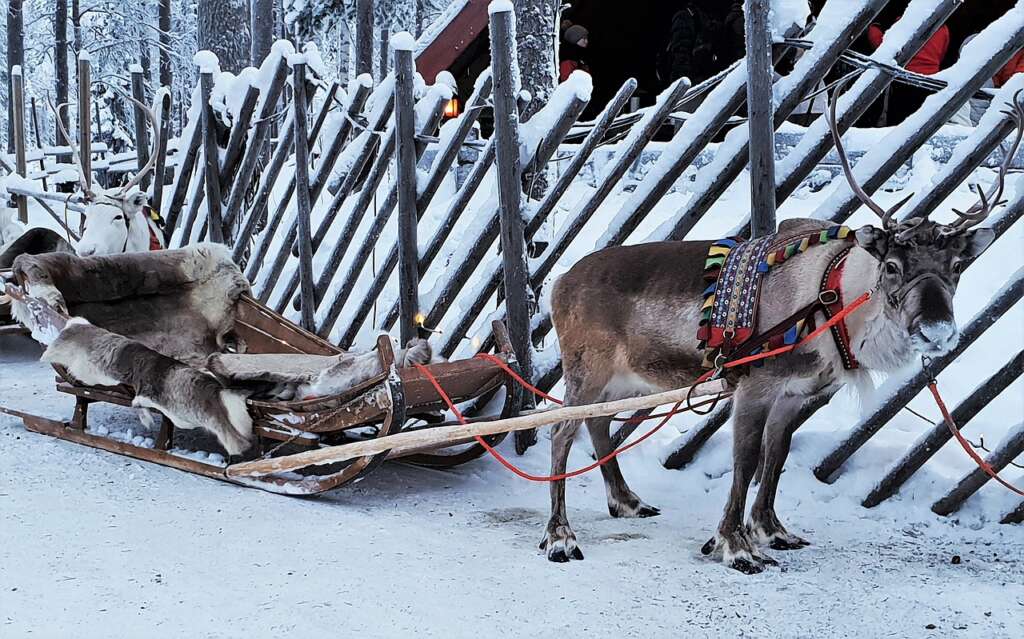 In Arctic Lapland, north of Scandinavia, you can even do reindeer sledding in the snowy woods which is as close as you can get to experiencing part of the ancient Sami culture, the society that was the centre of this region for over 5000 years.
3- Snowmobiling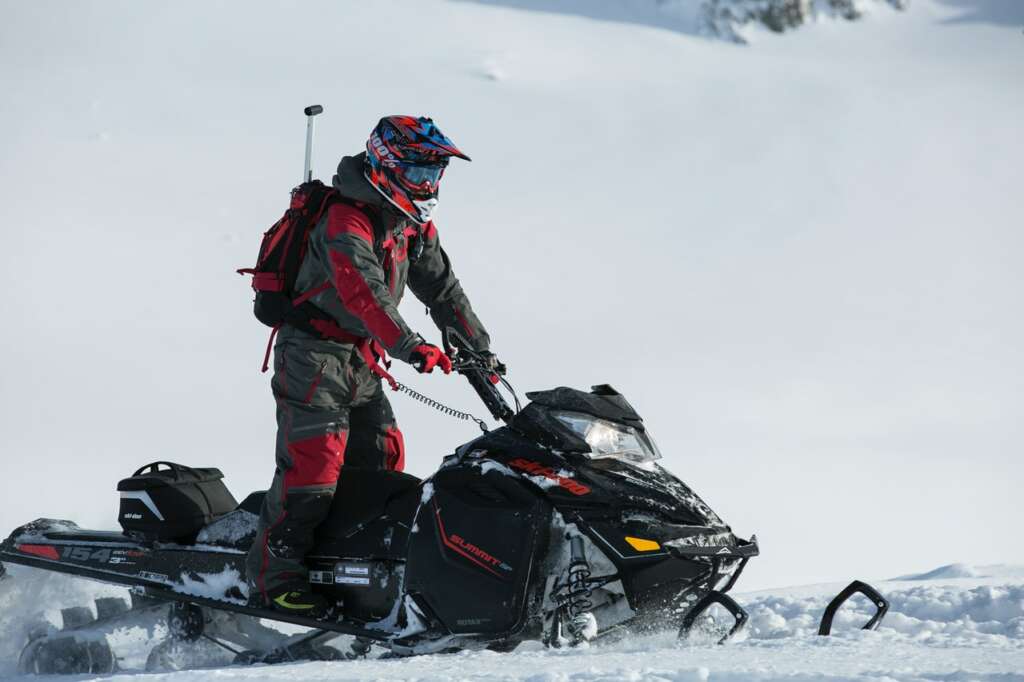 If you want to take a motorised ride in the snow, you can go for a snowmobiling safari into the Arctic wilderness in the north of Scandinavia- Finland, Norway and Sweden. Snowmobiles are an integral part of life in this region during the long winters and are used by the local communities extensively for transportation. It is a fun ride and a great outdoor winter activity not to miss.
4- Snow Sledding
Snow sledding is a very popular local activity in snowy countries and you can often see kids being pulled by parents on the sleds along the roads. This is a fun activity I feel everyone should try in snow and I would totally recommend adding it to your winter bucket list. It is equally fun for adults and kids.
5- Stargazing
Picture Courtesy: John Howard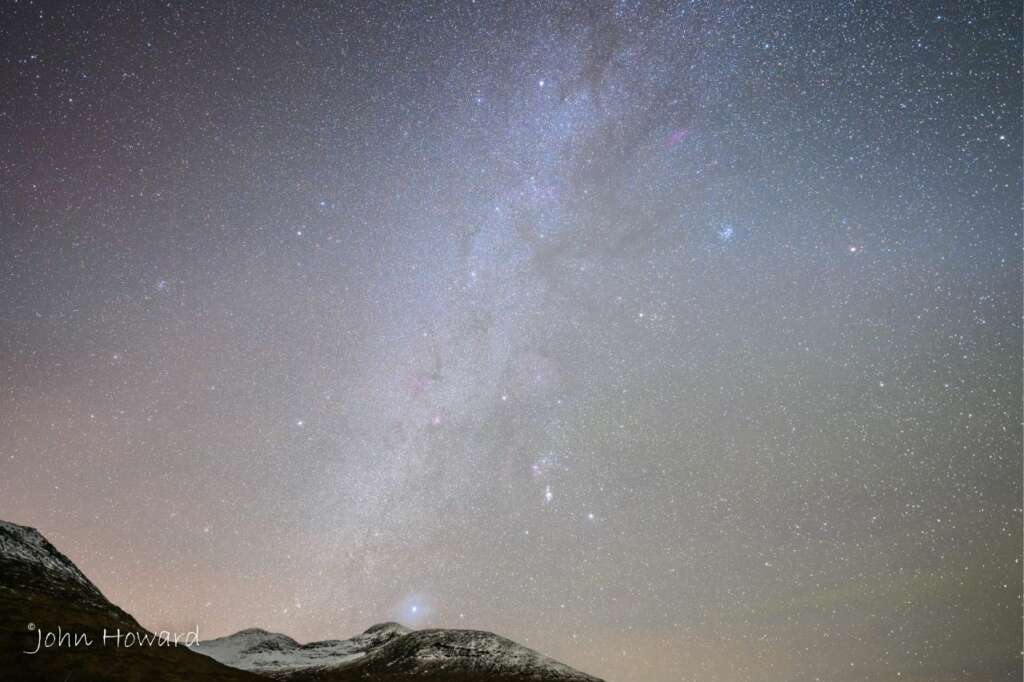 Stargazing is again a magical experience possible in regions with clear skies. Arctic regions are definitely popular for this and some places are so free of light pollution that you could even capture Milky way. Isle of Cull in Scotland was recently ranked as one the best stargazing locations in the world.
6-Ice Skating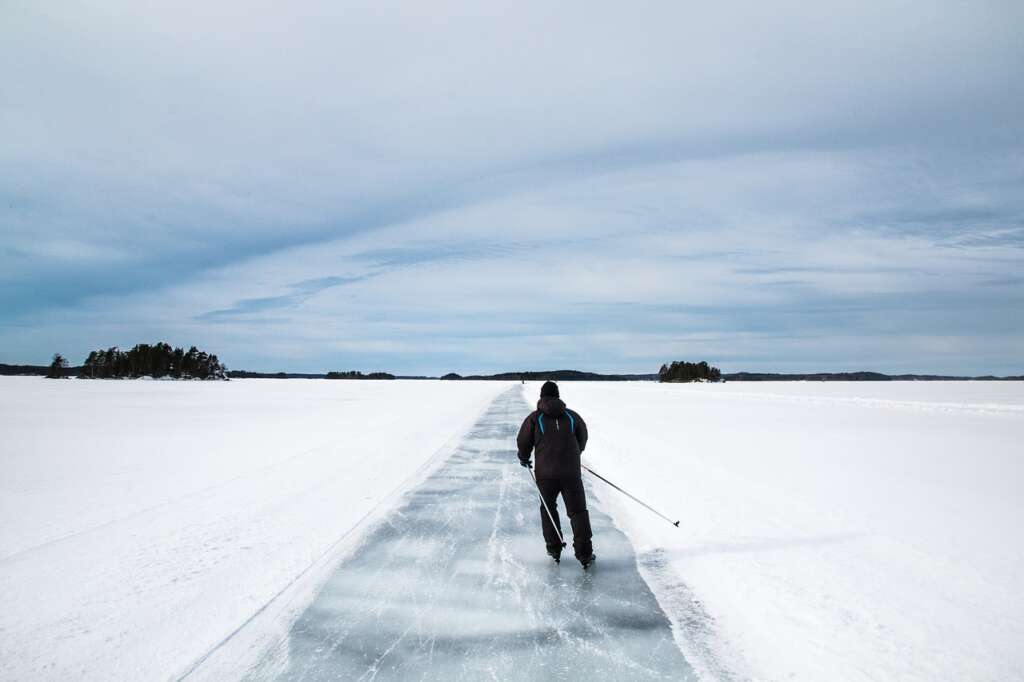 Ice skating is very popular even not during winter with artificial ice rinks. An adventurous outdoor activity to try during winter is to skate on a frozen Ice lake, however be careful attempting this and make sure to check the region for the thickness of ice and any local guidance before you embark on this adventure. Most destinations have established ice skating trails to try this. Look at that picture, go winter bucket list!
7- Ice Fishing
Ice fishing is a very fascinating style of fishing that you can experience in winter heavy Arctic regions. Those who do ice fishing are called Ice Anglers. The idea is to make some deep holes in the ice and then wait for fish to take the bait. It sounds simple, but there are techniques and equipment needed to master this art making it a very special item for the winter bucket list. I would love to try this, just not sure I have the patience to sit outside in the frozen temperatures waiting for the fish 😉
8- Snow Hiking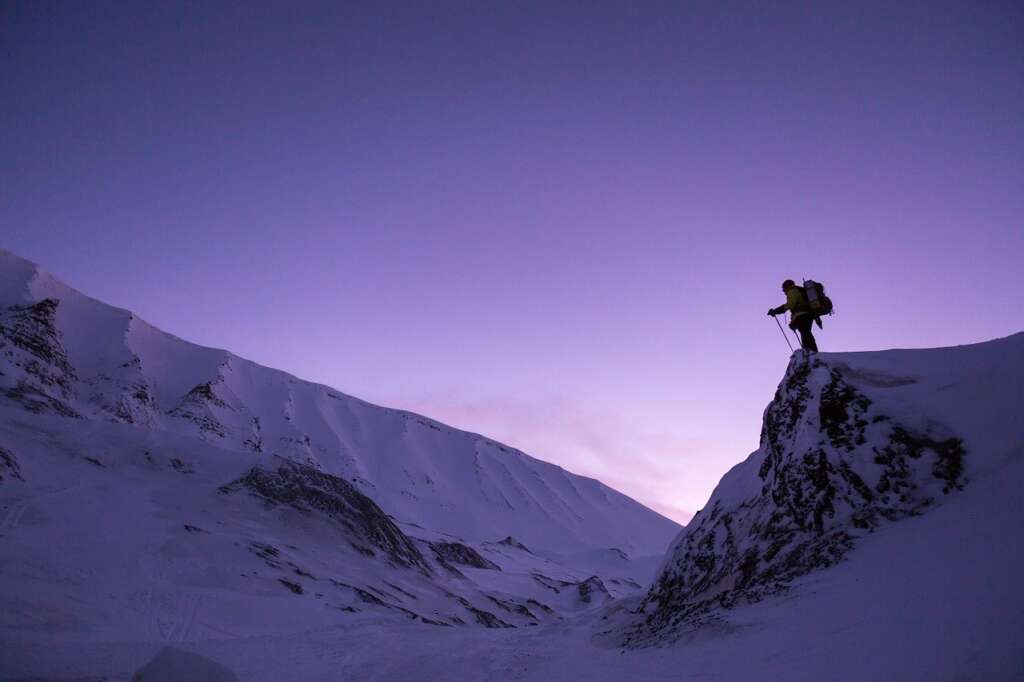 A simple winter bucket list item to add is challenging yourself to climb a snow mountain during winter to enjoy a white panoramic view from the top. Many countries have short hikes to try on a snow hiking holiday in winter.
9- Snow Shoeing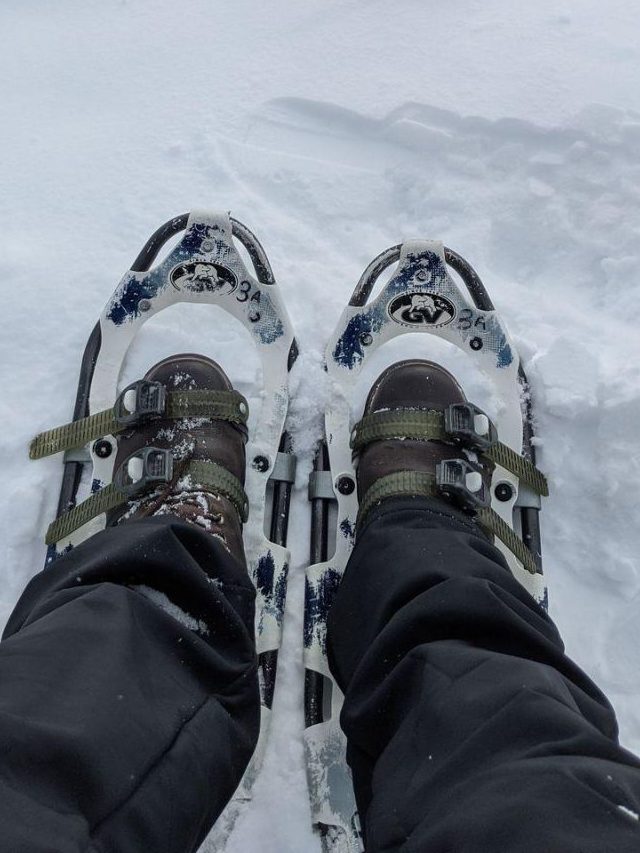 Snowshoeing is an alternative way to hike in the snow, snowshoes are a type of outer footwear that feature a wide frame to distribute the weight of the person over a larger area. The reason for this design is to achieve something called "floatation", a quality that prevents the foot from sinking into the snow. This was an essential way of transportation in the past and is a popular recreational activity today. This is a simple winter outdoor adventure that can be added to a winter bucket list for easy hiking in the snow.
10- Skiing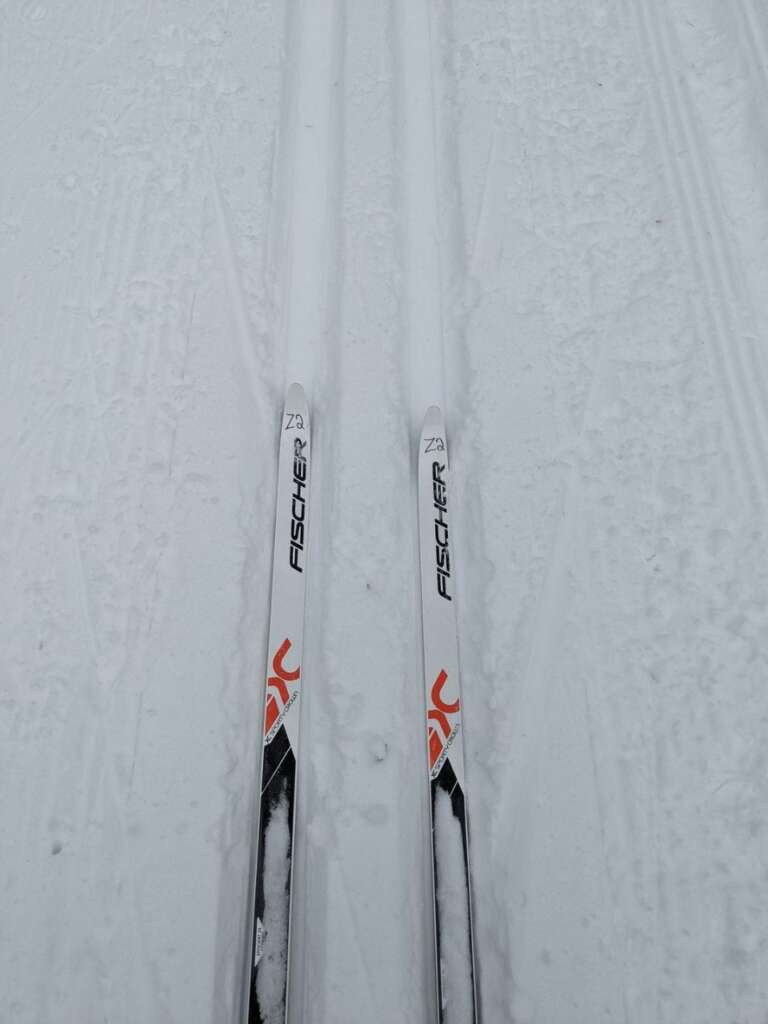 Skiing is one of the most popular winter sports and has lot of variations. Different types of skiing include downhill skiing, back country skiing, ski mountaineering, cross-country skiing among others, with the most popular being downhill skiing. Skiing is usually easy to learn but hard to master, and is one of the most addictive fun adventure ever. Skiing is possible in many different places wherever there is snow and mountains, but Alpine mountains in France, Switzerland, Austria and Italy are the most exotic in Europe and Canada of course in North America.
11- Snowtubing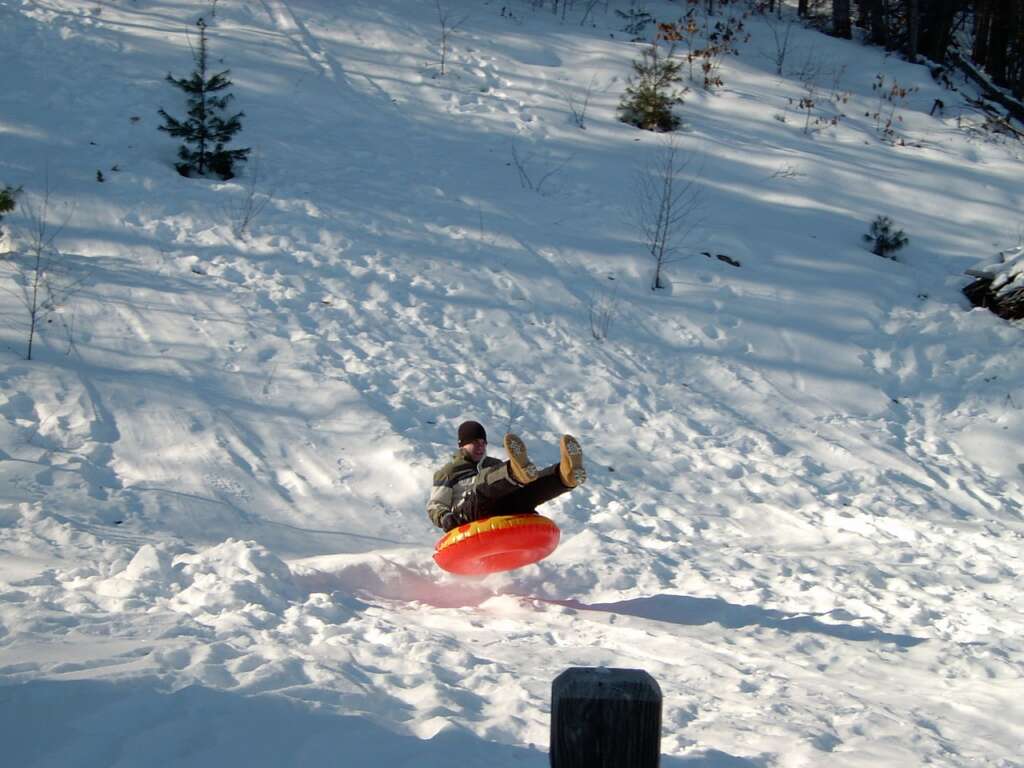 Snowtubing is almost like sledding but with an inflated tube used to slide down the snow. It is rather easy for anyone to try but a bit more adventurous than sledding due to less control in steering and increase in the speed which makes it easy to go faster than a usual sled.
12- See Ice Caves
Some countries like Iceland have natural ice caves which are a must see and looks so magical. Did you know that ice caves are formed by winter storms that transformed the rocks and cliffs to form caves? You can find tours that help you get to the ice caves via snow shoeing or other means in popular areas. The top ice caves in the world are in Switzerland, Russia, Slovakia, Iceland and Canada.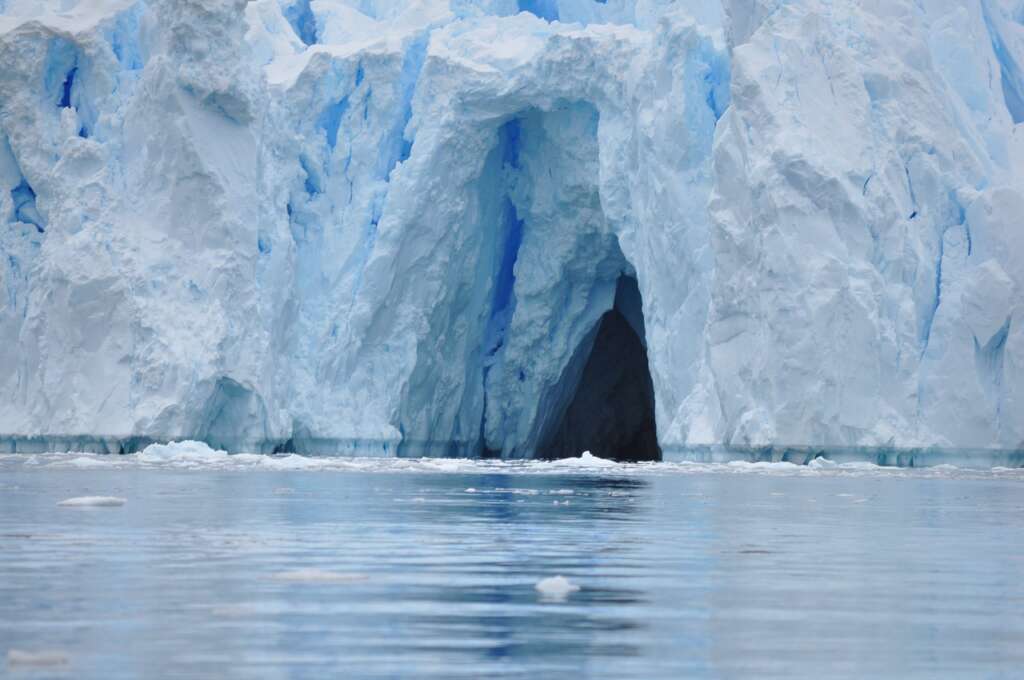 13- Walk on an Ice Glacier
Ice glaciers are another magical natural formation, consisting of a large body of ice and walking over them can be a unique experience amidst the stunning scenery. Popular countries that have ice glaciers include France, Switzerland, Norway, Iceland, Argentina and Canada.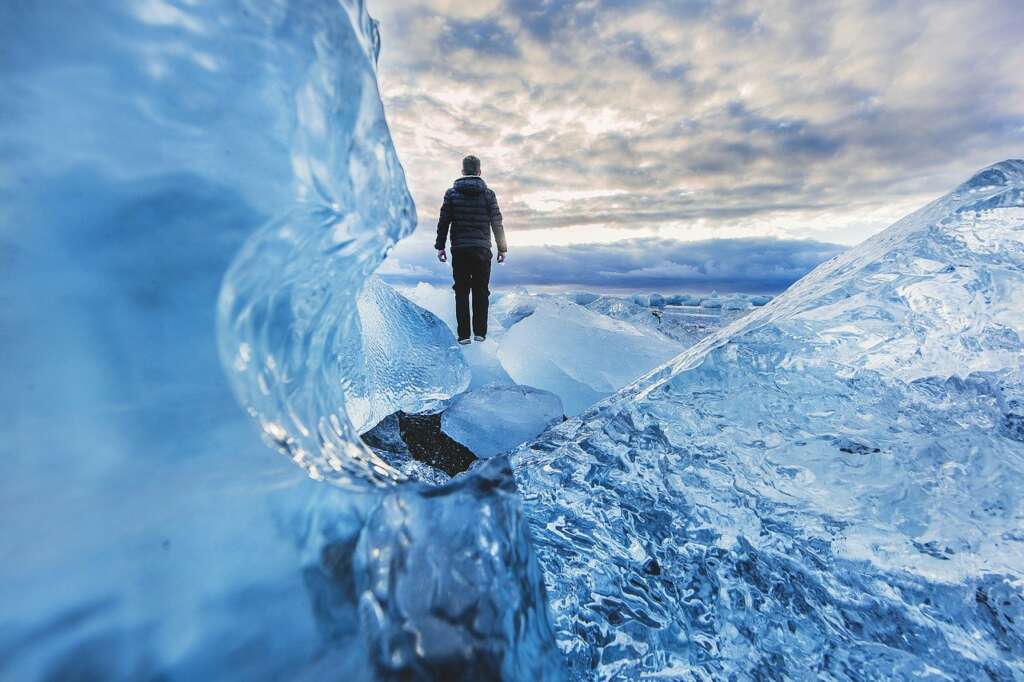 14- Fat Biking in Snow
Biking in the mountains is already a great adventure, how about doing the same in the snowy mountains and add a bit more challenge? I see the winter pros in Canada do this as a popular winter outdoor activity. If you are into mountain biking and feel more adventurous, you may not want to miss adding this your winter bucket list adventures.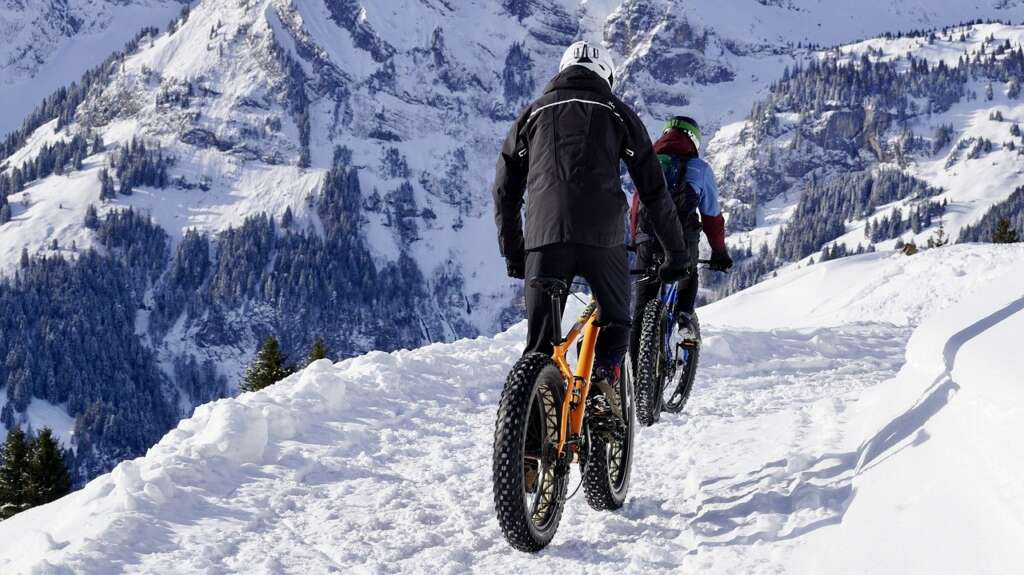 15- Winter Horseback Riding
If you love horse riding, winter is a great time to enjoy a trail ride. This reminds me of some Game of Thrones scenes and some Hollywood movies indeed. Both the scottish islands and Canada offer great opportunities to try this winter bucket list item.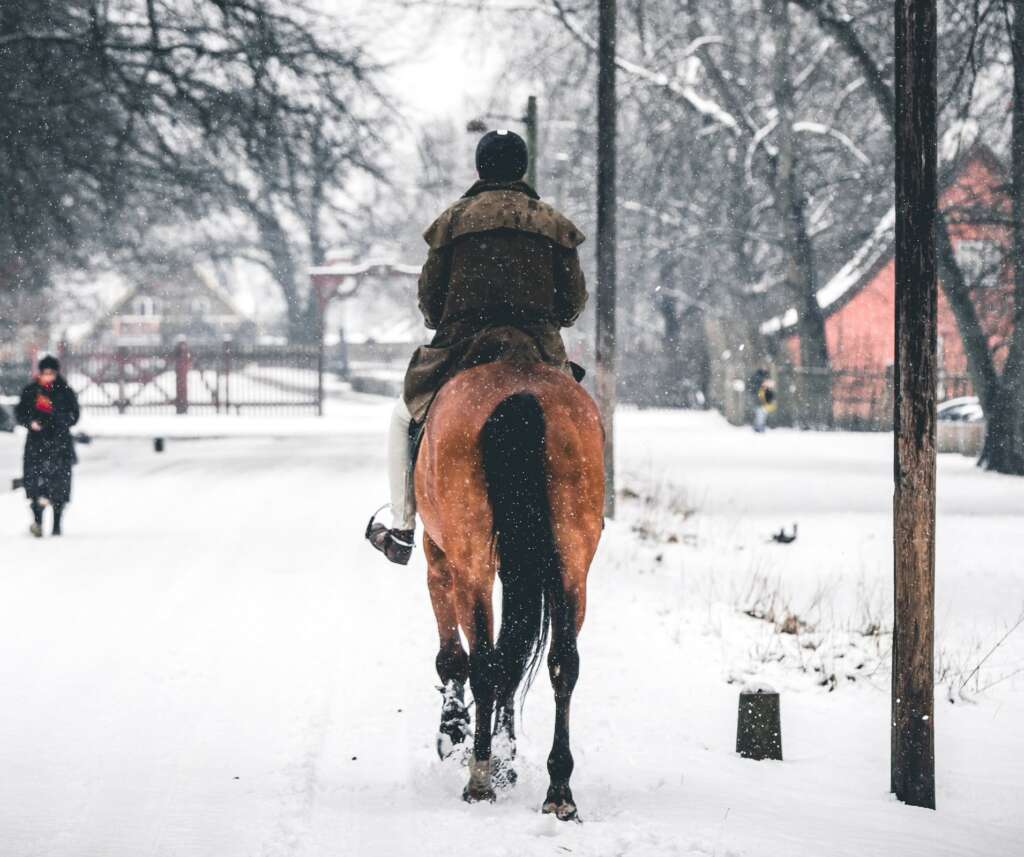 16- Frozen Waterfall Climbing
Who would have thought that an ice climbing adventure was a thing? There are guided tours in some regions in Canada and Scandinavia where you can learn to cut through ice and climb frozen waterfall for a great view from the top after this endeavour. Ontario Canada boasts one of the best ice climbing destinations in the world. Another place I have experienced some brave souls trying this was in Abisko National Park in Sweden.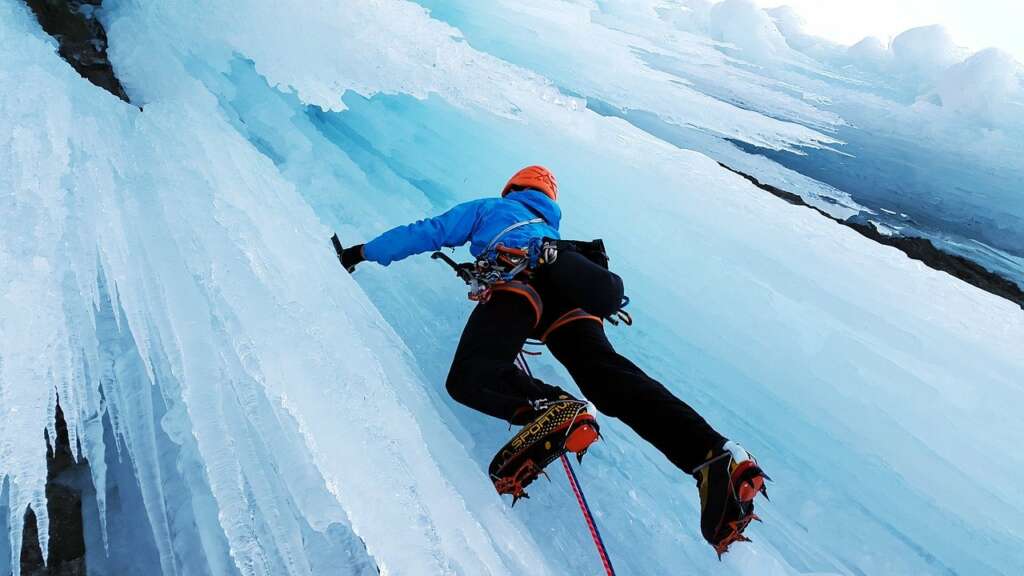 17- Christmas Markets
Christmas is one of the most heart warming seasons of the year in many countries involving family reunions and other traditions to bring people together to share love and joy. Christmas markets are one of the major events hosted in winter cities where you can find lots of outdoor activities like fairground rides, food and drink stalls and shops hosted by locals selling local produces as well as souvenirs. In these markets, you can also find festive special drinks like mulled wine. Some of the best christmas markets are in Germany, especially in major cities like Munich and Berlin , Austria, Poland and other eastern European countries like Estonia.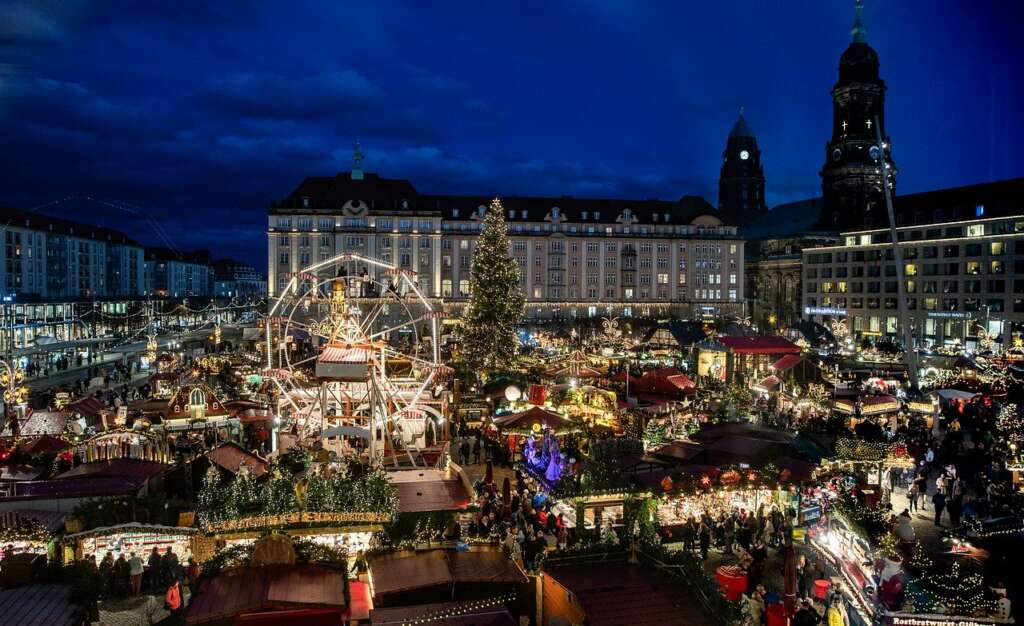 18- Catch a Winter Festival or Winter Wonderlands
Some places also host winter festivals like light festivals with decorations throughout the city or winter celebrations in closed spaces like a winter wonderland with multiple attractions like rides, stalls and games. London Hydepark's winter wonderland is very famous and attracts tourists from around the world. Eindhoven in Netherlands is very famous for hosting an annual light show called Glow in Winter, where the city is lit up with a themed light exhibition along a route with light constructions designed by artists around the world. Folks can either bike or walk the entire exhibition route to observe at their leisure.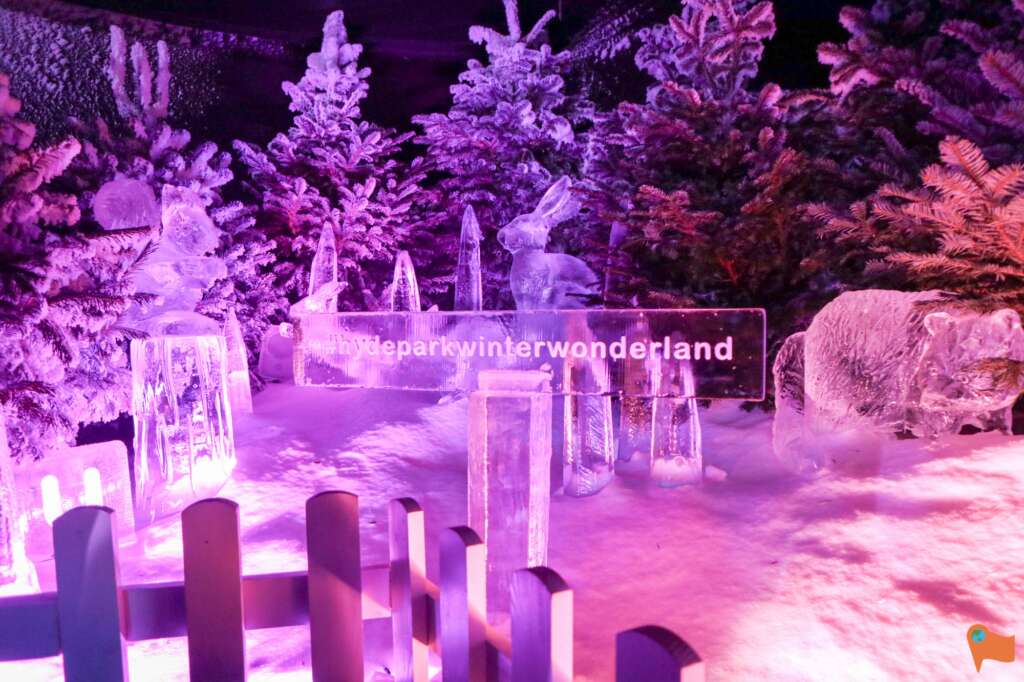 19- New Years Eve Celebrations
Many cities host grand New Year's eve parties with music concerts, fireworks and shows available for the public. Most of these celebrations have their own specialities, often tied to the most popular landmarks in a city. I personally recommend experiencing the New Year's eve celebrations of another location at least once, as I am so addicted to these types of celebrations that I aim to attend a different one of these every year. Some of the top cities are London, Paris, Las Vegas and Dubai.
20- Make a Snowman or Engage in a Snowball Fight
Finally a very simple and fun thing to do in the snow is to make a snowman, and should definitely be on your winter bucket list if you don't usually have snow where you live. My first snow was in Holland when I moved to Europe and I still remember that initial excitement. I built my first snowman only very recently in my backyard in England during lockdown. It doesn't have to be perfect, but hey it is a fun thing to do outdoors.
---
Best Winter Vacation Destinations Around the World
Now that we have seen some really fun and exotic winter outdoor activities for your winter bucket list, let us look into some of the top winter vacation destinations in the world where you can experience some of these winter outdoor activities. We will look into each continent and popular travel destinations as suggested by some travellers in my network and based on my own experiences.
Canada
Banff, Canada
Highlight Activities: Wild ice skating in frozen lakes, Snow hiking, Snow mobiling, Skiing.
By Kat @endlesswander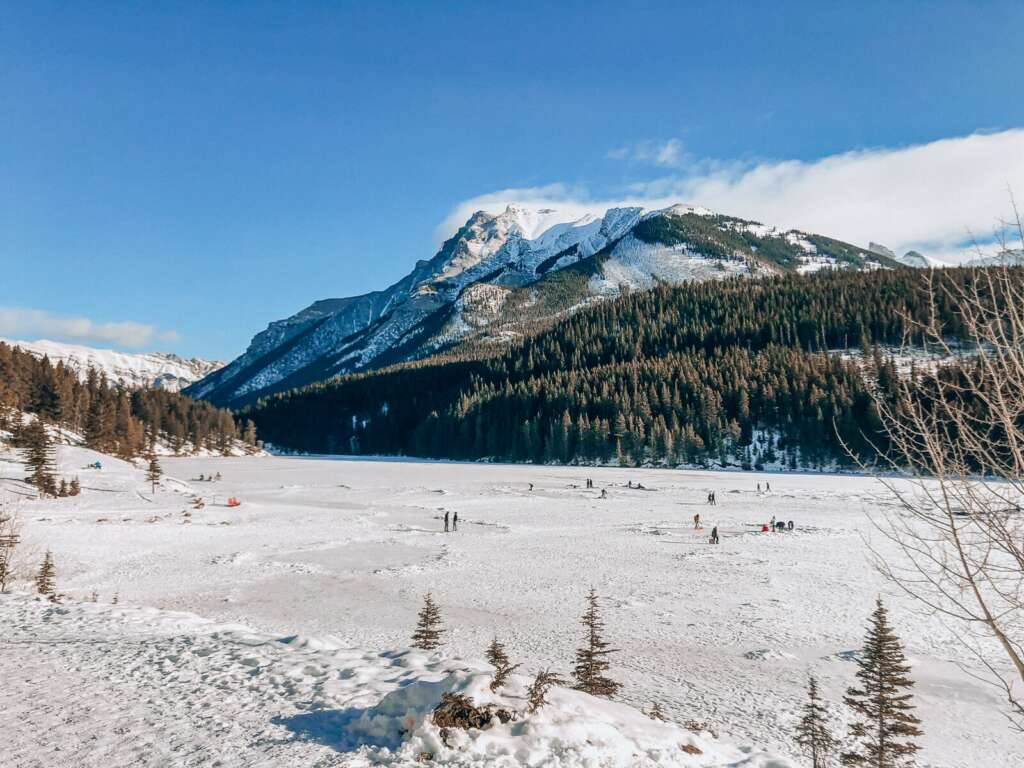 Banff National Park in Alberta is a popular winter destination in Canada and is very famous for its scenic mountains. Aside from snow sports such as skiing, wild ice skating in Banff is an incredible outdoor activity in winter to explore in this area! The perks of wild skating in Banff is that you are always surrounded by fresh mountain air and stunning mountain views!

Some of the most popular lakes to visit here for ice skating are listed below:
Lake Louise
Two Jack Lake
Johnson Lake
The most popular place to skate in the national park is, of course, Lake Louise. This stunning,
iconic lake freezes for skating by mid-December, making it the perfect place to visit for
Christmas (they even build a mini ice castle on the lake!). The Fairmont Hotel is located right on
the lake, which means the hotel maintains the lake for skating which is very helpful. Because of its
beauty and popularity, it can be booked early and get busy very quickly.

Two Jack Lake is another beautiful lake to skate on in the national park and perfect for a winter
adventure. Only a 15 minute drive from downtown Banff, Two Jack Lake is huge, which allows
for skaters to spread out and skate comfortably. If you find the parking lot full at Two Jack,
Johnson Lake is just down the road and is another great option.
Even though lesser known, Johnson Lake still offers incredible mountain views and awesome skating conditions. All wild ice skating lakes are free to enjoy! Please be careful though – ice thickness is not
monitored closely and skating is at your own risk.
Yellowknife, Canada
Highlight Activities: Cross Country skiing, ice skating, snowmobiling, snowshoeing, ice fishing.
By Tina@thetinalifestyle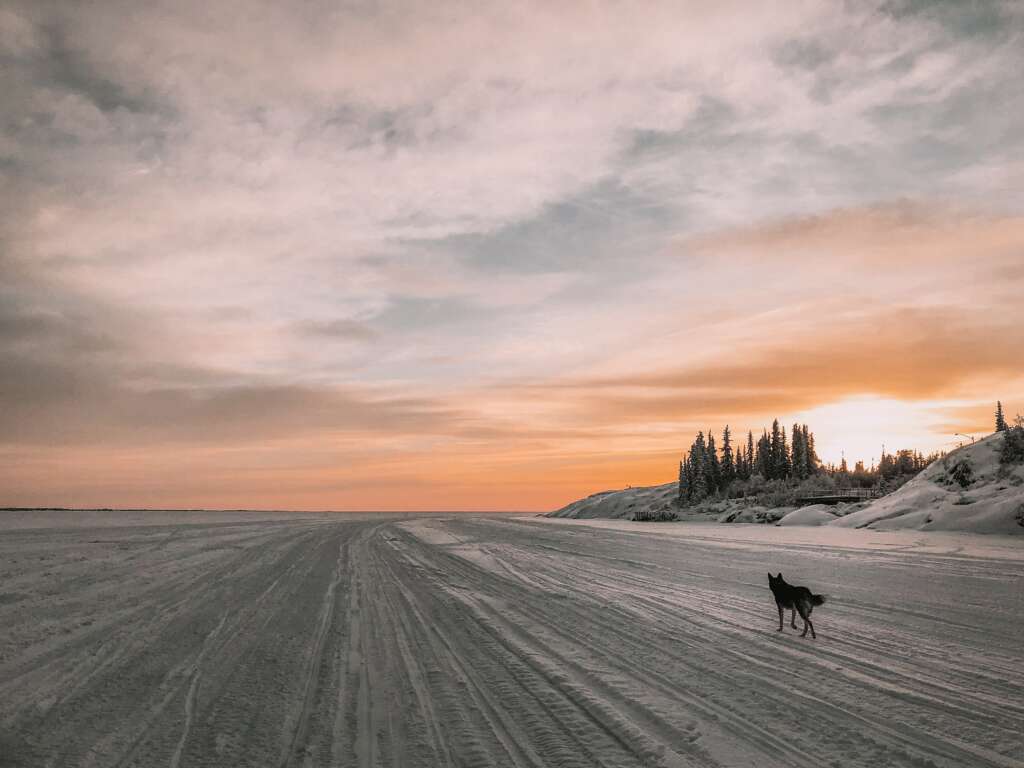 When you want to bundle up and head for the great outdoor activities in winter, Yellowknife in Canada offers a perfect wintertime fun you might expect from a northern location in Canada. Yellowknife is the capital of Canada's Northwest Territories and is a perfect place to fulfil some of the winter bucket list ideas. Best winter activities here include:
Chasing Northern Lights: Because of its geographic location, Yellowknife is one of the premier viewing destinations in the world. The Aurora dazzles visitors nearly 240 days out of the year.
Cross-Country Skiing: Shoosh across well groomed trails with views of the aurora borealis/northern lights.
Ice Skating: Enjoy prepared ice on Frame Lake near City Hall or at the Snowking Castle.
Snowmobiling: Tour operators know the best spots for frozen water, powdery trails, and wildlife viewing.
Snowshoeing: Blaze your own path or choose a guided tour.
Dog Sledding: Plenty of companies offer dog sledding fun, from rides to taking the reins yourself.
Winter in Yellowknife brings frozen rivers and lakes with the ice thick enough to be out on, which also makes it a perfect location for experiencing the ice related winter activities.
Ice Fishing: Grab a pole and wrap up for the coolest fishing ever. Find a guide to take you to a cozy fishing shack on the ice.
Ice Roads: Be like the Ice Truckers and take a drive over frozen water to reach locales not usually accessible.
---
Europe
Iceland
Highlight Activities: Ice Cave, Northern Lights, Sledding, Glacier Walking.
By Michelle @MoyerMemoirs.com
Iceland is perfect for most of the winter arctic adventures including winter hiking and seeing frozen waterfalls. One of the top winter adventures to put on your winter bucket list is seeing an ice cave in Iceland. The Land of Fire and Ice, Iceland is home to many huge glaciers covering hundreds of miles of the country's landscape with icy cliffs, crevices, flowing ice lagoons and ice caves.
Iceland's glacier ice caves are only accessible during the winter months of November through March when it is colder and the glacier ice water that formed the caves freezes, leaving behind beautiful tunnels and caverns in an array of blue colours. The glacier only reflects blue light and absorbs all other light wavelengths giving the glacier ice caves it's stunning deep blue hue. The exact shade of blue depends on the thickness of the ice and the amount of earth and rubble the glacier has entrapped on its move around Iceland.

The answer to the question of where to find an ice cave in Iceland in winter is never going to be permanent. The caves are constantly changing each year due to the melting and re-freezing of the glaciers, but several of the larger glaciers, like Vatnajokull, have repeatedly been producing cavernous spectacles year after year. To access a glacier ice cave, you will need a tour guide in order to ensure your safe travel across the glacier and into the depths of the cave. You will be rewarded on this ultimate outdoor winter adventure with magnificent views that will last you a lifetime.
Norway
Highlight Activities: Northern lights, Dog/Reindeer Sledding, Skiing, Winter fishing, Snowshoeing.
By Kat@wanderingbird
If you're looking for a great winter adventure, you have to head up to Norway. Norway has a range of attractions whatever the season, but in winter it offers a very wide range of activities. The top cities to visit in Norway include:
Tromso
Lyngen
Oslo
Lofoten Islands
The region around Tromso is perfect for a road trip in the arctic to go on a Northern lights chasing trip in the country side and explore the majestic Norwegian fjords landscape in this season. And I almost forgot to mention how cute the cabins in this area are.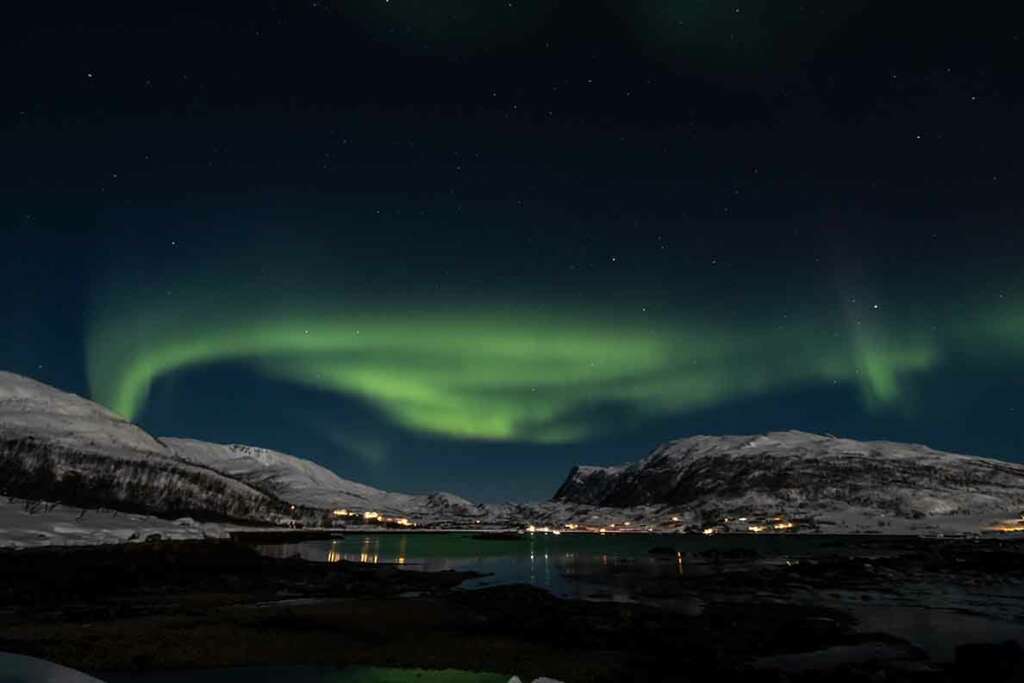 Tromso in Norway, also known as the Arctic capital, is a famous winter vacation destination with lots of tour operators organizing many of your winter bucket list adventures. It is a great location to target in Eruope to check off lots of the outdoor winter activities on our bucket list.
TOP TIP: Get out of the city to see the lights at their finest. Light pollution dulls the colours and you won't get the same vibrancy as you will out in the countryside. Of course, if you have a camper, campervanning in Norway is the perfect way to sleep in the middle of nowhere and have them all to yourself or there are tours that take you on chasing northern lights in vans.
Related Reading: Dog Sledding Experience in Tromso Norway
Finland
Highlight Activities: Visit Santa Claus, Northern lights, Dog/Reindeer Sledding, Snowmobiling.
Courtesy of Catherine@passportsandadventures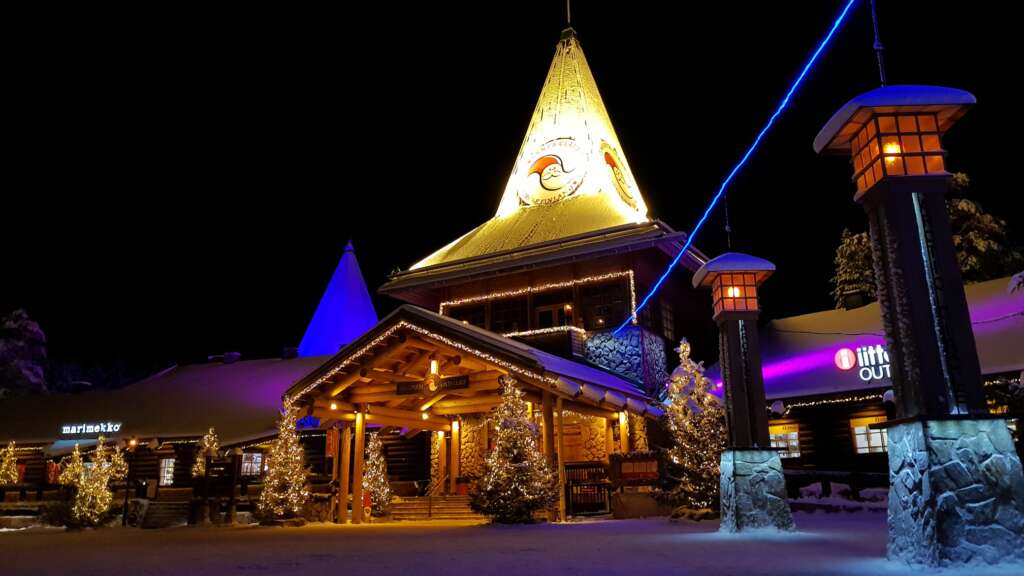 Finnish Lapland is a winter wonderland covered in snow during December and this makes it ideal for enjoying many of your winter bucket list items. It is the perfect place to enjoy a husky safari (dog sledding) through wintery forests and across frozen lakes. It is also the best place for a reindeer sleigh ride with one of Rudolph's friends. Moreover, it is one of the best places to chase the Northern Lights.
Apart from the top winter attractions in the Arctic regions, one of the best winter activities to try in Finland is to visit Santa Claus in his hometown of Rovaniemi in Finnish Lapland in December. Whether you are visiting Lapland with kids, or going as a couple, going to see the big man in Lapland before Christmas is a truly unforgettable winter adventure and definitely a unique winter bucket list item.
Santa's official hometown is the capital of Finnish Lapland, Rovaniemi and there are two places to go and see Santa to give him your Christmas wish list.
Santa Claus Village
Santa Park
Santa Claus Village is where his official office is, and Santa Park is his underground cavern. At both places you can meet him, see his elves and even cross the Arctic Circle. Make sure to get your certificate wherever you do this! As well as all these activities, Rovaniemi also has some great museums, which are kid-friendly, dedicated to the Arctic Circle and its inhabitants, the forest around the region and contemporary art too. They are a great way to learn about the region in which Santa Claus is from.
Sweden
Highlight Activities: Northern lights, Dog/Reindeer Sledding, Snowmobiling, Ice sakting.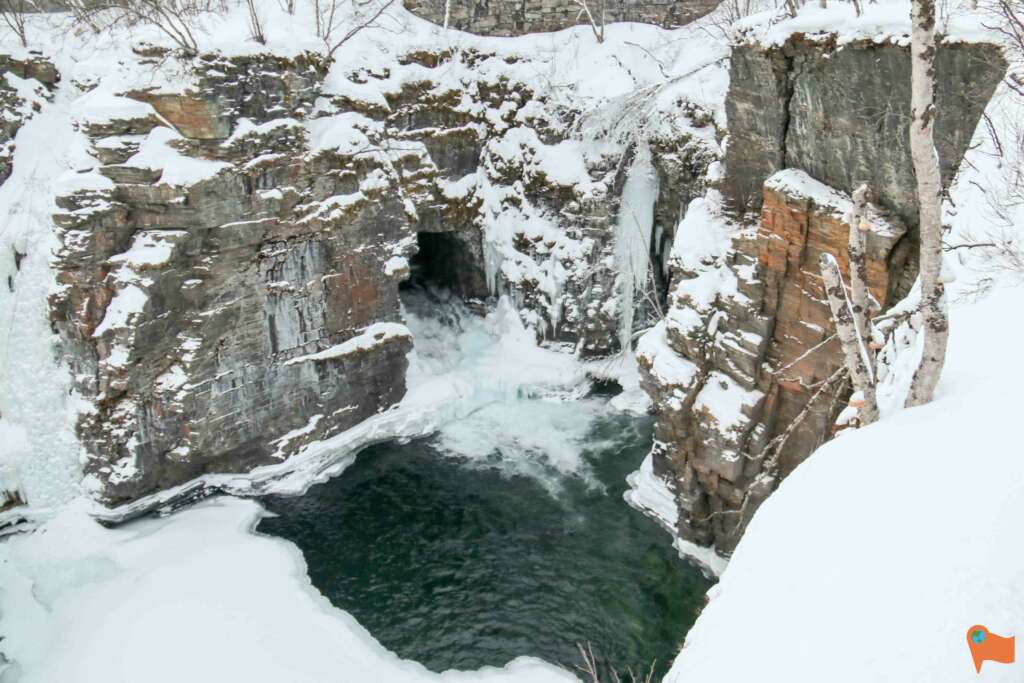 Sweden is a perfect winter vacation destination filled with many of our winter bucket list items and spending time in the nature. Swedish Lapland is as equally as charming as Finland and Norway, with great chances to see the Northern lights. Top cities for a winter staycation include:
Abisko National Park: Great for northern lights viewing
Kiruna
Stockholm
Swedish lapland
Abisko National Park is very famous for its Aurora Borealis station and hiking this park in winter is a great adventure with opportunities to try ice skating, snowshoeing etc. I am still awestruck when I think of time spent in Abisko National Park in winter chasing Northern lights in extreme winter and days having only 1 hour of daylight.
French Alps
Highlight Activities: Skiing and snow hiking.
Courtesy of Elisa@travelfrancebucketlist
The French Alps is an excellent destination for a fun winter outdoor trip in France. The French Alps are located in Eastern France, at the border with Italy and Switzerland, and it is an area easy to reach from the airports of Lyon or Grenoble. The French Alps is famous for its breath-taking views, pretty villages, and great food.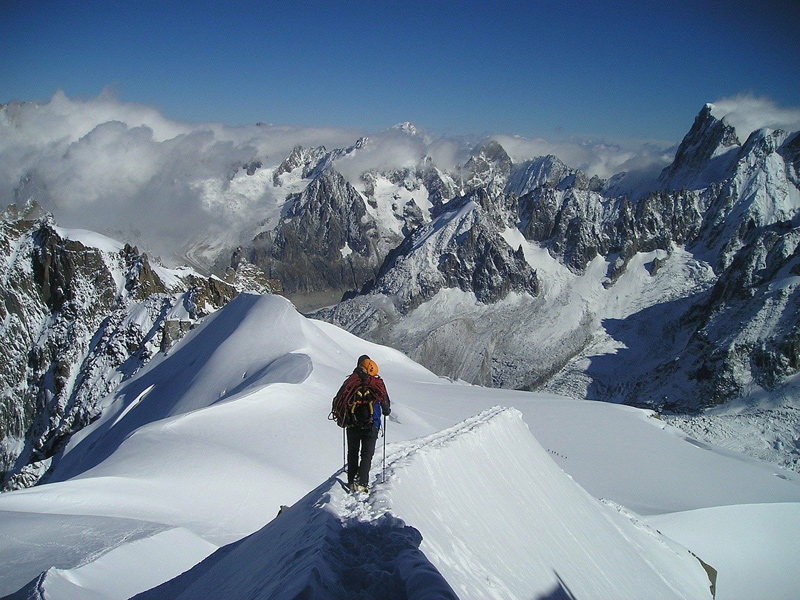 The French Alps are one of the top winter vacation destinations in France for skiing. There are various ski resorts in the French Alps, built to suit every traveller and ski-level. Some of these ski resorts are world-known, while others have a more local feeling.
The resorts in the French Alps are great for skiing, but non-skiers will find other fun activities to keep them busy as well. Besides, these resorts offer great shopping and various good restaurants perfect for getting a taste of the regional cuisine: raclette, fondue, and other cheese-based meals.
For a more relaxing holiday, stay in Chamonix instead. Chamonix is a picturesque alpine town with many exciting things to see and do. You can combine your winter vacation stay in Chamonix with a trip to Annecy, one of France's most beautiful cities located by the lake of the same name.
Italian Alps
Courtesy of Giacomo, my Italian friend <3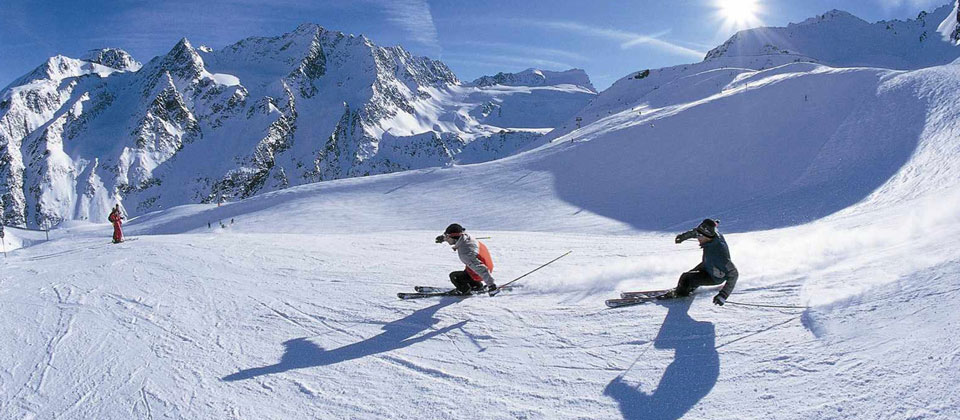 Italian alps is very popular for skiing and has many skii resorts. Some of the popular ones are:
Corvara
Selva di Val Gardena
Cortina d'Ampezzo
Courmayer
Stelvio
Corvara, Selva di Val Gardena, Cortina d'Ampezzo and Courmayer are all best to visit in winter time between December until February. Cortina d'Ampezzo is the most famour skii resort amongst these. Stelvio/Livrio glacier is famous for a visit during summer time too.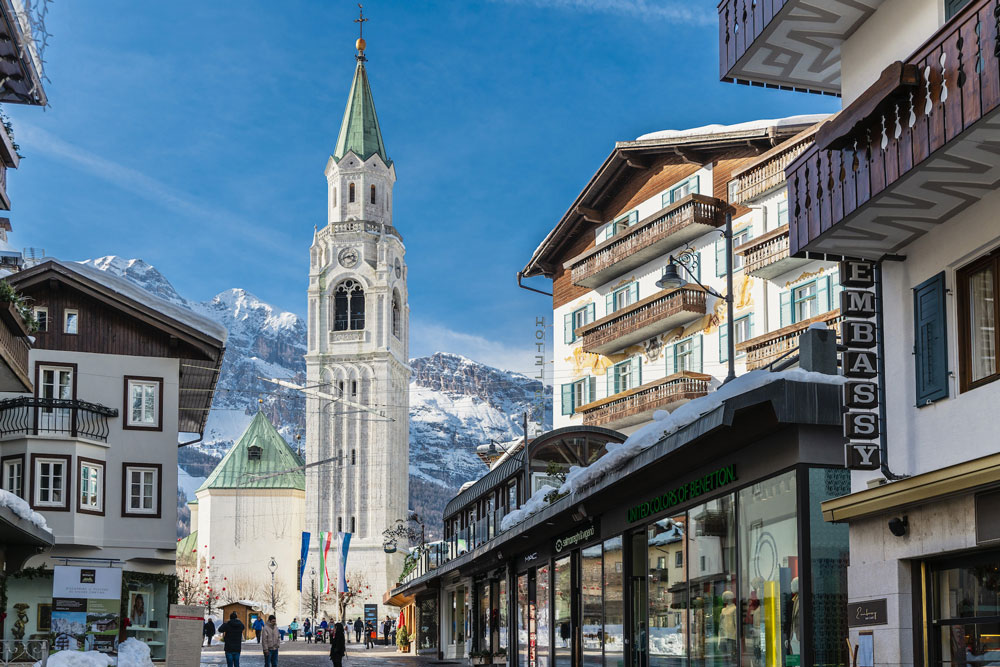 Austria
Highlight Activities: Skiing, Christmas Markets, New Year's Eve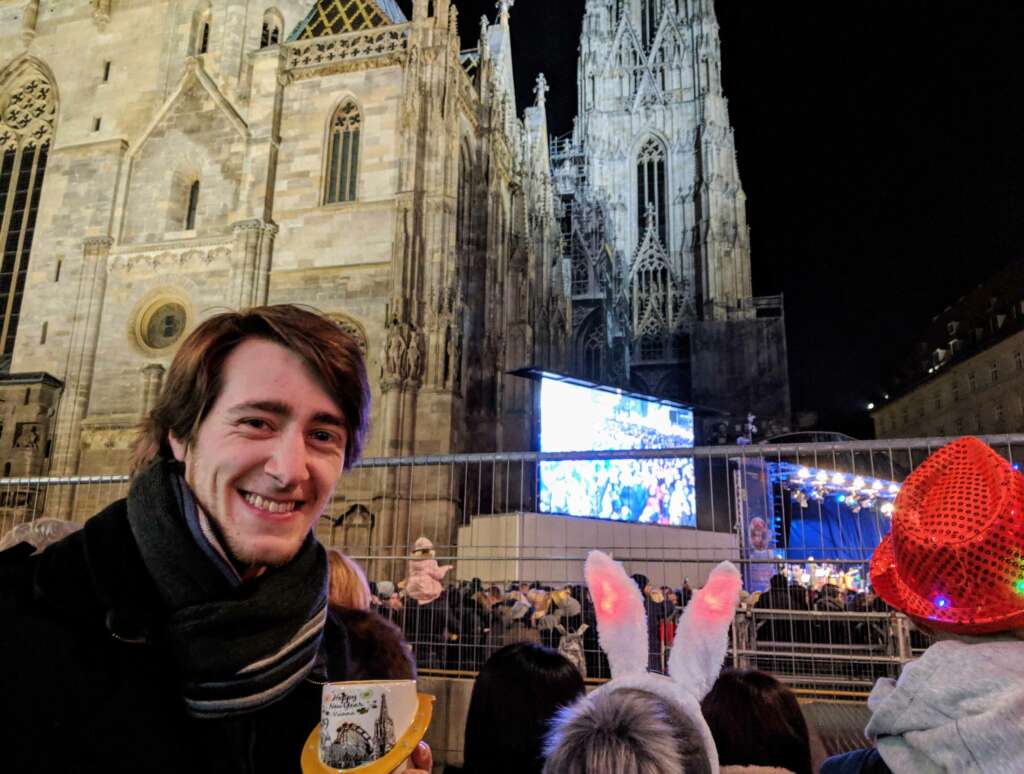 Austrian alps is famous for skiing with many resorts in the alps. I personally love Innsbruck. Some top places to skii in Austria include:
Mayrhofen
Sölden
Ischgl and the Silvretta Arena
Zell am See
Alpbach
Apart from skiing, Austria also host stunning winter decorations and Christmas markets in its cities. New Years eve celebrations in Vienna is particularly noteworthy with open music and dances, even an opportunity to watch live opera.
Germany
Highlight Activities: Christmas markets, Ice Stock Curling
Courtesy of Rachel&Nico@averagelives
Germany is a paradise when it comes to Christmas markets. I would say experiencing at least one Christmas market in Germany should find a place in your winter travel bucket list. Some of the world famous markets in Germany are in cities like:
Cologne
Dresden
Dusseldorf
Stuttgart
Nuremberg
Out of all these christmas markets, Cologne's (Köln) Christmas Markets are very popular and generally rated the highest. These markets are all around the city, and each one offers a unique experience. Head to Heinzels Wintermärchen in Cologne's Old Town to experience a magical wonderland. Not only are there all the characteristics you would expect from a German Christmas market, such as cinnamon biscuits, mulled wine, food stalls, and an incredible atmosphere, there is also the chance to go Ice Stock Curling – a team sport for everyone to have fun. To play each player slides an ice stock so that it can reach the puck at the end of the alley. It is so much fun, and afterward, you can cheer the champion of Ice Stock Curling in the historic barn next door with a traditional beer.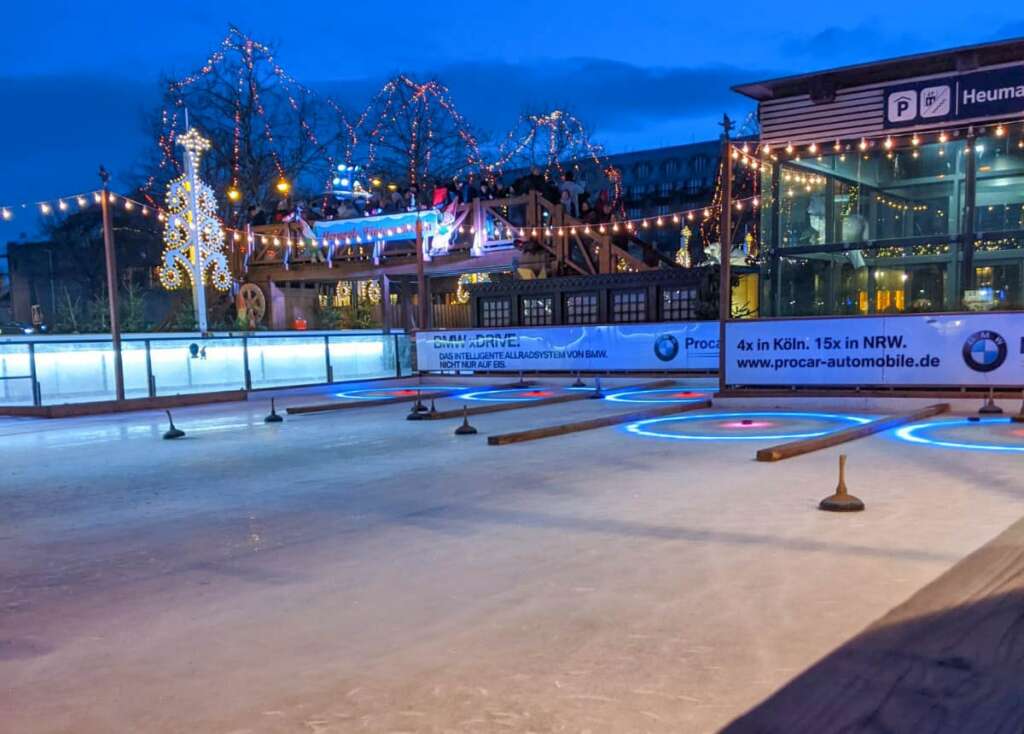 Remember to reserve your space in advance because it books up fast and you won't want to miss out on such a special opportunity. The market is an absolute joy and after you're done with curling, you can enjoy the ice rink, the carousel, and the magical atmosphere that makes a visit to this christmas market in Cologne one of the best winter activities in the world.
Poland
Highlight Activities: Christmas markets, Skiing, Thermal pools.
Poland is also an amazing winter vacation destination with very cold winters, both cheap and an ultimate cultural experience apart from the top winter outdoor activities including thermal pools. The best ski resort in Poland, Szczyrkowski, is located in Szczyrk. Some famous mountains for a peaceful winter vacation in Poland include:
Izerskie Mountains
Chocholowska Valley
Izerskie Mountains
Five ponds valley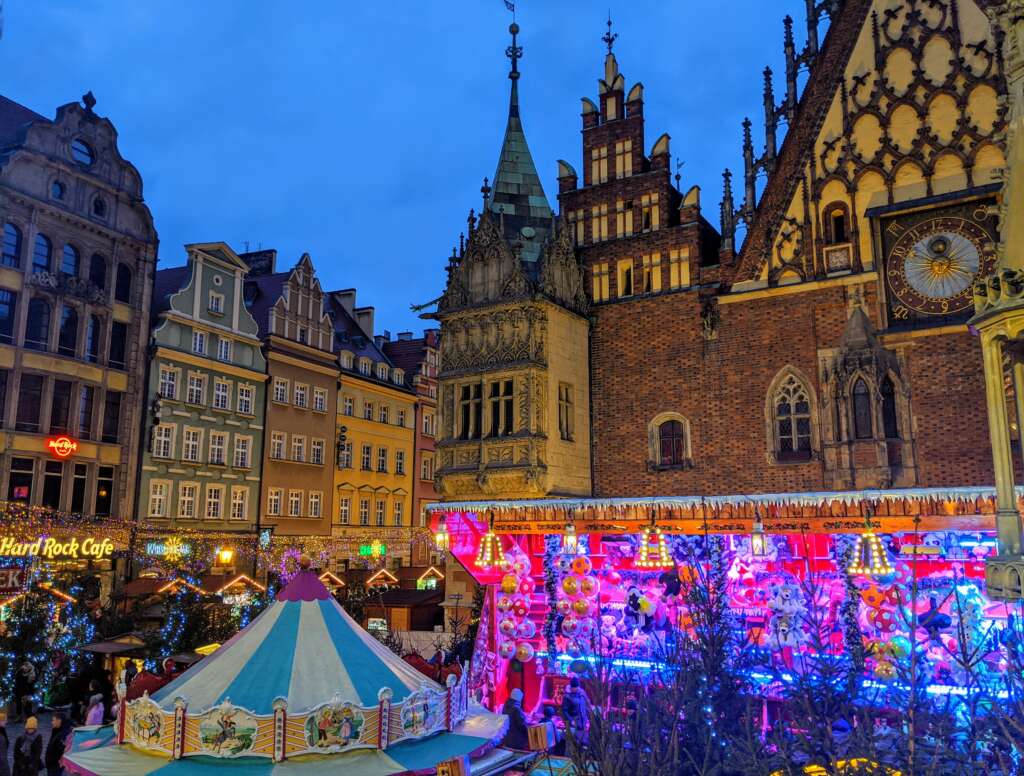 Christmas markets in Poland are my personal favourite and I think they are a hidden gem. I have visited both Wroclaw and Krakow Christmas markets during winter during the New Years and had a great time. The decorations are very traditional which makes it so vintage like and living in a winter wonderland.
Bratislava, Slovakia
Highlight Activities: Christmas Markets, Ice Skating
Courtesy of placesofjuma
Slovakia is another winter vacation destination very popular for skiing and winter traditions like Christmas markets. The most popular place to go in Slovakia in winter season is mountain skiing in Tatras. If you are looking for a city for winter vacation, then you definitely should check out Bratislava – the main city of Slovakia. Especially in December this city is full of winter wonders! People are amazed by the many picturesque Christmas Markets and the unique atmosphere when visiting Bratislava in Winter Time! The best Christmas markets are in can be found at Hlavné und Hviezdoslavovo námestie – where you will also find plenty of excellent accommodation like the beautiful APLEND CITY Hotel Perugia.
During winter the city is full of local specialties, delicious food and charming goodies. Families come together for having some kinder-punch or mulled wine and enjoy the true atmosphere of a traditional Christmas Market. Some really delicious food to try here is the Loksa, a salty pancake or the traditional Strudl, a crisp cake filled with apple and raisins. Also the mulled wine in Bratislava is very tasty – probably because it comes from local wineries nearby the city. In addition to amazing food you will find plenty of home-made products and traditional souvenirs – perfect to bring home some souvenirs for your beloved.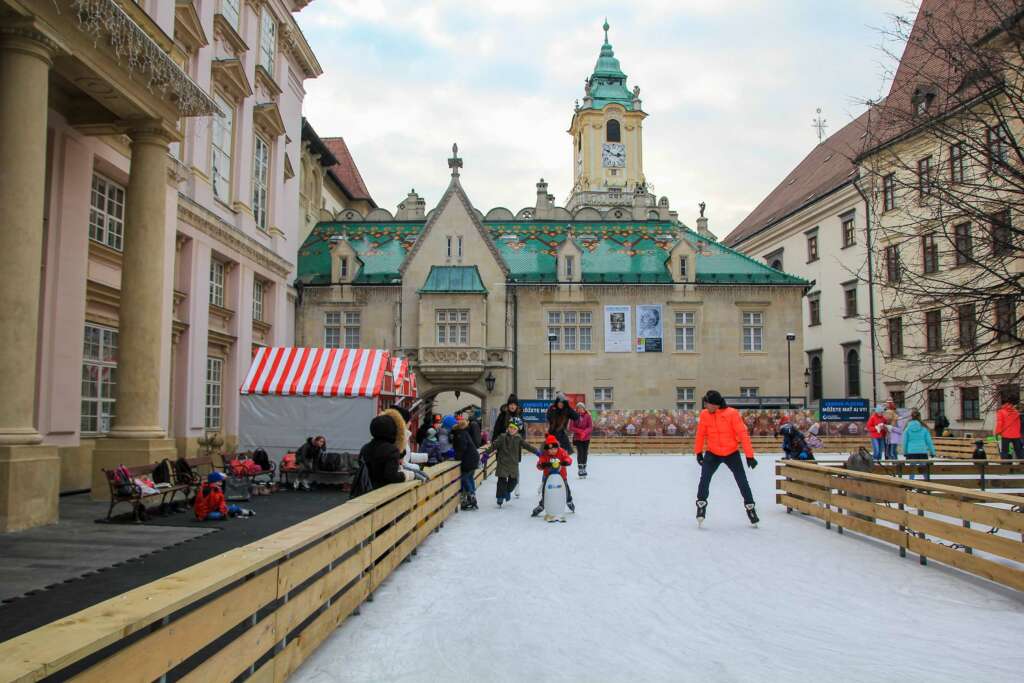 A real adventure, that should not be missed is ice-skating in Bratislava. Not only for the kids, adults also love to make some rounds in this incredibly beautiful old town atmosphere. Skates are available to hire, so you don't have to bring your own. Later, in the evening, local artists – singers and dancers perform directly at this Christmas Market and make each visit to an extraordinary experience.
---
USA
New England
Highlight Activity: Snowboarding, Skiing
Courtesy of Nicole@theabroadblog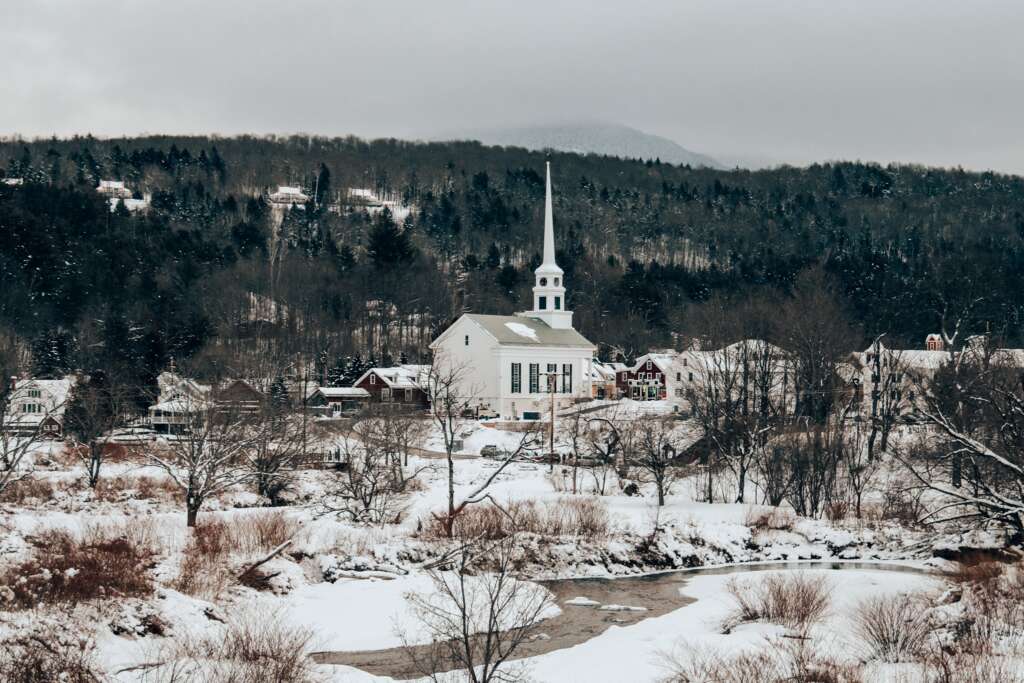 New England is perfect for a winter holiday, full of some of America's best ski resorts. Maybe you've heard the phrase "Ski the East"? Well, the states of Vermont, New Hampshire, and Maine are home to 40+ ski resorts, perfect for families and adventure-seekers alike. The largest ski resort in New England is Killington, with a total slope length of 116.8 km. Killington is located in central Vermont, about 4.5 hours from New York City and 2.5 hours from Boston.
Some of the other major ski resorts in Vermont, are:
Stowe was recently bought by Vail, so its quaint village and multiple gonoladas will remind you of skiing out west. Jay Peak is famed for its fresh powder and Canadian views, while Stratton's unique downtown will leave you feeling like you were transported to Europe.
The state of New Hampshire is home to 19 ski resorts, with some of the most well-known being Cannon, Loon, and Bretton Woods. Be sure to check out the candy bar at the top of Bretton Woods mountain! Looking for accommodation? The Mount Washington Resort is a dream.
Last but not least is the state of Maine, home to 15 ski resorts, including Sunday River, Shawnee Peak, and SugarLoaf. All wonderful ski mountains for families. Next time you're looking to hit the slopes, check out New England and #skitheeast!
Pro-tip: Be sure to visit New England during the holidays and I also recommend a New England Road trip in the Fall season and winter season!
---
United Kingdom
Scotland
Highlight Activity: Northern Lights, Horse Riding, Snow Hiking, Snowboarding, Skiing
Northern Scotland is a winter heaven being the close to the Arctic Scandinavia. Many islands in Scotland have clear dark skies in winter making them a perfect a destination for Aurora watching and star gazing, making it a unique winter vacation destination. Some of the top locations include:
Galloway Forest Park
Orkney Islands
Isle of Cull
Moffat- known as Dark Sky Town
READ: Ultimate Guide to Chasing Northern Lights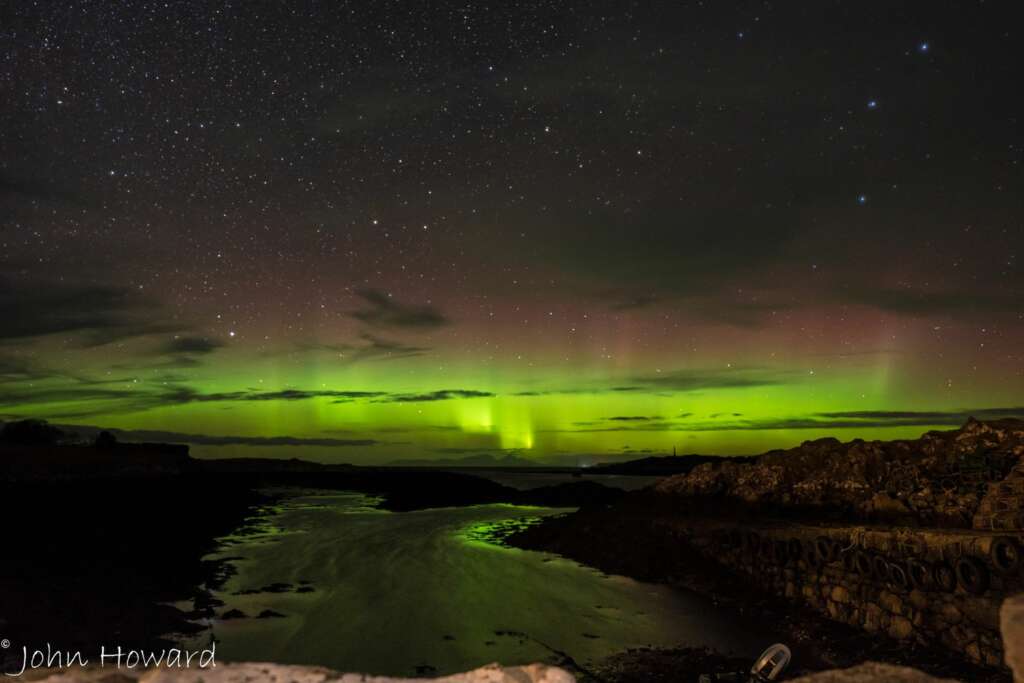 Courtesy of JohnHoward@Scotlandinpictures
Skiing is very popular in some of the national parks and mountain ranges like Glencoe Valley and Cairngorms National Park among others. For folks in United Kingdom, Scotland is an easy winter getaway for experiencing some of the top outdoor activities in winter.

Edinburgh, the capital city of Scotland is renowned worldwide not just for their summer festivals, but also for Christmas Markets and Hogmanay celebrations. Needless to say, Edinburgh holds one of the best Christmas Markets in UK. The festive vibe kicks in during the middle of November when the Christmas lights are switched on, and the markets are opened. Set against the magnificent Edinburgh Castle, the Christmas Markets in the East Princes Street Gardens hosts light studded wooden chalets that offer handmade crafts, traditional kilts, food and drink stalls, and plenty of festive rides for adults and kids. Christmas is also the time to indulge in theatre and arts, as plenty of pantomimes takes place across the city, setting the entire city into festive mood. If you are looking for adrenaline rush, put on your ice skating shoes and skate in the gorgeous ice rink., Or head to Hillend Sports Centre to indulge in skiing.
Courtesy of Anuradha@CountryHoppingCouple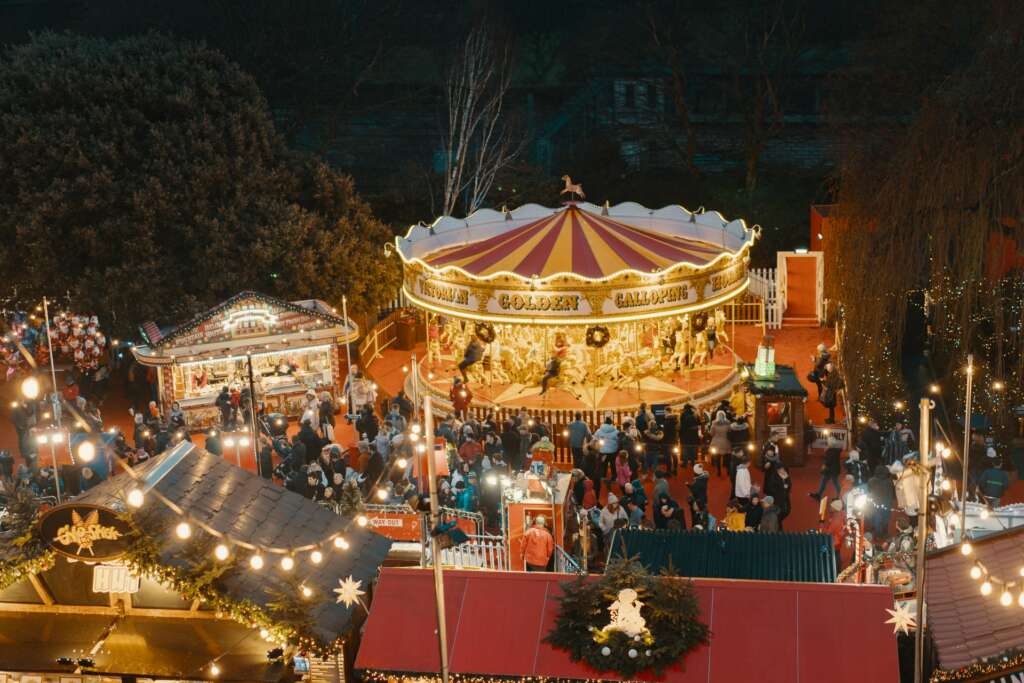 England
Highlight Activity: Winter Wonderland in London
By Charlotte @charsfootsteps.com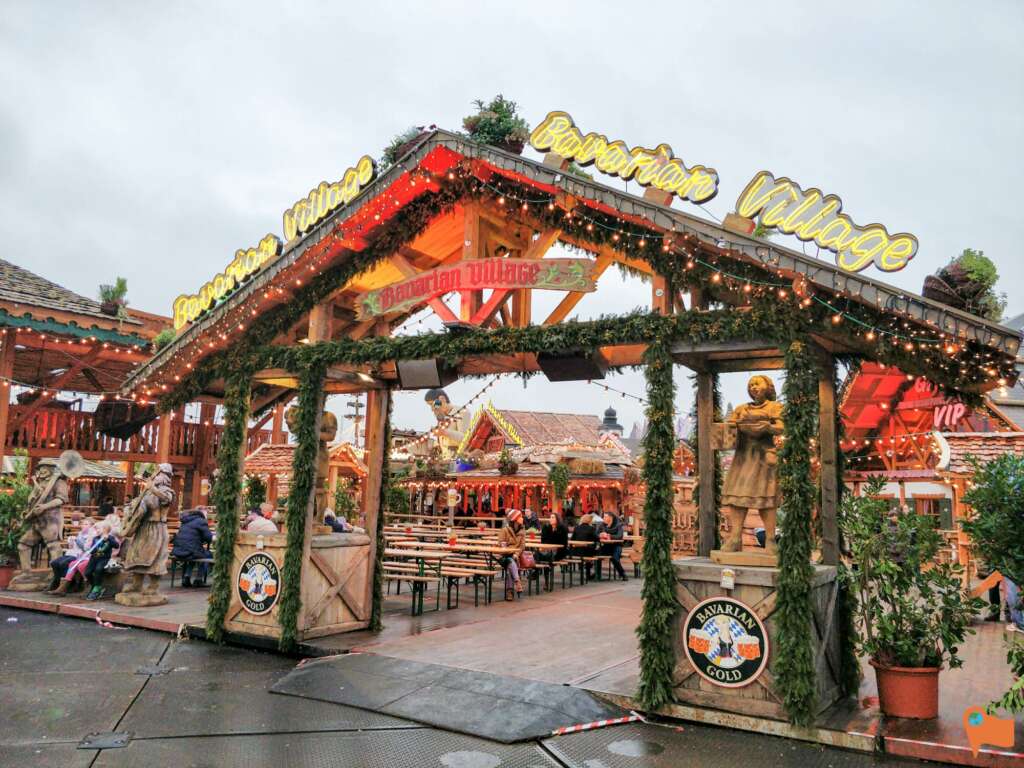 London is one of the best cities to visit during winter, with an abundance of things to do during the festive season. From outdoor pop-up ice skating rinks, West End pantomimes, Christmas lights, markets and carol services, there's something for everyone.
However, the pinnacle of London's Christmas celebrations are found at Hyde Park's Winter Wonderland. With over 100 rides, Santa Land, ice skating, Christmas markets and a Bavarian Village, filled with live music and beer gardens, this is a must-do when in London.
Held from mid-November to early January, Winter Wonderland takes over the entire east side of Hyde Park. The alpine market stalls and plentiful food vendors are great for catching up with friends or spending an afternoon Christmas shopping. The atmosphere around the event is heightened by the incredible bars dotted all over offering different types of alcohol, food and music. The largest and most popular among these is the Bavarian Village. With cosy chalets, you can expect high-quality Bavarian Gold beers, mulled wine, decadent hot chocolate and traditional Bratwurst, just to name a few.
Winter Wonderland is also a great place to enjoy a day out with kids, with Santa Land and many children friendly rides. Additionally, families can enjoy the dedicated entrance to minimise any waiting times getting into the event. Given its popularity, the best time to visit is on weekdays, as queues can be fairly long during evenings and weekends. There's no better way to celebrate the festive season in London than visiting Winter Wonderland.
---
Other Best Winter Activities for your Winter Bucket List
Winter is definitely a unique experience especially for travellers who are not from winter regions. I had no idea about all these winter sports to try until I started exploring winter in Arctic regions and European Christmas markets. The more I travel, the more I started discovering unique sports and traditions around the world. I hope you add some of these winter bucket list activities to your winter travel and experience some of them.
Apart from the outdoor activities listed above, here are a few other winter bucket list items to experience during winter with families and friends wherever you are:
Hot Chocolate: Sipping and making your own hot chocolates. There are not only cocoa based chocolates, you can also try toffee and milk chocolate drinks to your winter bucket list.
Watch Winter Holiday or Christmas Movies: Classic movies like Home alone, Love Actually etc fit perfect for a winter night show.
Make Snow angles and Decorations for Christmas Tree
Play Christmas Music: Definitely puts you in a winter mood.
Wrap and make your own Christmas gifts like cards
Journal your year in the end of the year and prepare for next year. Practice gratitude
Pin the Best Winter Activities and Winter Destinations