Autumn is a second spring that turns all leaves into flowers"- Fall is definitely the time of the year when leaves speak to us, the story of existence as well as the beauty of letting things pass by. Fall leaves throw such a fantastic show before their demise. In this blog, we will cover awesome fall foliage road trip ideas in Vermont that may inspire your next adventure. Enjoy some stunning visuals of a Fall Foliage Road Trip in Vermont and get some help from our detailed itinerary to plan your Vermont road trip.
Vermont Road Trip Planner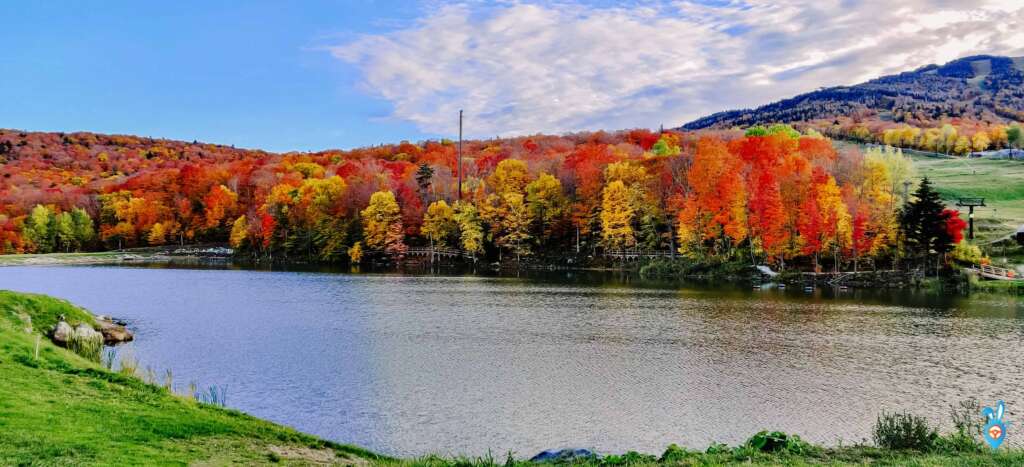 New England on the east coast of the USA is one of the most gorgeous places to experience the ultimate beauty of Fall and the state of Vermont takes the crown. During the Autumn season here, you will have one of the best leaf-peeping experiences– whilst enjoying the natural Fall exhibition just during your drive, strolling in scenic state parks, hiking mountain ranges, or even exploring stunning waterfalls in this area. I came back with strong feelings for the state of Vermont and its people- it is by far my most favorite state in America. I will also go again, so let us say this was a beginning for me too.
Some of the top places to visit in Vermont in Fall include:
Green Mountain National Forest
White Mountain National Forest
Montpelier
Burlington
Stowe
Scenic Route 100
---
Why Fall is the Best Time to Visit Vermont?
The Fall foliage starts in mid-September and lasts until mid-October. I visited at the beginning of October when the leaves are more reddish however if you're looking for yellow colors, visiting earlier is advised. Personally, I would recommend aiming for "Peak Foliage" in mid-October and the USA long weekend of October 12th for Columbus day is perfect for this Fall Road Trip.
---
Where to to stay in Vermont?
Vermont is more like a European Travel experience when it comes to the stay. There are many inns and B&Bs run by locals which I would recommend as your first choice to experience the local life. I stayed in a lovely Airbnb which was very similar to a Scottish B&B and I would rate my stay here as one of the best Airbnb stays ever.
---
Need a Rental Car in Vermont?
If you are visiting internationally flying into New York or Vermont, you could go for a rental car option. Remember that you drive on the right side of the road in the USA. Your international driving license is valid if you feel comfortable driving. The rules are pretty easy with wide roads and clear junctions combined with the fact that most of the cars in the USA are automatic.
*Disclaimer: This post contains affiliate links. If you click on them and make a purchase, I receive a small commission. There is no additional cost to you. I would appreciate the support.
---
3 Day Itinerary for a Fall Foliage Road Trip in Vermont
We embarked on a Vermont Fall road trip as part of a Week East Coast Road trip traveling from Florida to Boston. This Vermont road trip itinerary starts from Albany and made our up North with stops at villages and parks in the Green Mountain National Forest until arriving at Montpelier, the capital city of Vermont. In the following days, we also covered the Vermont scenic 100 route and two mountain ranges, Mount Mansfield and Killington. Below is the route we followed color-coded per day for this amazing fall foliage road trip in Vermont. Let us enjoy the fall visual show of Vermont together.
READ: Best Road Trips in USA for your American Road Trip Bucket List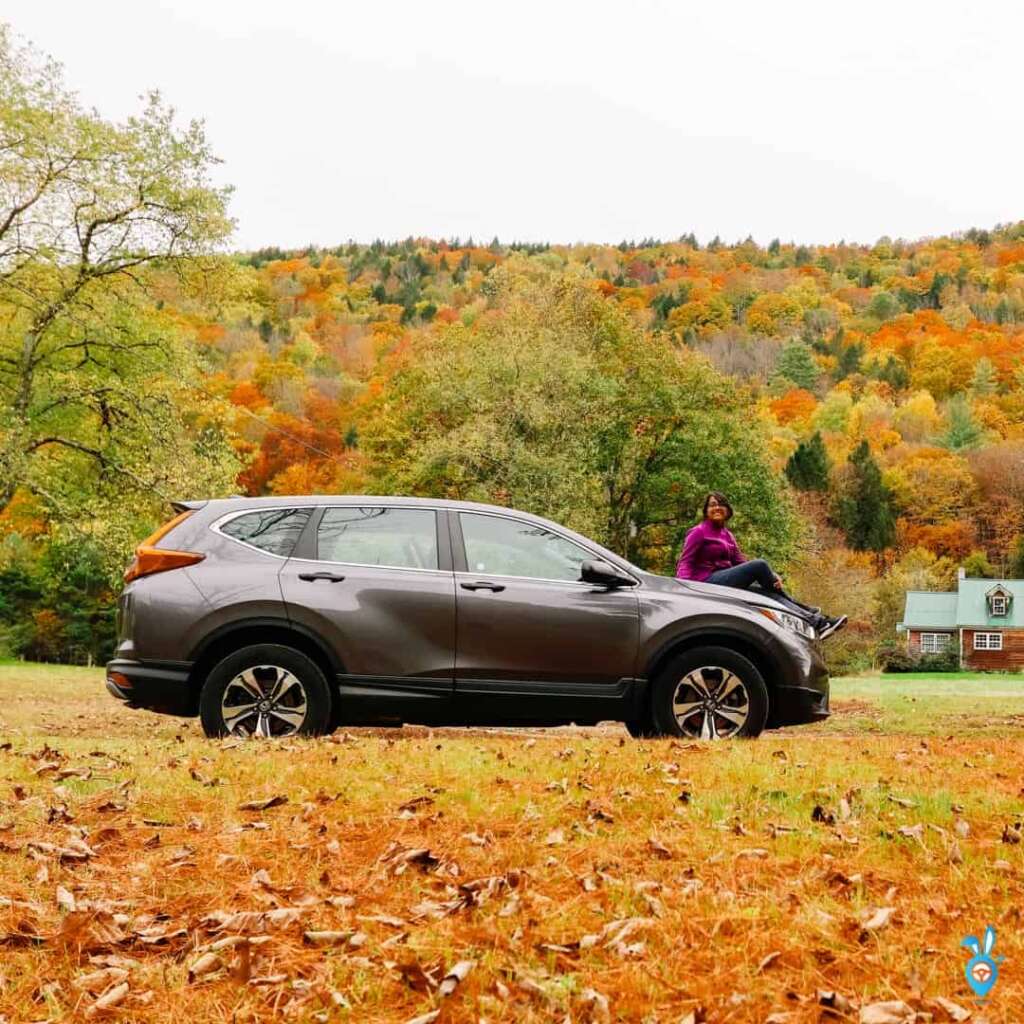 ---
Day 1: Green Mountain National Forest
Stop 1: Jamaica State Park
Our first stop in Vermont was the Jamaica State Park which is located in a small picturesque village Jamaica in the south of Vermont. The state park needs a pass to enter and it is best to check the activities before you go. We only strolled around the village.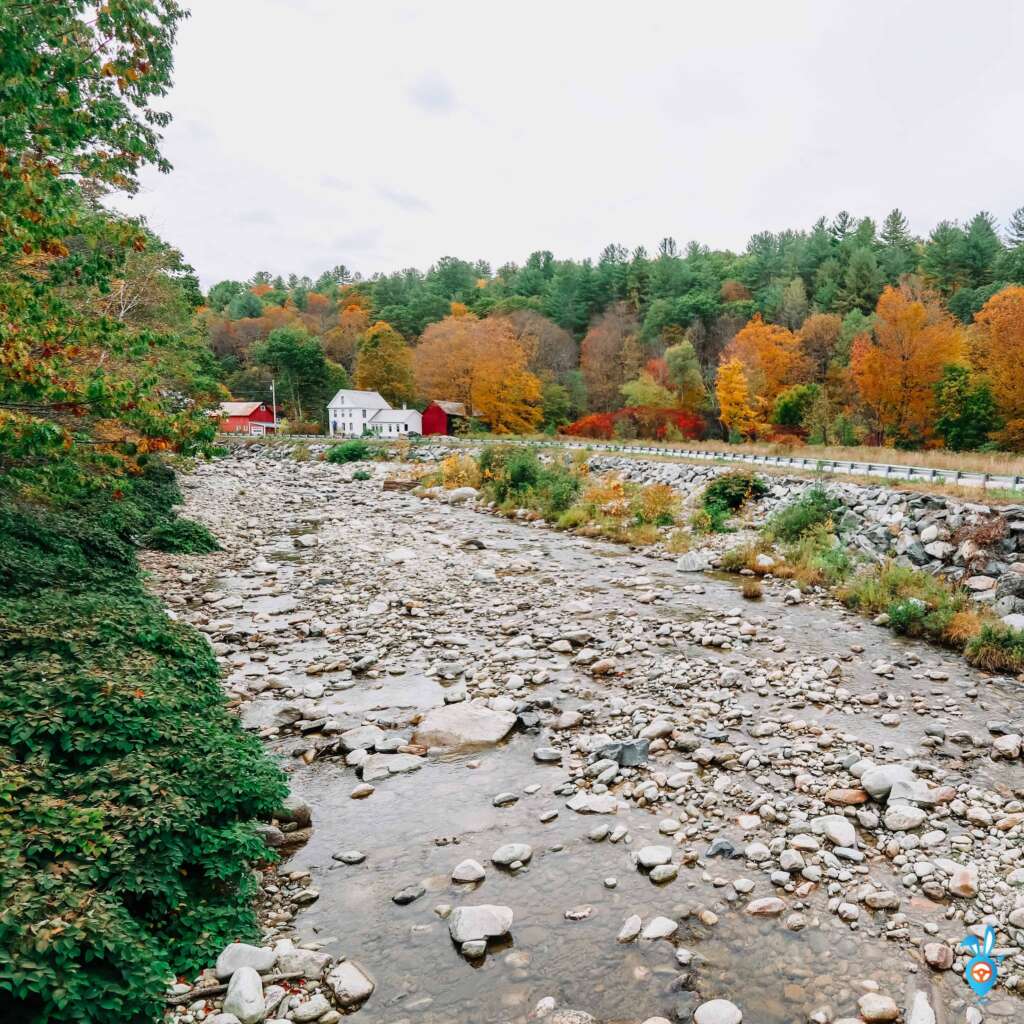 The short walk from the village to the park is stunning with amazing views of colorful houses embedded into nature along the West River and an amazing bridge called the Wardsboro bridge forming a great frame.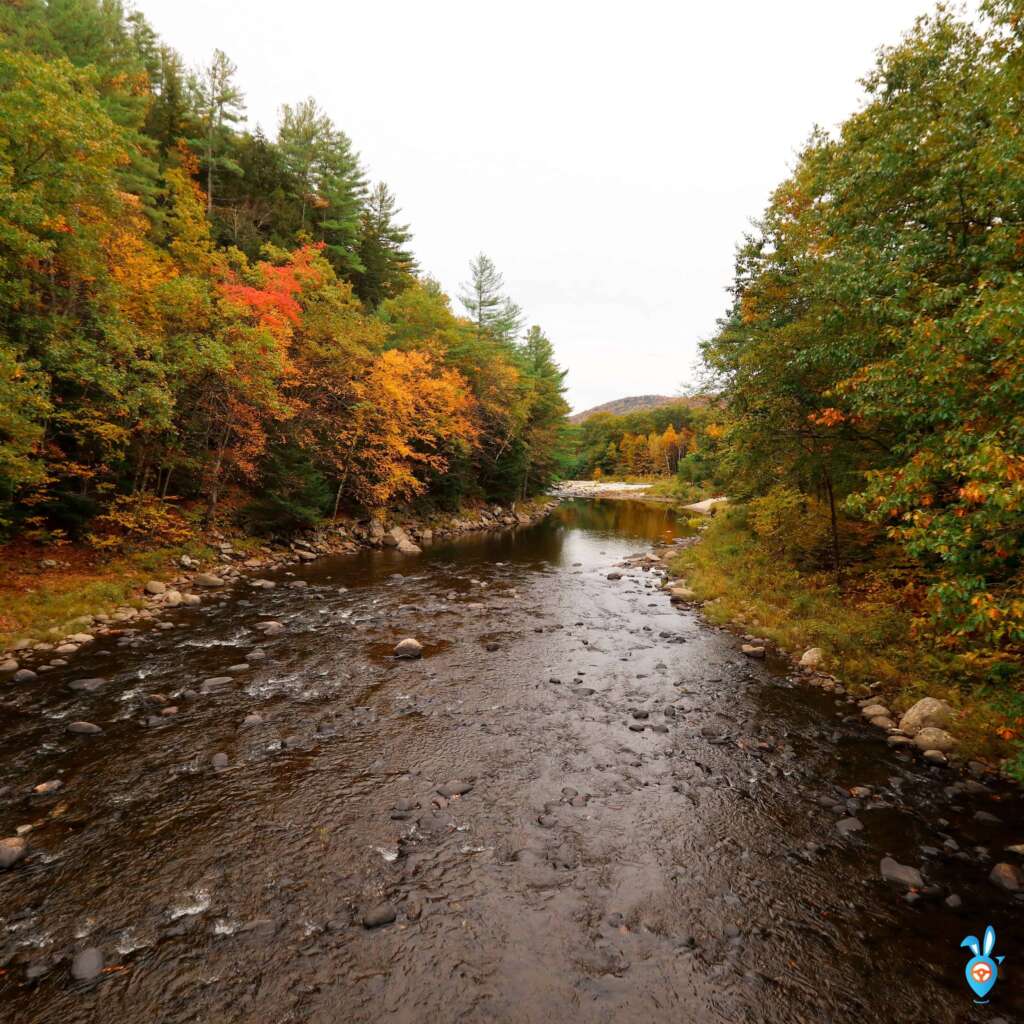 There is a hike from here to the Ball Mountain Dam via Hamilton Falls which we missed as our itinerary was tight, I would advise planning to spend a long time here. From here we headed upwards to the village of Weston. On the way, you will get this stunning view which is the same as my feature image. Here is the exact stop: 60-52 River Road, Jamaica, VT 05343.
---
Stop 2: Weston Village
Weston felt was like walking through a European town with the houses, roads, and shops here reminding me of Austria/Switzerland. Adding to the Autumn charm, the village houses were fully decorated with pumpkins all ready for Halloween. I really loved the orange theme in this postcard-perfect Green Mountain Town village in autumn.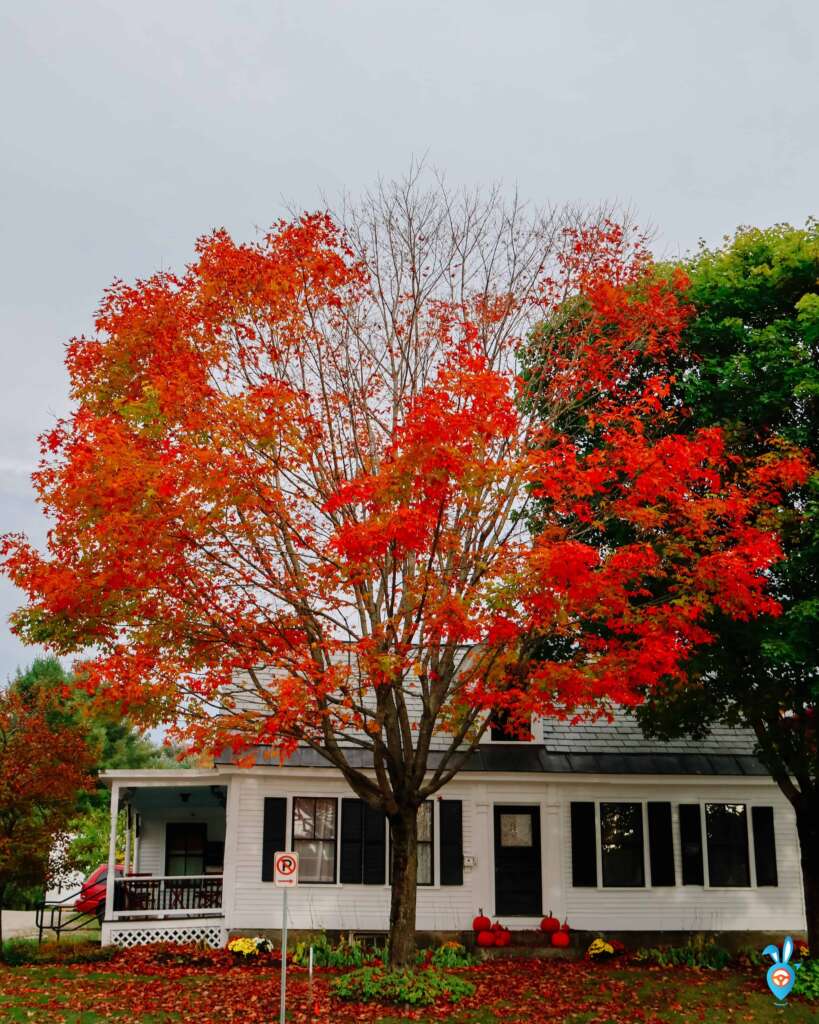 There are some really cute little shops here selling local crafts and produces. I had heard that this town is perfect to celebrate Christmas in, and the Christmas shop here really had strong European vibes so you can note this village if you're planning a European-style getaway in the USA.
Another attraction is here the Old Mill Museum, which has a mountainous backdrop and a stunning waterfall. We did not go inside the museum as it was closed the day we visited however the view from the outside museum was breathtaking enough for us. Someone from the village had even left a pumpkin beneath the trees, how cute!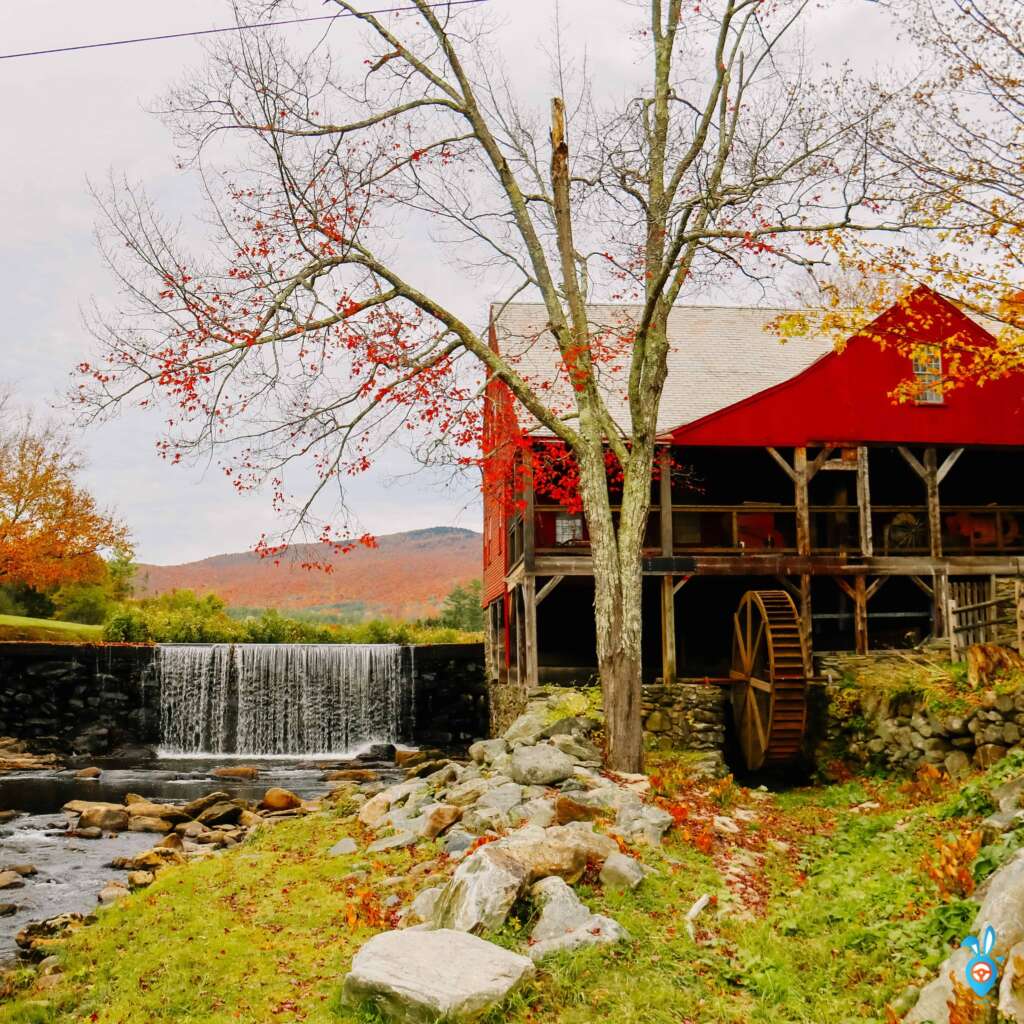 ---
Stop 3: Plymouth
The route to Woodstock via Plymouth was one of the best scenic routes during the trip. We didn't stop in the town itself but we just stopped along the way to admire the views.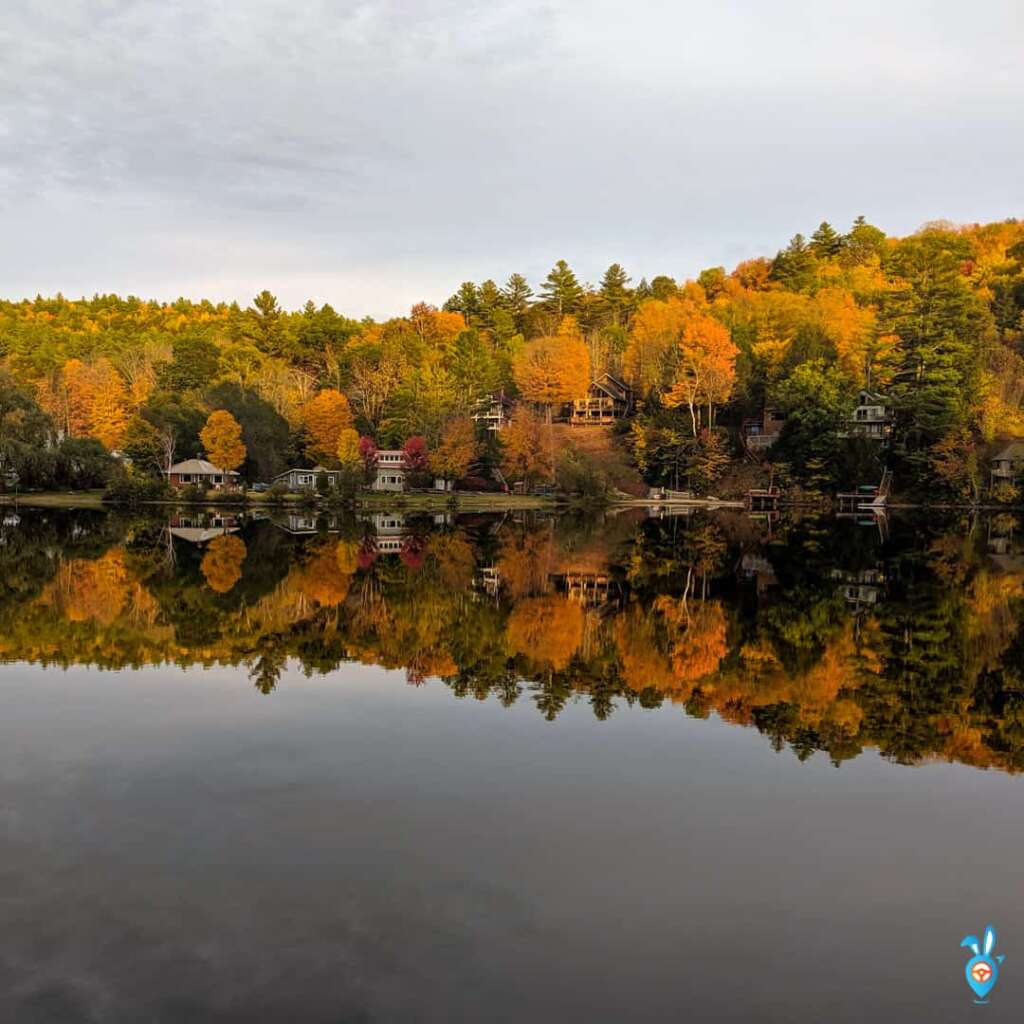 The view of mountains and reflections in the lake is simply splendid. This route is just stunning throughout so much so it was confusing which pictures to take and which pose would be best. In the end, I can see we ended up taking fewer pictures and spent more time just enjoying the view.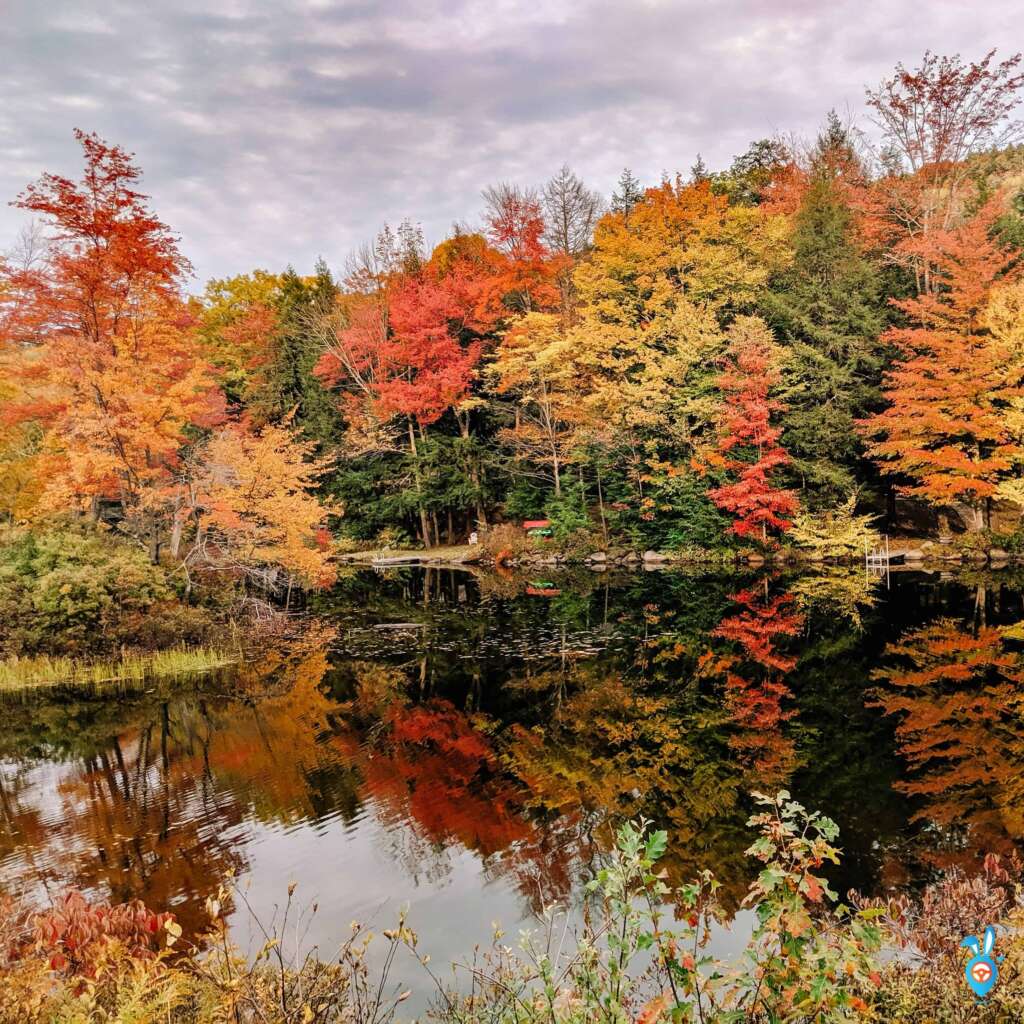 ---
Stop 4: Woodstock Village
We arrived in Woodstock village around sunset, of course, this is what happens if you take a scenic route and keep stopping. Woodstock village is very famous in New England and is on the top list of scenic towns with amazing houses and post-card views around. Though we missed exploring the village properly, we could experience the local shop here which was so thrilling with lots of diverse farm productions. I almost wanted to buy everything and the bakery here was calling to us loudly.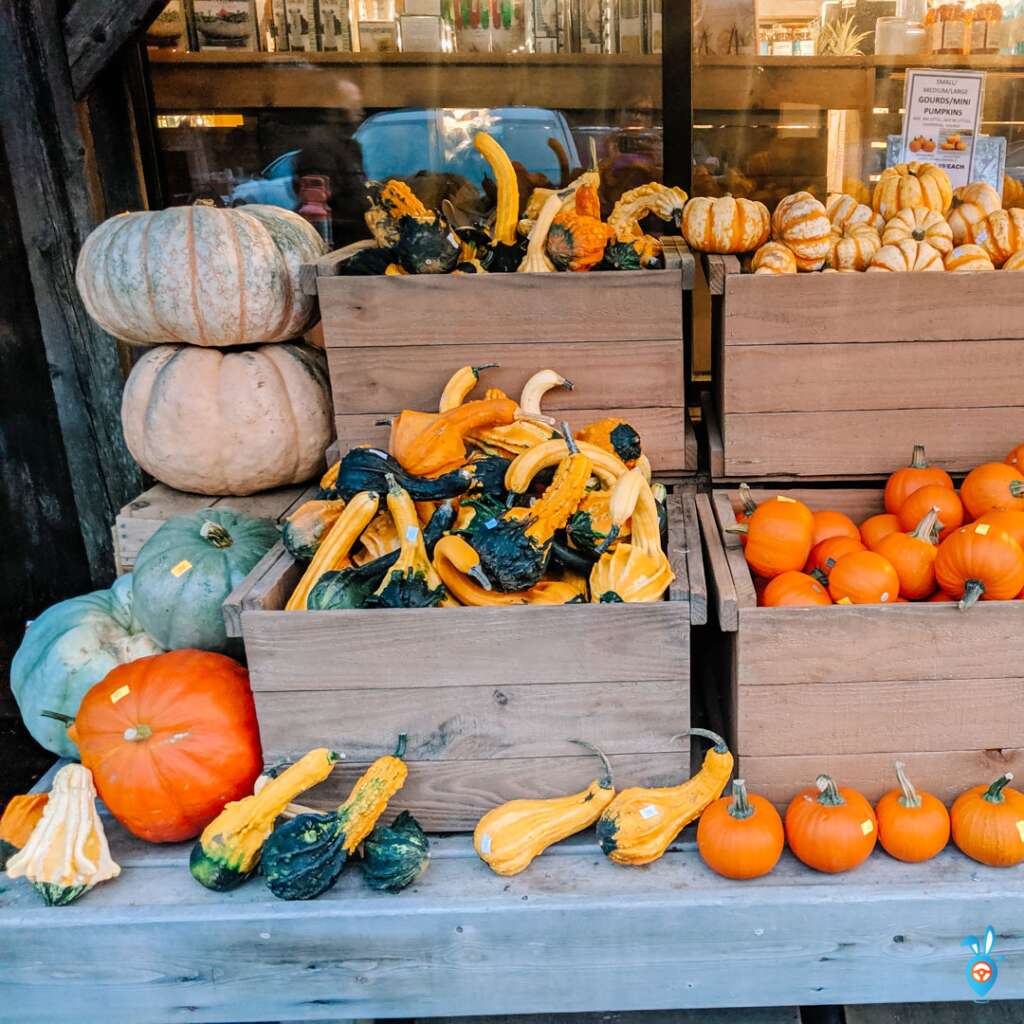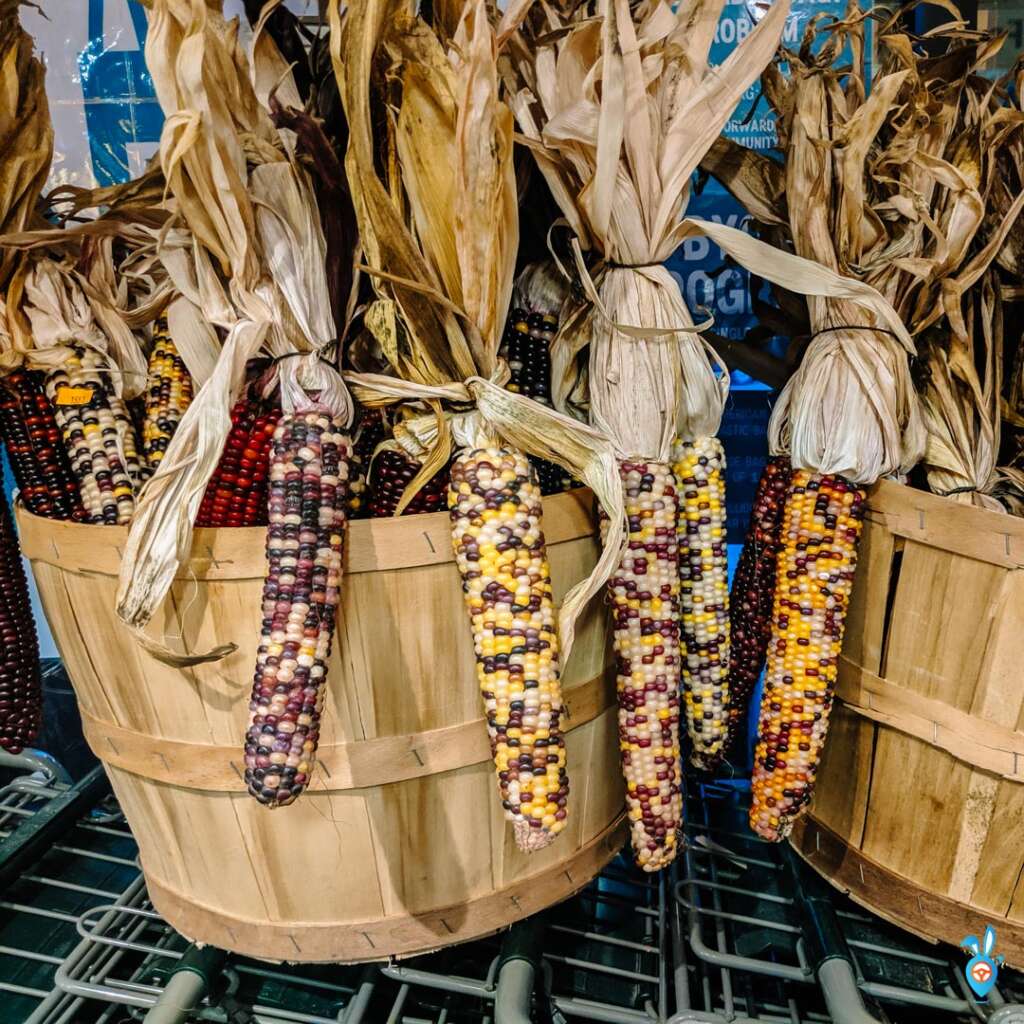 These pumpkins and Squashes are just a small part of what they produce. Aren't they so diverse? I have never seen these shapes and colors before, I spent a lot of my time just staring at pumpkins and I wished I could have brought them home with me.
After strolling here, we headed towards Montpellier where our Airbnb was booked for the night. I definitely need to go back to Woodstock as I could not explore it properly. We arrived late in Montpellier, found a local Thai restaurant to eat at, and headed to the Airbnb to crash.
---
Day 2: Scenic Route 100
Stop 5: Plainfield
Waking up in Plainfield, Montpellier in our Farm Stay Airbnb is still one of my most favorite stay experiences. This house is located in a private estate with a lake and the morning view was breathtaking. Our host was such a lovely lady who had everything sorted for us like a typical B&B in Europe. They also had an Apple tree with such low-hanging apples that I tried to act eating one while standing on the ground.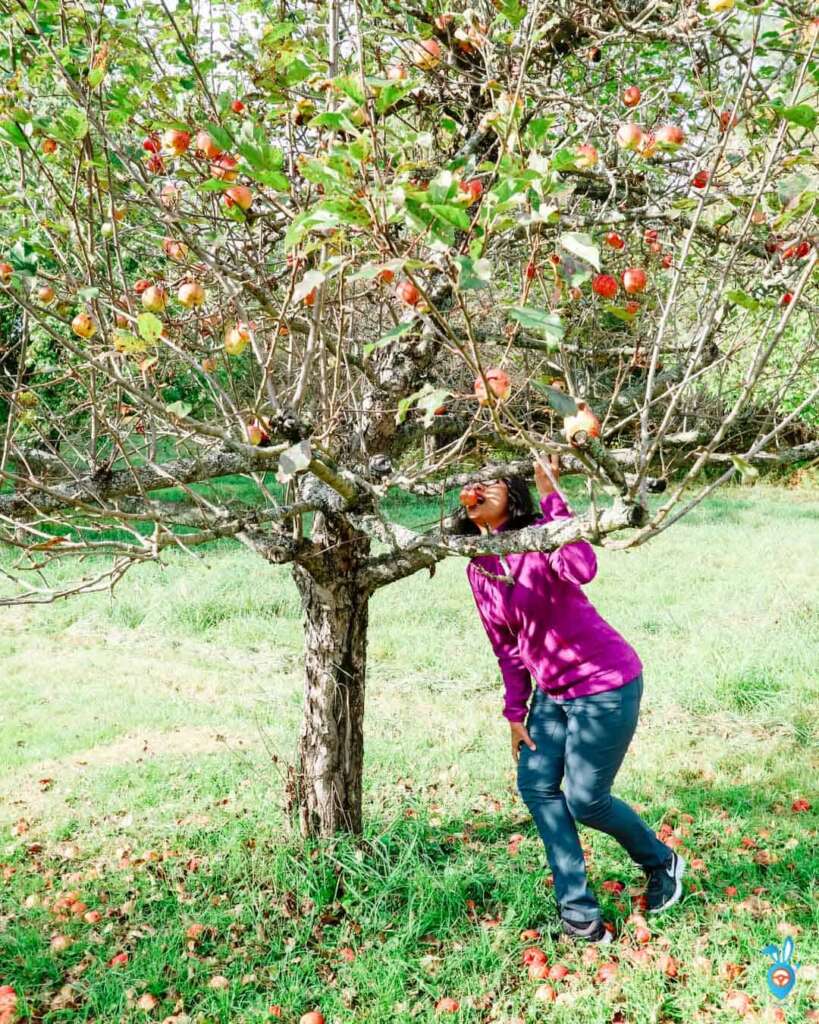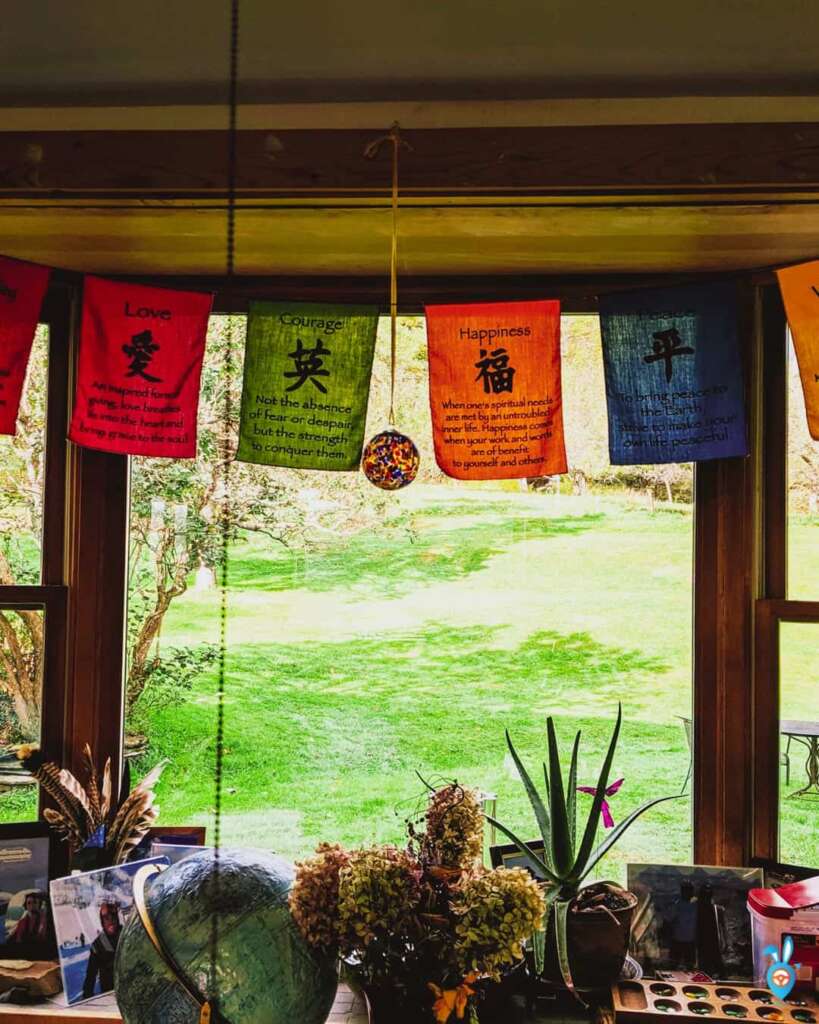 The Airbnb farm house has a vintage style and is decorated very well. The prayer flags caught my attention and I added them to my list of home decorations straight away. I wish we had more time here, I will definitely go back and stay exactly here again if it is still available.
The Airbnb was in a hilly area far away from the city. We headed towards Montpellier city first.
---
Stop 6: Montpelier
We stopped at Montepellier and went via Cliff Street towards Hubbard Tower to get a top view of the city. There were a lot of hikers around here and would recommend not missing this view if you visit. This town qualifies to be the most scenic Fall Town view in my mind, just like I have Tromso for the best winter view. The capital city of Vermont and the vibes here caught my attention, there is something so positive about the people and region here.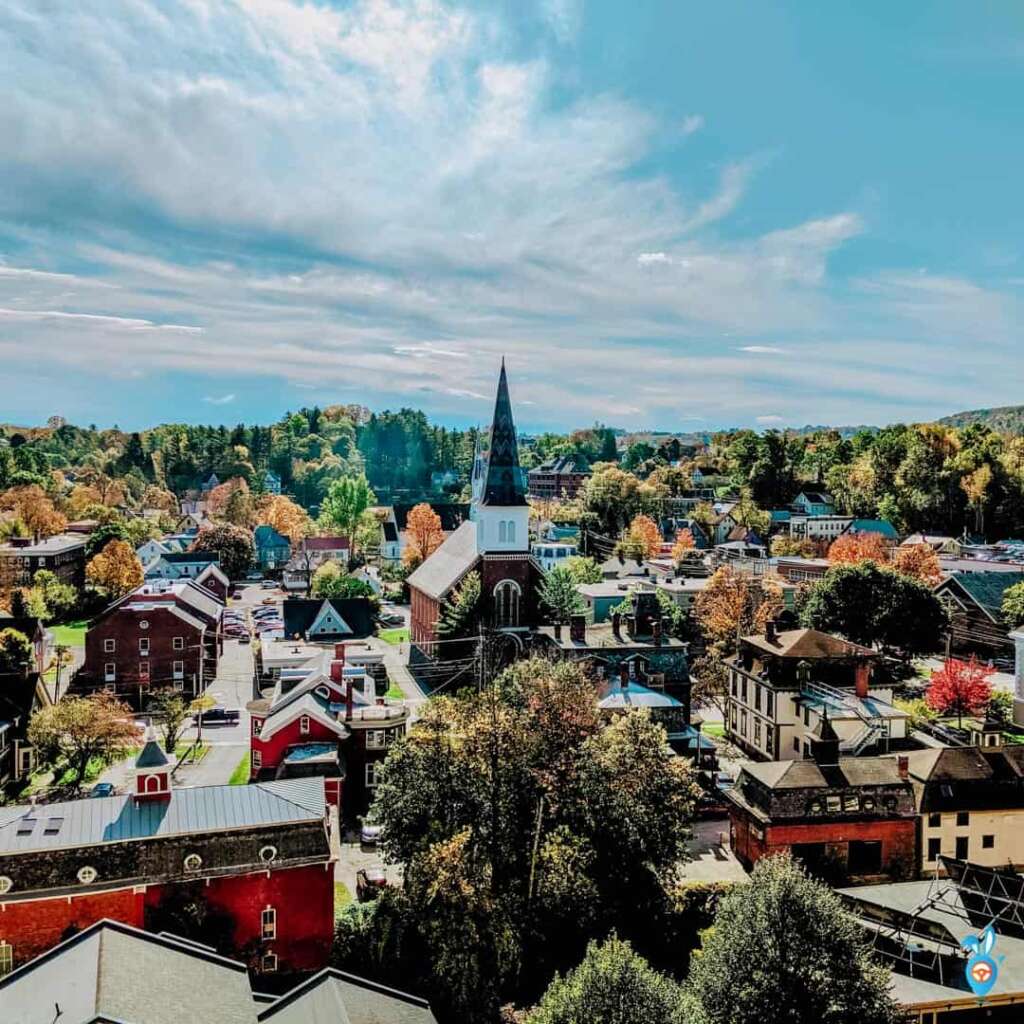 ---
Stop 7: Vermont State House
The State House of Vermont is located in its capital town, Montpelier. Stopping by this cute statehouse was a heartwarming experience as it stood gorgeous and constantly reminded me of the Glory of this State and its People. It was just stunning with its golden dome and fall backdrop.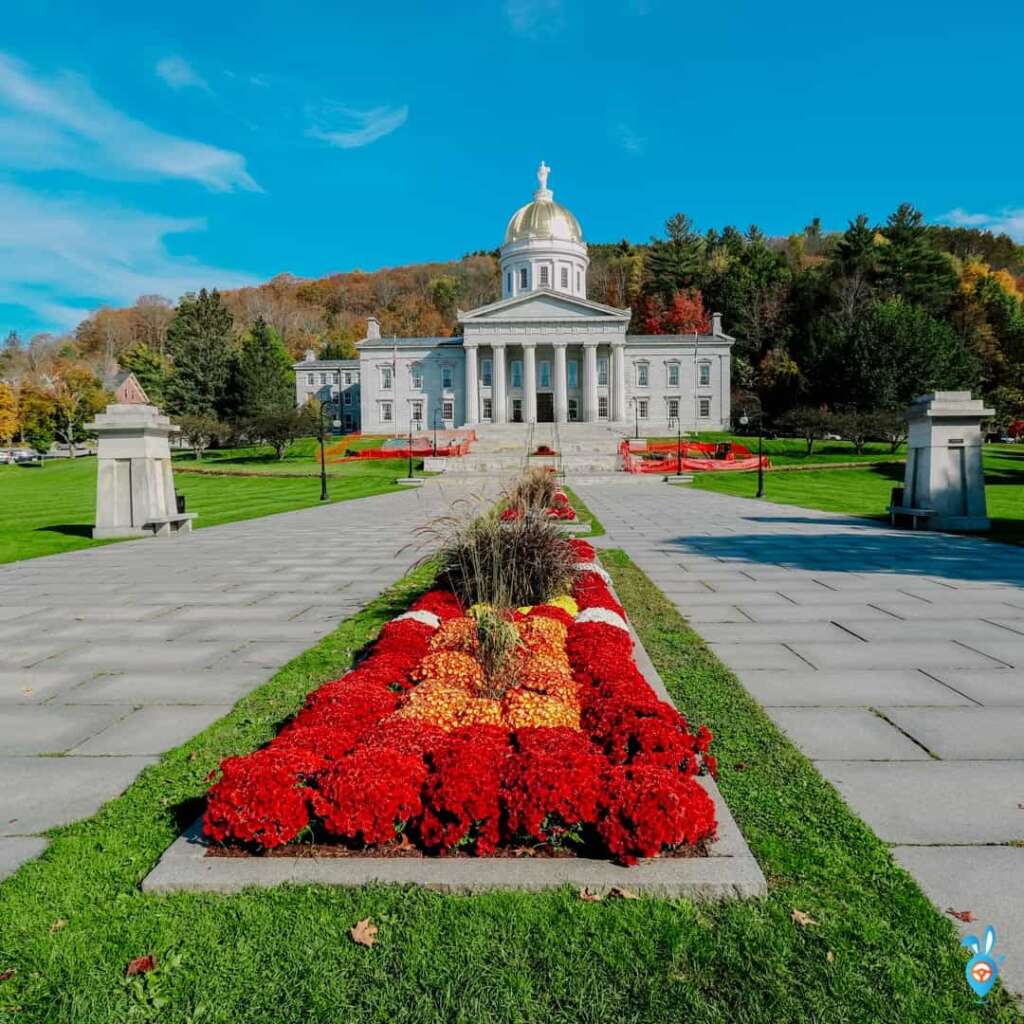 We drove towards Stowe taking the scenic route 100. This drive was just epic and was sad I could only do a part of it and hope to revisit and finish the full route.
---
Stop 8: Ben & Jerry's Factory, Waterbury, Stowe
We arrived at the original Ben and Jerry's factory which is the Mekkah for Ice-cream lovers. The vibe here is too cheerful, both adults and kids queued up to get their hands on their favorite flavor.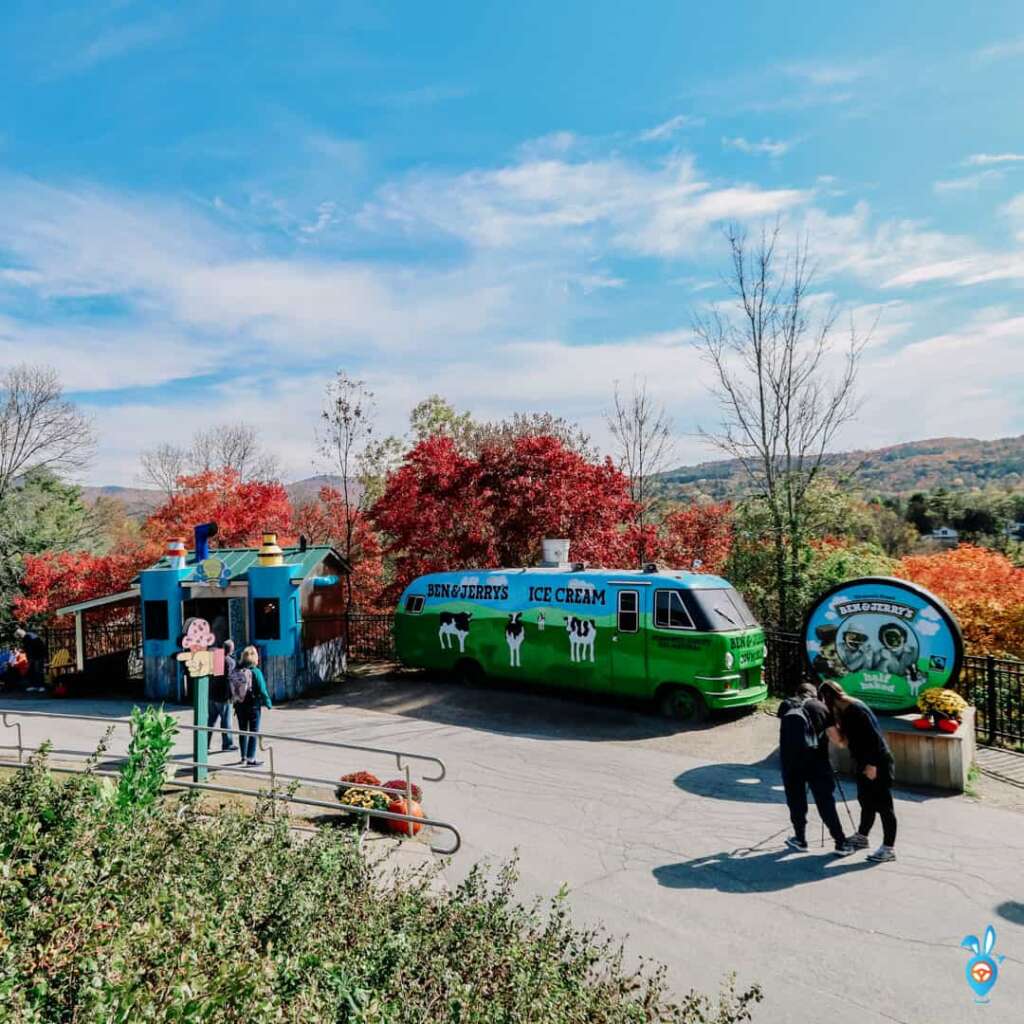 Here you can taste all their new flavors and pay a visit to the ice-cream graveyard where there is a gravestone for every flavor that didn't succeed in the market.
---
Stop 9: Mount Mansfield
One of the highlights of my trip was the drive and hike up to Mount Mansfield, the highest mountain point in Vermont. This literally felt like being in a Hollywood movie even looking at cars coming down from that steep hill while we queued to drive up.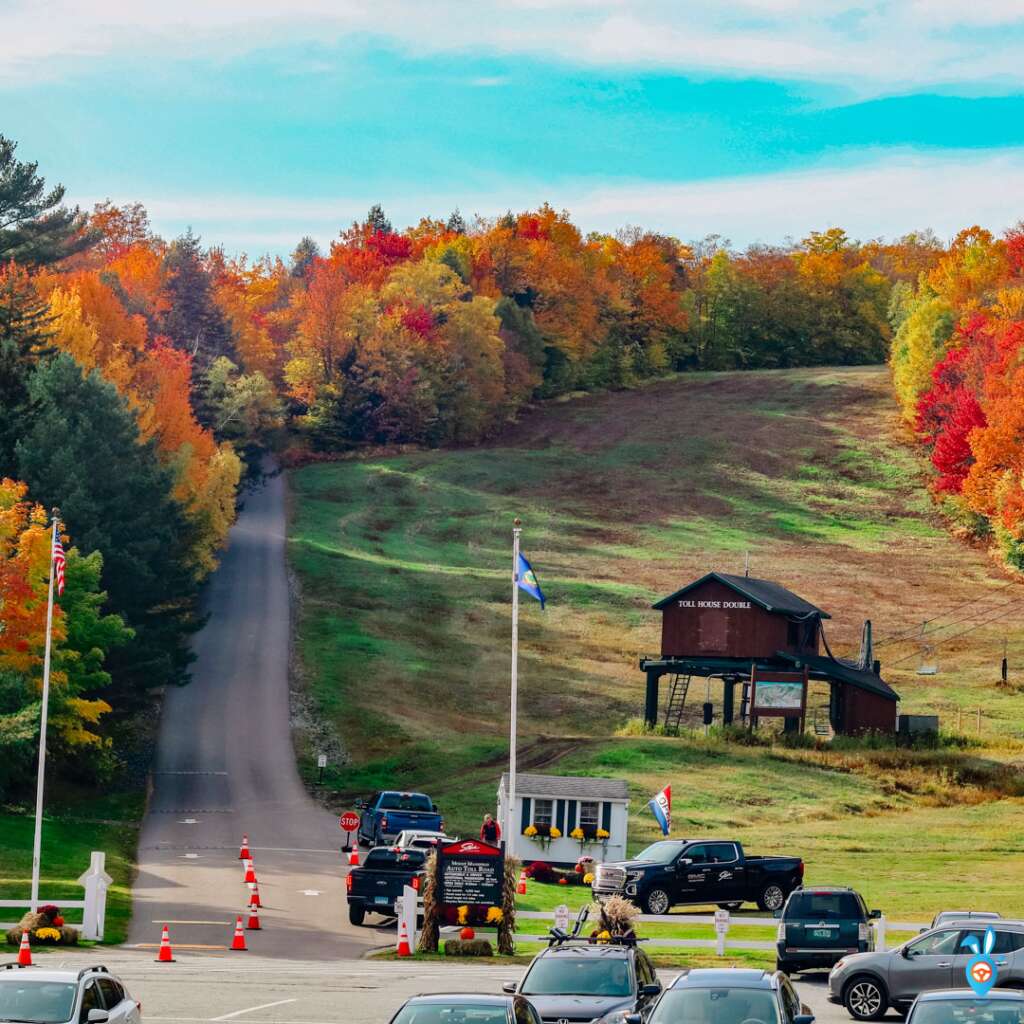 Climb up and you are in the middle of a FALL HEAVEN literally. It is all Yellow, the Coldplay song was singing in my head throughout the drive here. This mountain is a not-to-miss and the best for leaf-peeping and complete with a cute little chapel.
Tips to remember while traveling to Mount Mansfield
The drive can be tricky here and we saw a couple who had got stuck with their car tire wedged in a ditch.
There are multiple trails you can do here and it is best to plan time if you wish to hike.
We just did a short section of the Sunset Ridge Trail as we did not have much time left of the day. The view from here is amazing.
A list and map of trails can be found here.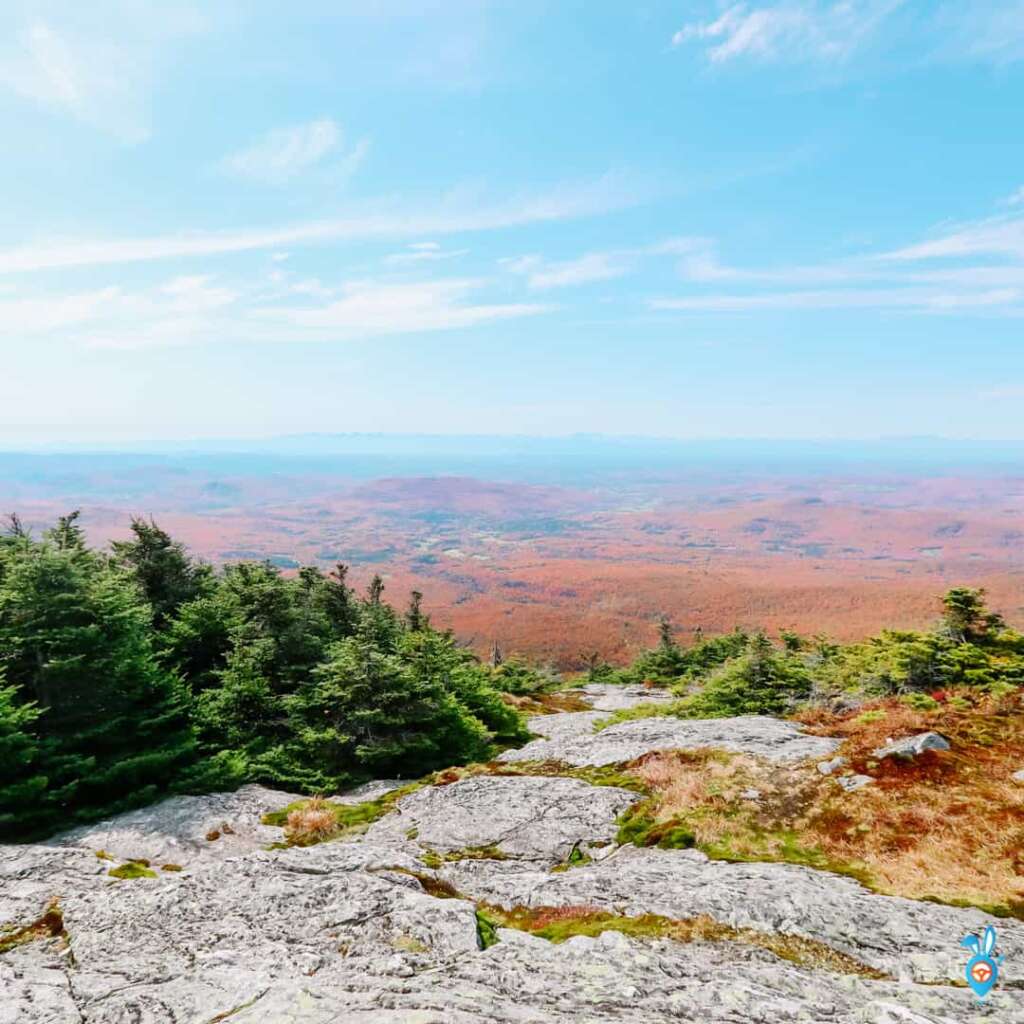 ---
Day 3: Killington
Stop 10: Killington
At this point, one of our friends had to leave so we had a short break in the trip before the rest of us continued to visit Killington the next day which is another mountain range famous for skiing. Look at the view- amazing isn't it?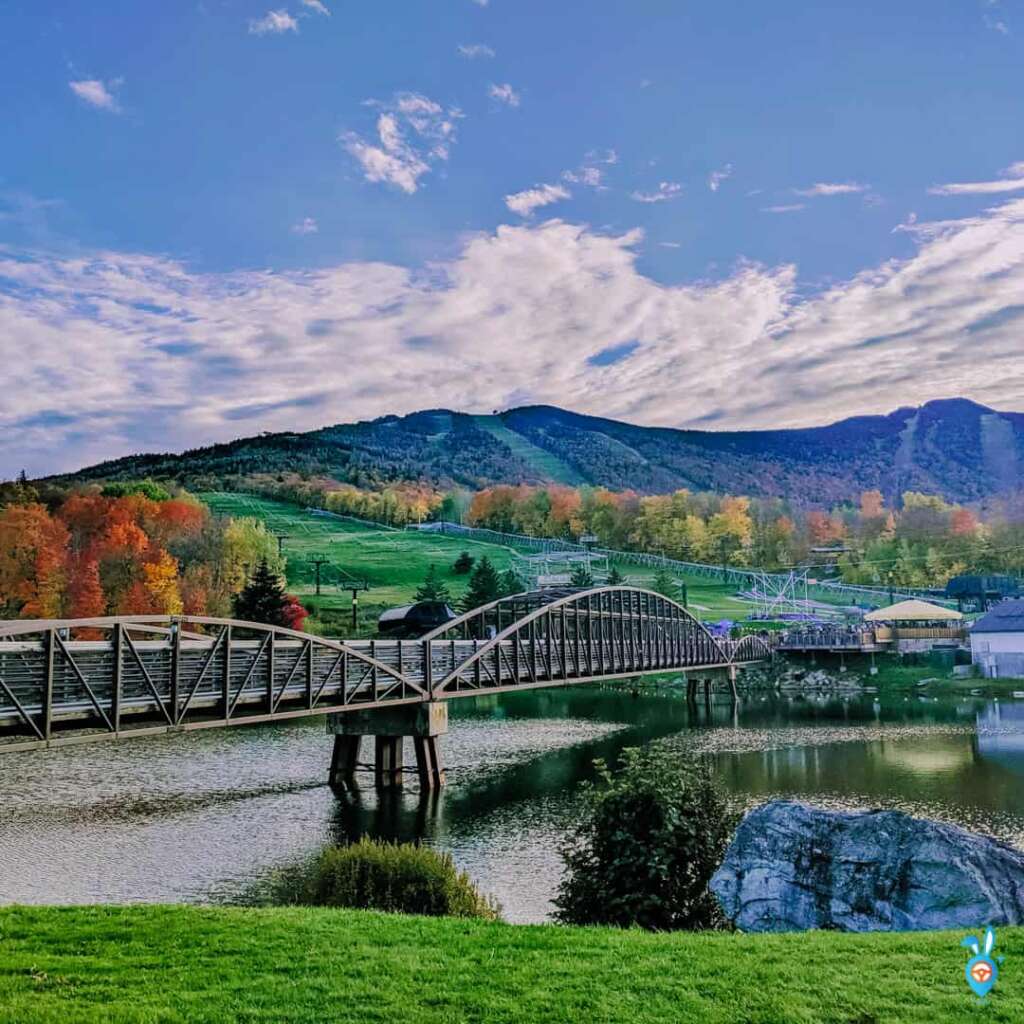 The Killington Mountain Lodge is very popular among families and was packed during our long weekend visit. It is perfect for a Fall Foliage road trip in Vermont, particularly for a weekend getaway and they have amazing rooms to stay in here.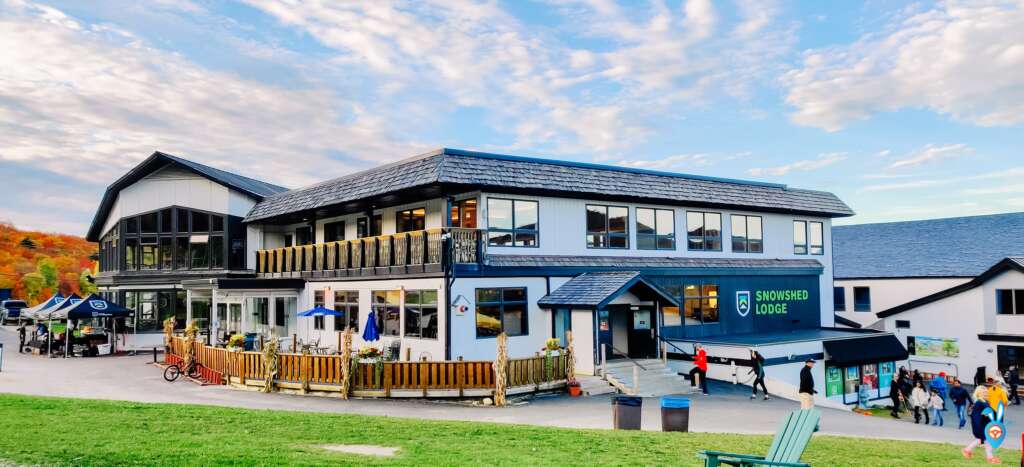 Click here to find some amazing accommodation options in Killington
---
Final thoughts on the Fall Road Trip in Vermont
Fall Road trips in Vermont are the best for leaf peepers, nature lovers and foodies. What attracted me the most during my Vermont visit, apart from the leaf-peeping experience, and picturesque villages are the really nice people and their commitment to using local products that even McDonald's does not exist there. Vermont is known for its natural landscape, and its capital town Montpelier is amongst the least populated cities of the USA. It definitely is an Autumn Wonderland!
---
Pin This Fall Road Trip in Vermont for Planning Your Trip