Cornwall in England! Drive in here and be amazed every minute wondering if you are in England or elsewhere. This southern county of England carries the charm of mediterranean coasts with colorful harbors, delicious seafood and ultimate English coastal landscape with lots of historical sites and gardens to enjoy apart from the beach hopping. Thanks to the recommendation I have heard from a friend to watch the Netflix series, Poldark, I am even more hooked to Cornwall than I ever was when adding it to on the best UK road trips bucket list. I have visited the majority of the east of Cornwall during the covid pandemic, and here is a perfect Cornwall road trip itinerary to help you plan your Cornish visit. Though I missed experiencing the food delicacies as much as I should have due to the covid restrictions, I have really enjoyed the coastal experience here, which was a mesmerizing experience to have explored this hidden gem in the UK. During the time spent here, it was very clear why the Cornish coastal walks attract both walkers and hikers, apart from the beaches that attracts surfers, water sports lovers and seafood lovers.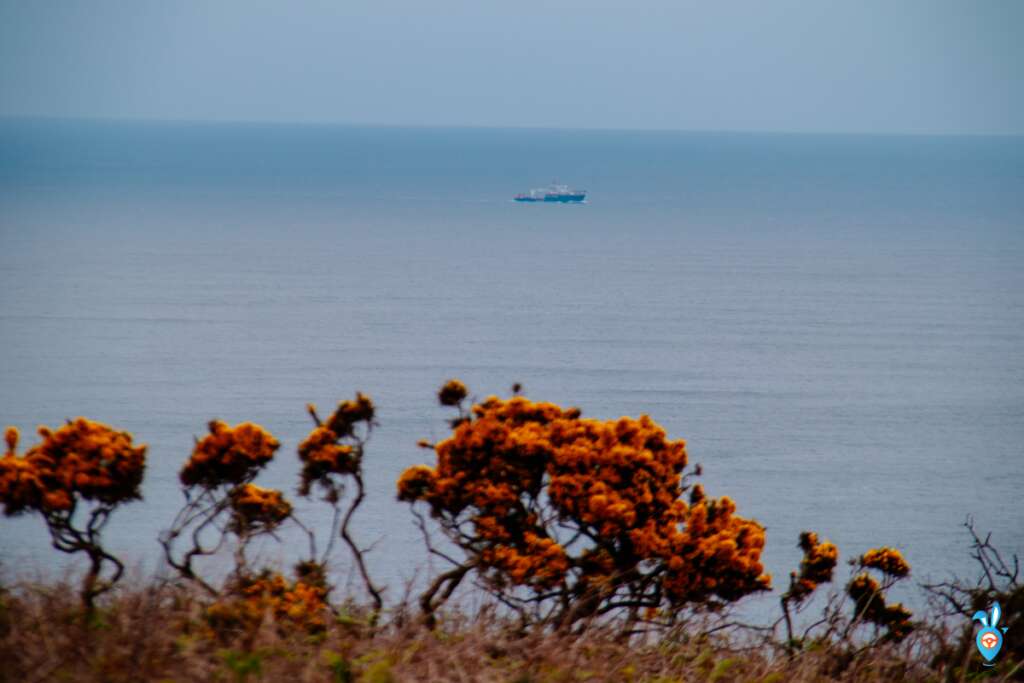 Located in the South western tip of the UK, it is harder to explore all corners of Cornwall by public transport from main cities like London, but definitely worth a visit so as some of the major places are still easily covered. No wonder many movies and books are set in this land of stories, since I visited here I have not stopped thinking of what life was like here back then. I hope you enjoy this road trip itinerary to Cornwall and embark on your Cornish adventures.
READ: Best Scenic Drives in the UK
2 Days Cornwall Road Trip Itinerary
Cornwall is located in the South West coast of England, and the homeland of the Cornish people. Surrounded by Atlantic Ocean and English channel, Cornwall is very famous for its coastal scenery. Cornwall has a rich history with its own kingdom and dynasty, which makes it a very unqiue English county amongst others. Cornwall was a mining centre in the middle ages with copper and tin mining making a large part of its economy apart from fishing, which declined by 1990s. Today, Cornwall is famous for its tourism, which caught up after the railway operations began with the main station at Penzance.
Cornwall Road Trip Itinerary Map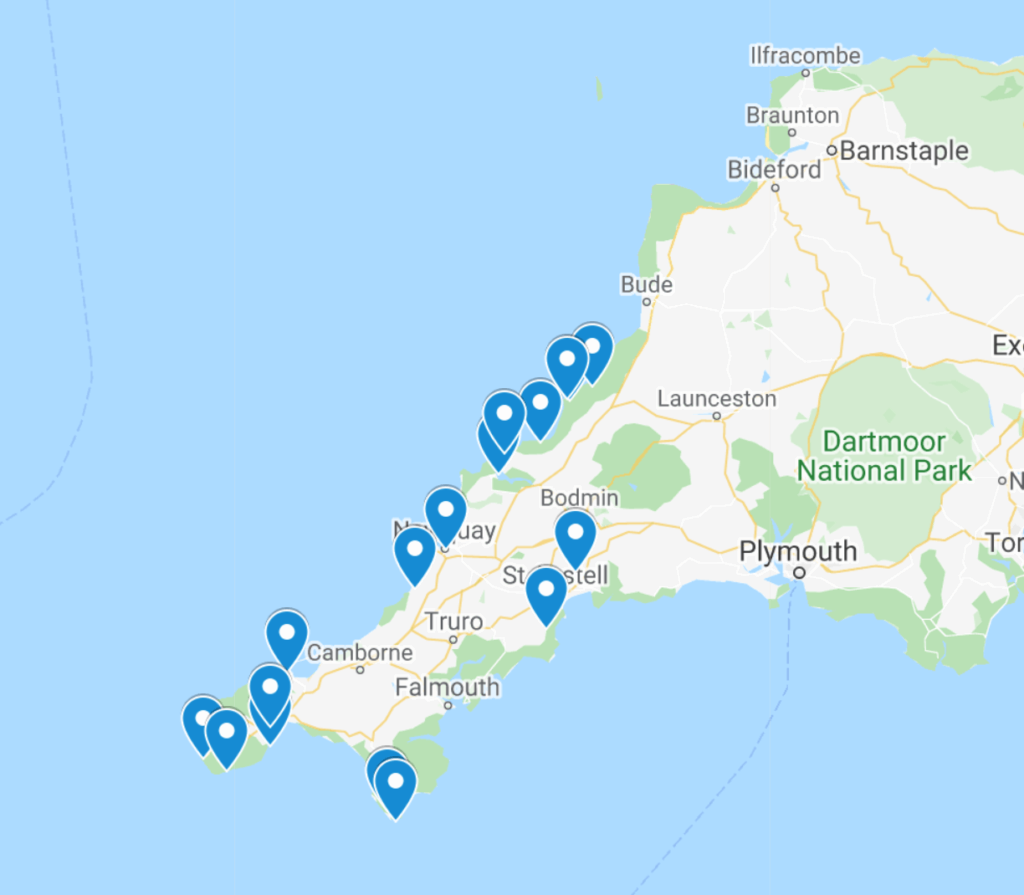 JOURNEY OVERVIEW:
We drove to Cornwall from Bath/Bristol area and stayed in Newquay as our base while we explored the different parts of Cornwall. If you are not a full time traveler, you can easily do this taking one or two days off from work, closer to a weekend with a bank holiday. I would totally recommend having a rental car or camper van to explore the corners of Cornwall. You could also visit for a long time and explore the coastal walks if you have more time. The itinerary covers all the top landmarks to explore in Cornwall, even if it's a weekend road trip from London or other main cities by car or a long holiday here which included more coastal walks etc. I honestly think I could spend here months happily- the setting of this place demands it, mixed with the landscape and historical vibe.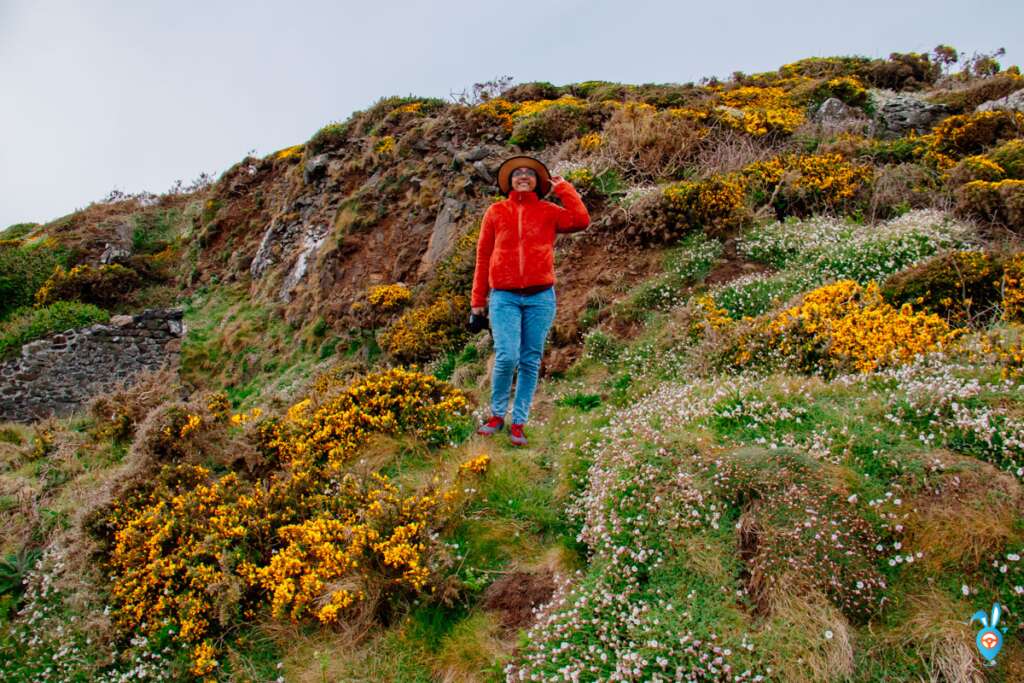 Top Places to Stay in Cornwall
Some of the top places to stay in Cornwall include the major harbor cities – St Ives, Padstow, Penzance, Newquay, Truro and Falmouth. The options here are plenty ranging from cottages, holiday rentals, Airbnbs, hotels and hostels. During my search for accommodation here, I was very convinced to stay in the Cornish cottages seeing the unique experiences, but there are plenty of beach hotels and Airbnbs to aim for as well that suits your style. For camper vanners, there are multiple campgrounds as well.
Top Tips for Driving in Cornwall
Driving in Cornwall is straight forward unlike elsewhere in England, which can be confusing for internationals not used to complex round about. However, the roads are really like the extreme countryside of England, very narrow and with less visibility of incoming traffic with elevated roads like in mountain ranges. If you are renting, I would advise to get small vehicles to Cornwall and to reduce driving time to avoid road fatigue as it is not a very flat ride. If you are a good driver, but not used to England, Cornwall is not tricky when it comes to complicated rules. So go for coastal road tripping if you would like to 🙂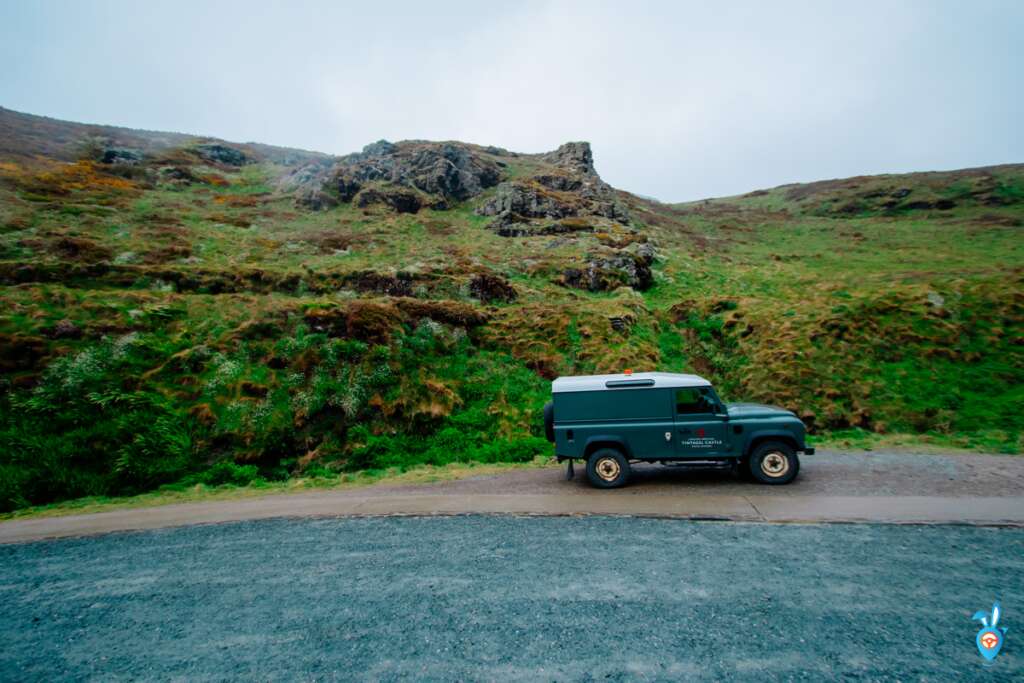 ---
Day 1: South East Coast
1. Perranporth Beach
Perranporth beach is one of the finest and longest beaches in Cornwall, filled with golden sand along the Atlantic ocean. The vast beach is exotic with its cove like rocks, sand dunes and surfs which attract youngsters, tourists as well as families.
The beach is so big that you can enjoy a nice beach walk along the coast watching the stunning sea scenery and waves. The beach is very family friendly that pets and kids will particularly enjoy playing at the beach.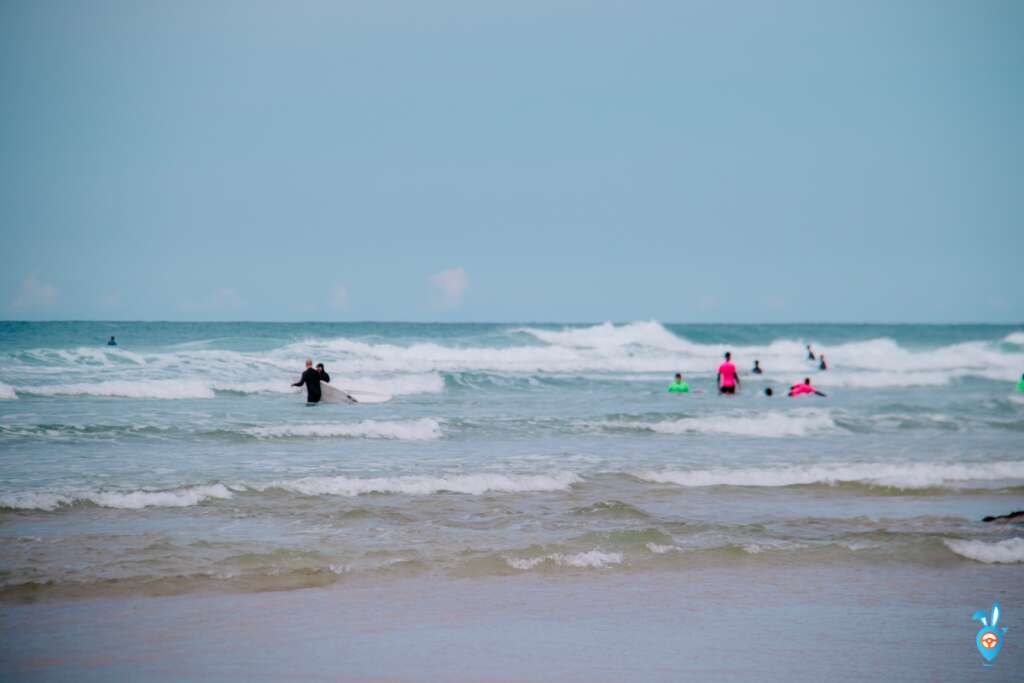 Tips: There are multiple cafes and bars in Perranporth beach for a drink or a bite, especially filled during holiday seasons. There is also a big parking lot near the beach including some benches for those who would like to stay on the land and watch the sea.
2. St Ives
St Ives is one of the well known and celebrated fishing harbor towns in Cornwall, being a popular setting for so many movies and stories set in Cornwall. No wonder it wins one of the top holiday destinations in England regularly, this fishing town feels like a dream in its first sight.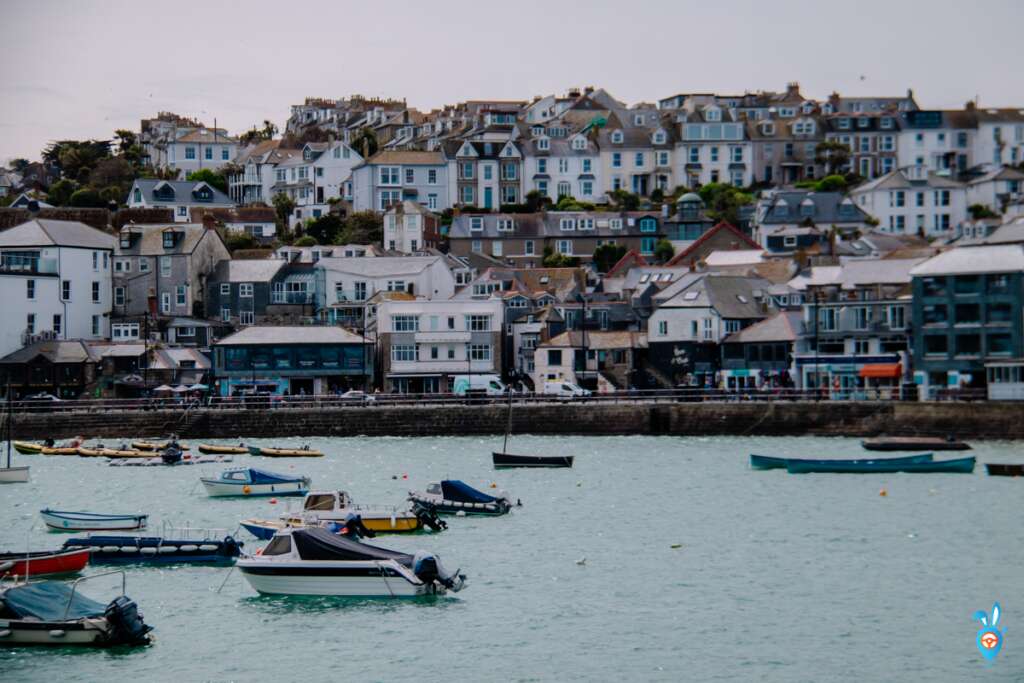 This quaint town of fishing cottages, and harbor, and attractive coastal activities like boat tours and even a scenic railway, this Cornish town definitely has the soul of the Cornwall experience that anyone dreams of. At the moment, I was feeling like a character in a book or a movie while I enjoyed seafood here and watched the harbor.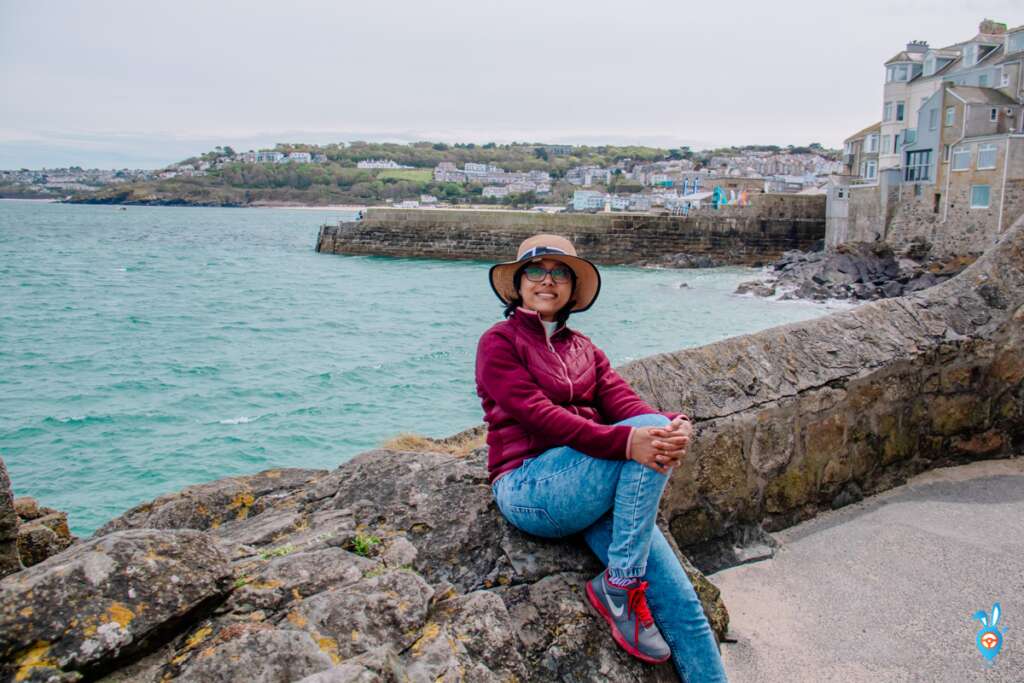 3. Cape of Cornwall
Cape Cornwall is one of the two capes of England, well located in a coastal route from St Ives. Cape is one of the iconic historic landmarks of Cornwall with the mine here a memorial to the mining history of this area. Being located in the southern coastal tip closer to Lands End, the landscape here is one of the best in Cornwall and not to miss.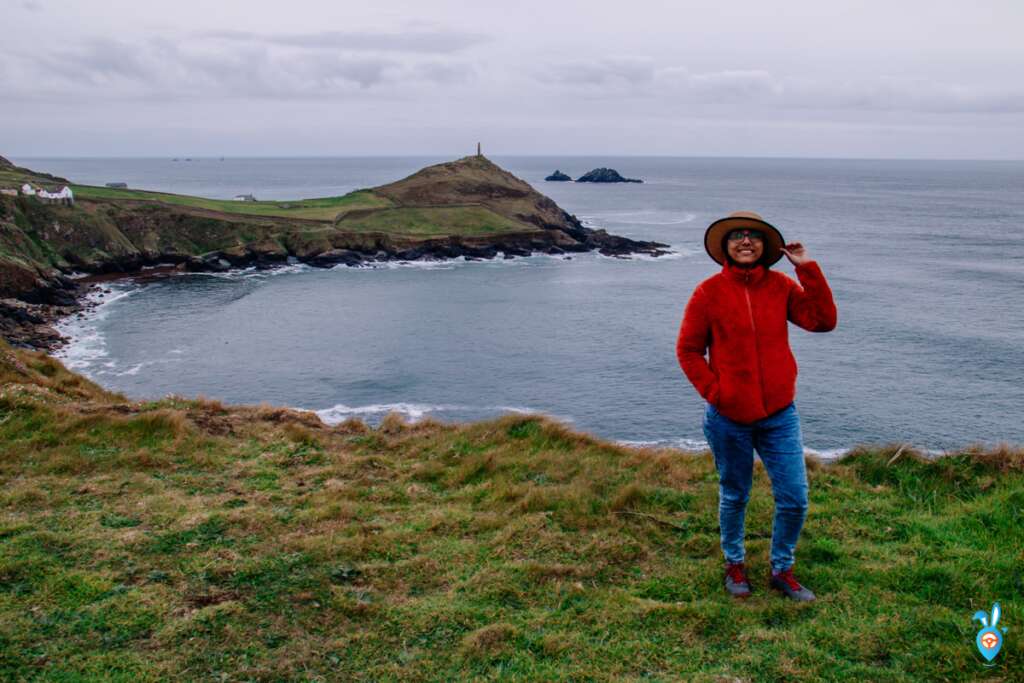 Tip: If you are by car, there is a parking closer to the coast and then you can take a coastal walk from there. The road here is narrow, so be careful and go only with a small vehicle.
4. Land's End
Land's End is in the western south end of England and a geographic landmark that attracts many tourists around the year.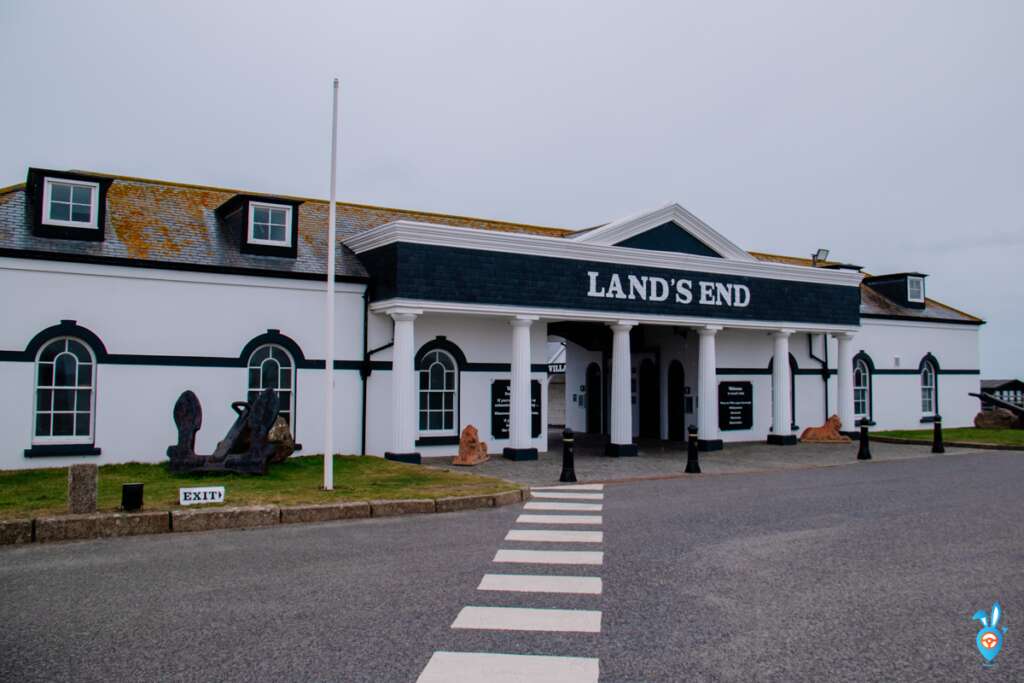 Apart from the sign post here, which is any traveler's dream, Land's End is a big tourist complex nowadays with lots of fun attractions, holiday stays and a large shopping complex.
READ: Two weeks Scotland Road Trip Itinerary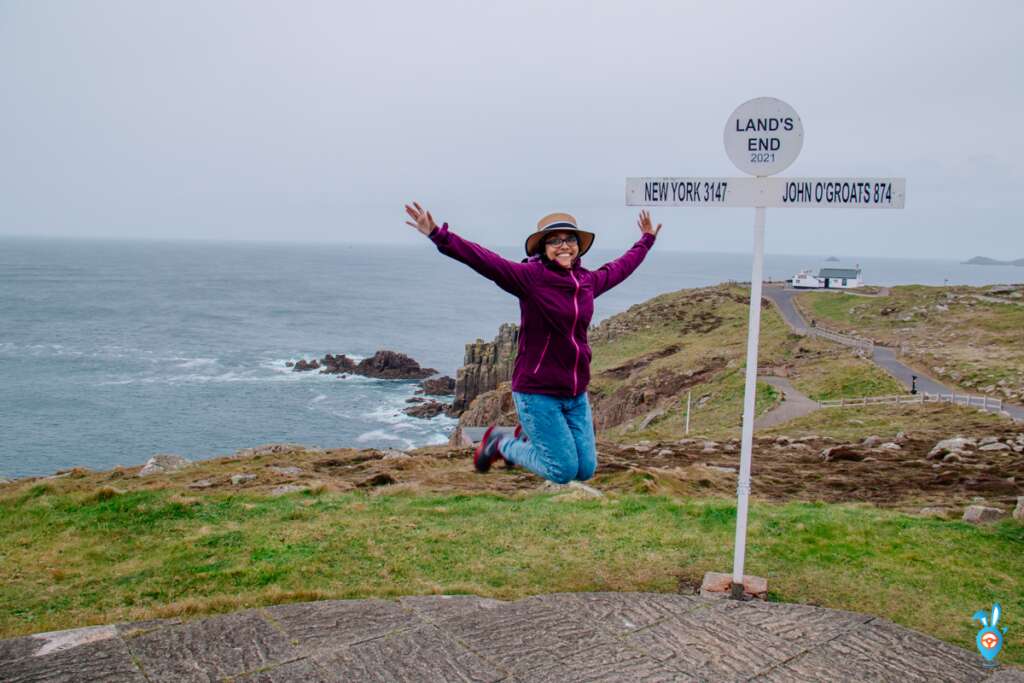 As we visited during the covid pandemic, everything was closed, however Lands End overall seemed to have a playful atmosphere, and a fun place to hang out with family and friends.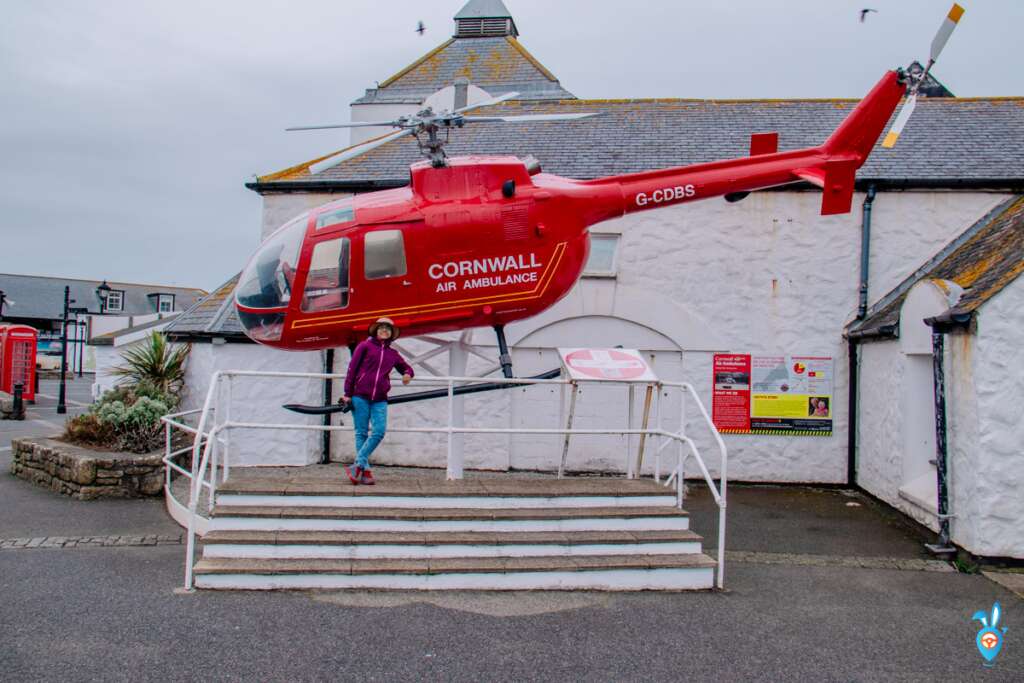 The Lands End cliffs here is a stunning view and the coastal walks the prettiest. Walking here reminded me of the John O Groats experience, which is the northern most tip of UK and a must add to a Scotland road trip itinerary.
5. Porthcurno Beach
Porthcurno is a sandy beach with turquoise water near Penzance, which is a beach paradise and one of the best in Cornwall. This beach is surrounded by stunning cliffs with a grand view and you will be mesmerized by the waves. It is perfect for swimming and surfing, but make sure you check weather conditions and tide times.
I was awestruck to see this beach, as you would not believe you are in England when you are here. The turquoise water, soft white sands and outstanding natural beauty here is very unique to this beach and a must addition to your Cornwall road trip itinerary and to your UK bucket list.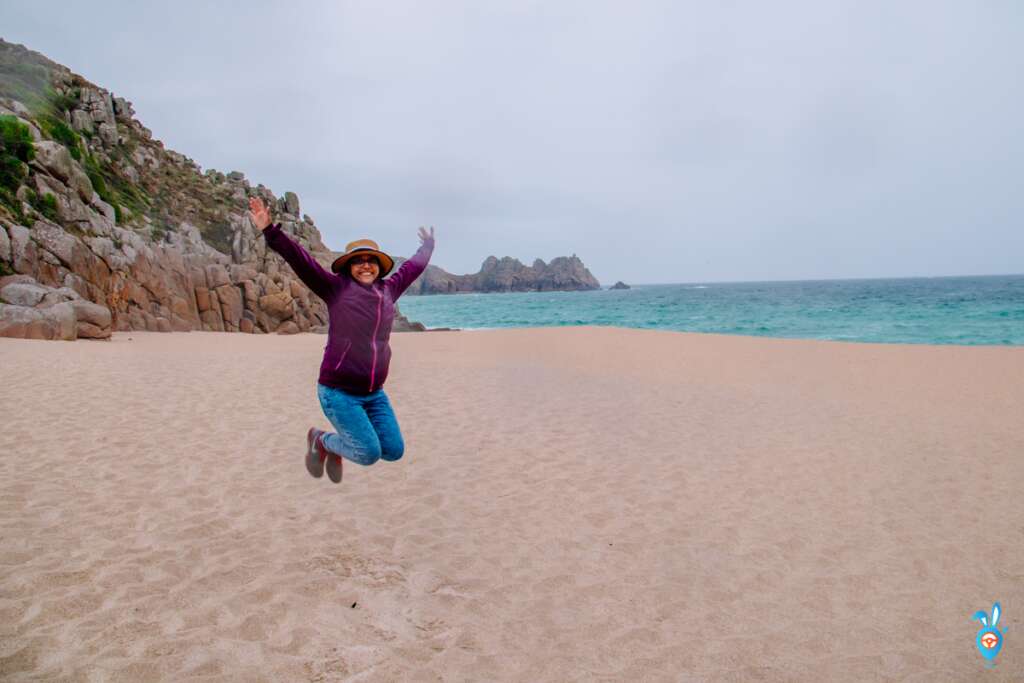 Just around the corner is the Minack theatre, granite cliff made open theatre is known as one of the best in the world for the epic view from here.
Tips: About 200 m behind the beach, there is a pay and display car park and there is also a public toilet here. There is a steep step down to get here, which is easily done by a healthy person.
6. Mousehole
Mousehole harbor is a pretty little town near Penzance, which is very picturesque. Parking spaces and shops are limited compared to other places, but it is unique and especially famous among writers. It is a typical Cornish village with beautiful views, perfect for a scenic walk and enjoying a cream tea. It is very close to Penzance and it is about a three mile walk here.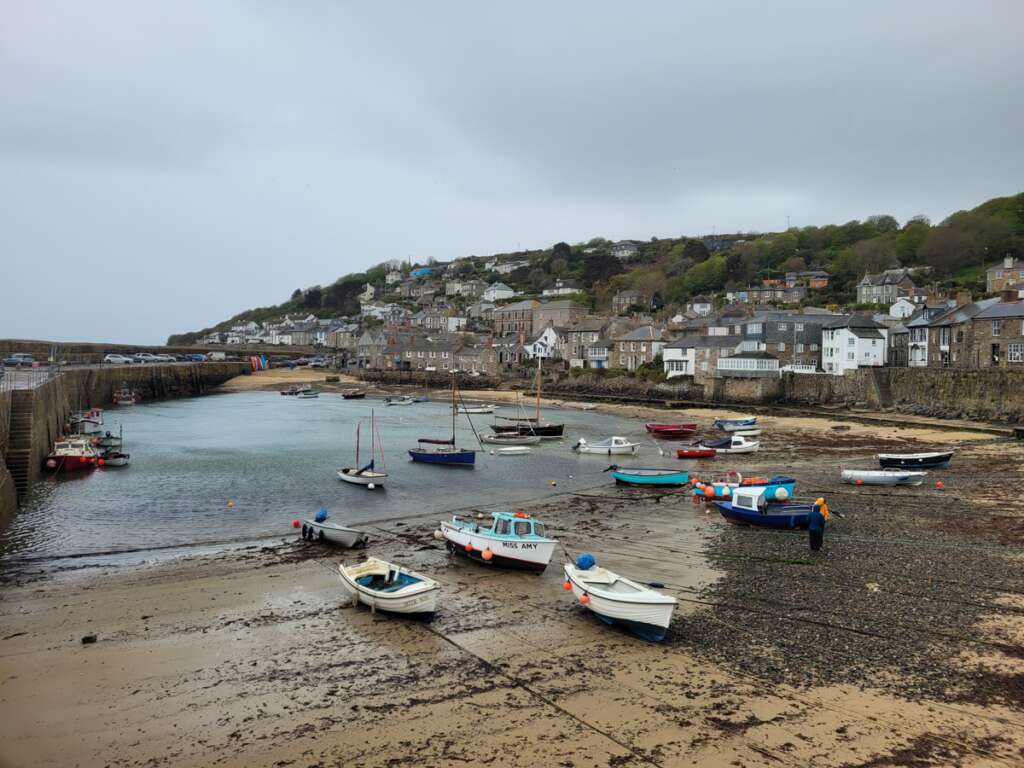 Tip: Best route to walk to Penzance to Mousehole is via Newlyn, which gives you a glimpse of the fishing industry here while also enjoying the coasts.
7. Penzance
Penzance is one of the major cities in Cornwall with the railway station from the rest of England, and a popular Cornish harbor town with a range of activities. Popular beaches like Porthcurno, Praa sands and long rocky beach are nearby as well as the Minack theatre with the granite cliffs. St Michael's mount is a spectacular tidal island here, visited by a granite causeway, only accessible during low tide. The town also has some of the best seafood restaurants and fish market.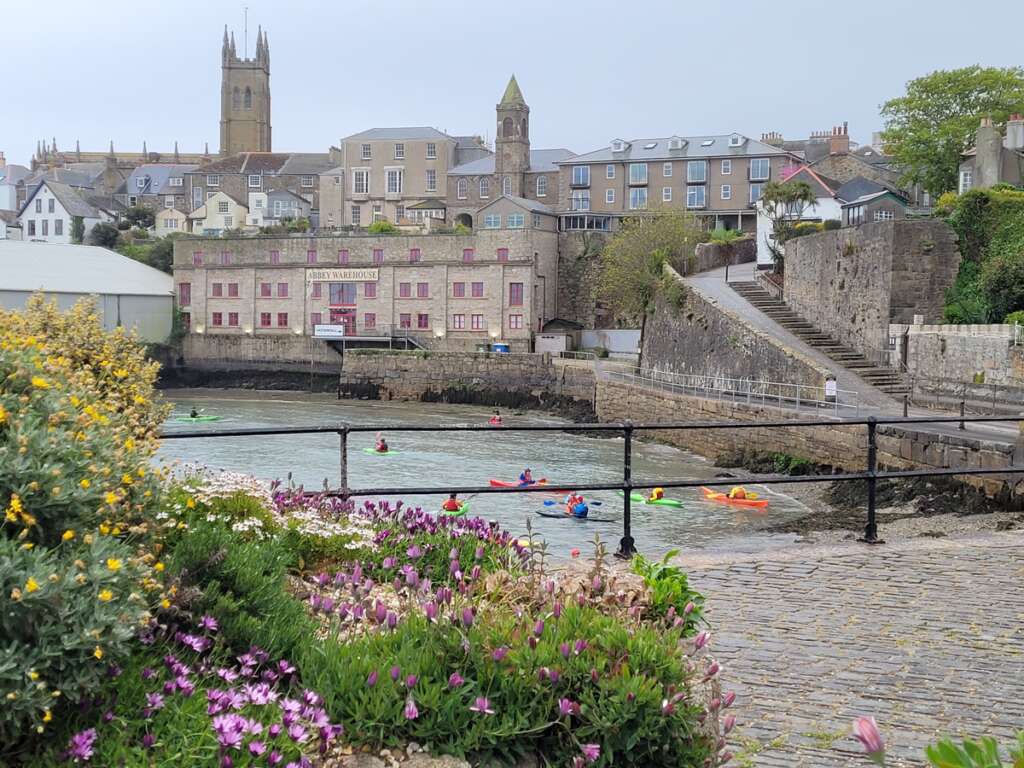 Tip: Don't miss walking through the Chapel street which is in the middle of the Penzance Centre and is filled with restaurants, galleries and boutiques. And of course, there is a church here, named St Marys church.
---
Day 2: North East Coast
8- Carnewas and Bedruthan's Steps
Located in the north west coast path between Newquay and Padstow, Carnewas mine and Bedruthan steps offer one of the epic coastal sceneries in Cornwall, with a grand view of the Atlantic ocean. The beach here is just like Porthcurno with turquoise water and the Bedruthan steps reminds heavily of the Scotland's Duncansby stacks. Bedruthan steps have a cliff top campsite and a car park, and is a popular destination on the Cornish coast.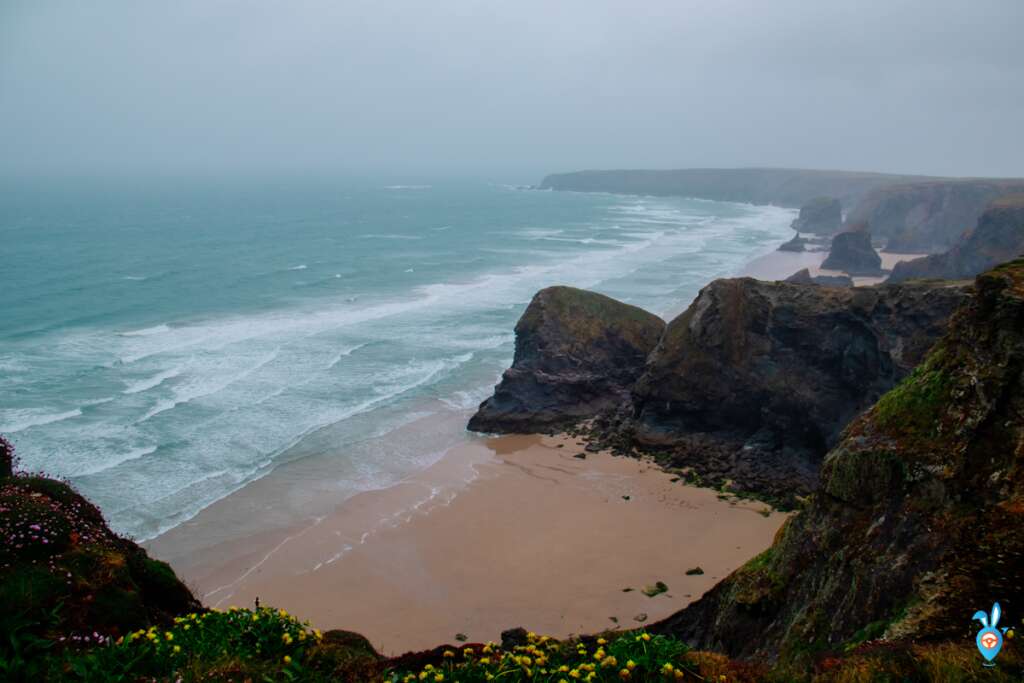 Tip: Being in the open, the view here is completely weather dependant. It is best to hike around here on a sunny day. For enjoying the weather, it is best to go here on a sunny day like everywhere else in this area. I am mentioning this particularly for it being one of the best south west coastal views not to miss during Cornwall visit.
9- Padstow
Padstow is another popular fishing port on the north Cornish coast, with many attractions nearby, making it a strong candidate for Staycations. The town is filled with fisherman's cottages and merchant's houses, and epic holiday resorts making it a tourist hub. Some of the top beaches here include St George's cove and Hawker's cove that is walkable distance and there is also beached of Rock, which can be accessed by a ferry ride. Padstow harbor is bustling, with many shops and cafes around. We even saw some paddle boarders enjoying in the water. Padstow is very famous for the seafood restaurant by Rick Stein, who is a famous chef. I found the goodies pretty costly but enjoyed a stroll in the Rick Stein branded shops here.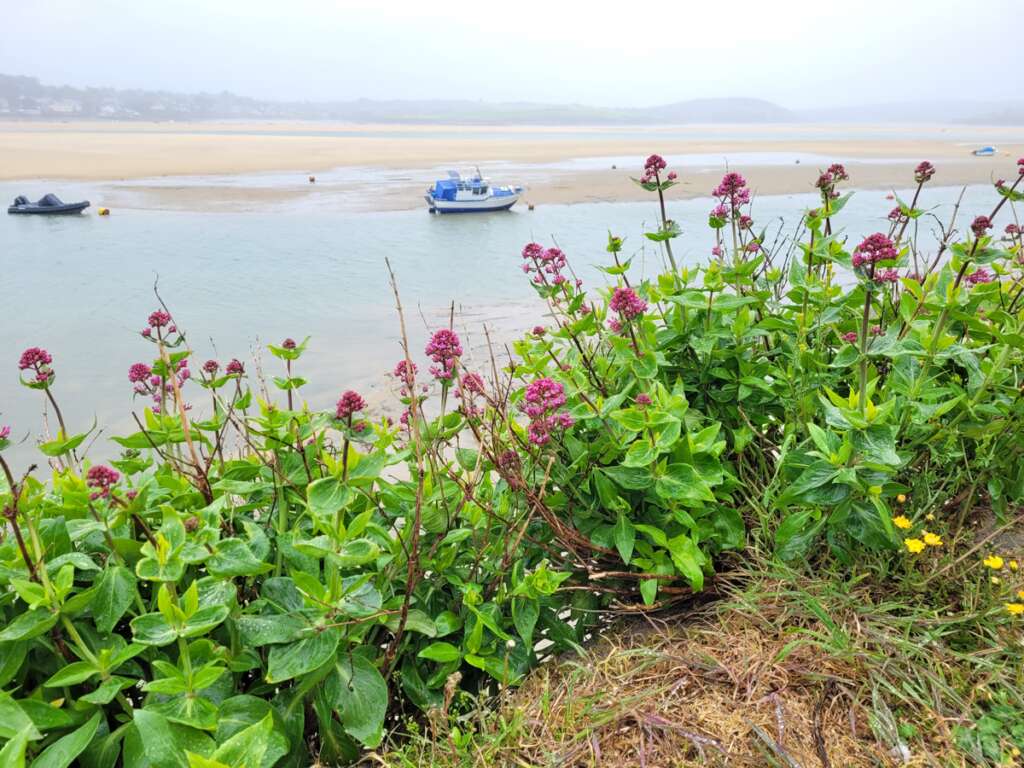 10- Polzeath Beach
Another gem in the North Cornwall, Polzeath beach is another long sandy beach especially famous for surf lessons. This is also a family friendly beach, one of the most safest, where you can take your kids and pets. There is also parking at this beach, making it super accessible.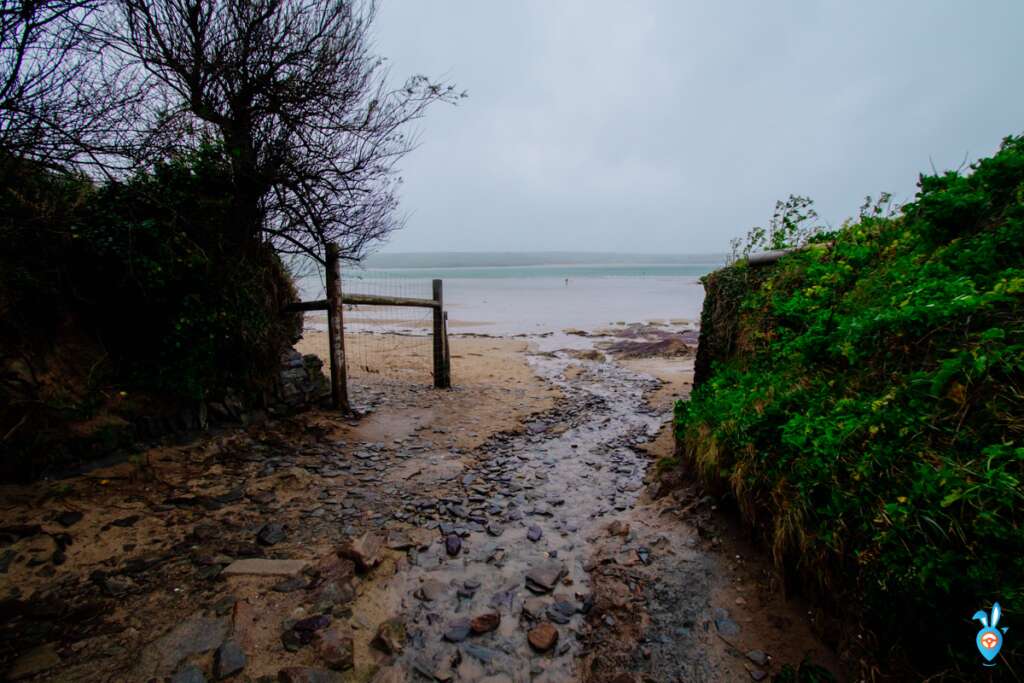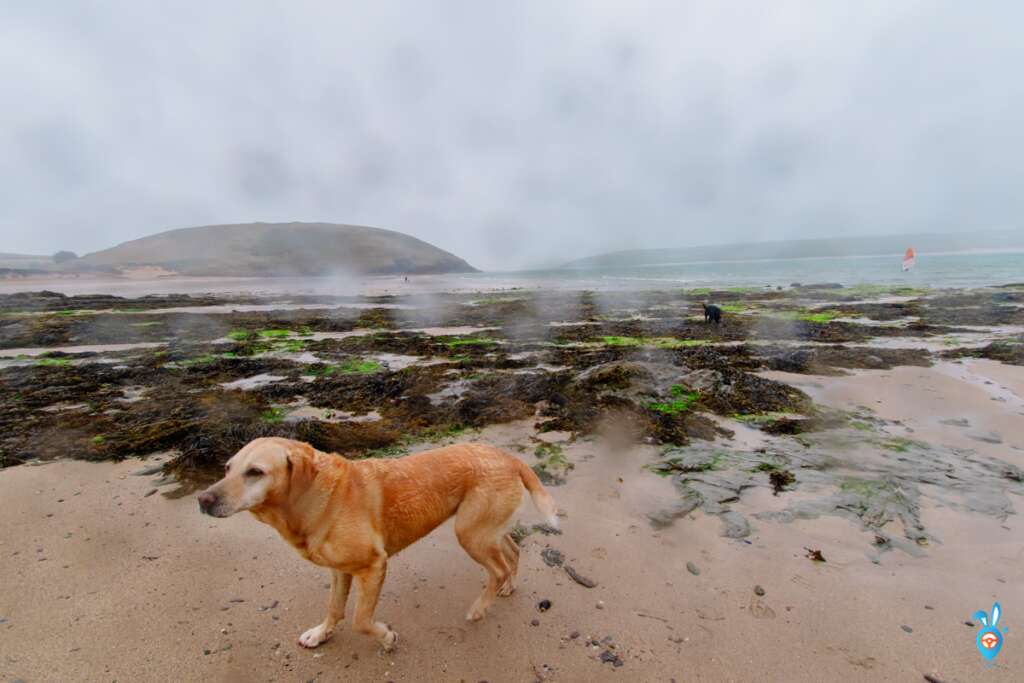 11- Port Isaac
This quaint fishing town is very well celebrated among tourists too, very popular as the film Doctor Martin was shot here. Houses here are clear depiction of Cornish white-washed architecture and the winding streets giving it a pretty vintage look. The village is down the coast and there is a car park at the top of the hill for visitors. When we visited, it was pouring when we reached here, so we could not stop and explore unfortunately.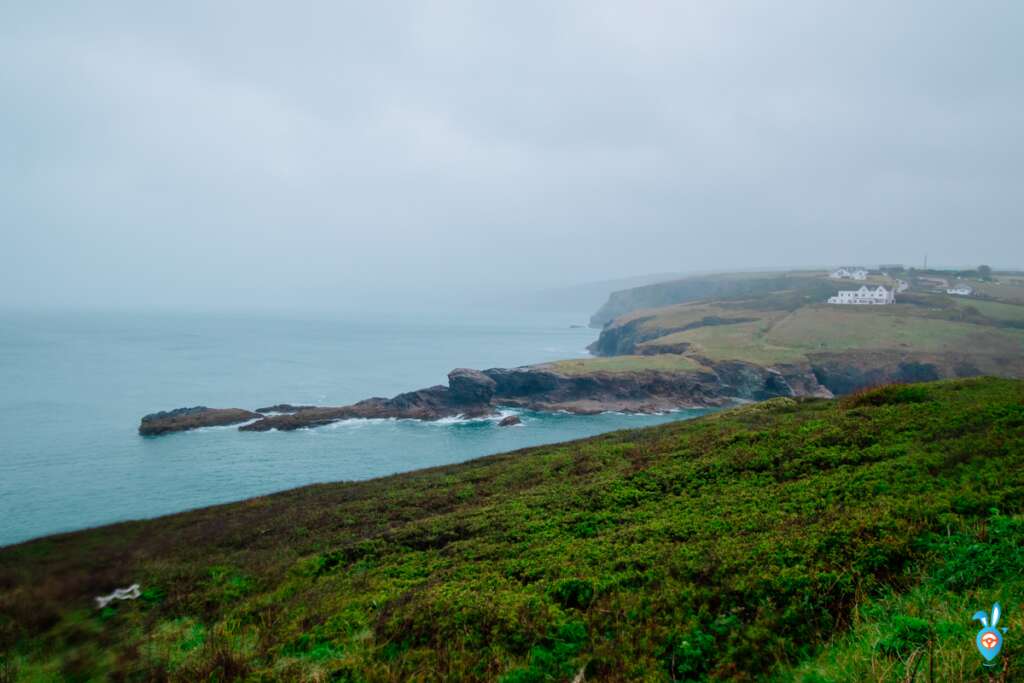 12- Tintagel
Tintagel is one of the most historic and dramatic Cornwall coastal area to visit. Crowned with a castle, a stunning bridge and an outstanding cave, this British heritage site is also another place well celebrated by artists and writers.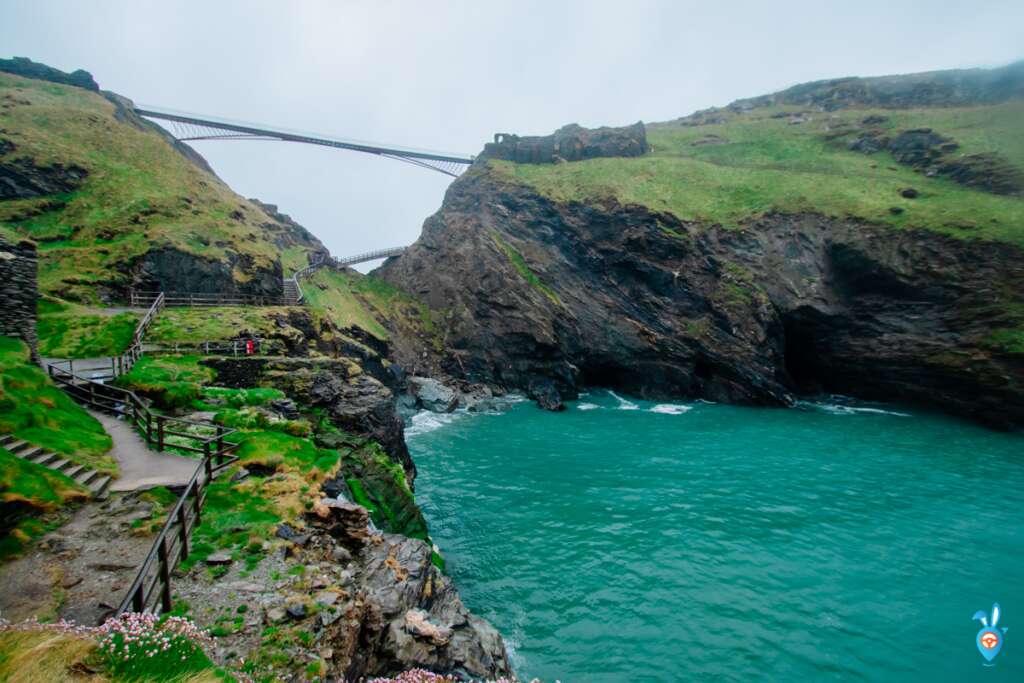 The coastal scenery here is unmatched and the coastal walk here is highly recommended. During our visit, the weather was not safe and the tides high, so we could not go to the castle or take the alk, you shiuld have seen my disappointment face that day as I have been dreaming of walking that bridge from so long. Nevertheless, look at the coastal scenery here! Just Vow!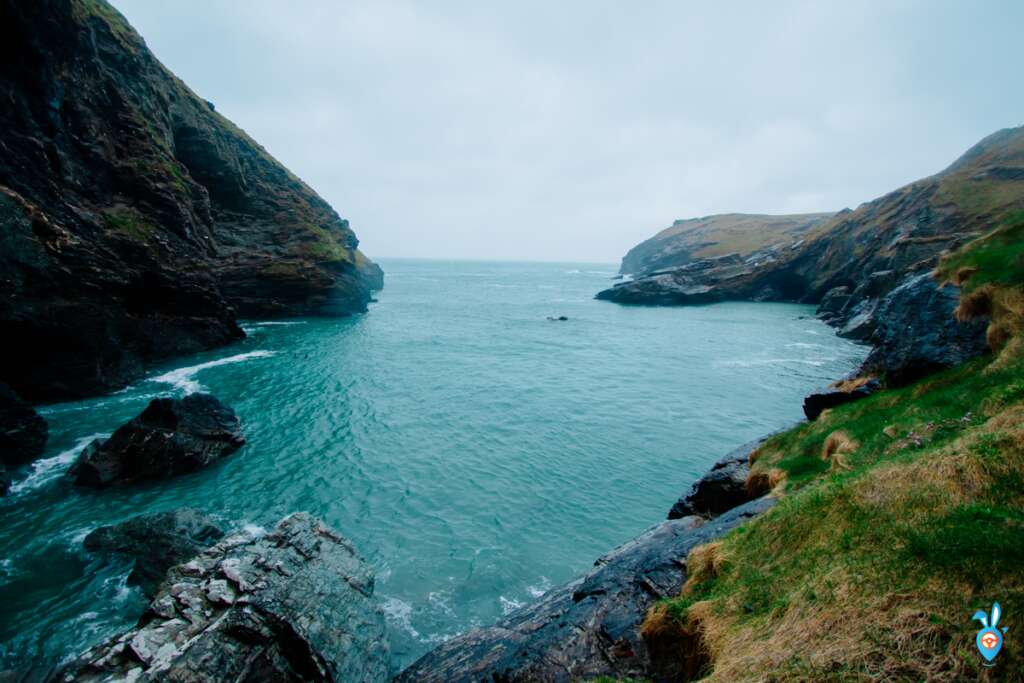 Even though, we could not walk around much, we did enjoy exploring the sorroundings. The view is too good from all angles.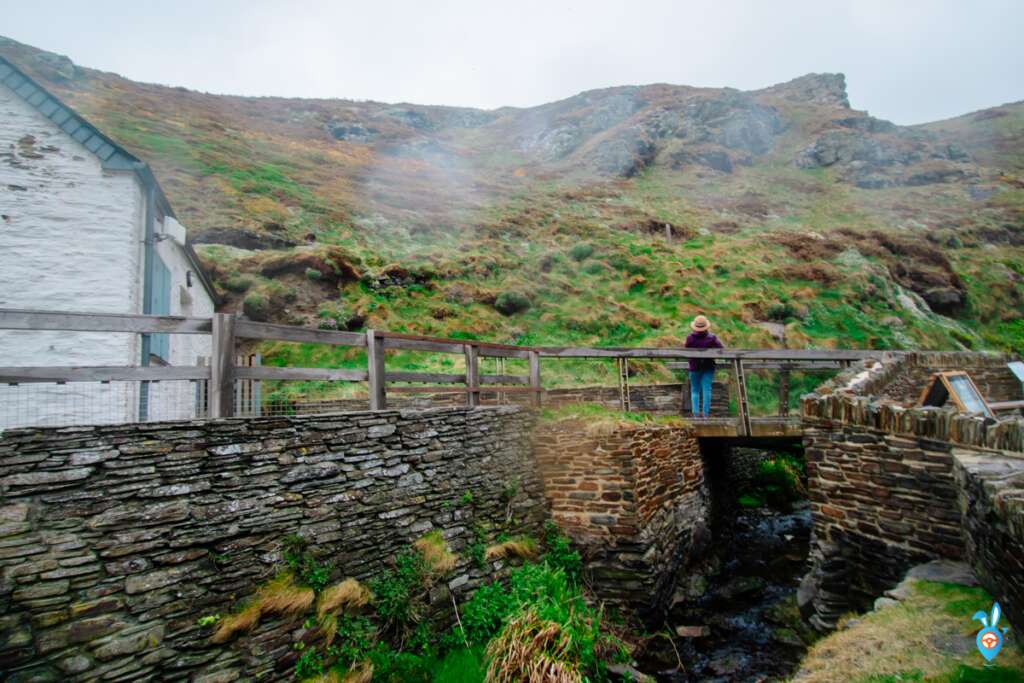 I sat down and admired the coast for sometime, and reliving this dreamy Cornwall trip, as it was time to bid bye to Cornwall and move northwards to North Devon. I told myself that I am returning Tintagel, with plenty of time to snatch that good weather to go on that dreamy coastal walk and cross the Tintagel bridge.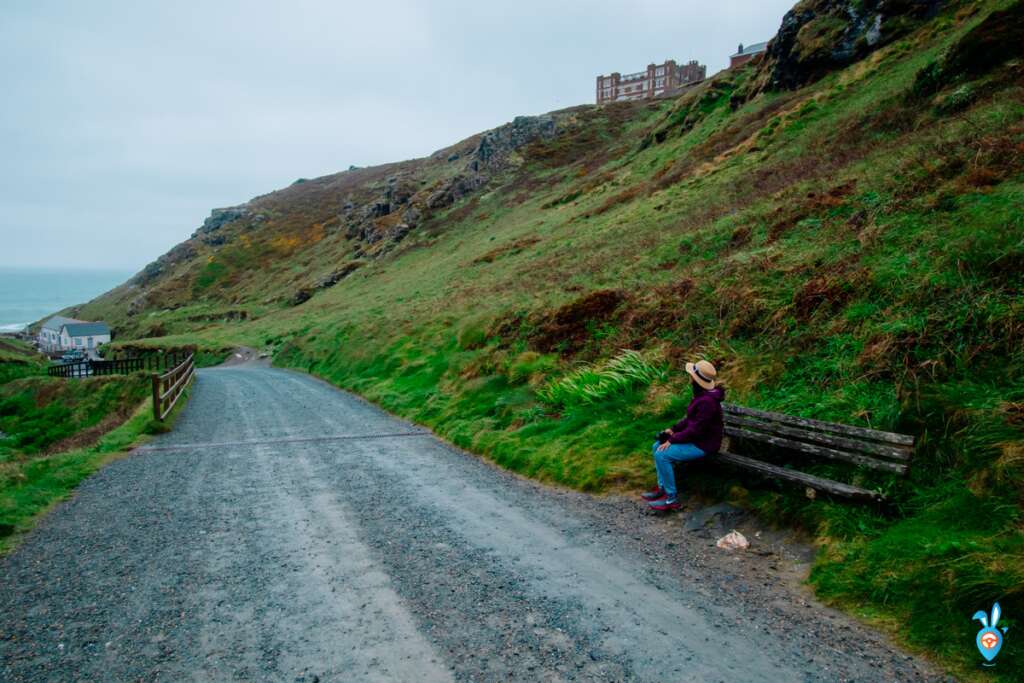 Pin this Cornwall Road Trip Itinerary