The United Kingdom has some of the top scenic drives in the world varying from coastal shore drives, mountain peaks, green forests and amazing country side views. In this post, I will give an overview of the outstanding natural beauty the UK has to offer covering the best scenic drives in UK- Scotland, England and Wales. I hope the the list can help you plan your road trips in the UK, as almost all of these fall into my UK road trip bucket list with some of them gladly checked off and on the revisit list. All the maps and top stops are attached for each recommendation including the best time to visit.
---
Scenic Drives in UK: Scotland
1. Scottish Highlands: Fort William Area
The Fort Williams and Loch Ness region has some of the best scenic routes in the central Scotland with some really cool bucket list adventures to check off like seeing some of the best castles in Scotland. If you can't make it to the North Coast 500, also known as the NC500, which is the northern most and remote area of Scotland, then this is the route to plan for capturing the Scottish highland beauty. This trip is very suitable for families with many outdoor adventures possible and lots of accommodation available for a perfect Scotland Road Trip itinerary.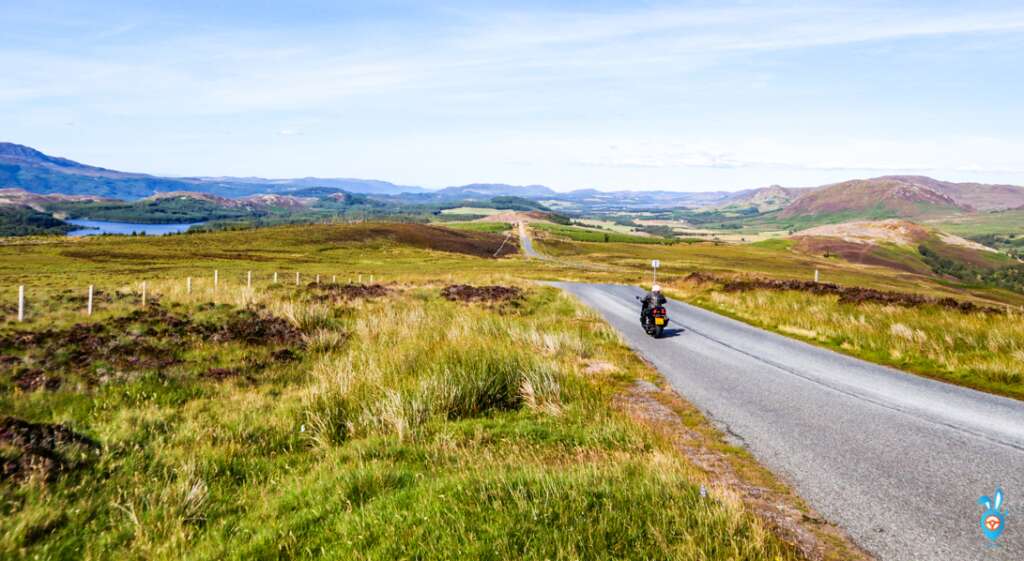 Route: You can take the route A83 to A82 from Loch Lomond/Edinburgh to Glencoe if you are travelling from the South.
Duration: 3 days – 1 week
Top Spots/Drives:
Fort Williams : A major outdoor town with lot of things to do in and around with plenty of accommodation.
Glencoe: Amazing drive and many scenic walks in this area. Try taking a detour to Kinlochleven when here.
Glen Etive Drive: Don't miss this renowned route for the most epic scenic route in Scotland where some scenes from the James Bond movies were shot.
Ben Nevis: The highest mountain peak in the UK near Glencoe with a mountain resort. You can even skii here during the winter.
Glenfinnan: This is the Harry Potter destination where you can see the viaduct from the movies and even the Jacobite train. There are some really scenic places to visit here.
Lochness Drive: A drive around Loch Ness is one of the best scenic drives in this area with lot of stunning stops. Urquhart castle is in this route. I recommend waiting for summer timer before embarking on this drive.
2. North Coast 500 or NC500
The North Coast 500 route is a 500 mile route covering the entire of Northern Scotland starting from Inverness and then North via a coastal route via unique picturesque mountains roads and passes. This is definitely in the top 5 best road trip routes in the world and should be on the driving bucket list of all road trip lovers. This is the most scenic account of the Scottish highlands and a must item on your Scotland road trip itinerary, however this is a difficult remote route and hence maybe not suitable for families.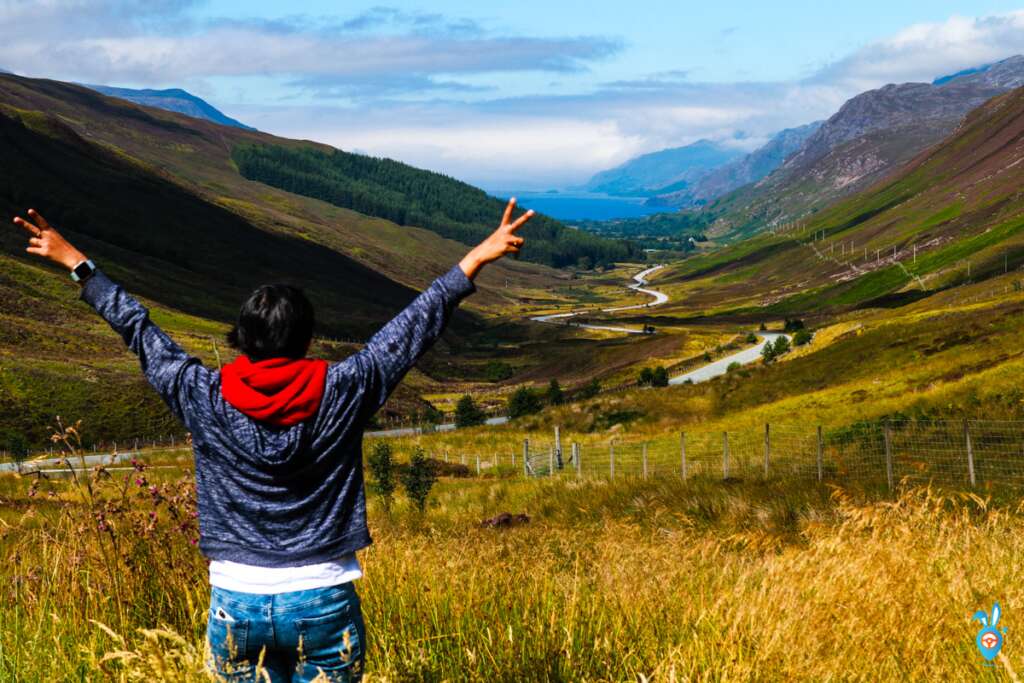 Route: Start from Inverness to travel counter clockwise and cover the east first or start from Inverness via Ullapool to visit the west coast first. I personally think west is more scenic than east, so I would recommend trying to cover the east quicker and allow more time to cover the west.
Duration: 5-7 days
Top Spots/Drives:
Here is a quick list of top spots in this area that I have short listed from my experience. I shall just mention the main experience as there is a lot to cover during this trip.
Inverness: Dolphin watching from the land, Inverness castle. You can drive to Loch Ness from here too.
Dunrobin Castle: A stunning castle facing the sea, worth paying to get in.
John O Groats: The northern tip of Scotland and very scenic. Don't miss the Duncansby stacks. You can go to Orkney islands from here.
Durness: This route on NC500 is very scenic.
Lochinver: Another very scenic route.
Ullapool: Coastal town famous for seafood
Loch Carron/Apple Cross: A tiny village with a scenic drive. Don't miss the Baelach Na Ba driving route here when you go.
Kyle of Lochalsh: A stunning small town from where you can see all the islands including the Isle of Skye and the Isle of Mull, I wish to revisit this place one day for a staycation.
Eilean Donan Castle: One of the best castles in Scotland.
3. Loch Lomond & The Trossachs National Park
Loch Lomond & The Trossachs National Park is the closest national park to the main cities of Scotland- Glasgow and Edinburgh. This region is very scenic and outdoorsy with lots of hills and glens perfect for hiking opportunities, along with great options for trying water sports and a perfect location for a staycation. I have been here multiple times and it is perfect to visit during both spring and summer and there are some other pretty scenic Scottish villages that are worth visiting in this area for example Luss. Some of the drives like taking a round of Balloch drive definitely fits in the classic Scottish drive route and as a result you will spot many convertibles and luxurious cars in this area.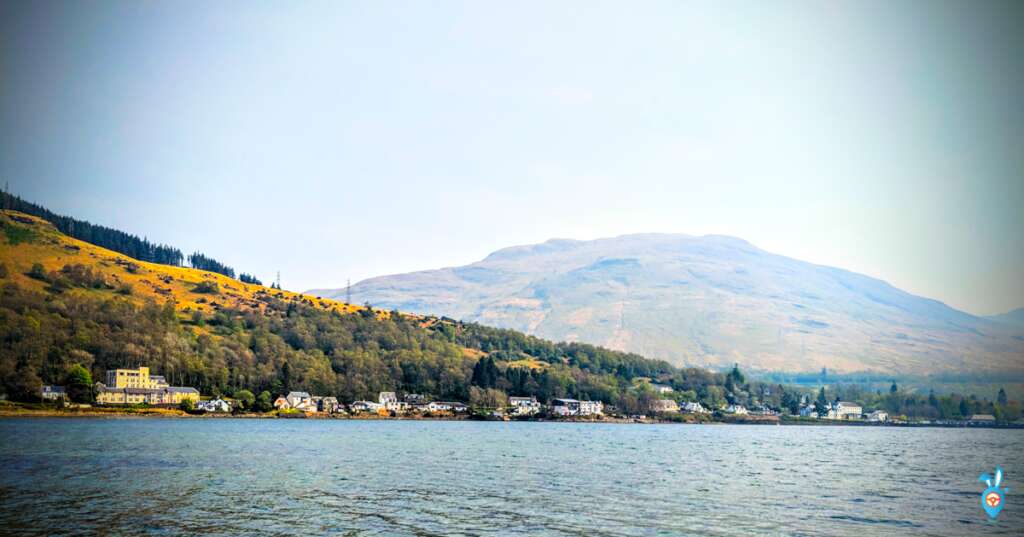 Duration: 2-3 days
Top Spots/Drives:
Three Lochs Forest drive: 7 mile scenic drive covering three lochs- Loch Drunkie, Lochan Reòidhte and Loch Achray.
26 miles Loop drive from Port of Menteith to Callander via Aberfoyle and Brig o' Turk
22 miles along the A85 between Callander and Killin passing Loch Lubhnaig. You will pass the Glen Ogle viaduct and Falls of Dochart
Balloch Drive: Take loop from Balloch, Firkin Point and Balamana also visiting Arrochar
4. Aberdeen
Submitted by Victoria from Guide Your Travel
The area around Aberdeen in Scotland is stunningly beautiful and the perfect place for a road trip. Before you head north from the city make sure to make the quick 30-minute drive south to the little fishing village Stonehaven and the nearby Dunnottar Castle. This clifftop castle is an impressive location and perfect for taking pictures. Craigievar Castle is also located close to Aberdeen and known for its pink exterior. Definitely add this incredible historic place to your itinerary for your Scotland road trip. There are some beautiful hiking trails nearby perfect for exploring the area. Drive further inland until you hit the Cairngorms National Park. This area is fantastic for hiking, biking or even camping during the summer. Admire the impressive mountain ranges and stop by Braemar, a beautiful little town.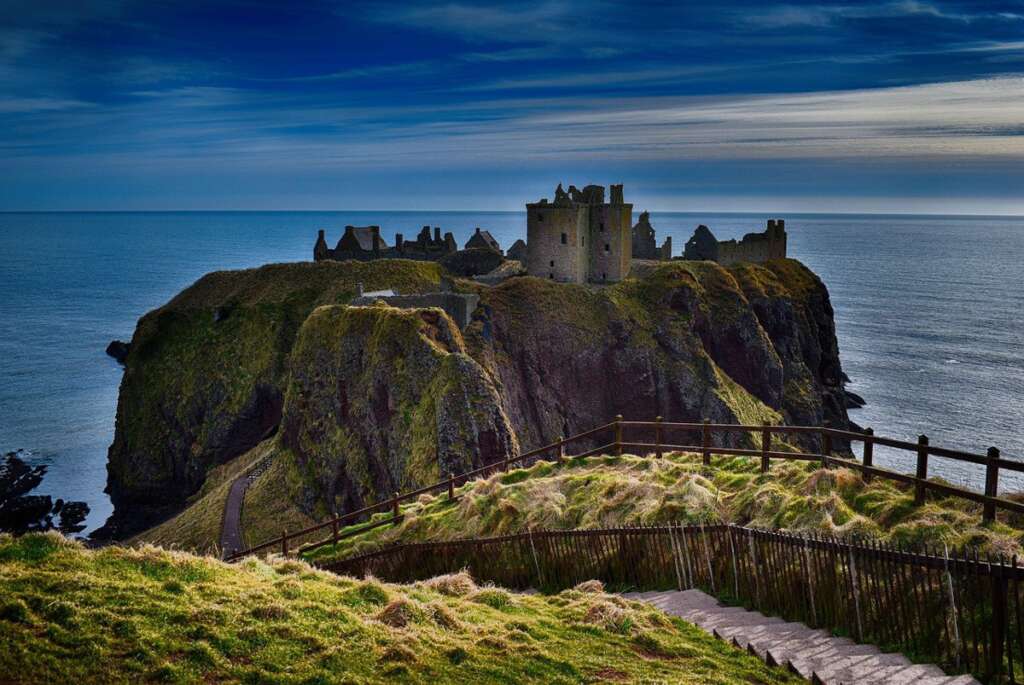 Image by Nigel Scott from Pixabay
Once you've had enough of the mountains and rolling hills head north up the coast of Scotland and stop in Peterhead and Fraserburgh. These pretty coastal towns are just like you'd imagine Scotland to be and the best spot to get some fish and chips and enjoy the beautiful views. Elgin is also worth a stop before you finally reach Inverness. This is the largest city (or large town) in northern Scotland before you reach the Highlands. Visit here for traditional haggis, Scotland's most famous dish and of course a whisky tasting.
Duration: 3 days – 1 week
Top Spots:
30-minute drive south to the little fishing village Stonehaven and the nearby Dunnottar Castle
Craigievar Castle
Braemar, a beautiful little town
Peterhead
Fraserburgh
Elgin
Scenic Drives in UK: Scottish Islands
5. Isle of Mull
Submitted by Anuradha from Country Hopping Couple
If you are looking for an offbeat location and one that is packed with plenty of interesting adventures like seeing native wild animals in Scotland, Isle of Mull is the place to be. A compact island located on the western coast of Scotland, Isle of Mull makes for a fantastic road trip. Whether you are looking for a weekend getaway or a longer holiday destination, there are an array of interesting things to do on Isle of Mull. The island is known for its exemplary landscape, pristine beaches, ample wildlife adventures and quaint villages.
READ: Scenic Scottish Highland Towns to Visit in Summer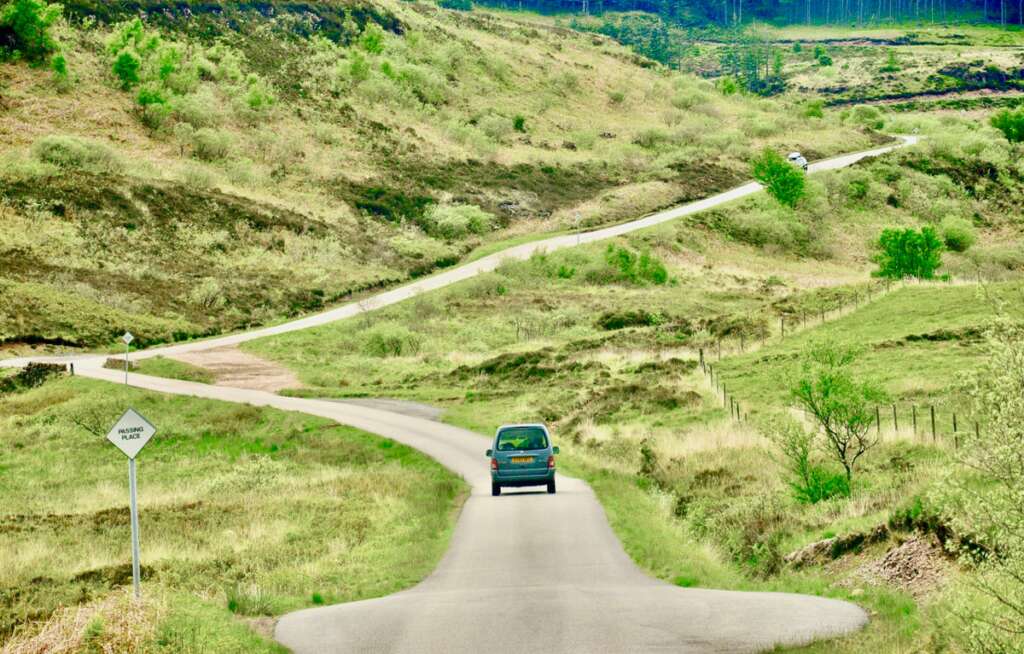 The easiest way to reach Isle of Mull is by taking a 45 minute ferry from Oban, which takes you to Craignure port. Begin your road trip from Craignure and drive to Ross of Mull, where you can dip your feet in the waters of Fionnphort. Next up, drive to Ben More, largest and only munro (Scottish mountain with a height over 3000 ft) in Isle of Mull. If you are a mountain lover, don't miss the chance to hike up Ben More to enjoy the sweeping views of surrounding mountains and the coast. Calgary Bay, in the north west of Isle of Mull is home to powder sandy beach that is worth visiting. You can also take the 2 mile Sculpture trail in Calgary that takes you through woodlands. Explore Tobermory, the capital town, known for colourful buildings on the promenade, buzzing cafes and a destination in itself with lot of happening things to do. Tobermory is one of the top scenic towns in Scotland you must visit.
Duration: 2-3 days
Top Spots:
Ross of Mull
Be More
Calgary Bay
Tobermory
6. Isle of Skye
Submitted by Rachel and Nico from the Average Lives
One of the best road trips in the UK is the magical natural wonderland that is the Isle of Skye. It is located on the West Coast of Scotland and is the most accessible Scottish Isle for a road trip. There are so many exciting things to see and do on Skye and to see the best of the best you should follow this Isle of Skye itinerary.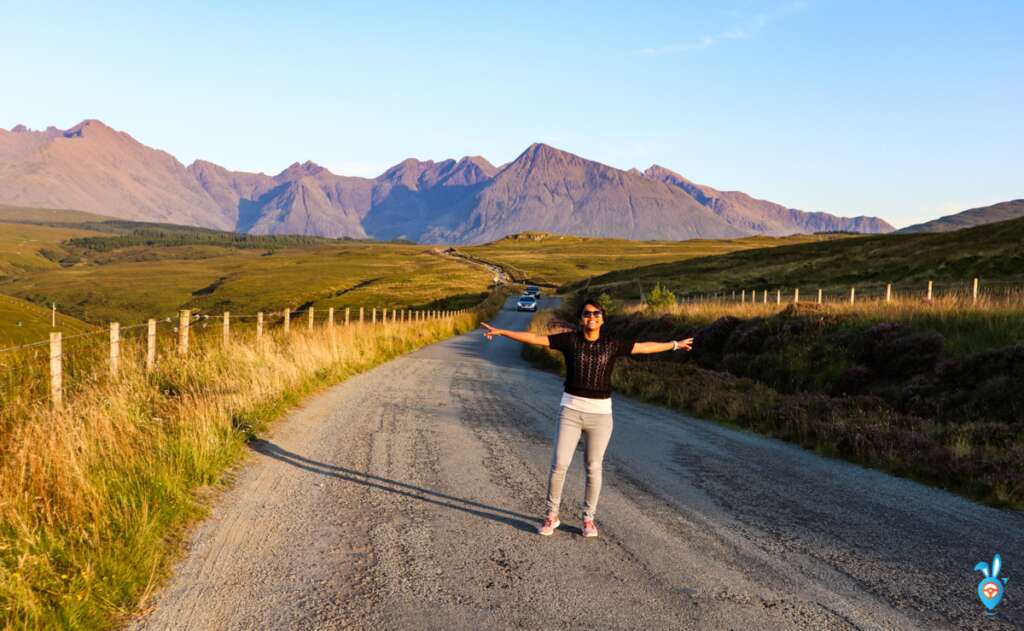 For your first day, you could begin in Portree, explore the harbour stock up on supplies and drive to hike up the Old Man of Storr, stopping at Bride's Veil Waterfall viewpoint on the way. After the hike, you should go to the viewing platforms of Lealt Falls, Kilt Rock and Mealt Falls to see the mighty falls. Then you can hike the Quiraing, explore the Falls of Rha and hunt for fairies at The Fairy Glen. For day two, you could discover the west loop, swim in the cold clear waters at Coral Beach, step back in time at Dunvegan Castle, watch the sunset at Neist Point Lighthouse and then go on a Talisker Distillery tour. Finally, on day three, you could explore the magical Fairy Pools, Elgol and Spar Cave. Overall, this road trip is incredible, and you will discover how enchanting it is!
Duration: 2-3 days
Best time to Visit: The peak months are July and August, but to appreciate it without the crowds, mild weather and fewer midges, you should aim to go in October.
Top Spots:
Portree
Old Man of Storr
Lealt Falls
Mealt Falls
Fairy Glen
Fairy Pools
Elgol
Spar Cave
Scenic Drives in UK: England
7. Lake District National Park
The Lake District National Park is one of the top scenic drives in England and my most favourite. Every route is scenic here, so it is hard to pick just a few. There are so many hiking trails and scenic routes to experience. Driving regions around Keswick are very famous and a drive from here to Windermere is known to be very scenic. Below is a list of top stops and scenic routes to help plan your road trip. Almost all the routes in this area are going to be pretty scenic, so just start somewhere and let the roads and adventure unfold as you go.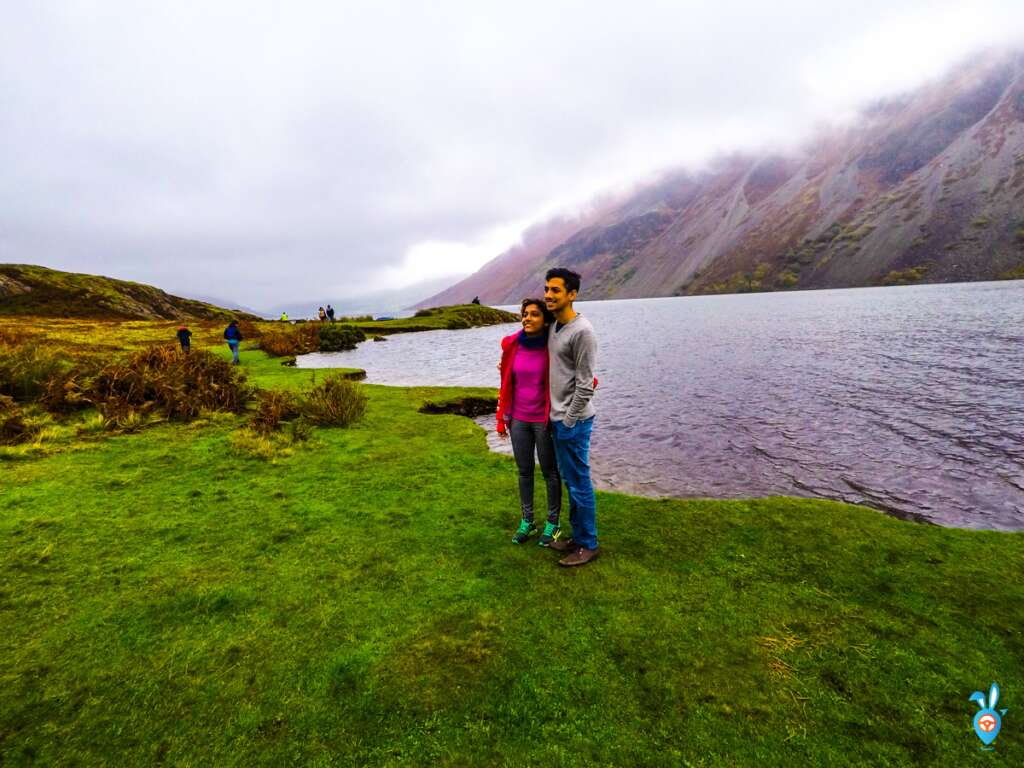 Duration: 2-5 days
Top Spots to plan your route:
Drive around Windermere lake and up North to Kirkstone Pass
Drive to Ullswater
Orrest Head walk
Keswick
Ambleside
Buttermere
Blencathra
Highest peaks here: Skiddaw, Helvellyn
Hardknott Pass A110 New Alpine Road
8. Cotswolds
Submitted by Joanna from The World In My Pocket
One of the most beautiful road trips that you can go on in England is to the Cotswolds. Here you will find some of the most beautiful villages in the entire country. The outstanding area of natural beauty of the Cotswolds is best explored by car, to give you freedom of stopping in as many villages as you want. A Cotswolds road trip can be as long as you want it to be, from a day trip from London, long weekend short stay or even a staycation for a week. You will never run of things to do and see in the Cotswolds.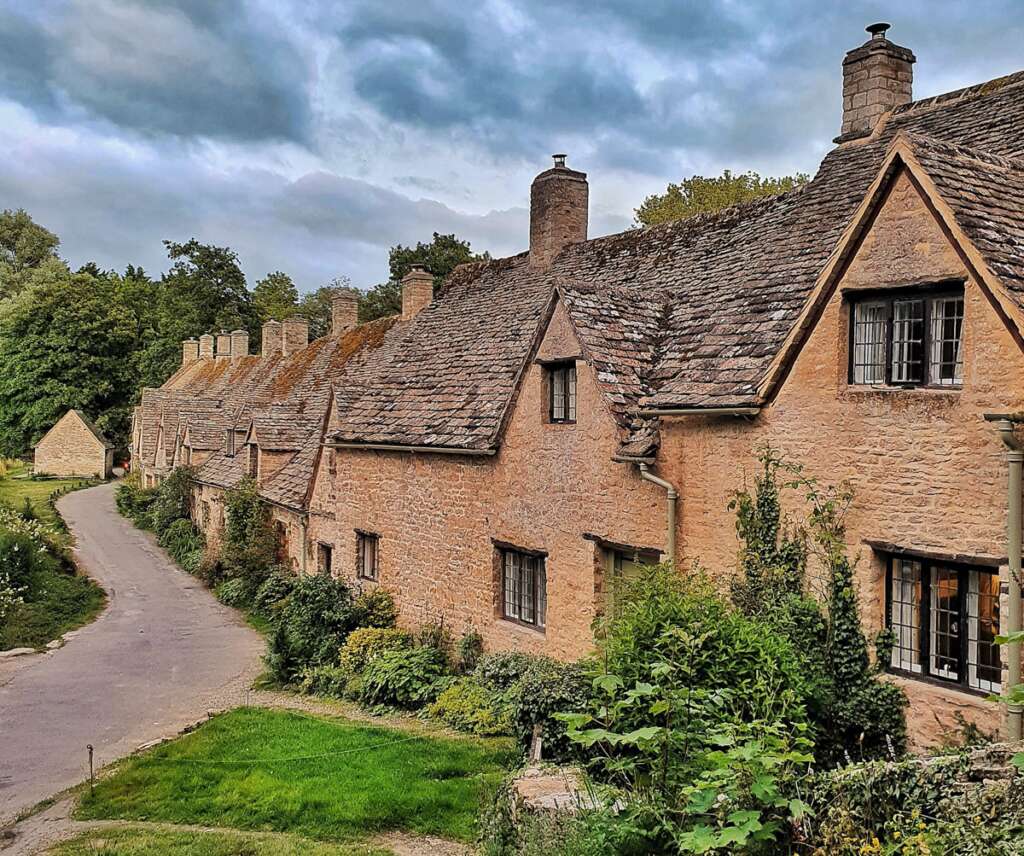 There are several villages which should be visited as early as possible, due to their popularity with tourists. These are Castle Combe, Bourton-on-the-Water, Lower Slaughter and Bibury. Some of them, such as Bibury and Lower Slaughter have very limited parking, another reason to visit either early in the morning or late in the evening.
It is highly recommended to stay overnight in one of the cute B&Bs or traditional small hotels in the villages. This way you can not only experience the warm hospitality but also the delicious locally sourced produce prepared in the tastiest meals by the local restaurants.
Some of the other villages that you can't miss when you visit the Cotswolds are Broadway, Stow-on-the-Wold, Painswick and Moreton-in-Marsh.
Duration: 2-5 days
Top Spots:
Castle Combe
Bourton-on-the-Water
Lower Slaughter and
Bibury
9. Devon
Submitted by Kat from Wandering Bird
Devon is one of the best places to visit in England. There's so much to see and explore. If you only have a week or less, choose your Devon road trip route carefully and concentrate on either the north or south.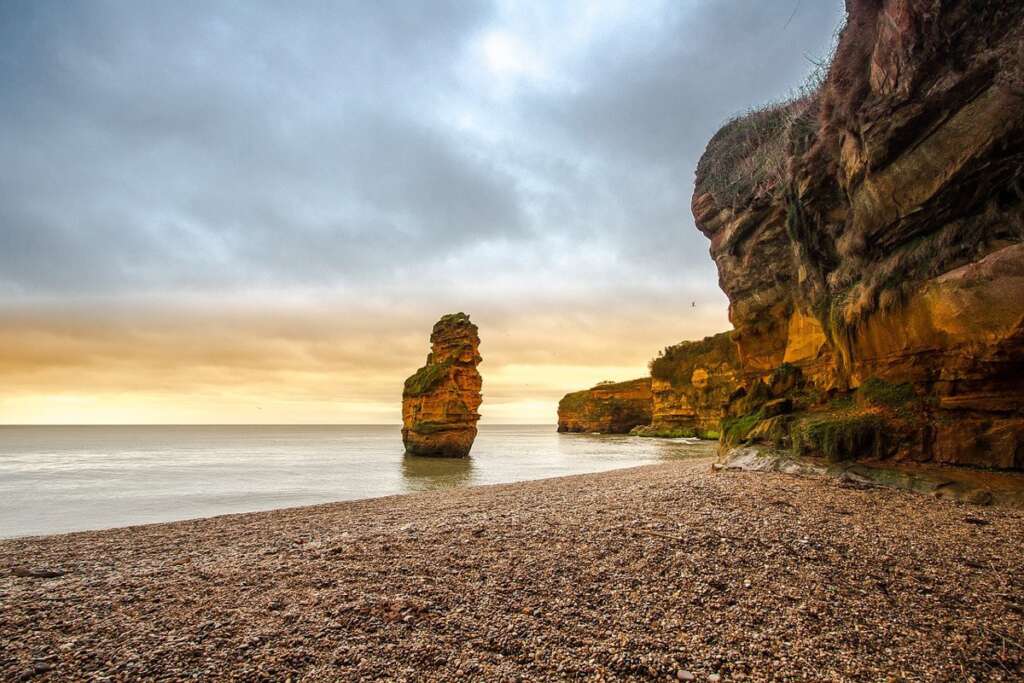 Image by Roman Grac from Pixabay
North Devon is an unexpected treat, with some wonderful bays, beaches harbours to explore. You'll find the best surfing waves here, as well as some quieter beaches with golden sand and play areas for kids. Don't miss getting fish and chips from Squires in Braunton- it's been voted best in the country.
South Devon is less wild, with plenty of coves and sandy beaches of its own. Dartmouth is worth the effort of getting there, as is the pretty harbour of Salcombe. Take a river cruise or rent a small boat for the day. Don't miss the Dartmouth steam train. The route goes all the way up to Paignton and you can ride up and back in just a couple of hours. It allows for beautiful views across the river and the surrounding countryside.
In the centre, you'll find Dartmoor- the largest National Park in the south of England. This is the best place for hiking and nature- you'll see many of the wild ponies which roam the moor. This is a great place to take children- a lot of the moor is relatively flat and they can run, play (and chase ponies!) to their heart's content.
Best time to visit Devon: Springtime, when the flowers are out- particularly the bluebells, or Autumn, as the leaves turn and the crowds from summer have gone home.
Duration: 3-5 days
Top Spots:
Dartmouth
Dartmoor National Park
10. Cornwall
Editor's pick
Cornwall county in the south west coast of England, is a popular destination for staycations and coastal road trips. The county is filled with attractions throughout and is also famous for family holidays with theme parks and wildlife experiences, amking it ideal for a road trip to Cornwall. The villages, castles and gardens here are famous for being the most beautiful places in England. Surfers, kayakers and beach lovers head out here in summer. If that is not enough Cornwall is also pretty popular amongst foodies, the Lost Gardens of Heligan is a mystery unveiled and finally Cornwall is also home to the Eden project, the world's largest indoor rain forest, which is not to miss.
READ: A Perfect Cornwall Road Trip Itinerary
Image by topsy_toby98 from Pixabay
Duration: 3-8 days
Top Spots:
Drive from St Ives to Sennen
Drive from Newquay to Padstow
Drive around Whitsand Bay -Cawsand and Kingsand villages
The Roseland
Boscastle to Bude
Plymouth
Penzance
Minack Theatre
Mevagissey
St Nectan's Glen
Brown Willy
11. Brighton and Seven Sisters
Brighton is like the California of England. This southern city is pretty unique from rest of England with some quirky and colourful ambiance with an amazing coastline. The beaches and pier here really reminded me of California during my visit. One can easily do a road trip to Brighton from London and from there being in the south coast of England, you can either go west towards to Portsmouth or to the Seven sisters in the east. The seven sisters cliff in the south east of England is a pretty unique landscape and the coastal drive is very scenic and relaxing.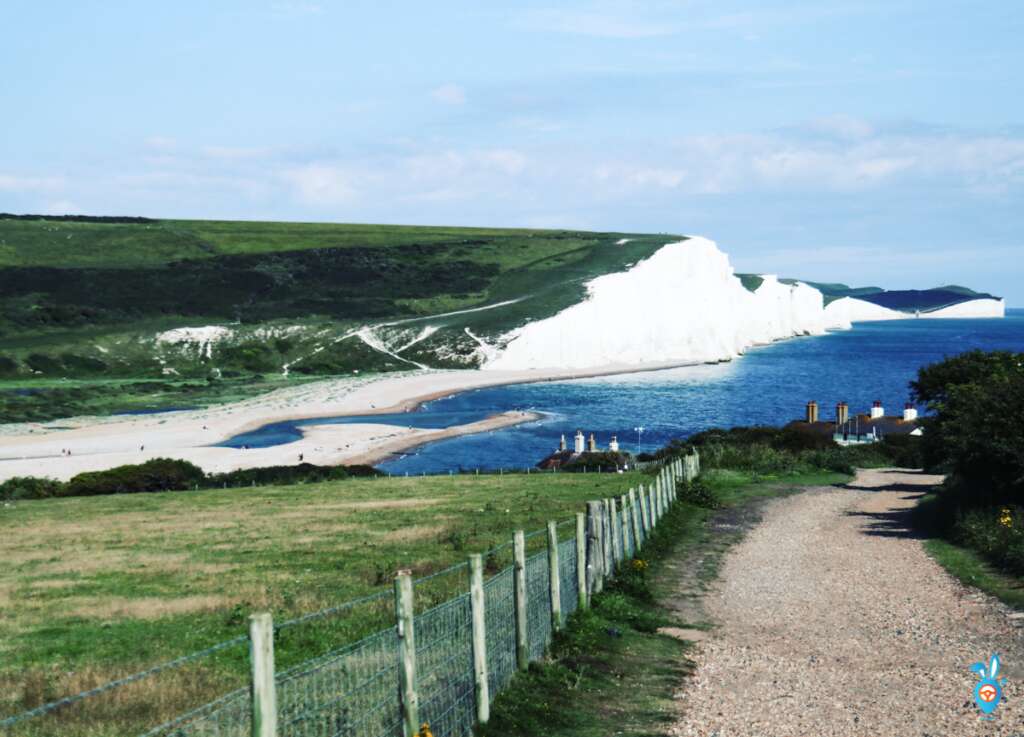 Duration: 2-5 days
Top Spots:
Brighton pier
Coastal drive from Brighton to South end on sea
Nehaven
Birling Gap
Seven sisters
Scenic Drives in UK: Wales
12. Welsh Road Trip
Wales is a unique country to explore on it's own just like Scotland is. Filled with mountains, national parks, castles and scenic routes, Wales also calls for a country wide road trip. Some top destinations and road trip can be done around Snowdonia, Pemborkshire Coast National Park, Swansea and Brecon Beacons National Park. Apart from these top destinations, here is the list of route or passes to aim for scenic drives in Wales.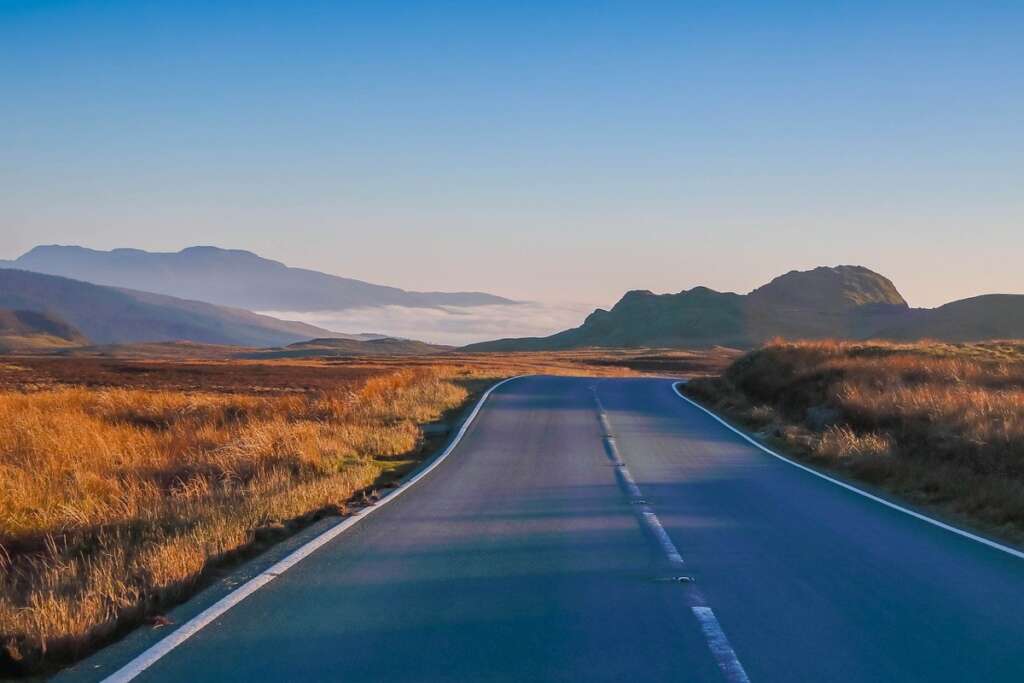 Image by Roman Grac from Pixabay
Duration: 3-5 days
Top Spots:
A4069 Black Mountain Pass
The Abergwesyn Pass near Snowdonia
Drive from Cardiff to Llandrillo
Drive from Llandrillo to Llandudno
Drive from Llandudno to Snowdonia
Drive from Snowdonia to Aberdaron
Final Thoughts on Best Scenic Drives in UK
The United Kingdom has a lot to offer for road trips with signature views and cultural elements to explore. Wales, England, Scotland and Northern Ireland are dramatically different that you will notice the differences easily when you cross the borders. There are historic landmarks to see, cute villages to explore and coastal areas to discover throughout. The British countryside is very charming and different from the touristic London pictures you see mostly on media. There are tons of routes and passes to take in the country side of Britain. During your next visit to UK, don't forget to embark on one of these scenic drives at least once to explore some of the unquie countryside charm of the UK. As we all still exploring, if you have your own recommendations, feel free to send me a message.- I'm always happy to grow the travel bucket.
Pin the Best Scenic Drives for your UK Road trips