Growing up watching Bollywood movies, especially those of Ranbir Kapoor grabbing his rucksack and going on a solo trip to Europe, I had always dreamt of roaming around Europe alone. Fortunately, during the summer of 2019, I got an opportunity to plan a trip to Salzburg, a small but very picturesque city in Austria. Salzburg is known as Storybook Austria, a city covered by mountains and divided by the Salzach River famous for the film Sound of Music released in 1965.
Salzburg is one of the prettiest places I have ever been to and this one day in Salzburg itinerarylists all the top attractions and landmarks for how to spend a day in Salzburg. Especially for a solo travel adventure, it is a perfect destination as you can cover the entire city in a day or two. Salzburg day trips are perfect for just grabbing your camera and go for a walk, you have no idea what a great photography experience is awaiting you.
What to do in Salzburg in One Day?
Here is my list of major attractions and things to do in Salzburg that I covered during my solo trip:
Mirabell Palace
Salzach River
Makartsteg Bridge
Mozart's Birth Place & Getreidegasse Street
Hohensalzburg Fortress
Old Town Square
St. Sebastian Cathedral
Salzburg Cemetry
Click Here for Top Attractions List in Google Maps
---
I traveled from Munich to Salzburg by Flixbus. The journey was rejuvenating with splendid views of mountains interspersed with occasional sights of houses and churches, which formed a great a preview to the mountain city abd the region.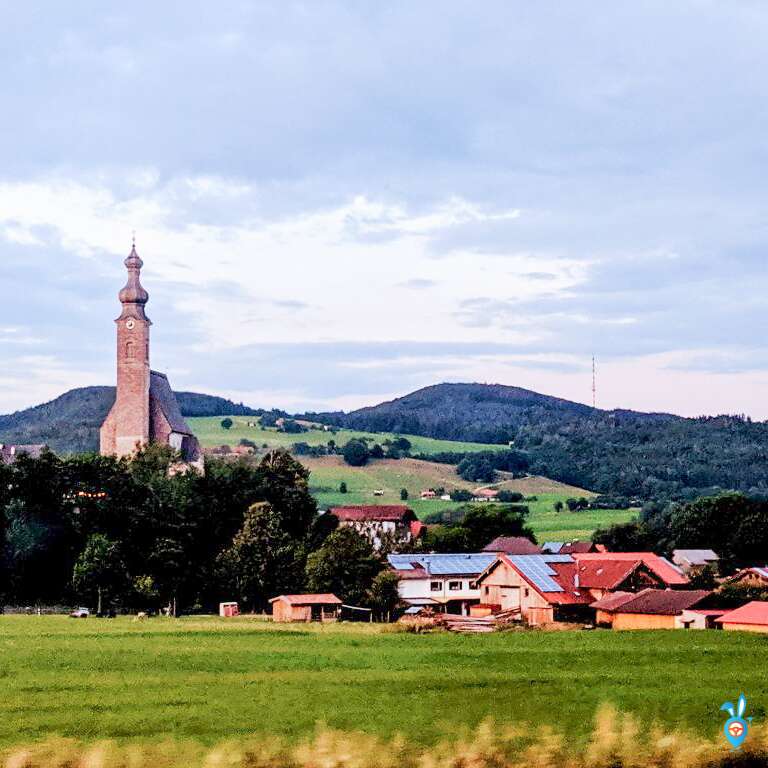 I landed in Salzburg when the sun was just setting and was greeted by a marvelous modern architecture bike store, which almost felt like an UFO. The streets were very quite and empty.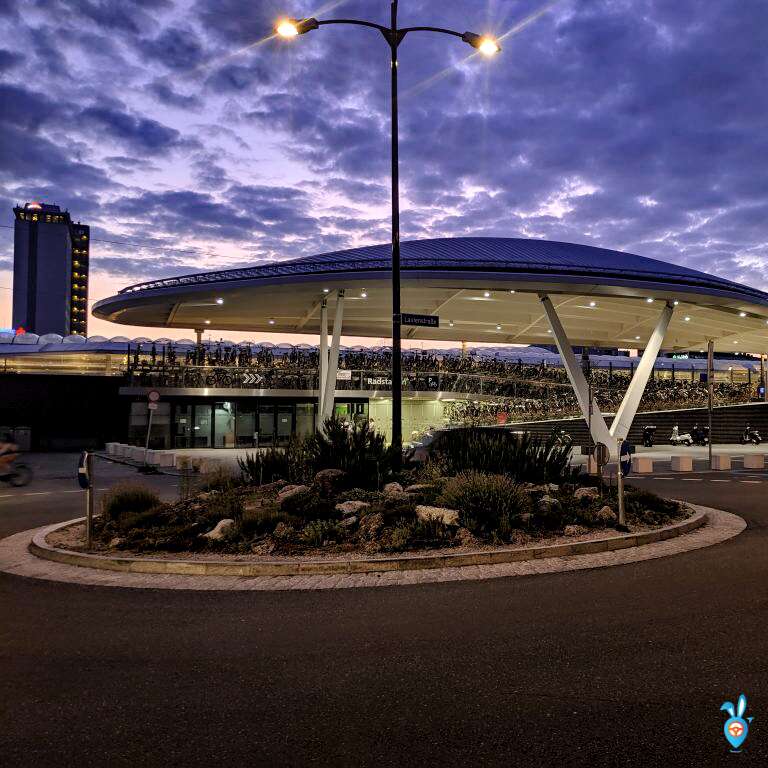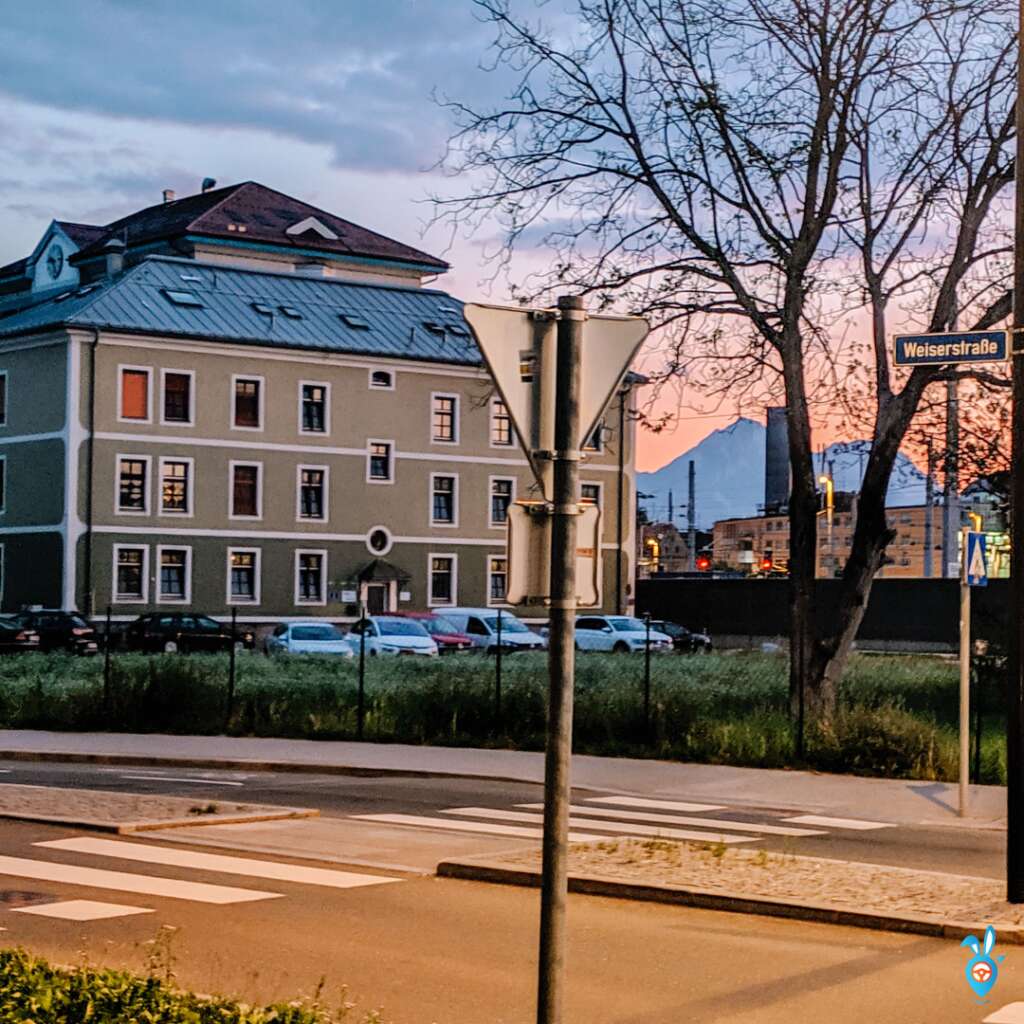 ---
A Perfect One Day in Salzburg Itinerary
Starting early the next morning, I headed straight to the Mirabell Gardens (a top travel destination in Austria) to arrive at opening time (8 am). Top Tip: Start your day as early as possible, for great pictures. It is a very scenic destination, but gets over crowded by tourists by 9am. I was extremely lucky with this early morning visit as you can see I got some amazing pictures. Note that all the major attractions in Salzburg can be covered by foot.
---
1- Mirabell Gardens
Mirabell gardens is yet another landmark in the world built as a token of love in the 17th century by prince-archbishop Wolf Dietrich for his beloved, Salome Alt. This garden is supremely suited for a couple hangout, as well as one of the best in Salzburg to capture some amazing selfies or Instagram pictures for a traveller. It is prominently featured in the Sound of Music.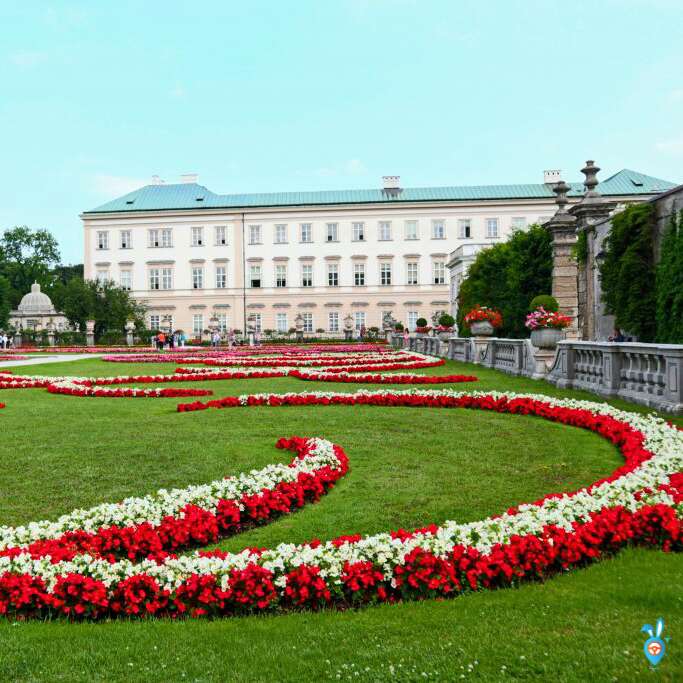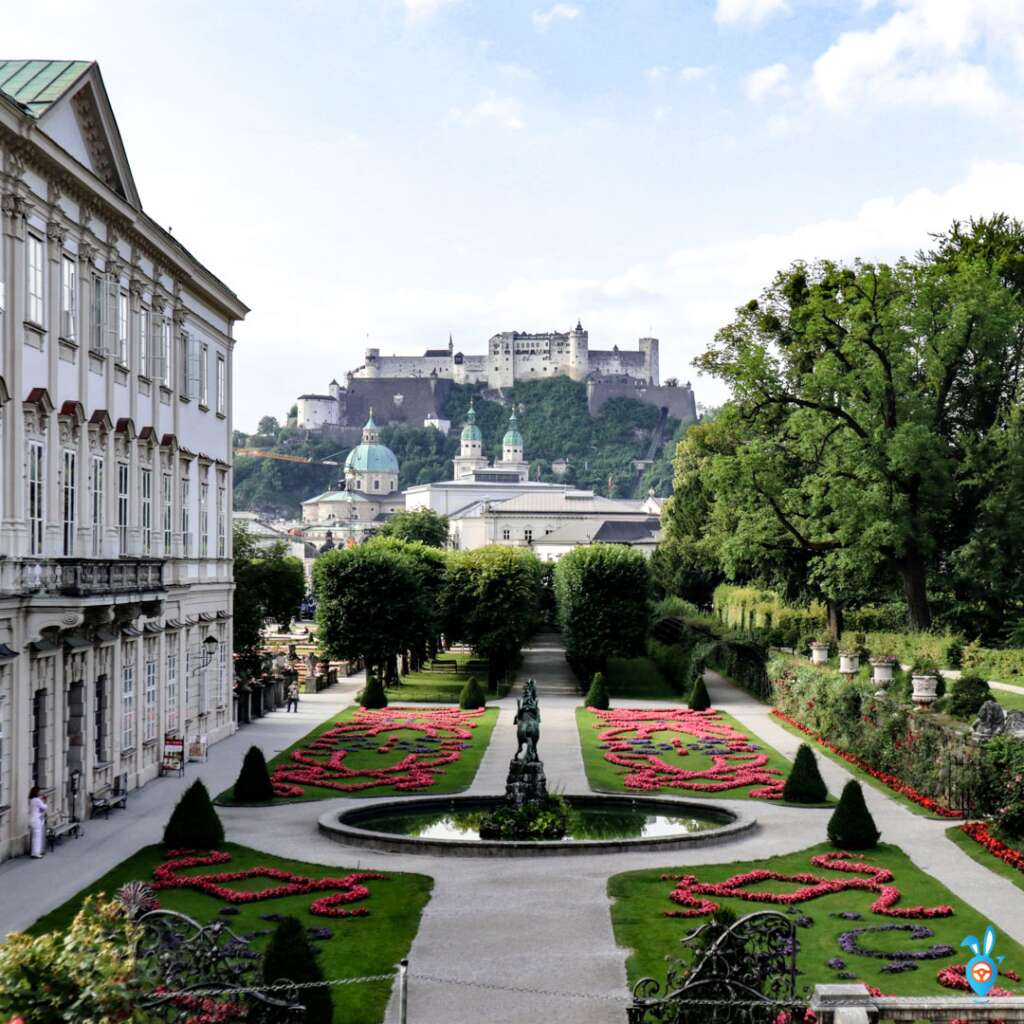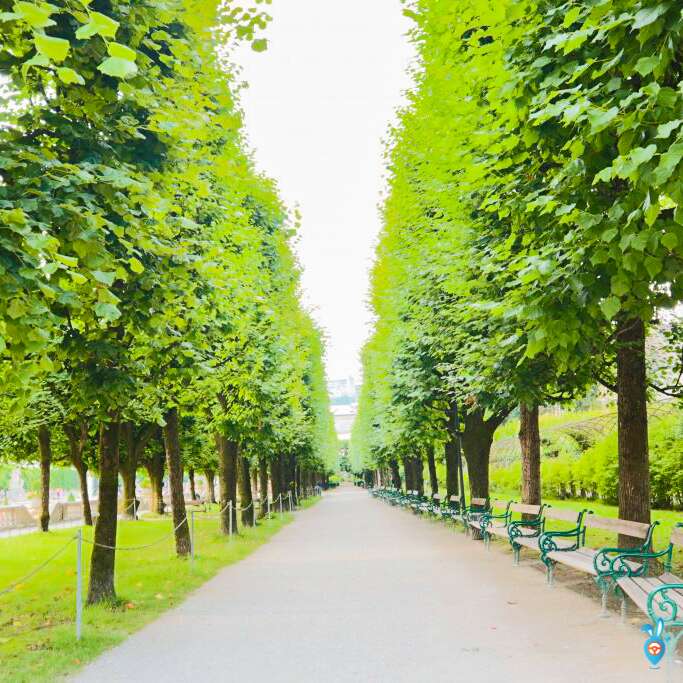 ---
2- Salzach River
Waking along the Salzach River, that overlooks churches and mountains view from every angle, is a stunning experience. One can sit anywhere on the grass banks and enjoy the beautiful view of the fortress, churches and various bridges across the river. A must see in Salzburg, on a solo trip! There are two main bridges which connect the city with the old town.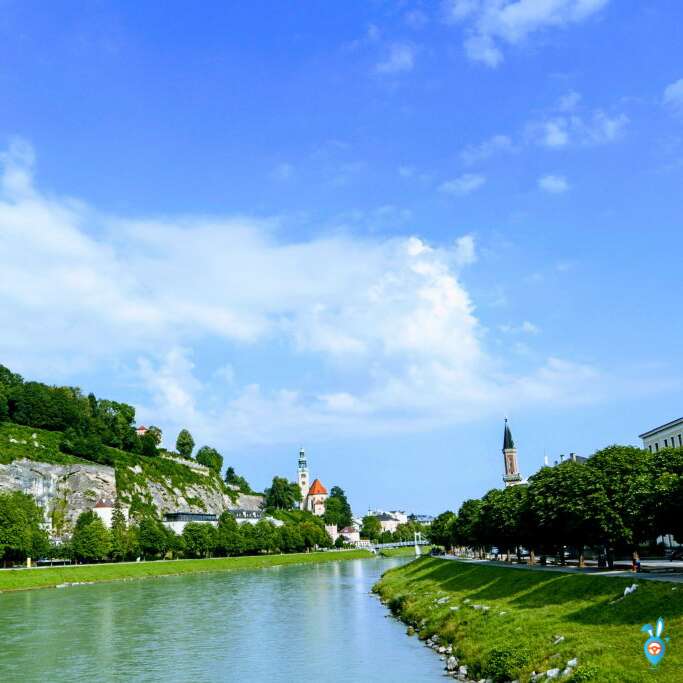 ---
3- Makartsteg Bridge
I crossed Makartsteg bridge on my way to the Old Town. There is a unique curve to this bridge, which adds to its photogenic quality. Love locks prettify the railings- and also brought a smile to my heart- May all those who found love be in love forever.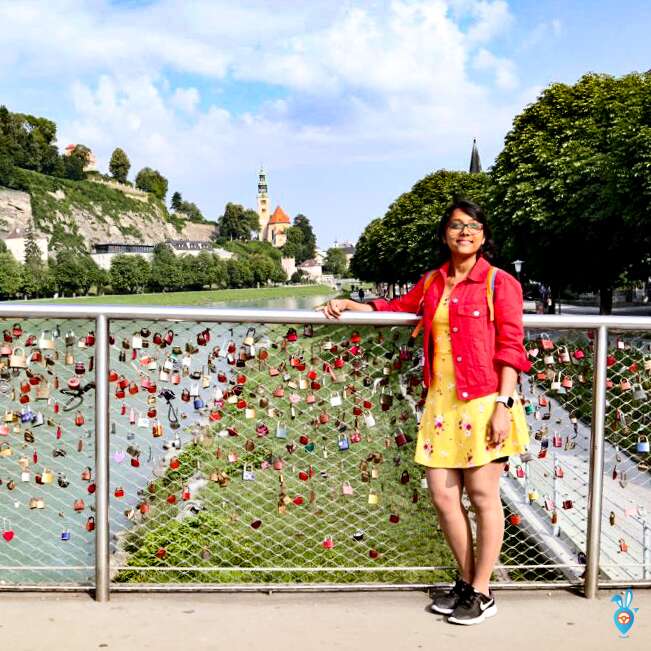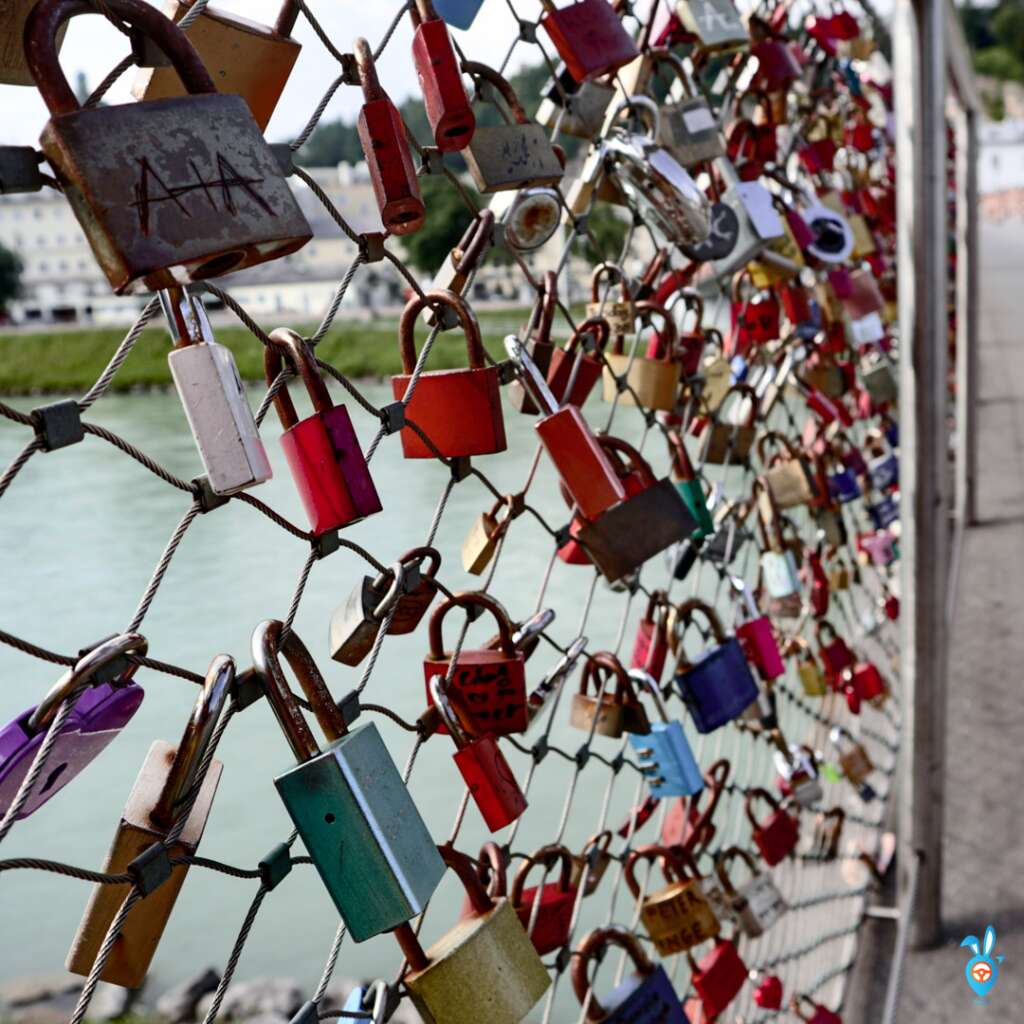 ---
4- Mozart's Birthplace and Getreidagasse
Amadé Mozart, one of the best greatest musicians of all time was born in Salzburg in 1756, on Getreidegasse street just by the river. Mozart's family lived in the third floor of 9 Getreidegasse for over 30 years. I only saw the outside of the house but if you pay to visit the museum, during the three-storey exhibition, you can learn all the details of Mozart's life.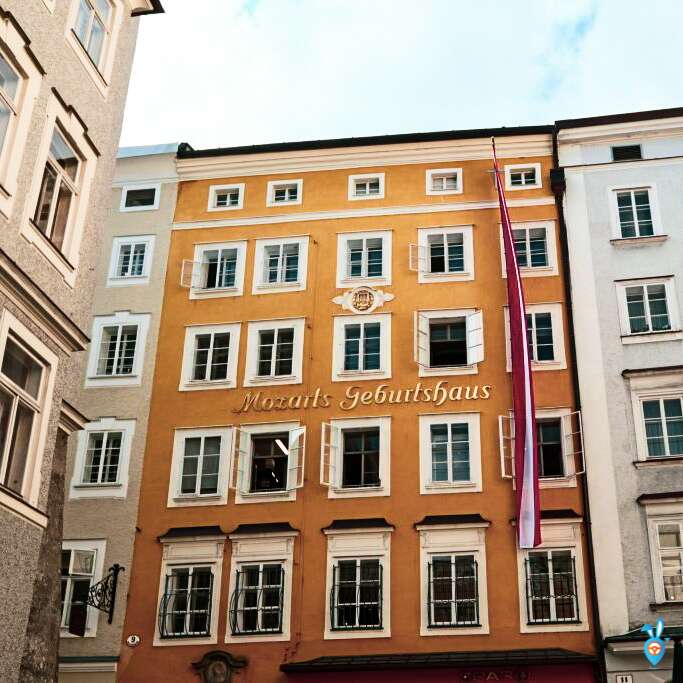 If you continue walking along the Getreidegasse street, the famous shopping street in Salzburg, you will see captivating designs decorating the architectures. I would recommend this location as one of the top things to do in Salzburg. There are many interesting design elements representing the history and culture of Salzburg. The walk from here towards the Salzburg fortress leads you past a church whose view is hidden between streets and arches.
---
5- Hohensalzburg Fortress
The next point in my list of Salzburg activities was the Hohensalzburg Fortress stands 500m above the city offering a great panoramic view of the city, mountains, and the river. There are two ways to get there:
I chose hiking over the funicular tour, for a morning-walk adventure. Guided by Google maps I arrived at a long set of very steep stairs which which made me question whether I was going the right way. Hoping that I would reach the castle and not get lost I proceeded, as I was particularly motivated to make my solo trip to Salzburg more adventurous.
The steps lead through a forest which although felt lonely at first, I soon met with people who were running, walking and mountain biking. I thoroughly enjoyed this exercise, but would suggest those who have are not comfortable with climbing large amounts of stairs to not take this route as they are very steep. I landed near the fort after approximately a 2 mile walk Arrived at Hohensalzburg Fortress, one of the most picturesques in the country.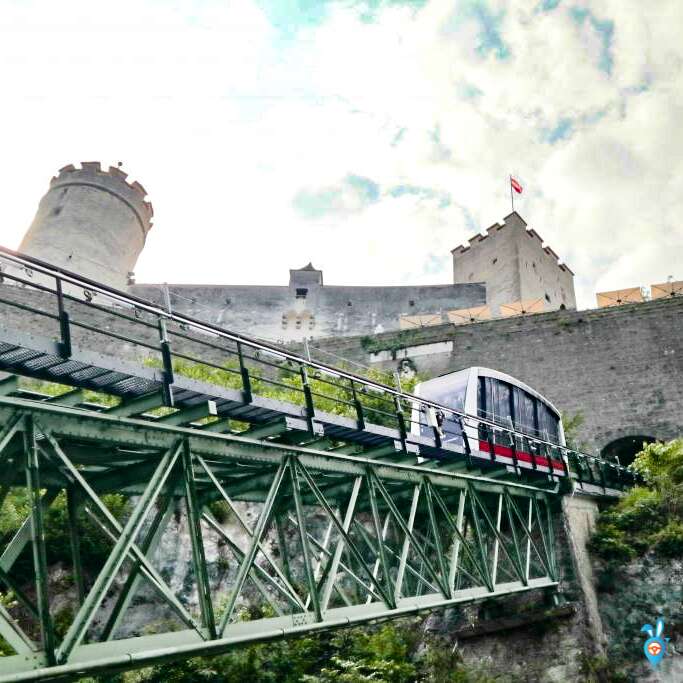 From the fortress, I walked downwards in the opposite direction I came from, where I saw the Funicular service that can be taken. Ten steps down from here, you will encounter one of the amazing views of you will see during the solo trip to Salzburg old town.
While I was hiking down towards the old town square, I met with a group from Taiwan carrying a cute red umbrella that resembled Kerala's Olakkuda– mosty seen as Maveli's Umbrella during Onam. The moment I realized it matched my jacket I requested to borrow it for a picture.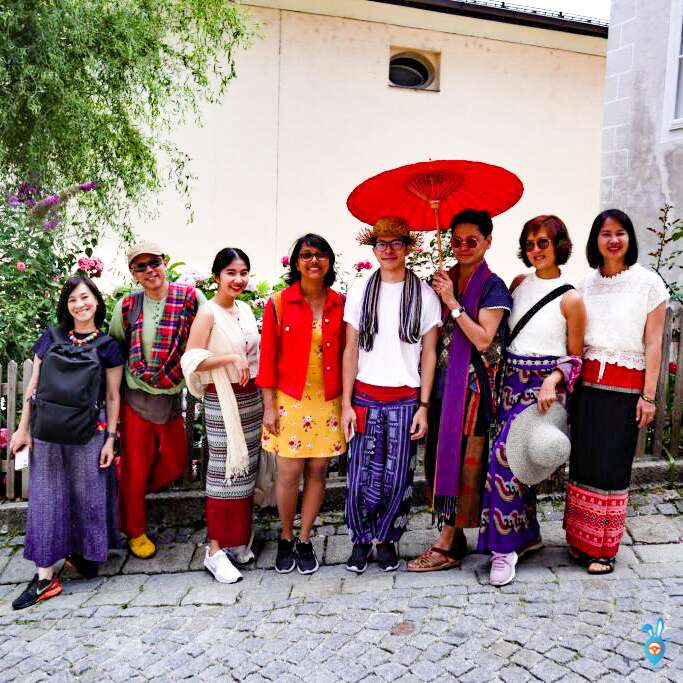 ---
6- Old Town Square
Salzburg's Old Town is one of the best-preserved city centres north of the Alps. The old town square is the most massive I have seen during my solo trip to Salzburg so I felt miniscule all of a sudden. The square comprises many famous squares formed by cobblestone streets, all of them dotted with historic buildings spanning the centuries. The horses and carriages riding in the square gives it a splendid royal look. Some of the open squares forming the old town square are:
Mozartplatz features a statue of Mozart in the center of the square.
Residenzplatz is bordered by the Salzburg Cathedral, Panorama Museum, and the Residenz Gallery, and features a large fountain in the center of the square. This is also a Sound of Music site.
Kapitelplatz has a prominent attraction is an art piece called "Sphaera," a large golden sphere with a man perched on top.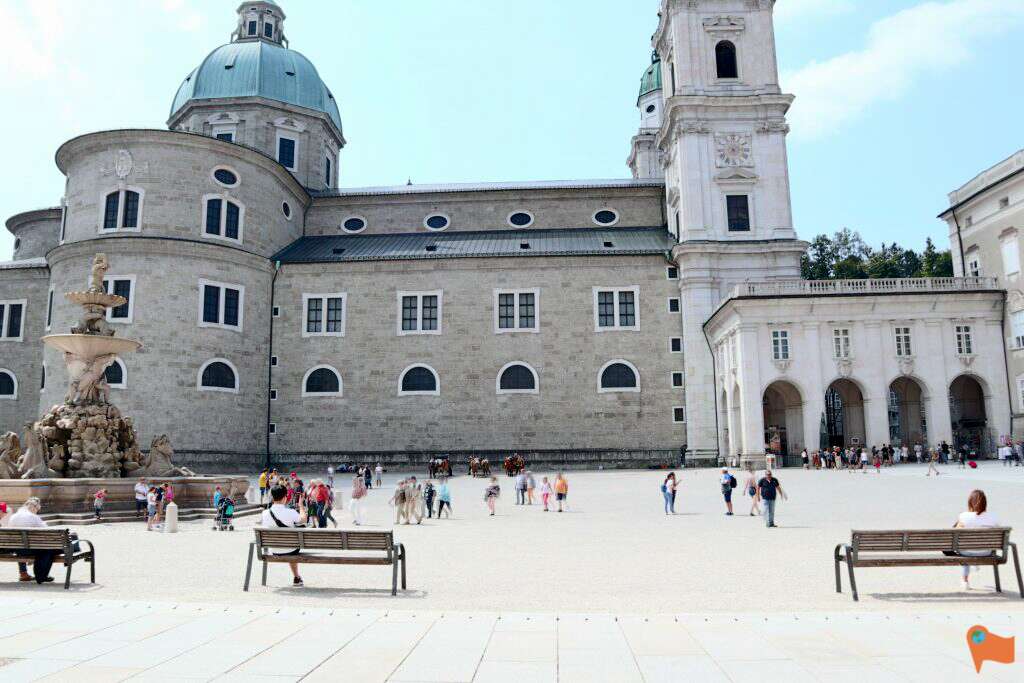 After taking in the view of the Old Square and strolling for a while, I decided to treat myself with an Austrian coffee. It was a touching experience to sit at this very old cafe by myself – maybe talking to myself 😉 . Remember that some places don't accept debit cards, so carry some Euros. I had to give my sun glass as a security deposit to go get some cash, as it turned out I had no money to pay for my coffee 😉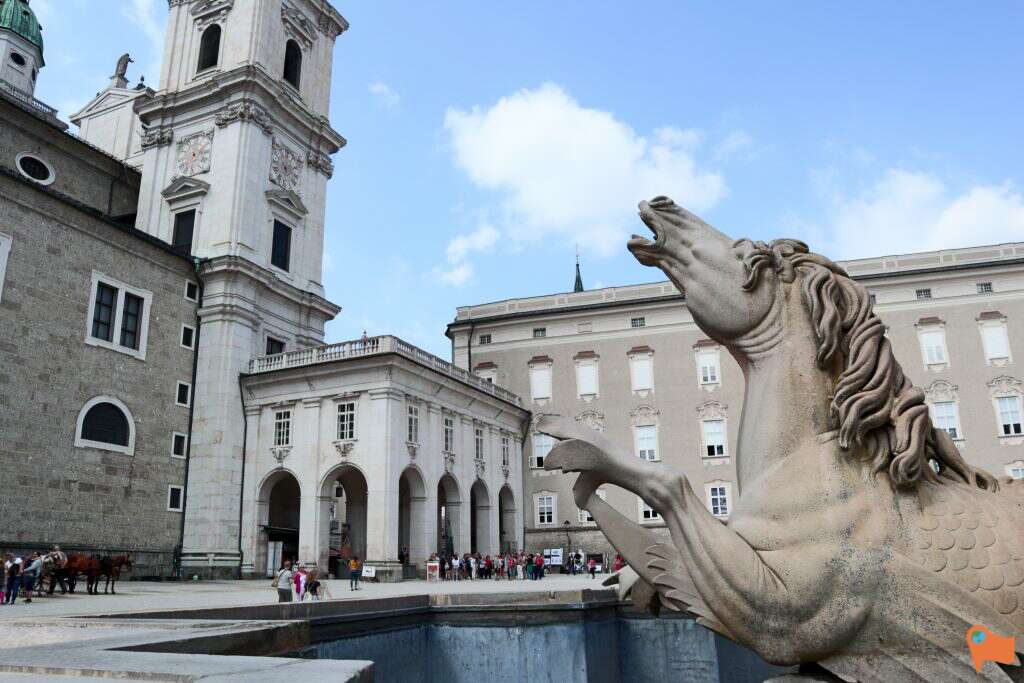 The old square has many cute little shops with all kinds of handicrafts for sale. One of the best parts of European city travels for me is the market hopping, and I tend to collect something from everywhere. One special item in Salzburg is the traditional Salzburg spice bouquets and wreaths- house decorations filled with spices in them. What makes them special of-course is the strong aroma from the spices. There are some great pieces in many shops in the city, but photography is not allowed.
---
7- Salzburg Cathedral
Salzburg cathedral is famous for it's domes and interiors. I did not manage to explore the interiors as there was a ceremony going on, but it is one of the beautiful architectures of this beautiful medieval town in Europe.
By this time, I had seen all the marked places in my check list for 'things to do in Salburg'. I walked around the river on both sides in the sun, taking the view, people watching and visited many more shopping centers. On my way back from old town, I also paid a visit to the Cemetery in which Mozart was buried. The last check mark of my solo trip to Salzburg.
---
8- St. Sebastian Cemetery
---
The Evening of the Solo Trip to Salzburg
In the evening before I left the city, I prepared myself to click a nice cityscape trying all the features on my Canon M100. Here is what I captured and edited- which is one of my favorite travel pictures. I guess the picture speaks for itself- how gorgeous this mountain city is! And now you know what to do in Salzburg in one day 😉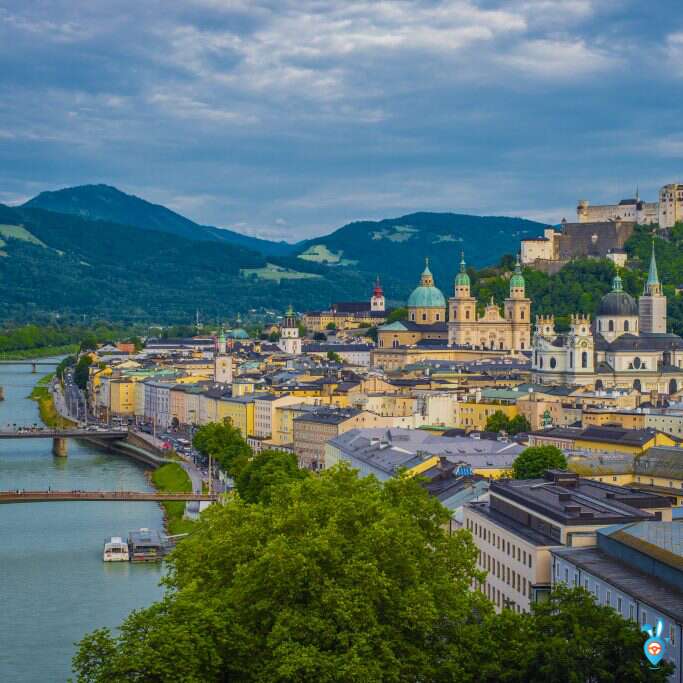 "Framed by mountains, crowned by the Hohensalzburg Fortress and divided by the turquoise Salzach River, the Salzburg landscape is pure drama."
---
Traveling to Salzburg from Munich
Salzburg is a pretty little city that can be easily be covered by a road or train trip from Munich in a day or from Vienna in two days. There are many excursions arranged from Munich for your solo trip to Salzburg. In my opinion, it is much easier and convenient to arrange this trip on your own.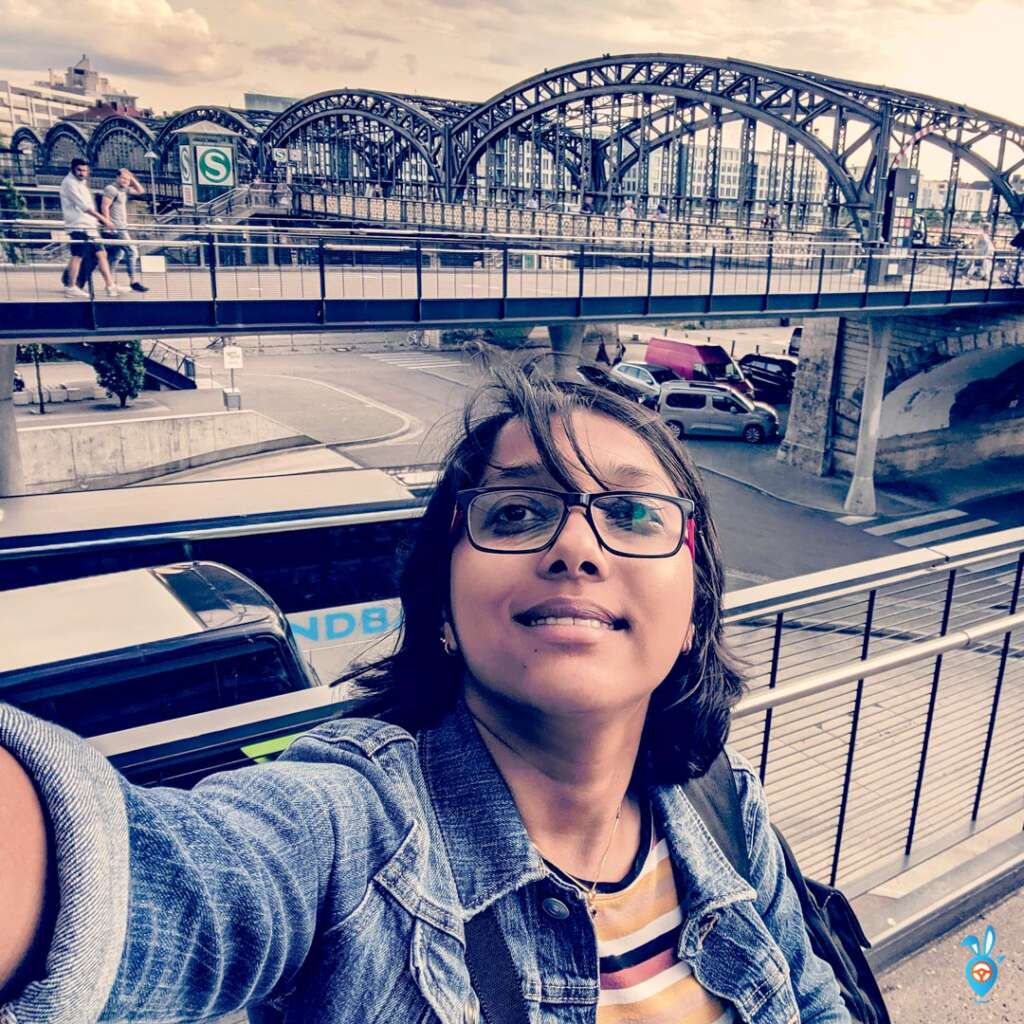 I took a Flixbus for my Salzburg day trip from Munich which cost me 6 Euros one way which was the cheapest option as I arrived the night before. For a single day trip you can get a full day German DB train ticket that thankfully covers this part of Austria as well. I returned to Munich airport taking the DB train which you may not want to miss as the journey is amazingly picturesque and provided fantastic view of the entire little town in one frame.
---
Where to Stay in Salzburg?
I chose to stay in Keep Eco Residence via Airbnb, which is very close to the central station of Salzburg. The hostel is designed on the idea of keeping the stay and living eco-friendly, which also says yes to the question 'Is Salzburg worth visiting?' It was this unique concept behind the hostel that attracted me in first place. This idea is radiated in every corner of the hostel, from the furniture and room setting to the food provided. If you have ever slept on an eco-friendly bed you would know what I mean- it is the most awesome bed ever to sleep on. I had a very sound sleep after a very long day in Munich. Checkin is made easier by providing you a code before you arrive for access anytime and they have a reception with a lounge that runs until late at night.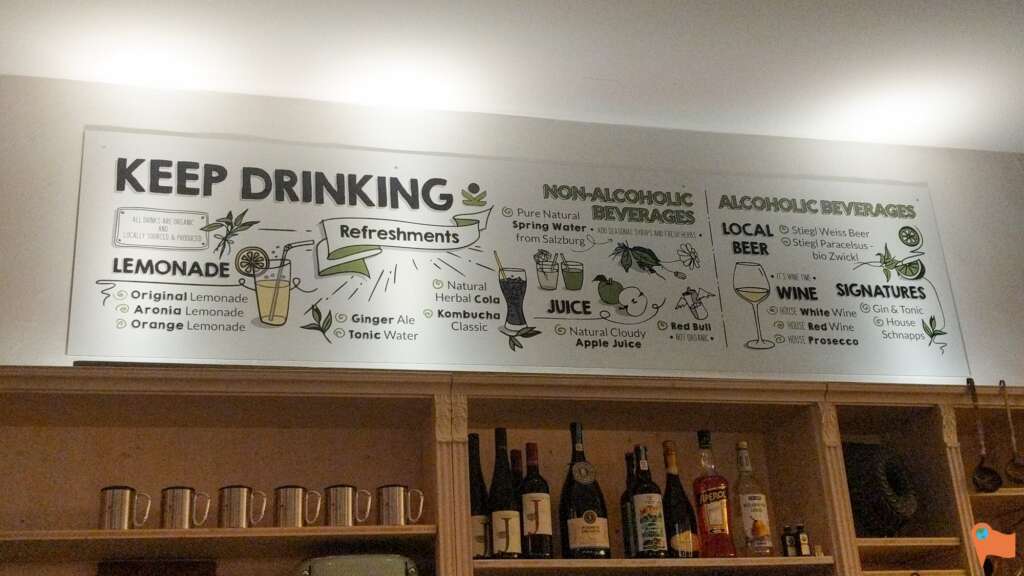 Apart from the stay, you will also fall in love with the amazing organic food they serve as meals and snacks. Breakfast had many options including fresh fruit juice, flapjacks and cakes, all super healthy and delicious. Their unique policy for payment is pay as much as you can, which was a new experience for me.
---
Pin This Salzburg Itinerary to Plan Your Next Trip