Who does not dream of a countryside get away these days? Glamping in the nature? Even better! Being a tiny house and outdoor lover, glamping has been big on my bucket list and I fulfilled my first glamping experience in the cutest site in the Welsh countryside- Riverside pods in Llandovery in Carmarthenshire. Riverside pods are a budget friendly glamping site at the riverside of river Bran in the south of Wales, in a small charming town called Llandovery. The glamping site hosts 4 luxury pods inside the popular Erwlon camping and caravan park. Being one of the green most parts of the UK, glamping in Wales UK is a perfect choice. Check out the riverside pods review with my first glamping experience and be motivated to go on your glamping adventure.
---
Riverside Pods, Llandovery Review
We found this stunning glamping site in the south of Wales, while planning a road trip around the South of the UK. It was recommended to me by one of my travel community friends from Wales. As I had never glamped before and was a big item on my list, I decided to find glamping sites for my road trip, as they are convenient exclusive accommodations and a safer option for the Covid19 pandemic time. Getting too excited seeing the pictures, I contacted the river side pods team on their Instagram to organize my stay. The owners are very friendly and welcoming. We worked out their availability and changed our itinerary to accommodate a stay in Riverside pods, to fulfil that adrenaline rush I got seeing their Instagram posts. Everything about Riverside pods was as perfect as a I imagined with lovely hospitality throughout. I give them a 5 star rating and wish them best of luck, before I deep dive into why. Thanks Riverside pods!
Location Review
Llandovery is a little cute village very close to the left side of the Brecon Beacons national park. The town is a perfect base for visiting South Wales, with an hour drive to Pembrokeshire and Brecon Beacons national park. The pods are situated in a well established camping site ERWLON.
Nearby towns: Llangadog, llandeilo, Brecon
Facilities: Dog friendly glamping pods just by the riverside, with its own ensuite bathroom and kitchen. The facilities are modern with TV, a nice sofa bed and dining facilities. Each pod has hot water for showering and a heated floor. They also provide camping fire pits as an add-on which is a lot of fun. The glamping pod overlooks rolling hills and waking up here was like a dream. The campsite is open 24 hours and there is a dedicated reception. Additional bedding can be requested as well, so 4 people can easily sleep in these pods.
READ: Best Scenic Drives in the UK for your UK Road Trip Bucket list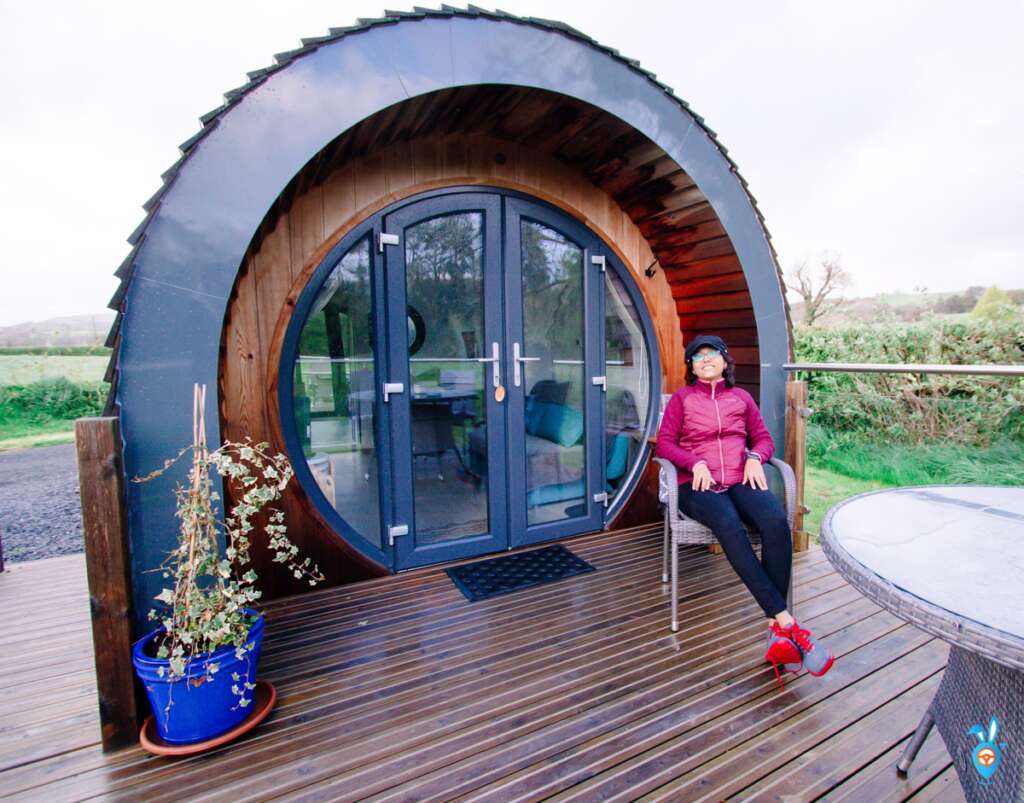 Review Star: 😊😊😊😊😊
How to Get to Riverside Pods?
Direction: The Riverside Pods site is easily spotted on Google Maps. Once you get to the ERWLON campsite entrance, which is marked on the road, you will notice the reception building. The team provides an information leaflet with all details you could need for your stay. You just need to ring the reception for organizing your arrival time and they have a professional system to check you in.
Glamp site location: As the name suggests, these pods are by the river and are located in a dedicated area at the end of the campsite with not much noise. Though you pass through caravans and other facilities when you enter, the glamping site has its own secluded area.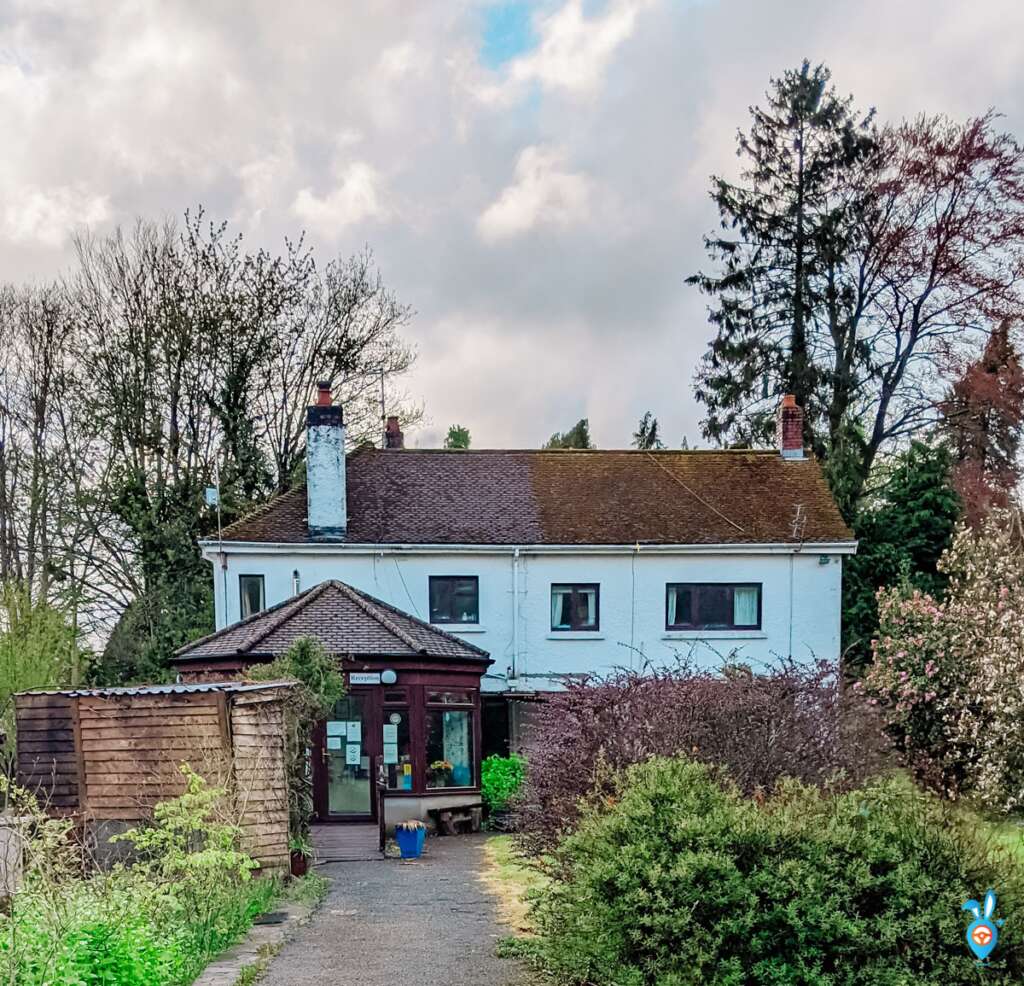 Check-in Experience
The campsite manager was very warm and welcoming and flexible with our arrival time. As they live on the site, it is easy to reach out to them if there is an issue. The owners of the riverside pods are also available to interact on social media etc. The glamping pods have a personal touch to them and the room was very clean. I also loved that there were some yummy Welsh cakes to welcome us to Wales!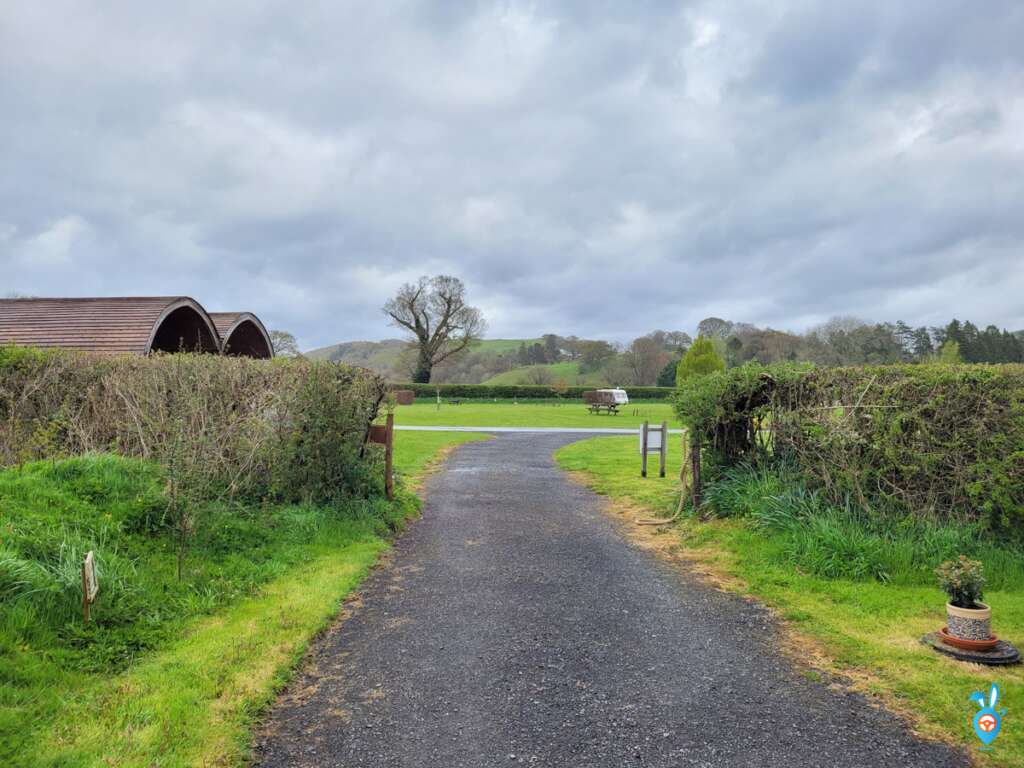 ---
Our Glamping Experience in River Side Pods
Meeting our Riverside Pod: Otter Den
We were a group of 4, and we stayed in two pods. I stayed in Otter Den, so I shall review this pod. The pods are all similar. My first impression was pretty much as I expected, I loved the setting and the river sound was very evident as we approached.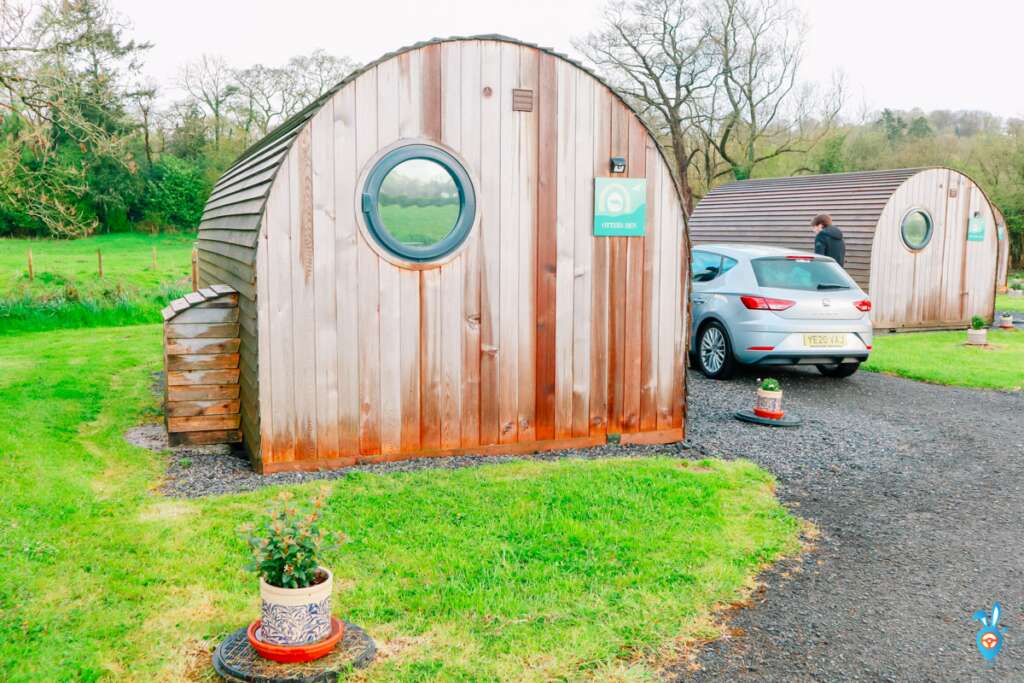 The patio is gorgeous with the stunning river view. As it was raining when we arrived (what a surprise for southern UK :p), my initial attempt at sitting outside failed miserably as everything was soaking wet, but hey I had some great moments in the following, drier, days. A perfect setting to sip a coffee and write or read a book isn't it?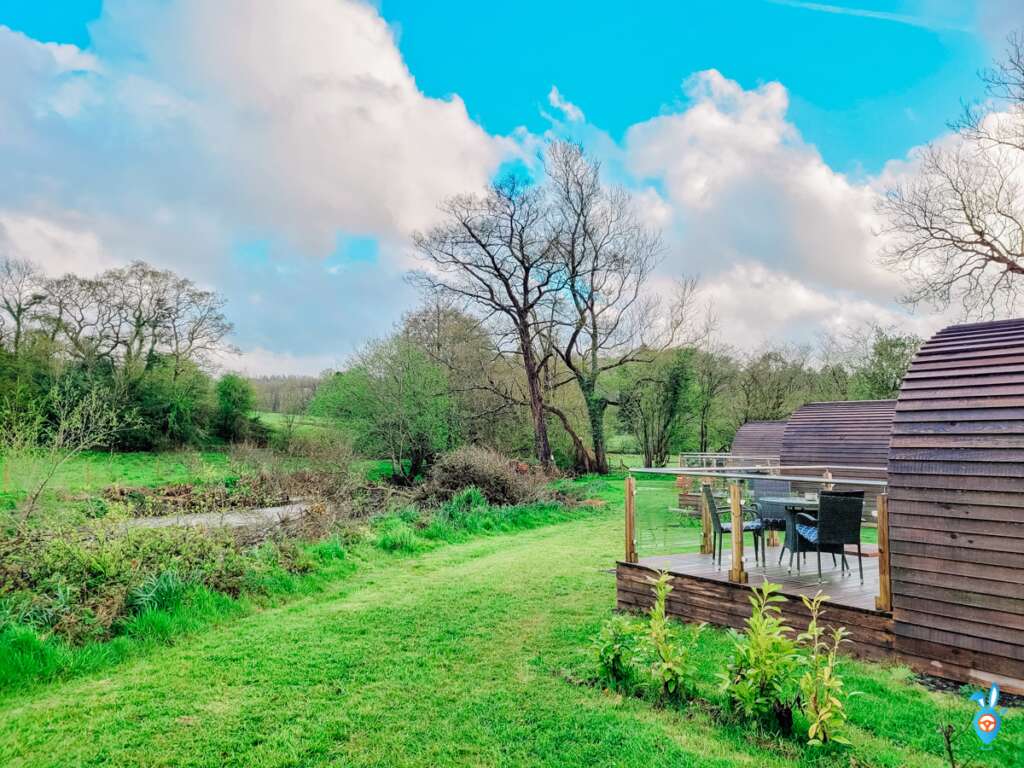 This is the first view of the interior of the pod, gorgeous! I loved the purple theme, maybe something to ask the owners when you book if you are into colours! My friends had orange colour. The underfloor heating was too cozy for the weather and I put on the kettle as soon as I finished my mandatory photo shoot.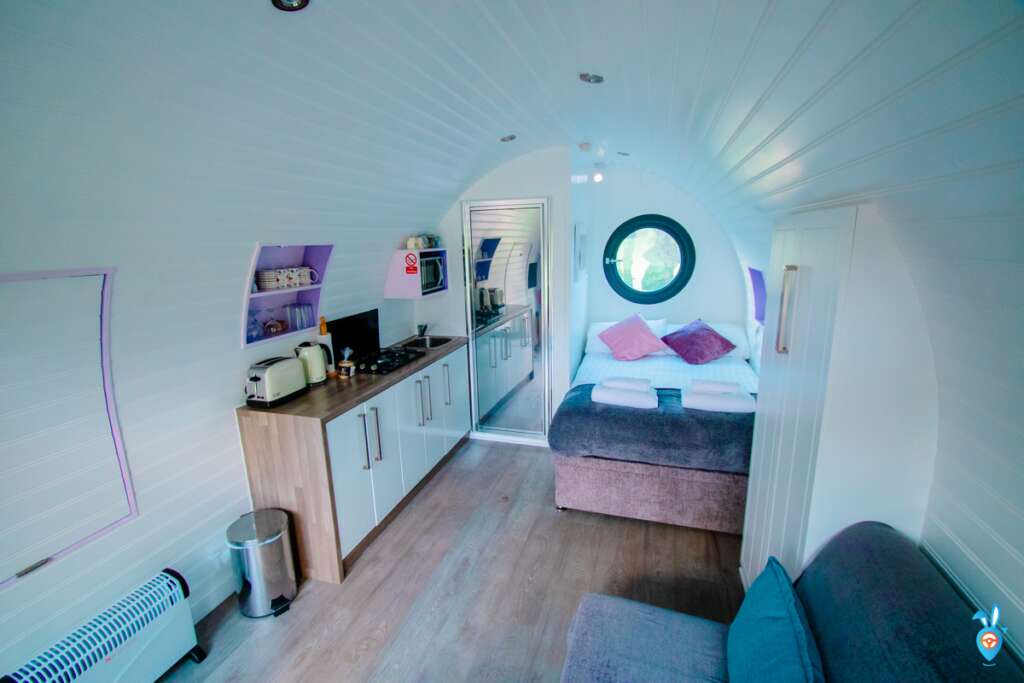 The kitchen is as well equipped as a typical studio, I have to say it brought my student studio memories back. There are all essentials you would need to cook – salt, pepper and oil. Toaster, kettle, cutlery, pans, gas hob, fridge and microwave!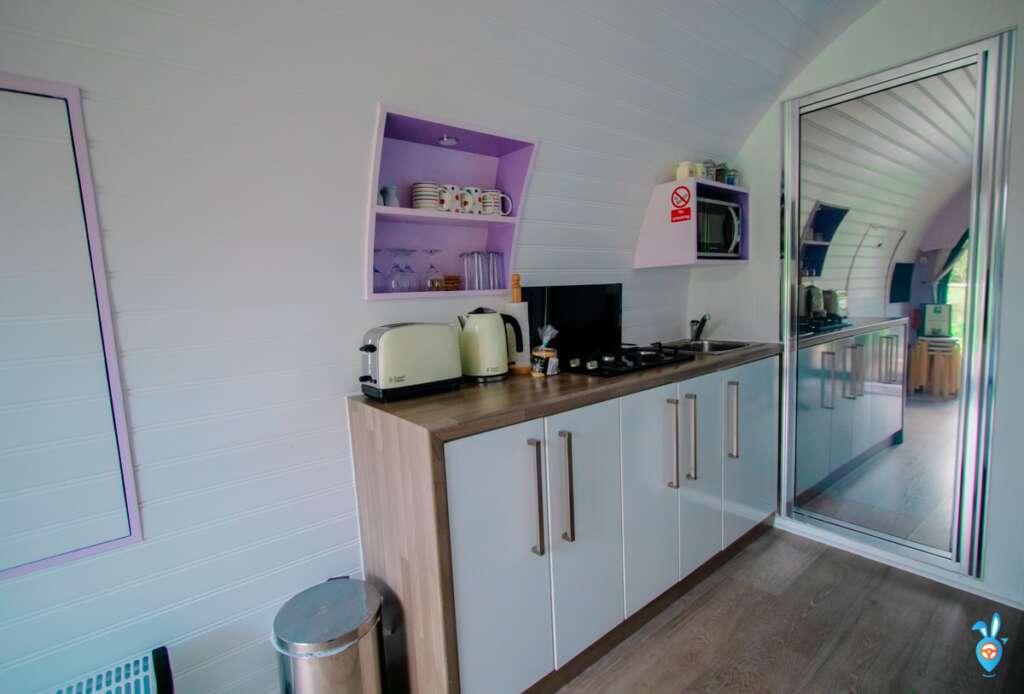 There is a good sized double mattress with Egyptian cotton line. The bed has a spring mattress with underbed storage. I particularly love the bed window, which has a nice view as the day light changes. Note that the wadrobe has a blind for this window for bed time.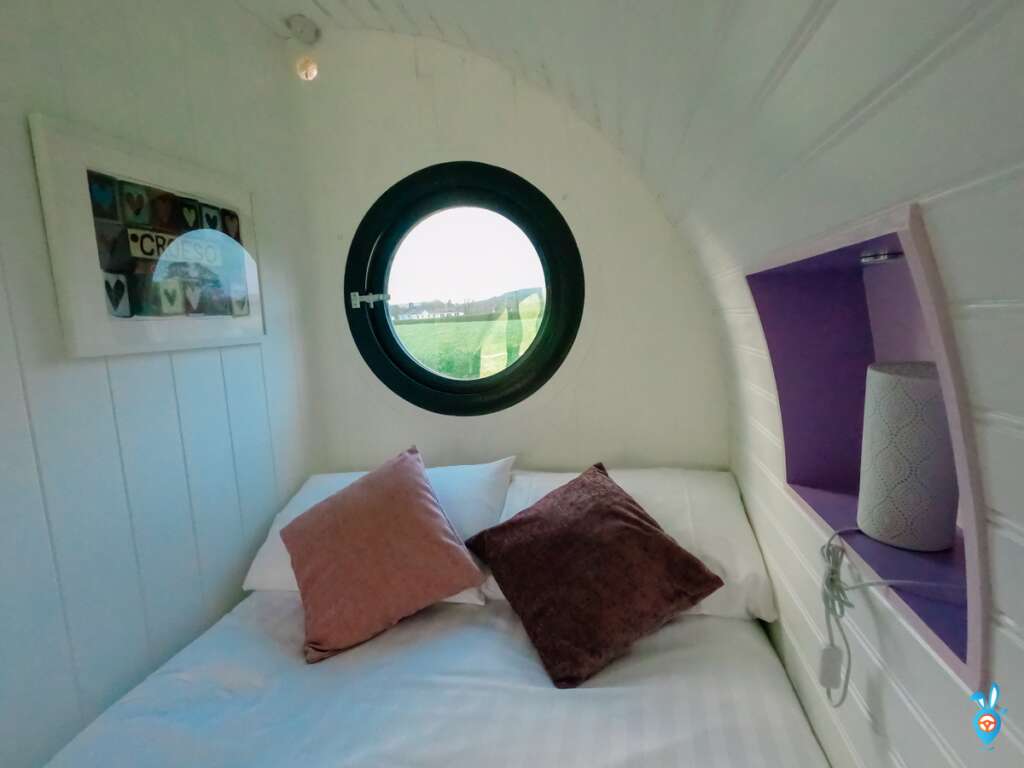 Spending an evening in riverside pods
On our first day, we decided to cook at the pod as we were too late to find somewhere to eat. We poured ourselves a warm English tea while cooking a beef fry with spinach. There is a co-op nearby for buying ingredients if needed.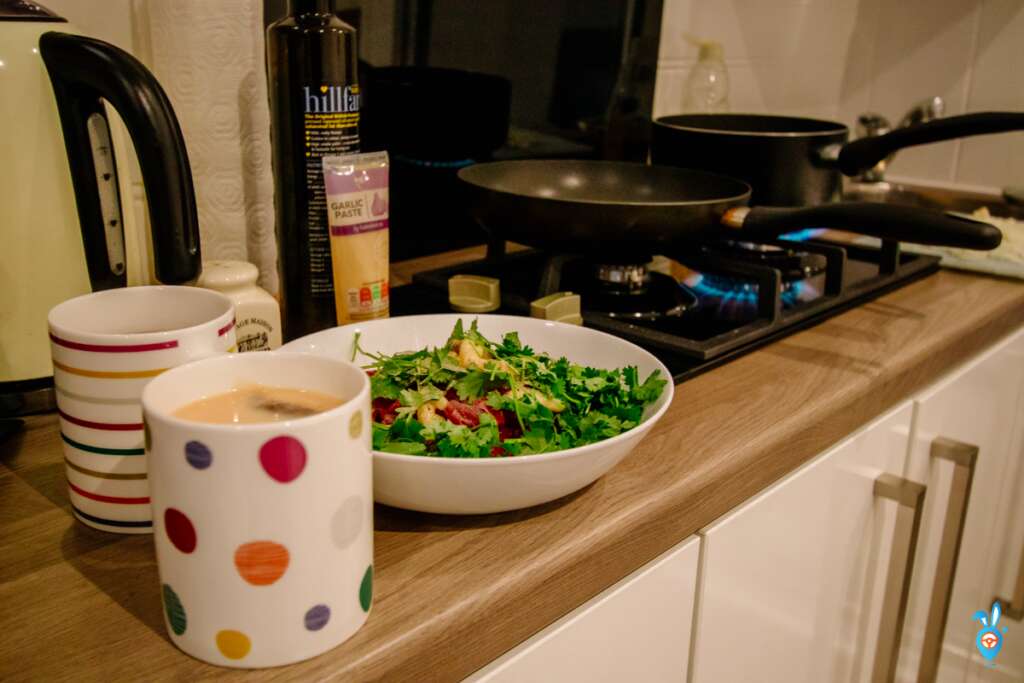 It was a memorable evening eating some home cooked food and watching TV. The pod also had cards which reminded me of some of my best card-playing buddies in Holland. How I wished I could play cards in groups, we could not gather and play in groups as we were still under covid pandemic restrictions with no two households allowed in one room.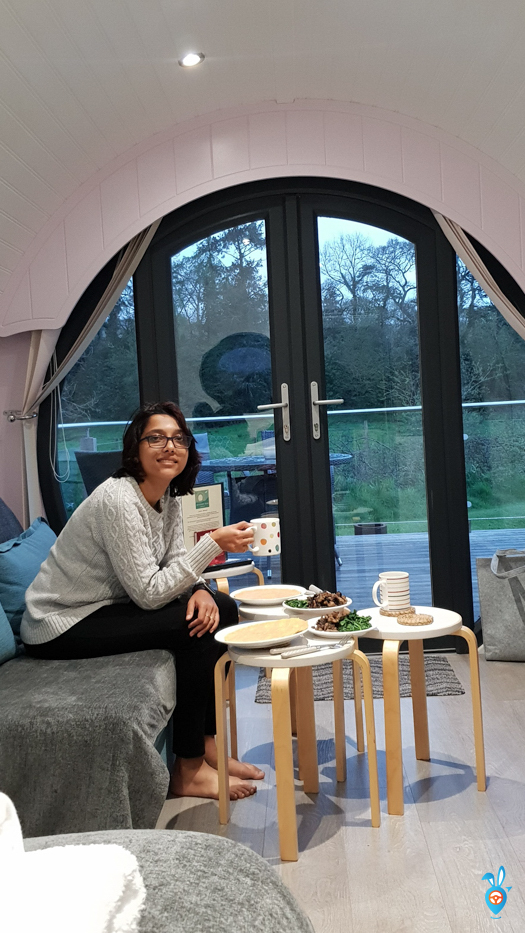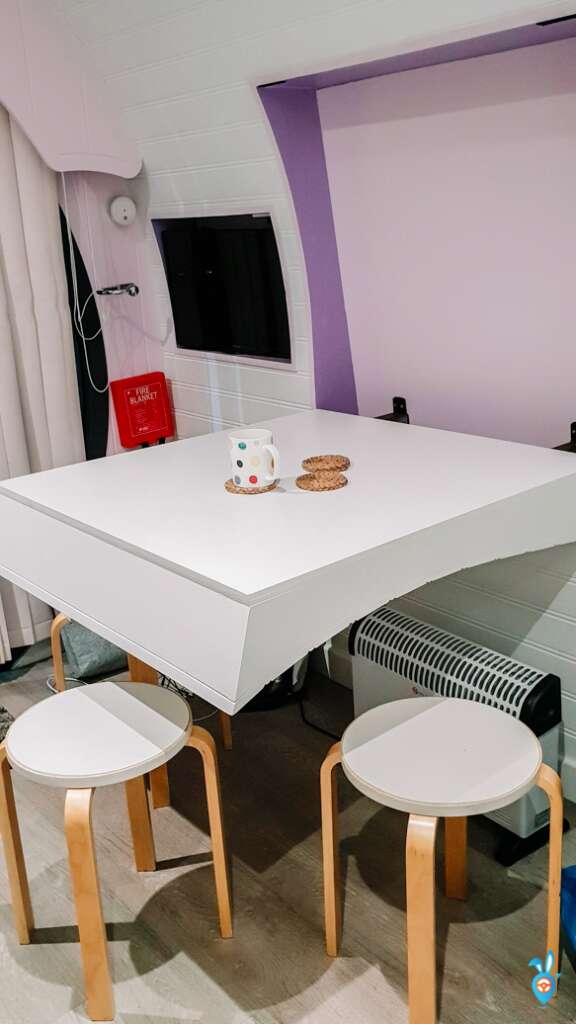 Fire Pit Experience in Riverside Pods
After dinner, we embarked on some playing with fire initiatives, with the fire pits to keep us warm. The campsite manager had given us a fantastic training as well as a set of instructions on how to light the fire pit, which was a successful mission, added with some of our own gimmicks! Read on!
We set the pot with the wood chunks and lit it up carefully. Initially, it was just like the genie emerging from Aladdin's lamp filled with smoke.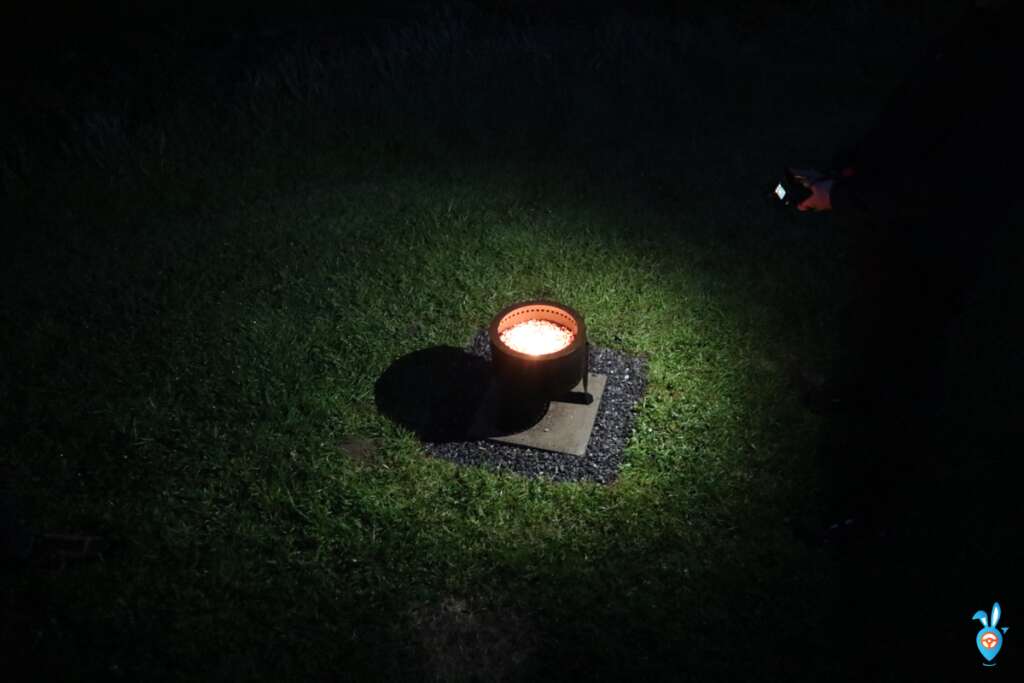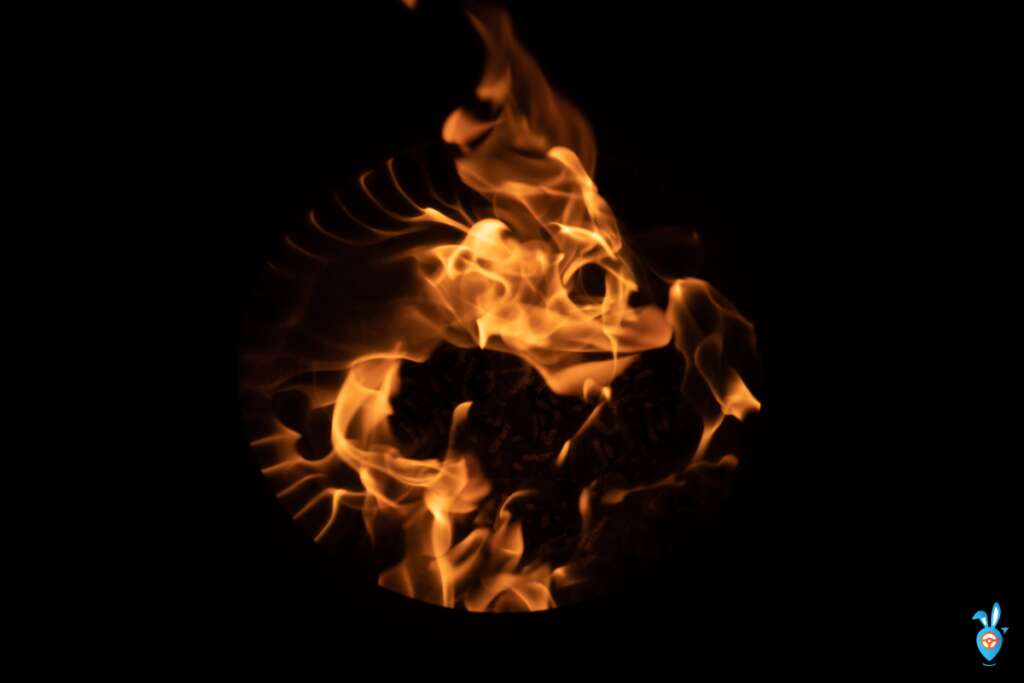 As we blew the smoke away and applied our very own fire strategies, we succeeded to get the flames and enjoyed this warmth. The moment the fire came up we were transported to a Hobbit setting.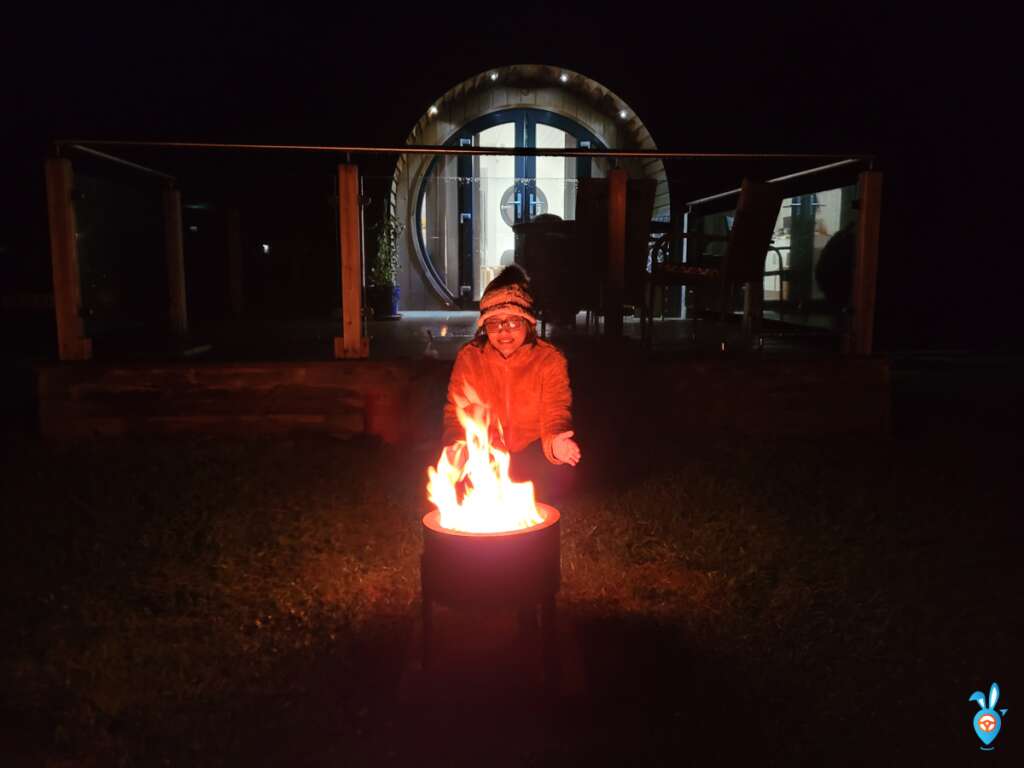 It was time for our very own night art technique to write our location with light onto our photo. Marc and I had once done this shot during our road trip to Tromso in winter, a road trip explicitly done with a mission of chasing Northern lights. We introduced this to our friends from Romania this time and tried to get a WALES printed photo. Though it was hard to take this shot, our friend Kris had perfected the art in a few attempts and here is the final outcome of my picture.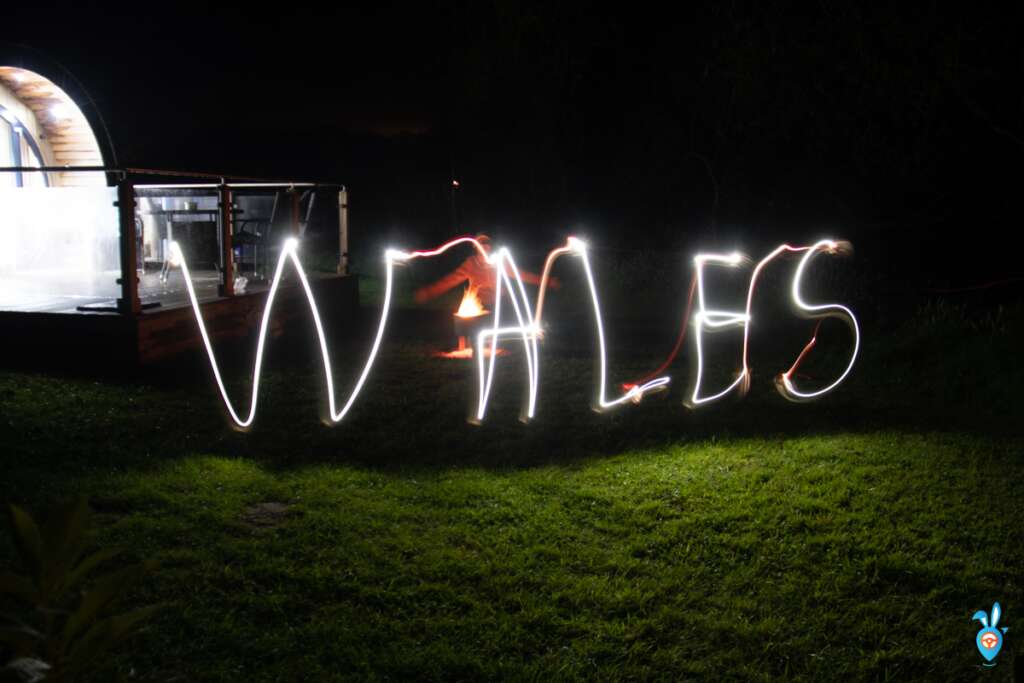 Now that we all have left our light marks in the land of Wales, it was bed time for the road trippers who have been driving between 4-5 hours in South of England for 10 days.
Sleeping Review
Sleeping here was great, the bed was smooth and rooms were dark. Don't forget to spot the bed window blind provided in the cabinet. There was the sound of the river flowing that could disturb someone, but hey, we are here for that ultimate camping experience. If you don't like the sound, here is my best hack for soundproofing your ears while sleeping.
Waking up in Riverside pods
Waking up in the riverside pods was like waking up to a dream. I have pictured this moment many, many times in my life, opening a door right to the view of a meadow with river flowing in front of you.
These are the moments that make you dream of being a writer living in a countryside setting like this – so peaceful and tranquil.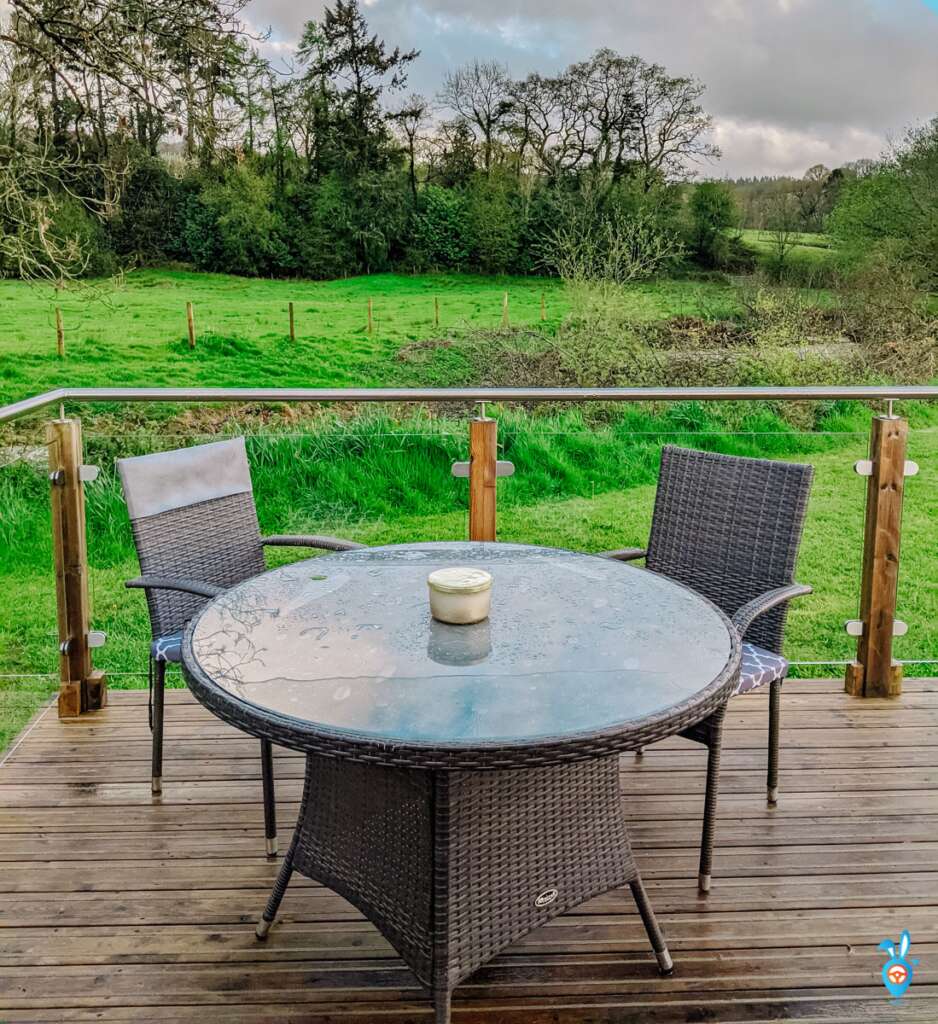 Erwlon Campsite Facilities
Apart from the well equipped pod itself, there is sufficient parking space outside the pod and the campsite also provides bike storage upon request. Everything you could need for a perfect camping holiday is available.
---
Where to Eat Nearby Riverside Pods
Llandovery town is walking distance from the riverside pods and has all the amenities you would need for your stay.
Groceries, butchers and bakers: Co-operative, Spar, Matthews Family Butchers, La Patisserie
Pubs, Restaurants & Tea Rooms: The Castle Hotel, The Bear, Kings Head, White Hall Inn,
Pengawse Tea Rooms, Old Printing Office Café
Take-Away: Indian Lounge, Mayflower Chinese, Llandovery Kebab House, The Three Horse
Shoes Fish & Chips
Doctors/Hospital/Pharmacy: Llanfair Surgery (01550 720648), Llandovery Hospital (no A&E,
01550 722200), A.R & H Davies Pharmacy (01550 720269)
Post Office: Monday to Saturday 09:00-17:50
Fuel Station: Murco (not 24 hrs)
ATM: Lloyds Bank, Broad Street, Llandovery
---
Things To Do Nearby Riverside Pods
Recommended by Riverside Pods Team
Welsh Countryside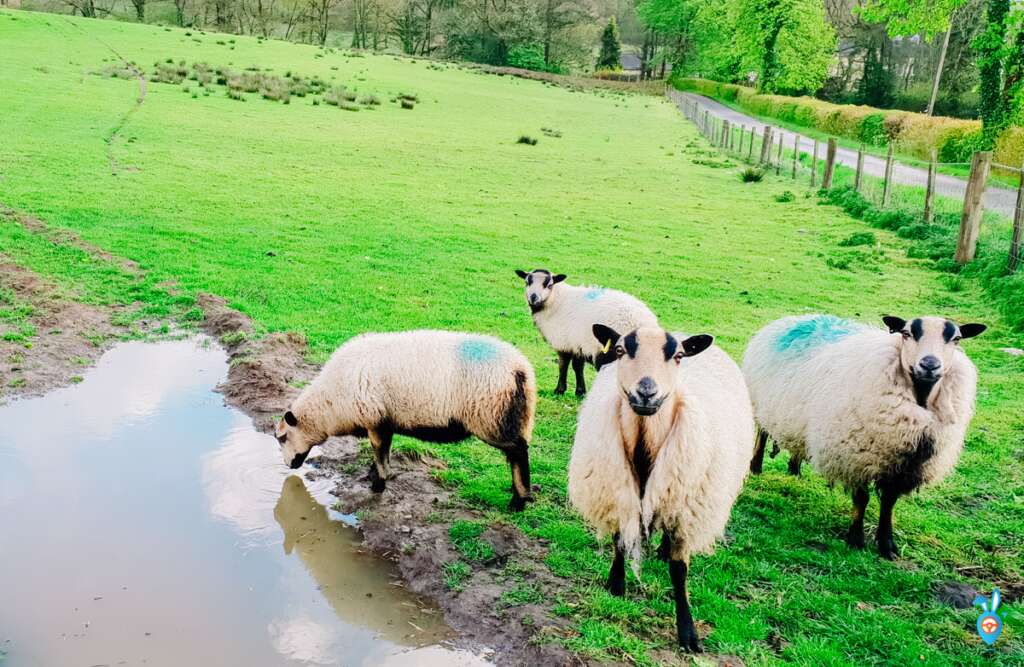 Brecon Baecons National Park
Llyn Brianne
Y Garn Goch
Brechfa Forest
Welsh Coastlines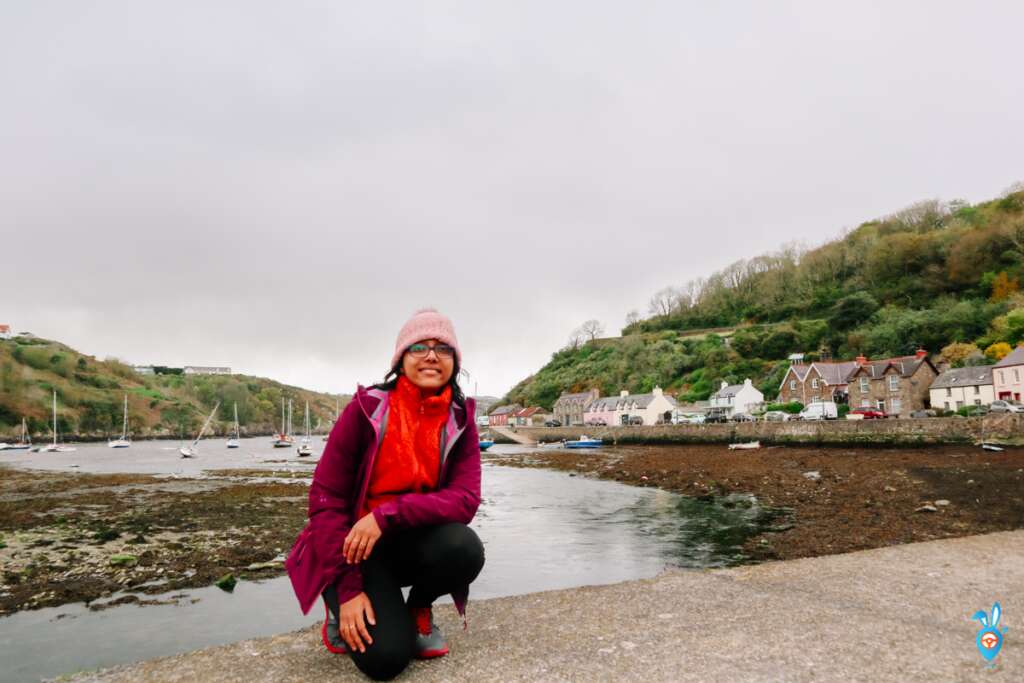 Cefn Sidan
Pendine
Ferryside
Llansteffan
Scott's Bay
Morfa Bychan
Telpyn Poin
Other Attractions to cover by road
Red Kite Feeding Station
Dolaucothi Goldmines
Llansteffan Castle
Aberglasney Gardens,
National Botanic Garden of Wales
Dinefwr Park
Dryslwyn Castle
Pin It!