Who does not want to go on a Scotland Road Trip? Scottish highlands is a dream road trip bucket list for nature lovers, the landscape obsessed, mountaineers, hikers, and sports car and bikers. Scotland has the scenery of some other European countries and the glory of the Arctic, with the hundreds of islands formed around it with volcanic eruptions making the landscape so unique. Travel to Scotland and you will get a bit of Austria, Switzerland, Canada, Baltic in one place.
Hitting the Scottish highlands has always been a dream bucket list item. I planned this 2 week Scotland road trip itinerary to the cover Scottish Highlands and nearby islands in August 2020, during covid lockdown restrictions. This ultimate Scottish highland road trip itinerary covers all the major parts of the Scottish highlands and North Coast 500 (NC500) in a week and some of the top islands and mountain regions in the mainland for another week.
Scotland Road Trip Planner
Planning this road trip was one of the most tedious itinerary planning I have ever done- largely because it is long, almost every stop throughout any route you pick is amazing and I wanted to see them all. To achieve this, I narrowed down the road trip route to take first and then came up with a complete itinerary plan, as shared below, with each itinerary item color-coded per day after reading many many blogs and consulting with travelers in my social media travel community. I am so grateful for everyone's suggestions, as it was so helpful to make sure I covered as many classic bucket list items for a Scottish road trip.
---
Scotland Road Trip Planner: Top Things to Note
Scotland is part of the UK and vast but has got its main cities like Edinburgh, Glasgow, and Dundee in the South or Central lowlands. The northern highlands and islands which are very scenic are pretty remote. The weather changes heavily and is extreme sometimes, hence careful planning is needed in terms of when to visit, where to stay, and even for driving if you are traveling internationally. Some of the top tips for a Scotland Road Trip to cover the Scottish Highlands are stated below.
---
Best Time to Visit Scotland especially for a Scenic Road Trip
The best time of the year for a road trip in Scotland aimed mainly at enjoying the scenery of highlands and enjoying the lochs will be the late Spring/Summertime between May and September. Late April will still be muddy and rainy and late may is the best. June, July, and August are the best time to visit but the busiest which makes finding parking lots and accommodations hard. Due to the popularity, it is much better to plan this trip thoroughly.
Autumn is pretty with the fall colors and winter is famous amongst tourists as well for stargazing and aurora chasing. Winter is best to avoid crowds and the scenery is pretty snowy. Your plan should really depend on which seasonal view are you aiming for. Ask me? I plan to visit once in every season since I went there 😉
---
Driving in Scotland
As everywhere in the UK, driving is on the left-hand side of the road here and roads have roundabouts. If you are an international, you definitely want to learn about navigating roundabouts. Also, I would suggest for you be with an experienced driver and are narrow and can be challenging. You do want to take all the scenic routes for the best experience. If you are renting a car, make sure you take insurance.
When you are in Scottish highlands, the best accommodations to explore are the Bed&Breakfasts here to experience the local life. There are some amazing B&B's to try available on all major booking sites, but for budget travelers, Airbnb comes with many B&B options too to stay with locals. Another experience not to miss here is to actually stay in a castle. There are luxurious to budget-friendly options for that.
---
*Disclaimer: This post contains affiliate links. If you click on them and make a purchase, I receive a small commission. There is no additional cost to you. I would appreciate the support.
---
The Ultimate Scottish Highlands Road Trip Itinerary: Overview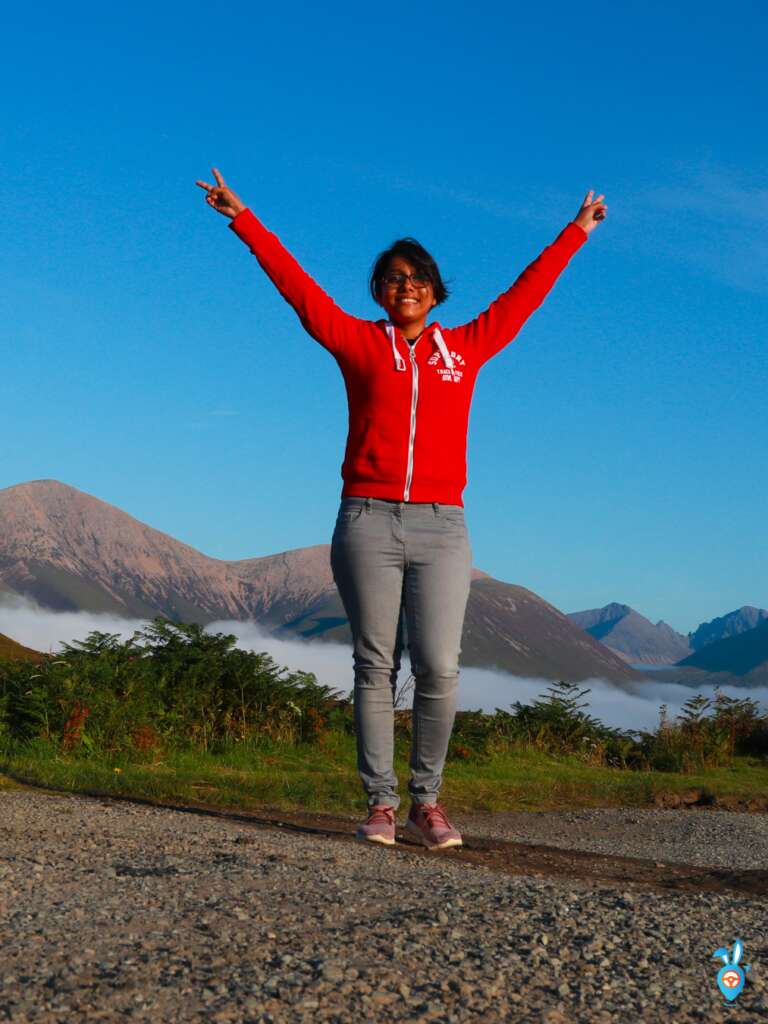 We planned our Scottish highland road trip itinerary dividing into two-week blocks. We covered the Northern Highlands and North Coast 500 route during our first week and then did the islands and the northern mainland around Fort William in the second week. Dividing this way helped us find accommodations easier and cheaper as we planned everything around two main cities together. Week 1 was mainly around the city of Inverness and Week 2 was around Fort Williams and Oban.
I will add all these here, so that you can decide the leg of the journey and move it around based on accommodation, where you would like to stay more, how long is your duration, etc. High-level destinations are covered and the length is below.
Week 1: Scottish Highlands & NC500

2 days: Cairngorms National Park, Inverness, Lochness
5 days: North Coast 500 (NC500) – Isle of Skye

Weekend:
Week 2: Scottish Highlands and Islands

3 days: Fort William
2 days: Oban, Isle of Mull, Staffa

Weekend:

2 days:Isle of Kerrera, Loch Lomond National Park
The following route map shows the high-level view of the road trip route we took over the two weeks. Note that I have visited Loch Lomond and Edinburgh in an earlier separate road trip, so this Scottish highland road trip itinerary starts to the north of the main Scottish cities locations mainly around Inverness and Scottish highlands.
---
Scotland Road Trip Week Maps
How to Use the Scotland Road Trip Route Map?
The screen arrow button on the top left shows you the different parts of the journey with a list of landmarks to cover. You can use the share button on the map to share the map with yourself.
You can also copy the map for your perusal by going large screen and then downloading it to your Google Maps and creating your personal copy including making updates.
Tip: View in large screen for better readability by clicking the full-screen button on the top right
---
---
---
---
Scottish Highlands Road Trip Itinerary: Week 1
Day 1: Inverness, Scotland
The journey started from England until Inverness for us, but you can also start from anywhere in the south of Scotland to start this journey. If you are flying internationally, you can fly to Glasgow/Edinburgh and get your rental vehicle there. This is not enough to fully see Cairngorms National Park, but we got a good afternoon exploring the main lochs here and a dinner at Aviemore. We aimed to reach Inverness this day as we found accommodations there. Another option is to stay in Aviemore and give more time to Cairngorms National Park and see Lochness before going to Inverness. Lochness needs a full day to enjoy it properly.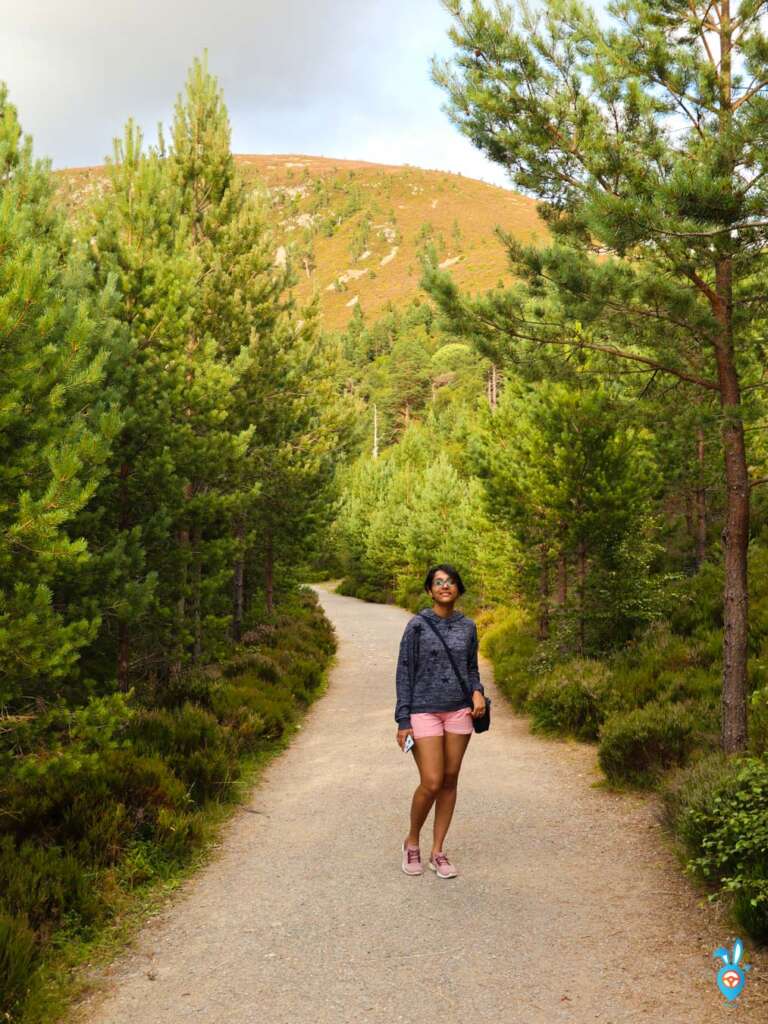 ---
Top Experiences of Day-1 Scotland Road Trip
Pitlochry : A cute village perfect for a staycation in Scotland famous for the Pitlochry Dam, and some old distilleries like the Blair Altholl Distillery. There are some nice nature walks, museums and many outdoor eateries to enjoy here making it perfect for a weekend staycation.
Cairngorms National Park: Cairngorms and Glenmore National forest is very famous among campers and outdoor lovers. We picked two fresh water Lochs for the day as we didnt intend to stay but wanted to add open water swimming to the road trip itinerary.

Loch Morlich is a water sport gem in Cairngorms very famous among families. We spent some time enjoying the scenery and watch folks kayaking etc.
Loch Uaine is a hidden loch in this area which is actually very shallow and perfect for an outdoor swim. We enjoyed the walk through the forest to get here. We were too late here to actually try swimming, but totally recommend it for a swim or camping in a peaceful atmosphere.
---
Highlights of Day-1 Scotland Road Trip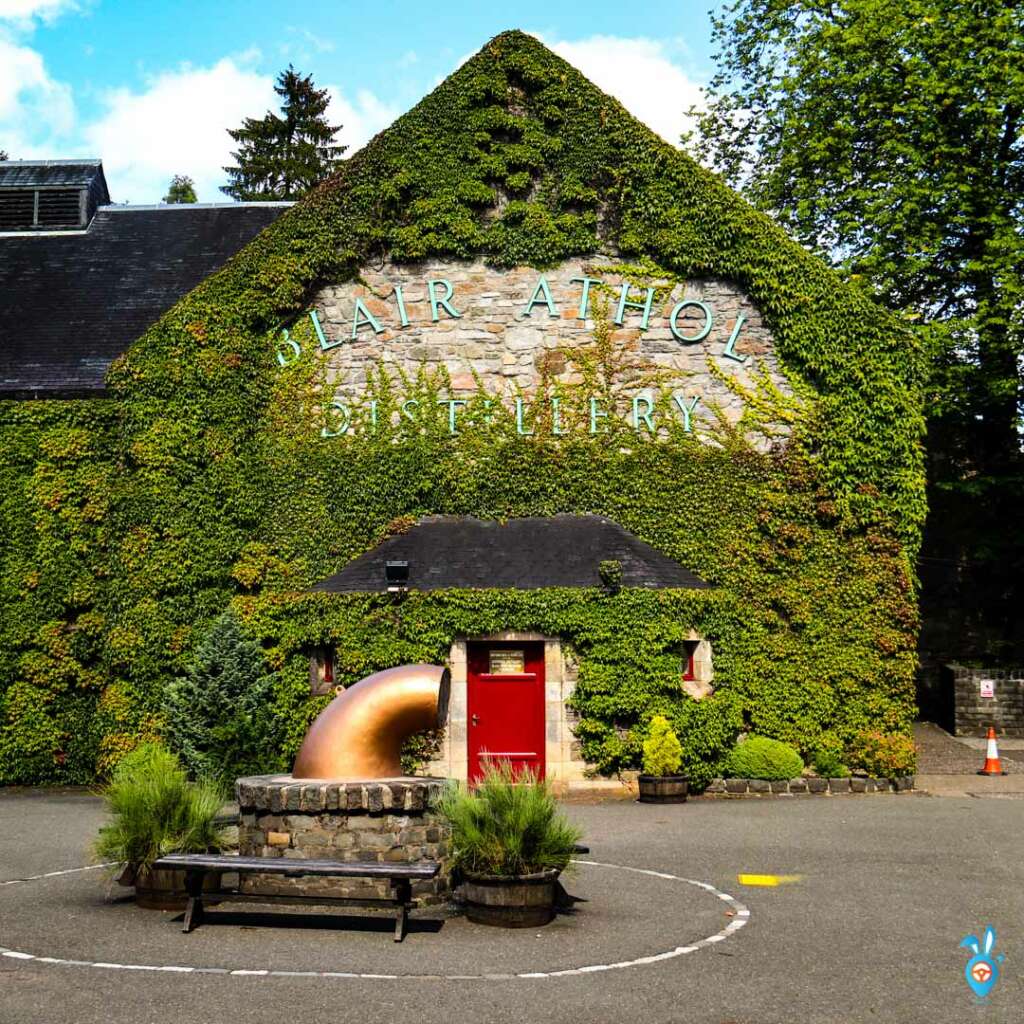 ---
Where To Stay & Eat?
---
Day 2: Fort Augustus, Scotland
We started the day in Inverness exploring major attractions in Inverness. One of the highlights was seeing dolphins from land in Chanonry point which is an unbeatable experience in Scotland not to miss. After the dolphin-watching experience, we spent the afternoon taking a round trip drive around Lochness with stops in the Dores beach for a lunch picnic, and in Fort Augustus for a coffee. Lochness is also the best place to aim for a staycation as the Dores have water sports which reminded me of Europe and of course lots of outdoor excursions to take. The drive from Inverness to Fort Augustus is very scenic and our first encounter of the Scottish highlands is epic in this Scotland road trip. Unfortunately, Urquhart Castle was closed due to covid, so we just got a sneak peek.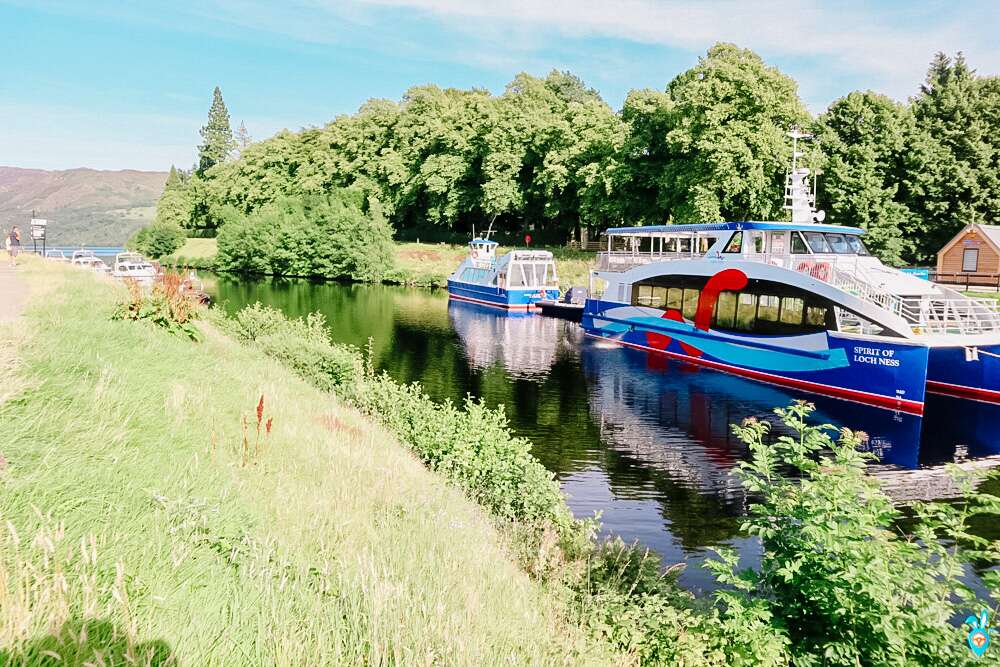 ---
Top experiences of Day-2 Scotland Road Trip
Inverness Castle : A castle with the city view and very unique structure.
Inverness Chanonry Point: One of the top places in the world to see dolphins swim from the land.
Fairy Glen: A waterfall walk
Lochness Drive: Best in this area with beaches, highlands and castles on the way. Don't miss it!
Fort Augustus: Has the canal staircase system, try to aim to watch how boats cross this staircase if you can.
Urquhart Castle: A castle with a view. You can see it from both sides of the Lochness if you are taking a round trip.
---
Highlights of Day-1 Scotland Road Trip

READ: Dolphin Watching in Chanonry Point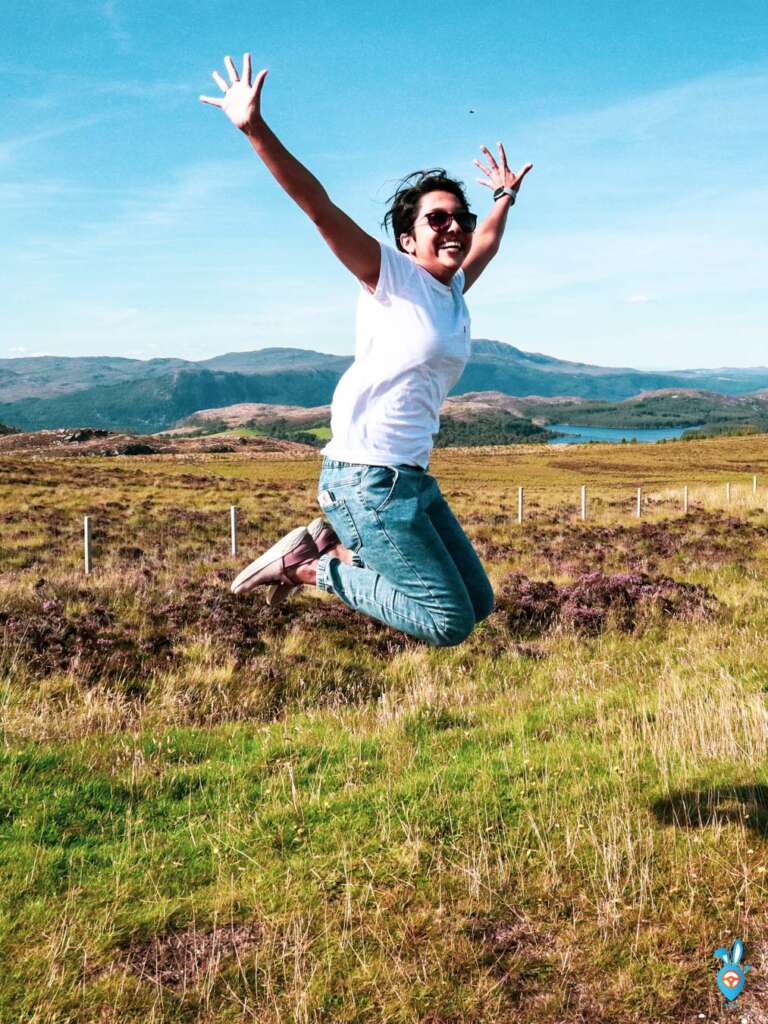 ---
Where to Stay & Eat?
---
Day 3: Wick, Scotland
We started the Scotland Road Trip 500 along the North Coat 500 route from Inverness and covered up until Wick. You can see one of the best castles in Scotland, Dunrobin Castle on this route which is worth a stroll. Whaligoe steps are another landscape in this route to not miss.

READ: Best Castles to visit in Scotland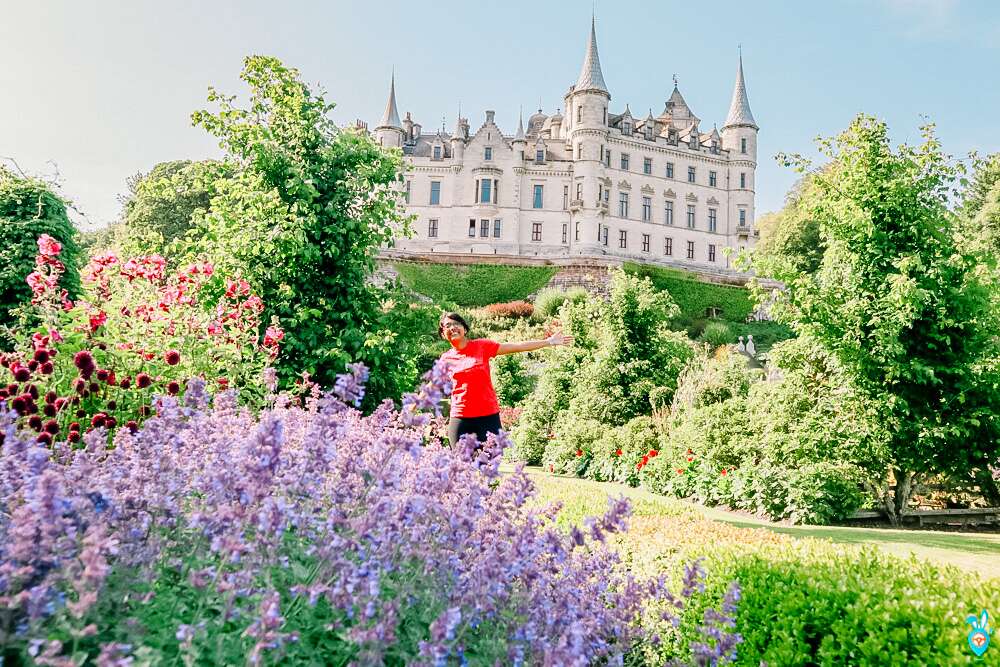 ---
Top experiences of Day-3 Scotland Road Trip
Rogie Falls: This waterfall river has a unique experience to offer in summer. You can watch Salmons jumping to get back to its birth place.
Black Rock Gorge: This gorge is on the way, but we missed it 🙁
Durobin Castle: This is a giant castle with a stunning garden overlooking the sea. Dont miss it and it is worth paying for.
Camster Cairns: We missed this too as we spent a lot of time at the castle 🙁
Whaligoe Steps: These steps to get to the sea is very unique. The landscape is huge with coves around. Fisher women used to climb these a stairs up and down in the olden daya. I was done doing this once, it is pretty much a workout but the view ia amazing. There is a cave below where you can take boat tours. This was closed due to covid so we could not experience this.
Wick: This little town is a perfect place to stay or eat in this route. It has a large super market.
---
Highlights of Day-3 Scotland Road Trip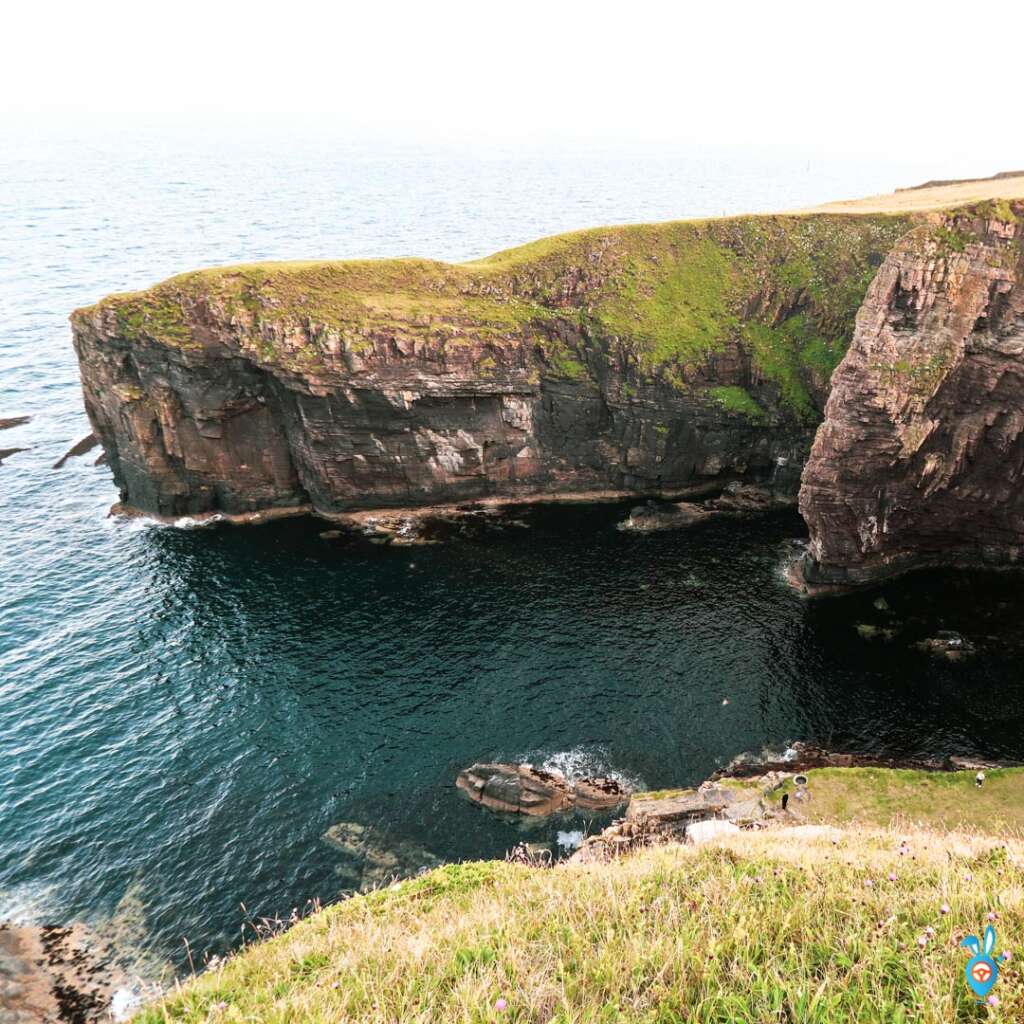 ---
Where to Stay & Eat?
---
Day 4: John'O Groats, Scotland
We continued the journey along the North Coast 500 route from Wick until Tongue covering the Northern tip of mainland UK called John-O-Groats. You can take a ferry from here to the Orkney Islands which is very famous for its castles, wildlife tours in this area. The Orkney Islands are also one of the best places to see the Northern lights in winter. We skipped Orkney islands during this Scotland road trip, but you could plan a day into Orkney and even stay there.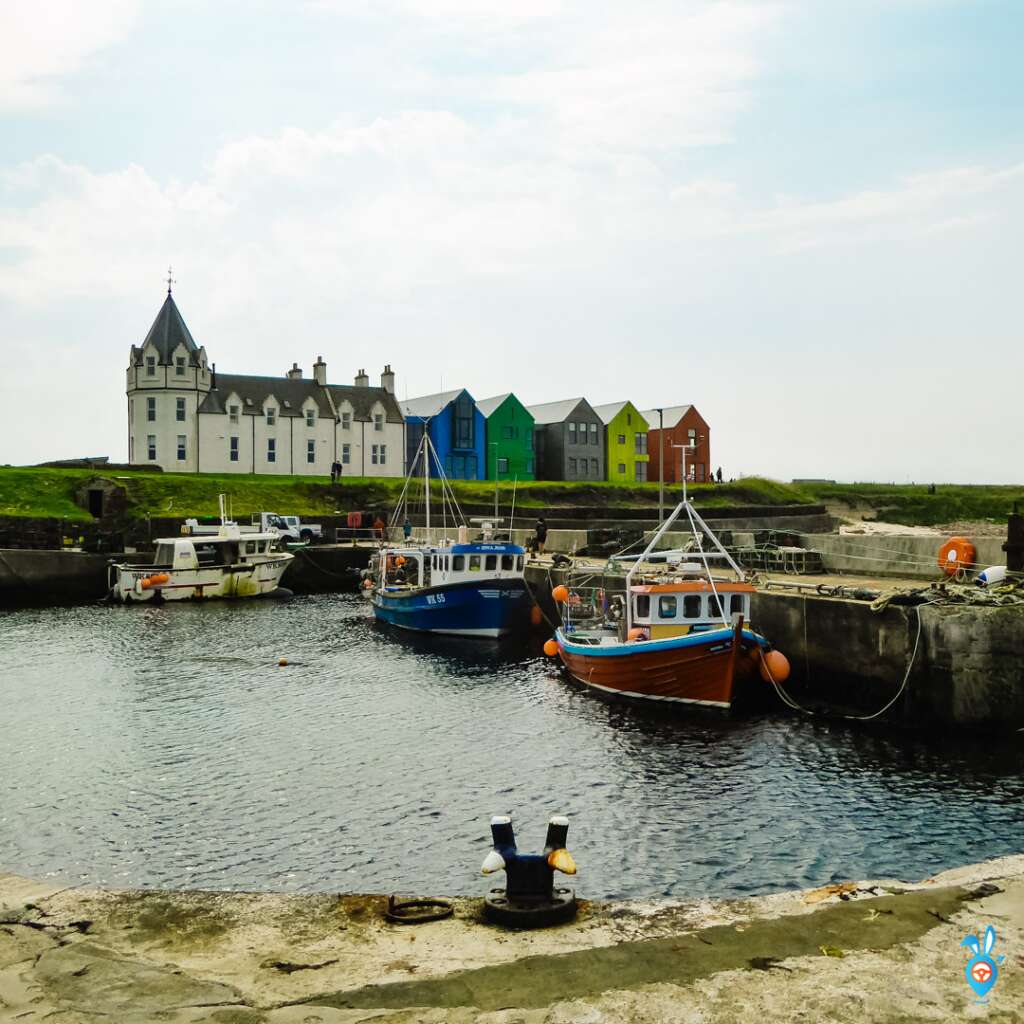 ---
Top experiences of Day-4 Scotland Road Trip
Ebenezer Place: Smallest street in the world located in Wick
Duncansby Stacks : The stacks here is massive and gives a glimpse of the Game of Thrones like landmarks in Scotland. If you are lucky you can see puffins here in July/August time. We didnt see any but I had such a grand experience of sheep traffic here.
Dunnet Head/John o Groats: Lovely small town with a picturesque view and very iconic landmark as this is the Northern tip of the UK. What not to miss here is the Fish and Chips truck, which is one of the best I have veer had in the UK
Thurso: Thurso is a popular town in this route famous among surfers with high Surfing waves. There are many options for accommodation here.
Dunreay Nuclear research centre: This is a landmark marked as a photo stop but we missed it.
Coldbackie beach: This is the first sand beach we saw in the route, fully occupied by campers and some great seafood. We didnt have time to enjoy here but worth adding more time if you love beaches.
---
Highlights of Day-4 Scotland Road Trip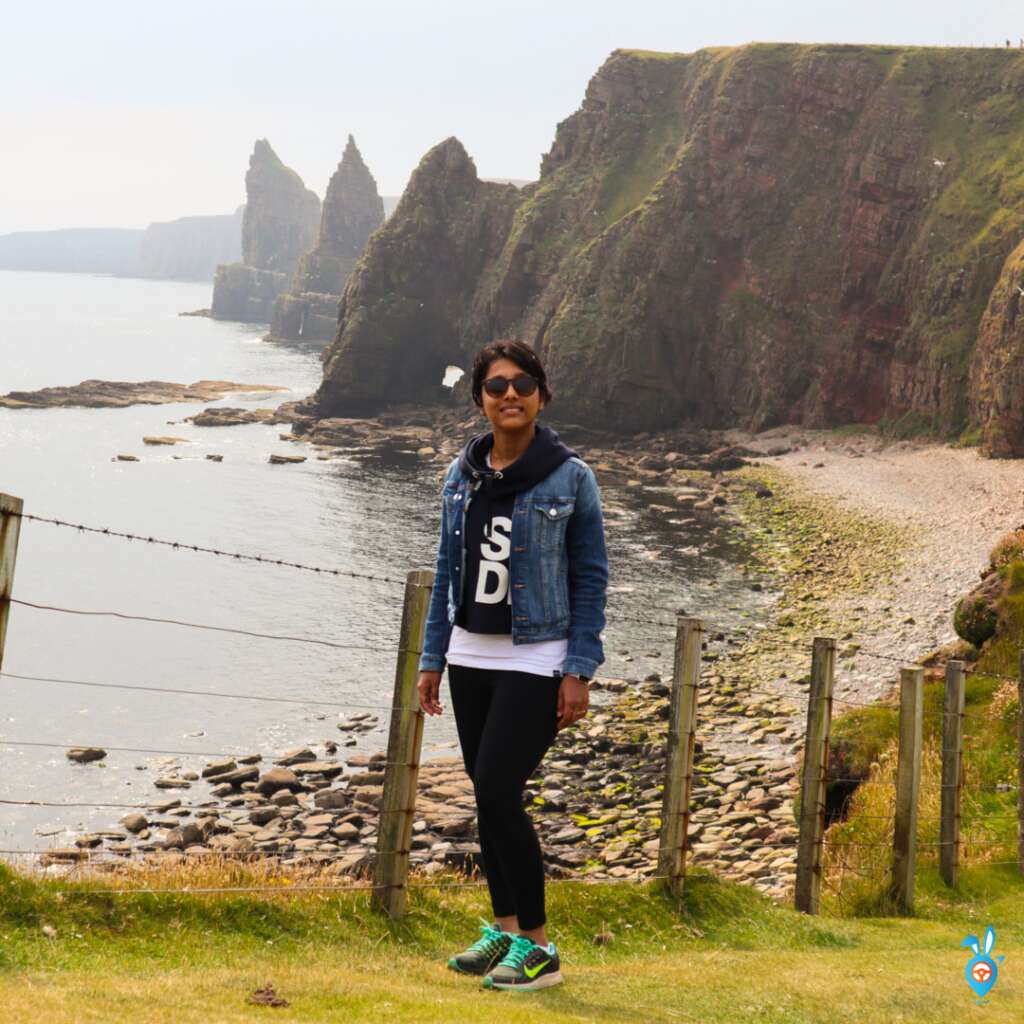 ---
Where to Stay & Eat?
---
Day 5: Smoo Cave, Durness in Sutherland, Highland, Scotland
We explored the North and East of the North Coast 500 this day. Smoo Cave is pretty unique and the drive around Lochinver is one of my most favorites in NC500.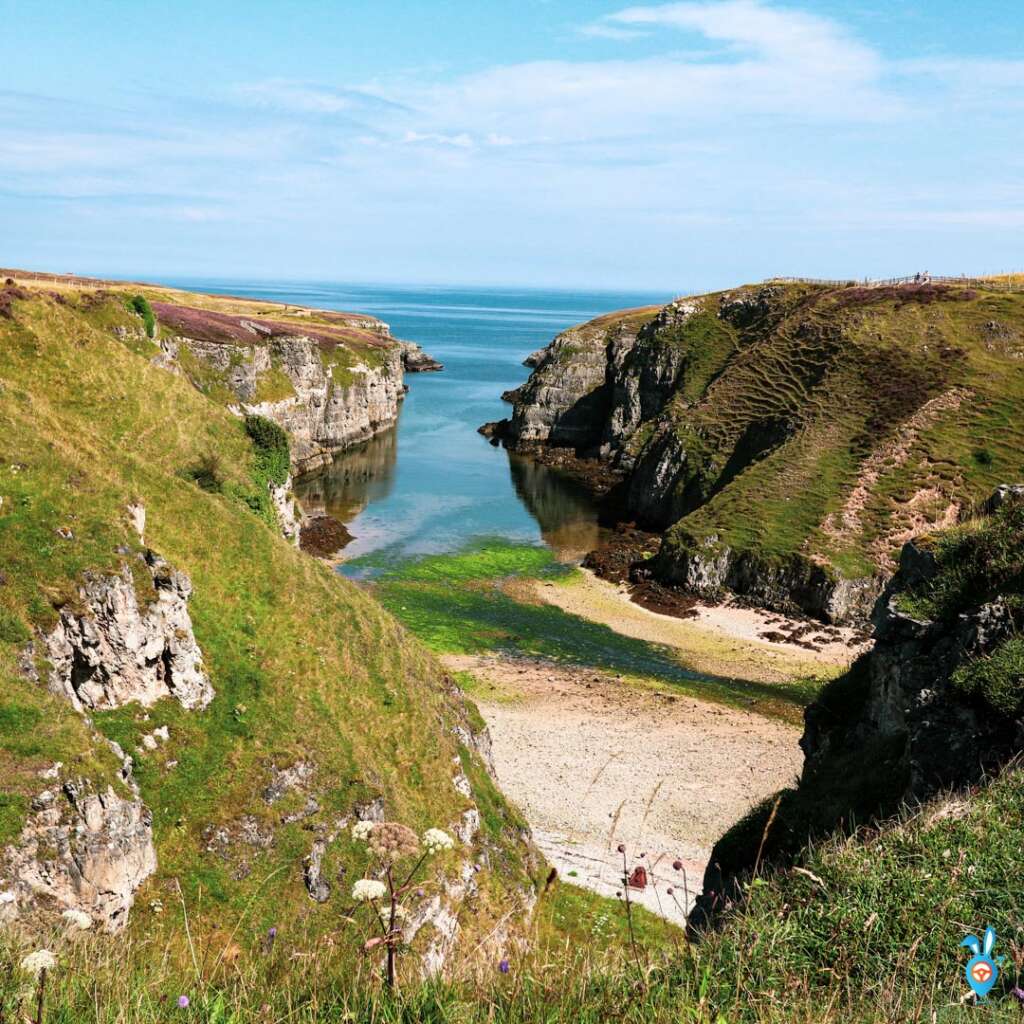 ---
Top Experiences of Day-5 Scotland Road Trip
Smoo cave in Durness: A cave formation with a scenic view. Entry fee is 4 pounds and it is worth to pay.
Choco Mountain: Very famous chocolate factory in the highlands and here you can taste their fresh produce. The hot chocolates and truffles here are not to miss.
Sango Sands beach: A very nice beach in this area with white sand, perfect for a picnic but cant be droven into. It is about 5 miles walk from the car park and hence we didnt make it. If you would like a beach day out, you could add more time here. Our main issue was not able to find accommodation around Durness.
B869 drive: This route along clashnessie, Clachtoll, Achmelvich beaches is a must route not to miss in your NC500 roadtrip.
Lochinver: One of the best routes in NC500 and the bridge here is stunning. The Peers restaurant here is famous or get a pie from Lochinver Larder. This village is one of the prettiest towns for a staycation in Scotland too.
Loch Assynt drive by Ardvreck castle: This is a nice scenic drive, castle not so sure 😉
---
Highlights of Day-5 Scotland Road Trip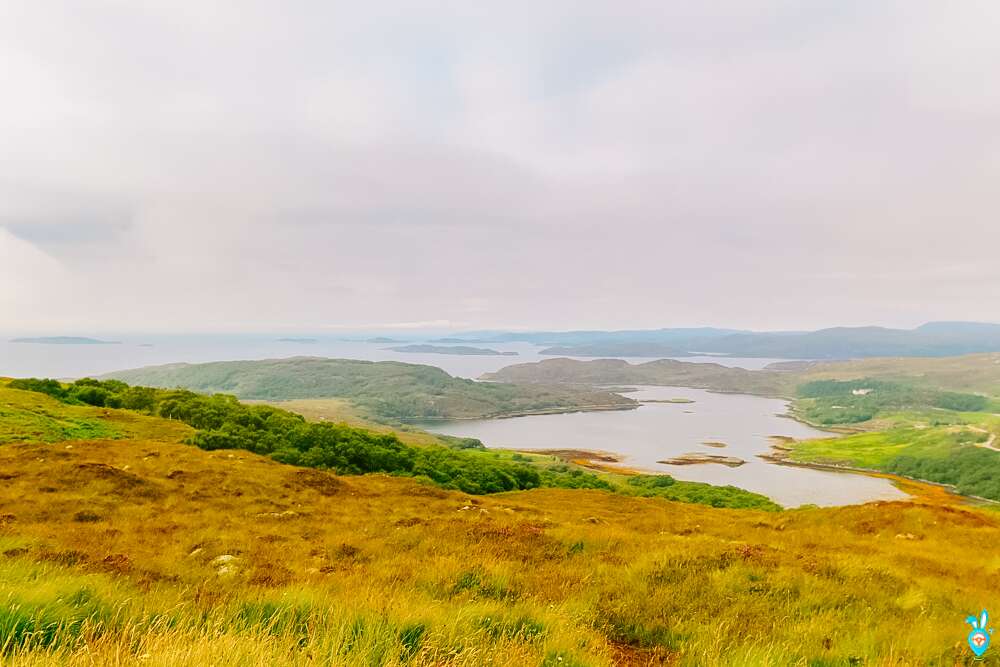 ---
Where to Stay & Eat?
Durness
Lochinver
Ullapool
---
Day 6: North Coast 500, Scotland
We covered the northwestern side of the North Coast 500 route this day. This was a very rainy day and hence we took it easy and covered little on the list, but here are the top stops planned for your reference.
---
Top Experiences of Day-6 Scotland Road Trip
Ardessie Falls – Located at Garve IV23 2QY on roadside as entering Ardessie village.
Mellon Udrigle beach: White sand beach for a non-rainy day.
Gairloch Charlestown: You can take whale watching boat tours from here.
---
Where to Stay & Eat?
---
Day 7: Scenic Villages in Scotland
We covered the southwestern side of the North Coast 500 route this day, which is one of the best parts of the NC500 route. It covers some of the best scenic villages in Scotland and routes of NC500 that, if you don't have time to go up North, you could just do this drive from Ullapool to experience a great portion of NC500. Beach Na Ba drive is splendid with great views of the Skye and nearby islands.
---
Top Experiences of Day-7 Scotland Road Trip
Glen Torridon drive through to Shieldaig: Torridon is a picturesque village and this route is very scenic. This area is perfect for a staycation, and also to see wild animals native to Scotland.
Baelach Na Ba Drive: One of the most prettiest and complex route to drive in the NC500. It is a very narrow route, so go via this route only if you have small sized vehicles. The view of Isle of Skye from here is amazing.
Applecross: A tiny village by the coast, and charming. Dont forget to book the restaurant "Apple Inn" here beforehand.
Ullapool: One of the bigger towns in the NC500, absolutely amazing for seafood. You will find lots of accommodation here and the harbour is very pretty.
READ: WILD ANIMALS IN SCOTLAND AND WHERE TO FIND THEM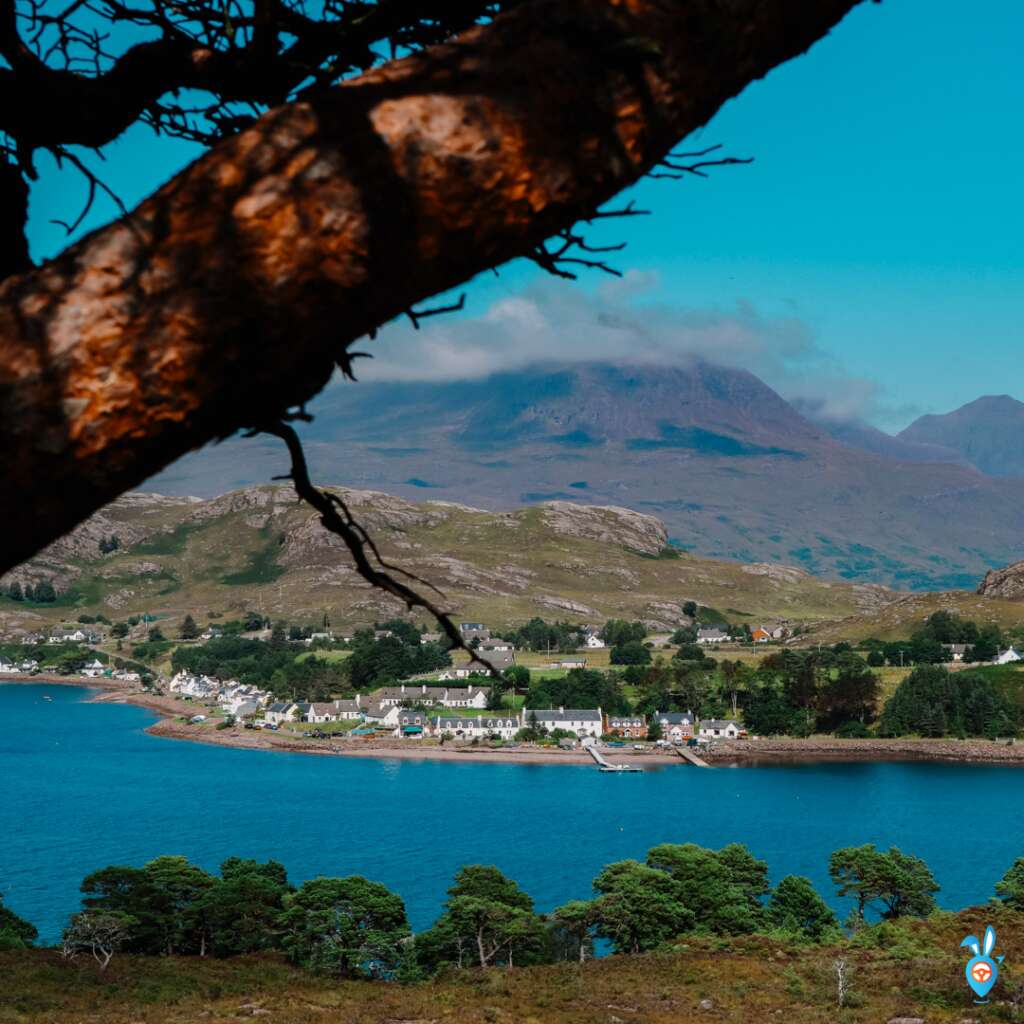 ---
Highlights of Day-7 Scotland Road Trip
READ: Best scenic drives in the UK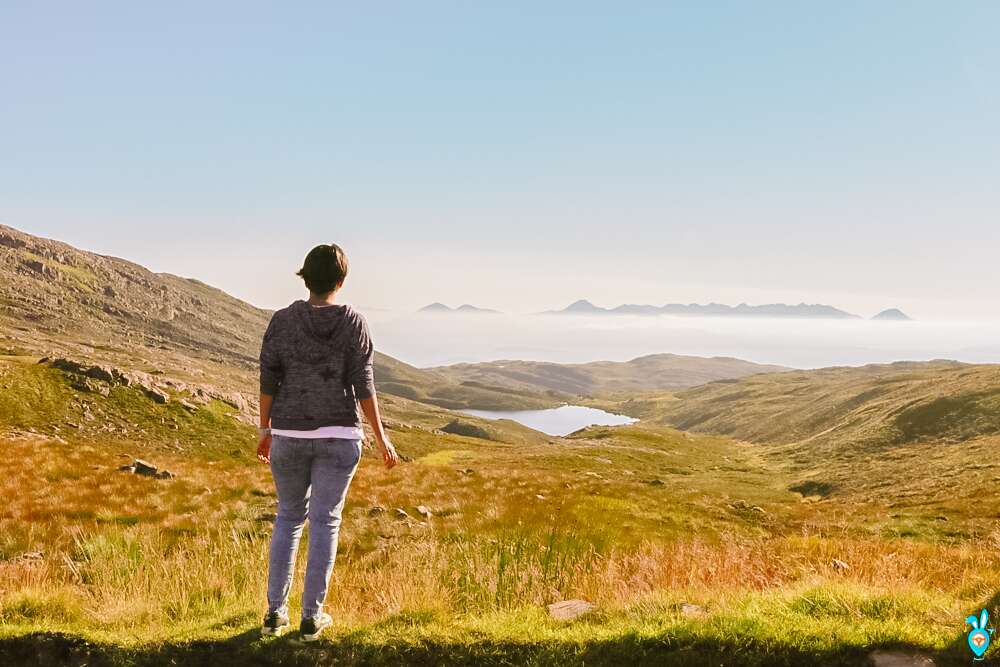 ---
Where to Stay & Eat?
Apple Cross
Torridon
Ullapool
---
Scottish Highlands Road Trip Itinerary: Week 2
Day 8: Southern Route of NC500
We explored the southern route of NC500 enjoying the sun in Plockton and then drive up to the Isle of Skye in the evening. The Isle of Skye was so mystical when we got there but that view is amazing.
---
Top Experiences of Day-8 Scotland Road Trip
Plockton: One of the top scenic villages covered in many movies and famous for seafood.
Eilean Donan Castle, Dornie: One of the best castles of Scotland located in the middle of a loch and has lots of history attached. It is worth paying to go in.
Kyle of Lochalsh: A magical loch with lots of little island views and very mystical with a great view of Isle of Skye. Don't forget to stop at the bridge to the Skye, the view is very good from the bridge. I have noted this place for a staycation too.
Isle of skye – Portree: Capital city of Isle of Skye was pretty mystical and magical. This little town is like in the fairy tales with colored houses and a cute harbor. The shops here are so cute and attractive.
Fairy Glen/Cullins: We took a drive to the Fairy Glen here, which is a bit of a walk and we were too late to get in the water pool but the drive in this area is very scenic and not to miss. You will get a great view of the Cullin Hills.
READ: Best Scottish Highland Towns to Visit in Summer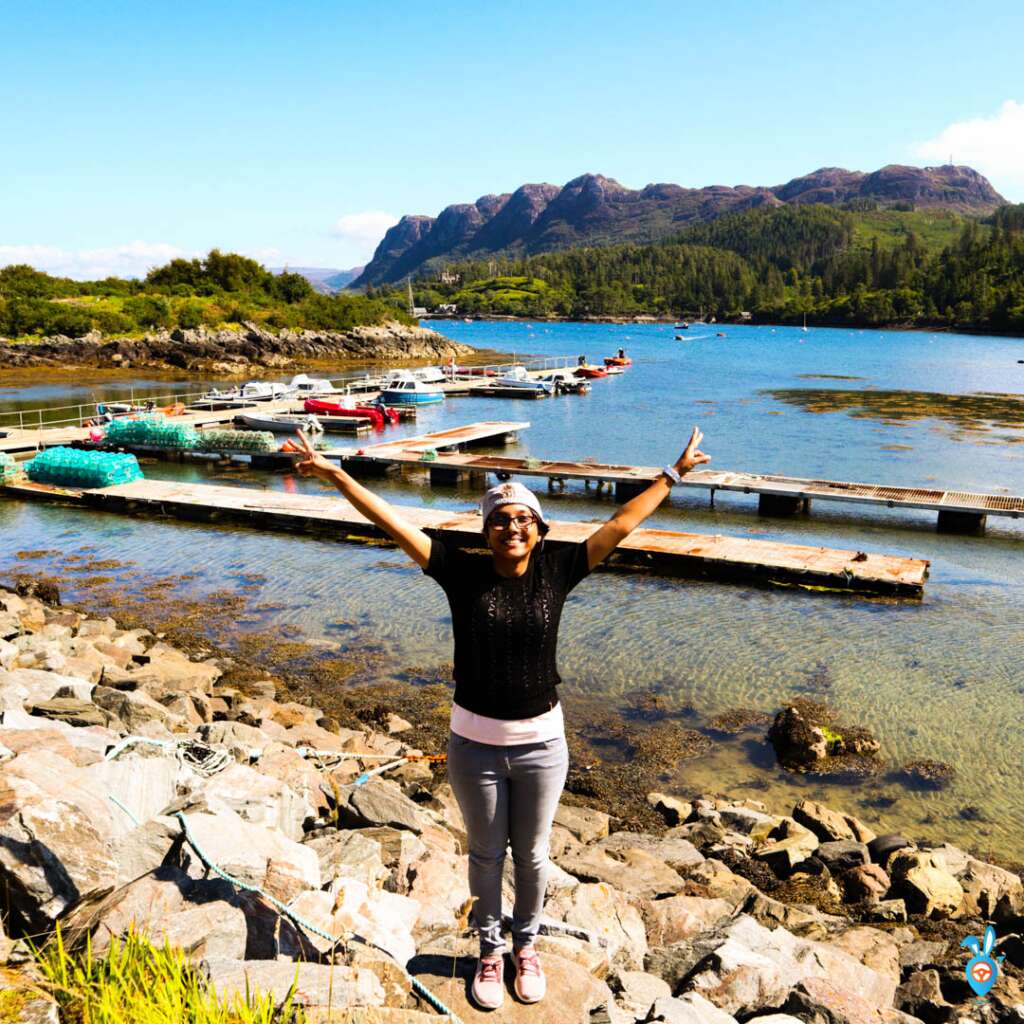 ---
Highlights of Day-8 Scotland Road Trip
Enjoying the fresh seafood at Plockton and Isle of Skye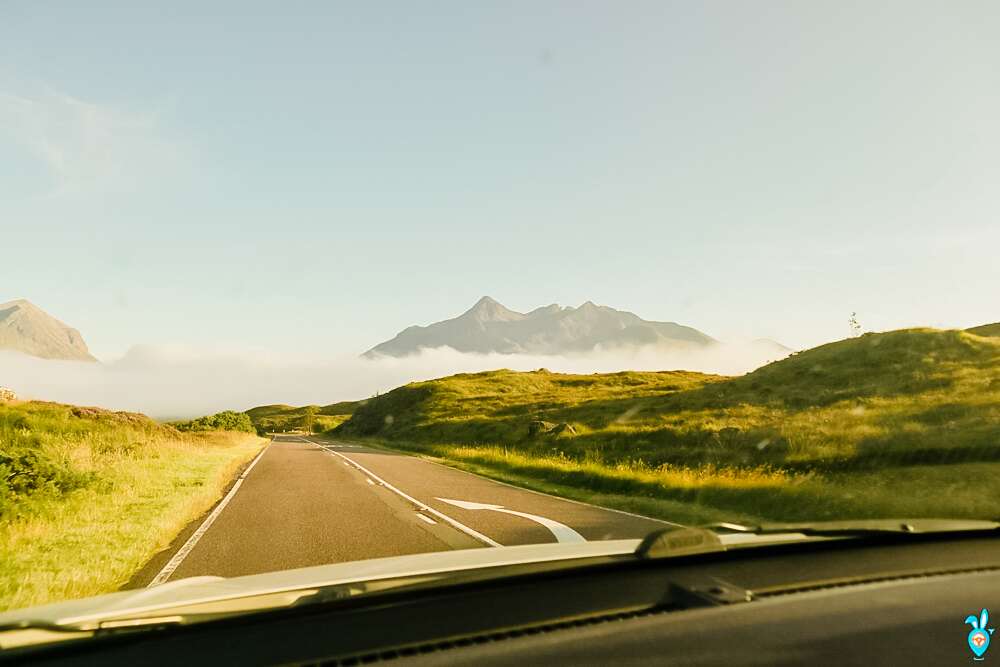 ---
Where to Stay & Eat?
Plockton
Kyle of Lochalsh
Isle of Skye
---
Day 9: Portree Outing, Scotland
We explored the Isle of Skye taking a round of Skye which is pretty doable in a day. We only hiked the Old Man of Storr and Quaring and missed Elgol from the list. We could not make it as it was too far from the North and we only had a day. You need a day here ideally to take a boat trip to the most scenic loch in this area.
---
Top Experiences of Day-9 Scotland Road Trip
Portree: The weather was better and we have been exploring Portree briefly again, this time not so mystical. Don't miss visiting the Cafe Ariba in Portree, nice food and great view of the harbor. Portree is easily one of the top Scottish villages for a staycation.
Old Man of Storr: We hiked up the Old Man of Storr, which is very near to Portree. The view is great on the top so be prepared to hike up for two hours 😉
Quarring: Most famous amongst the tourists for an easy hike!
Uig: A harbor town in the Skye you can visit if you take a round in the Skye with pretty view.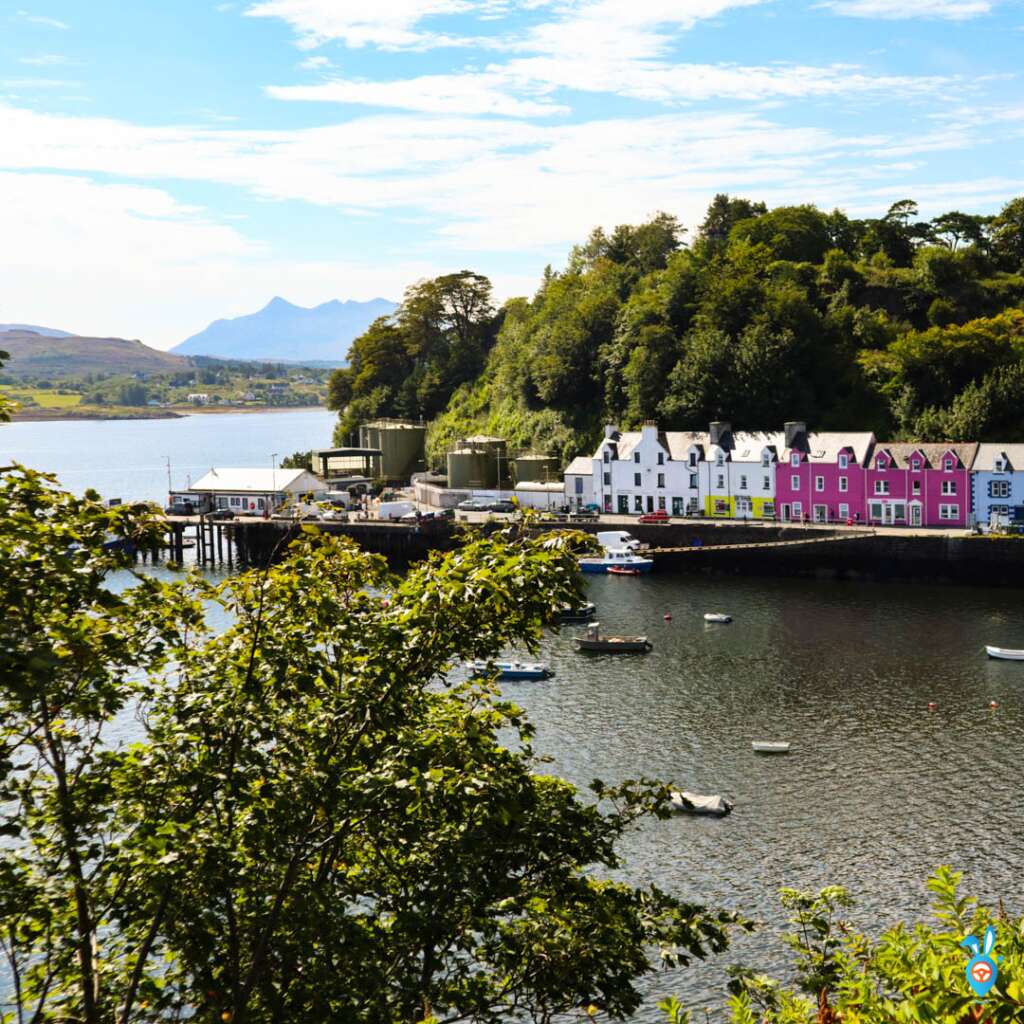 ---
Highlights of Day-9 Scotland Road Trip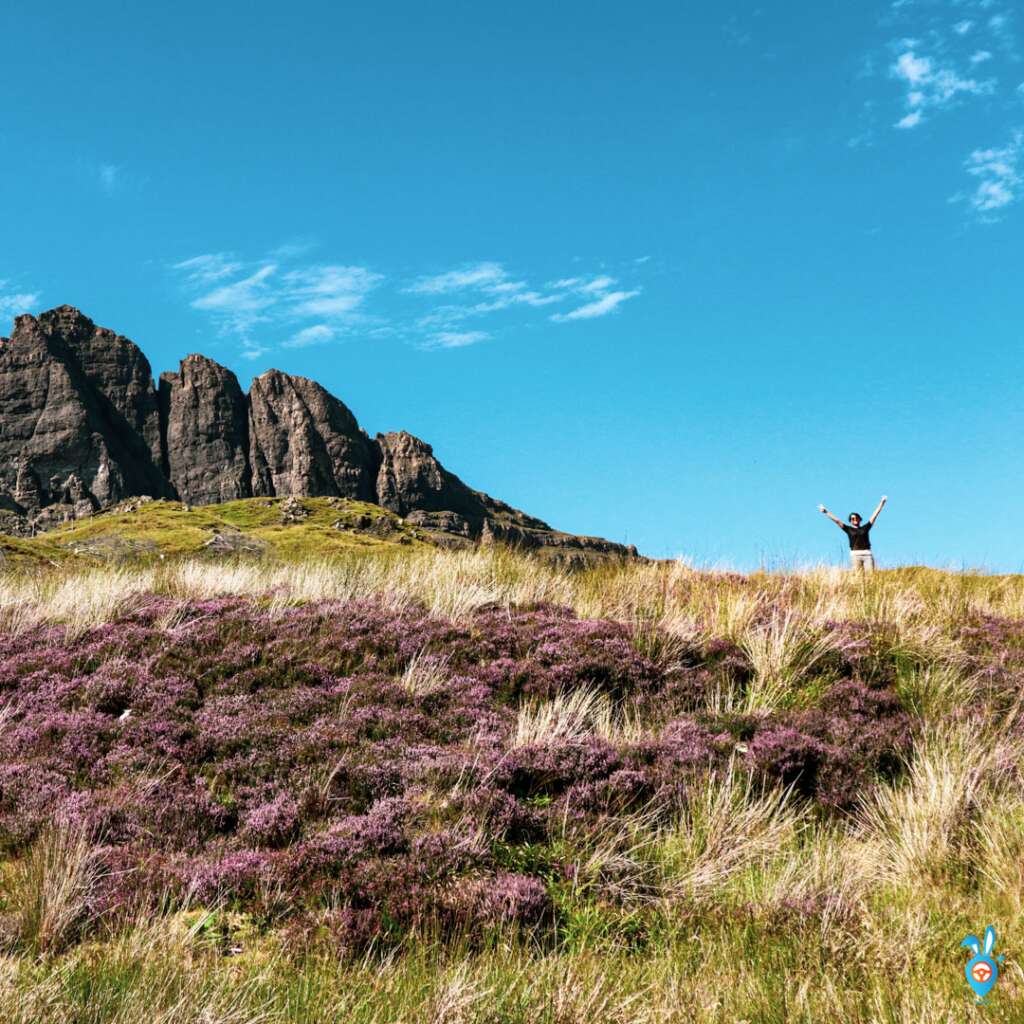 ---
Where to Stay & Eat?
---
Day 10: Sanna Bay, Scotland
We explored the Sanna Bay the whole day driving from Fort William and back. This is a pretty beach, warm enough to try swimming and some great wildlife experience in this route. Mallaig was on the list too, but we could not make it. Another way to get to Mallaig is to catch the Harry Potter Jacobite train from Fort William.
---
Top Experiences of Day-10 Scotland Road Trip
Fort William
Sanna Bay
Mallaig
---
Highlights of Day-10 Scotland Road Trip
Swimming in Sanna Bay Beach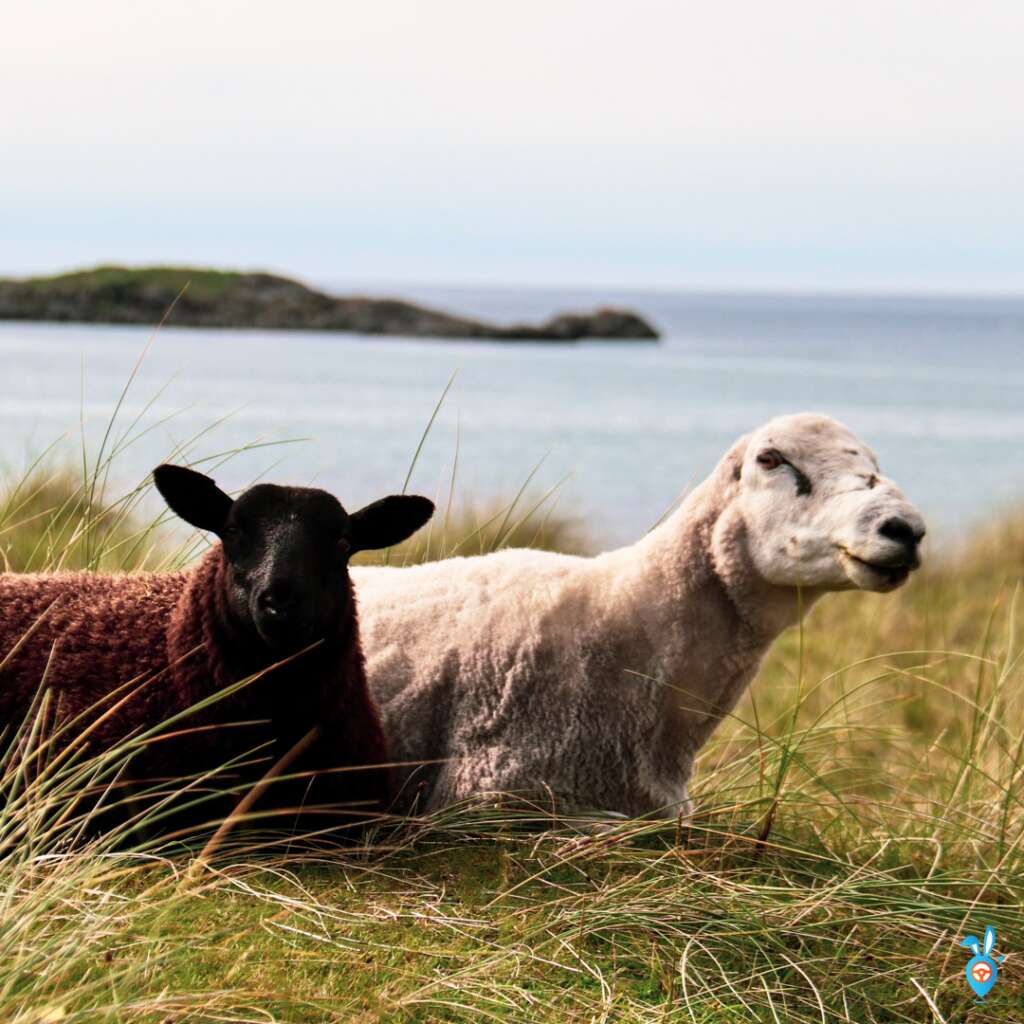 ---
Where to Stay & Eat?
---
Day 11: Glencoe Region, Scotland
We explored the Glencoe region and Fort William area this day. Glen Etive where the James Bond movie Skyfall is shot is marvelous.
---
Top Experiences of Day-11 Scotland Road Trip
Glencoe Valley
Glen Etive
Kinlochleven
Ben Nevis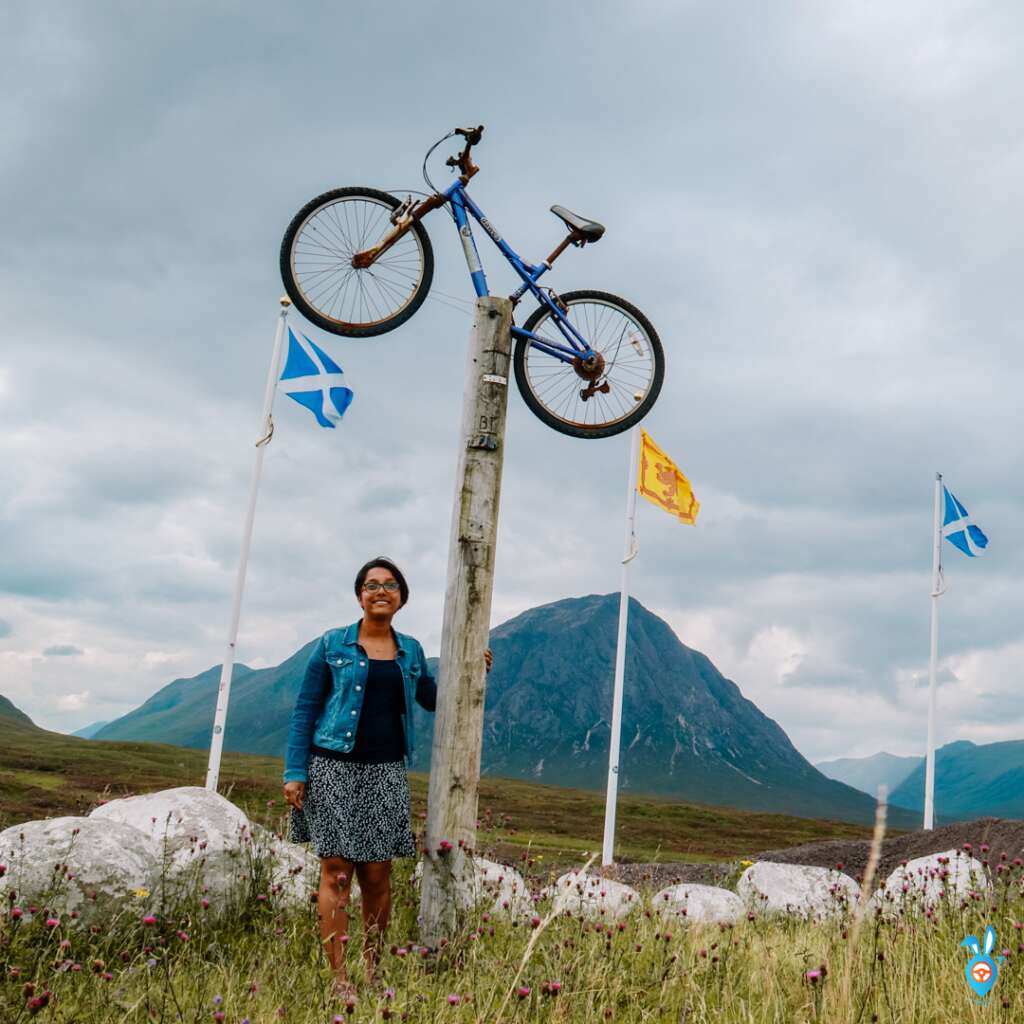 ---
Highlights of Day-11 Scotland Road Trip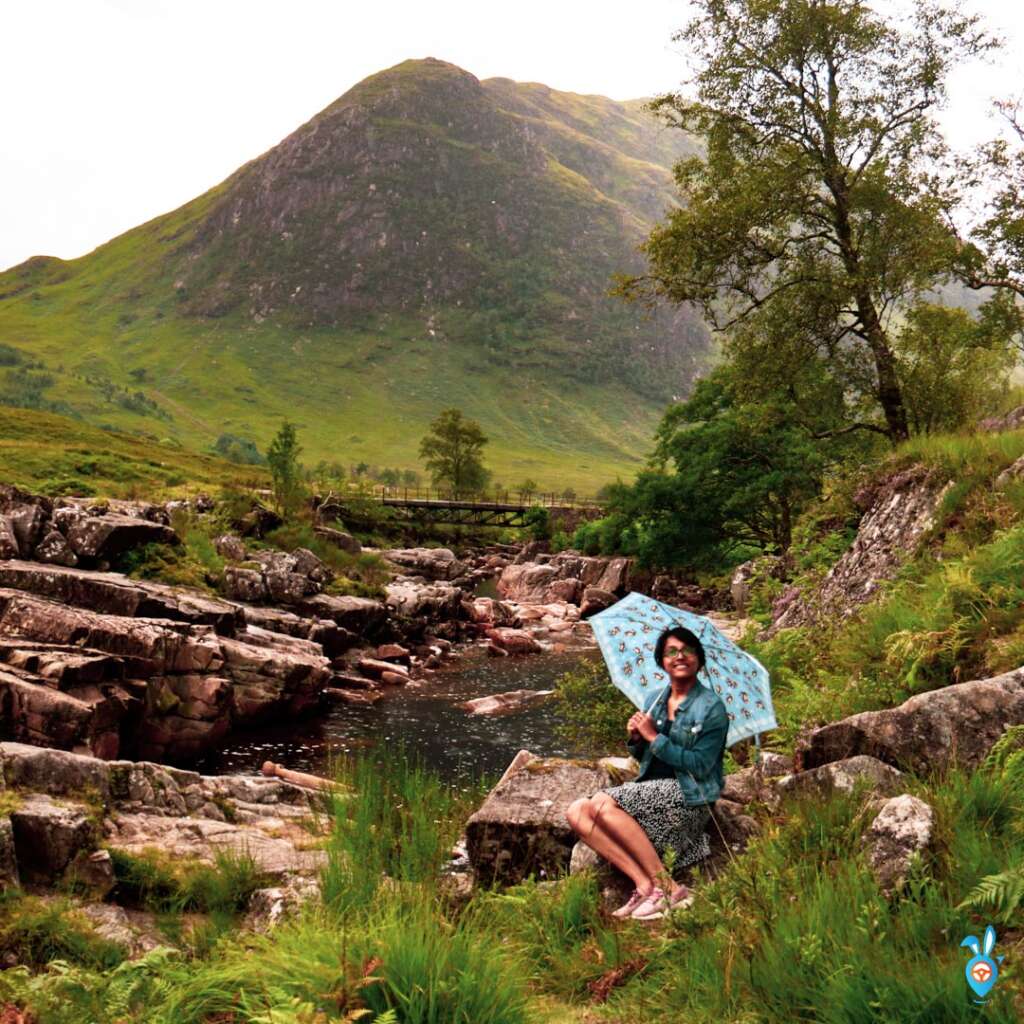 ---
Where to Stay & Eat?
---
Day 12: Glenfinnan, Scotland
This was a Harry Potter day exploring Glenfinnan and catching the Jacobite train. We headed off to Oban from here, which is the ferry capital city in this area from where you can catch ferries to almost any island.
---
Top Experiences of Day-12 Scotland Road Trip
Glenfinnan
Neptune's Staircase
Oban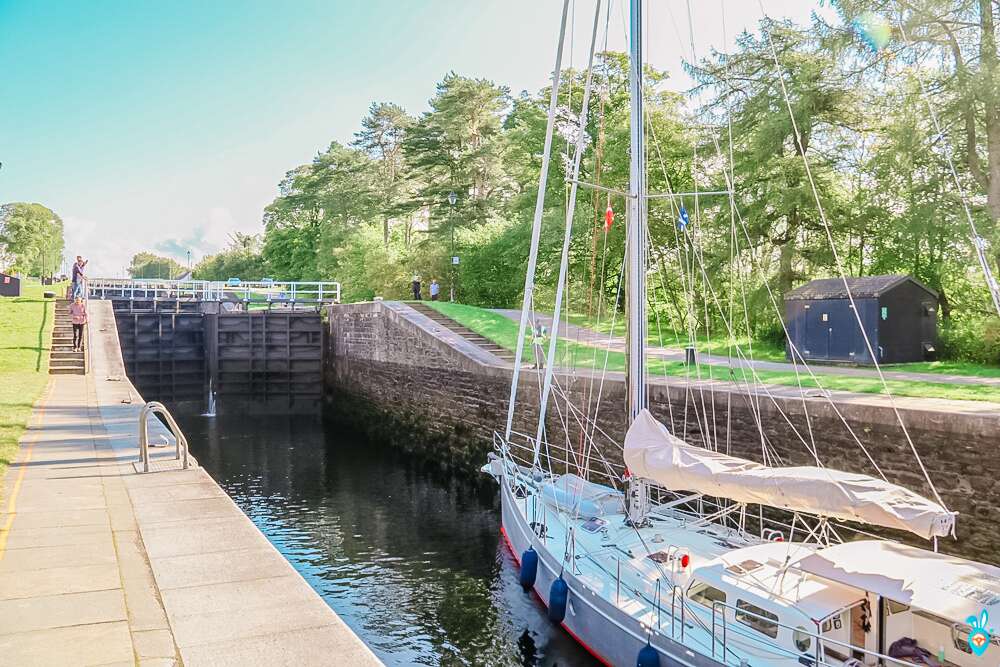 ---
Highlights of Day-12 Scotland Road Trip
Watching the Jacobite Train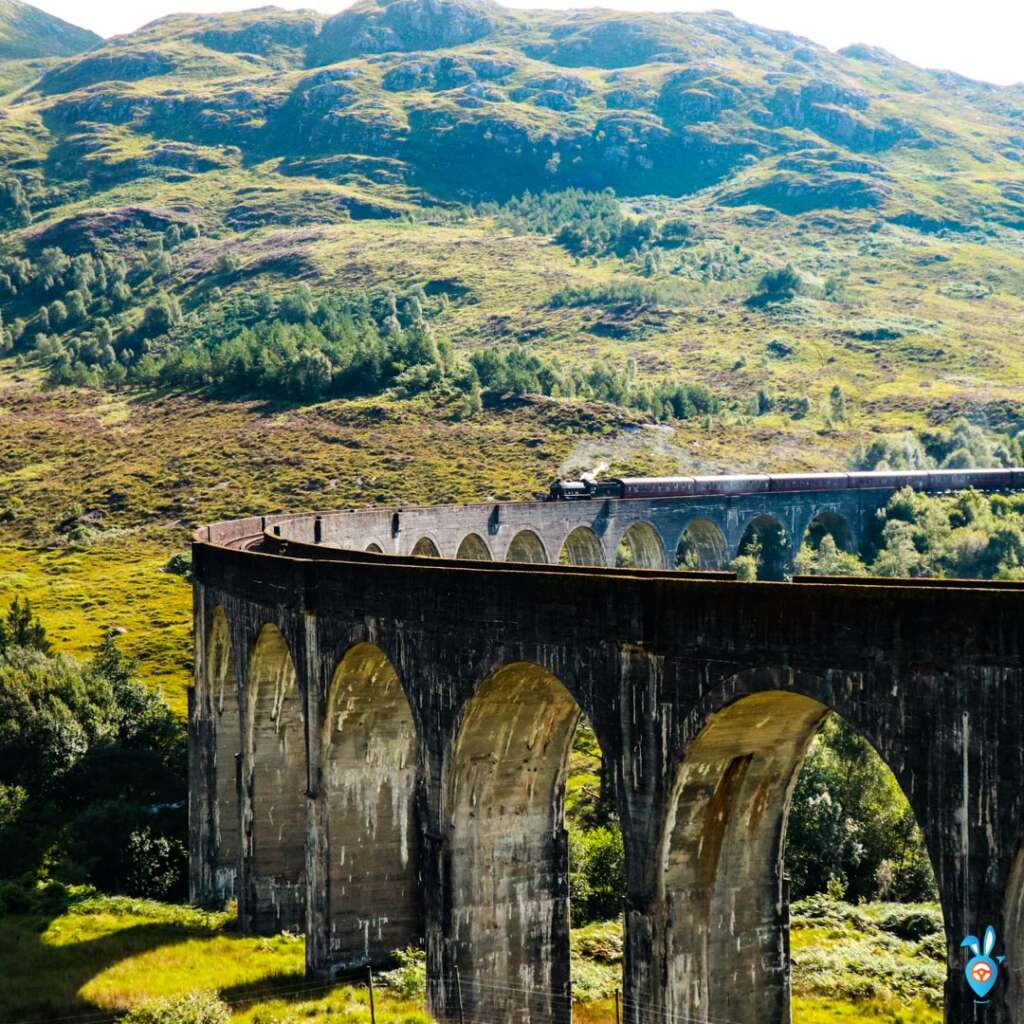 ---
Where to Stay & Eat?
---
Day 13: Tobermory, Scotland
We took a ferry to the Isle of Mull and also took a boat tour to Staffa and Fingals Cave.
---
Top Experiences of Day-13 Scotland Road Trip
Isle of Mull- Tobermory
Staffa
Fingals Cave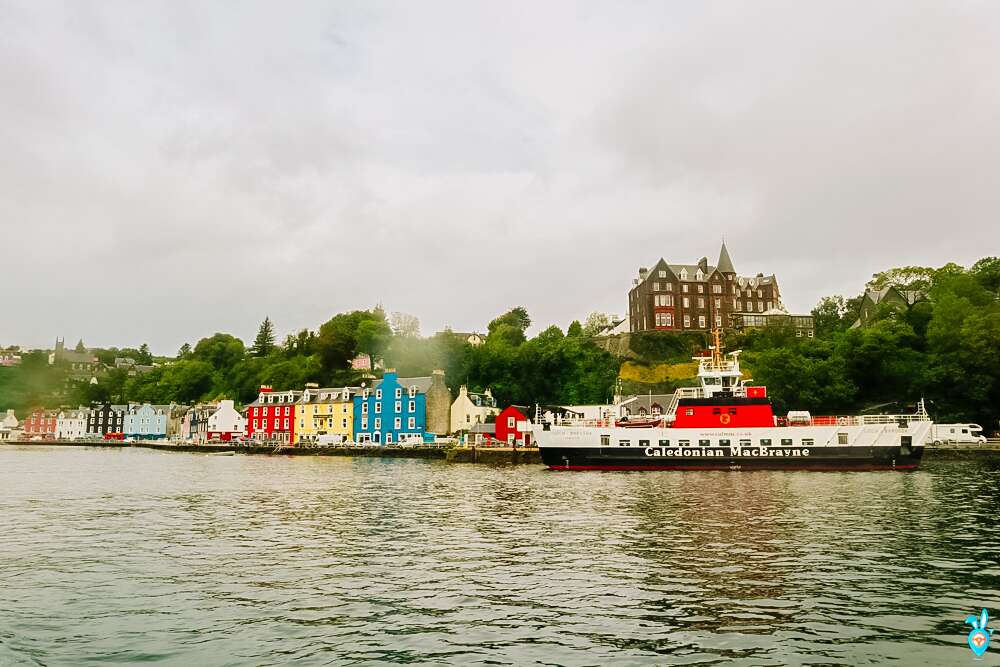 ---
Highlights of Day-13 Scotland Road Trip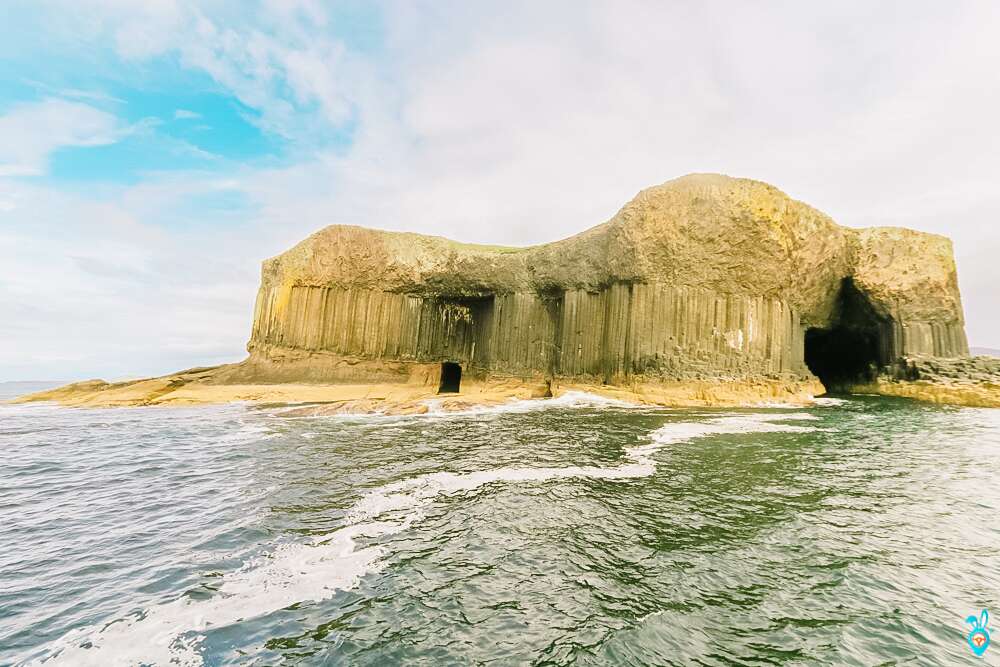 ---
Where to Stay & Eat?
---
Day 14: Isle of Kerrera, Scotland
We explored the Isle of Kerrera taking a ferry from Oban and then headed to the Inveraray area for the night as we were going to return to England the next day.
---
Top Experiences of Day-14 Scotland Road Trip
Isle of Kerrera, Tea Garden, Oban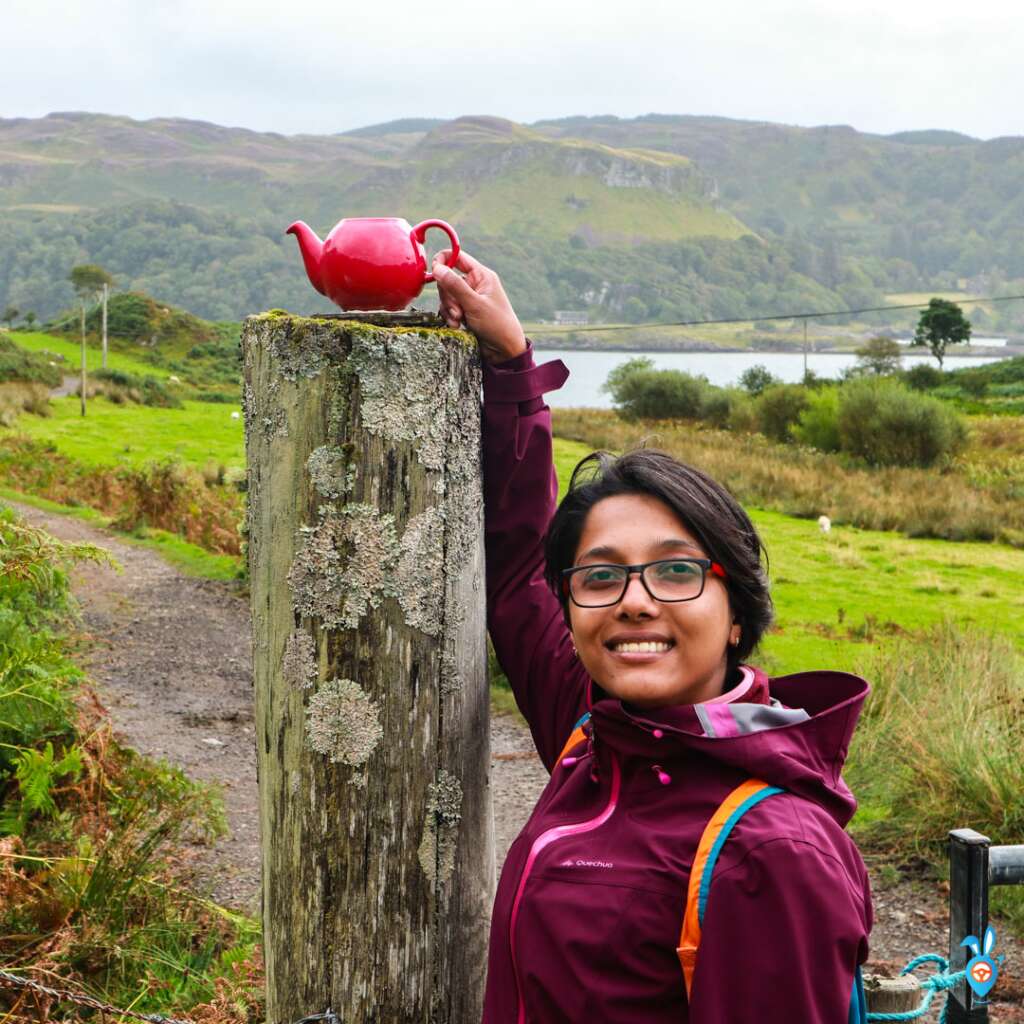 ---
Highlights of Day-14 Scotland Road Trip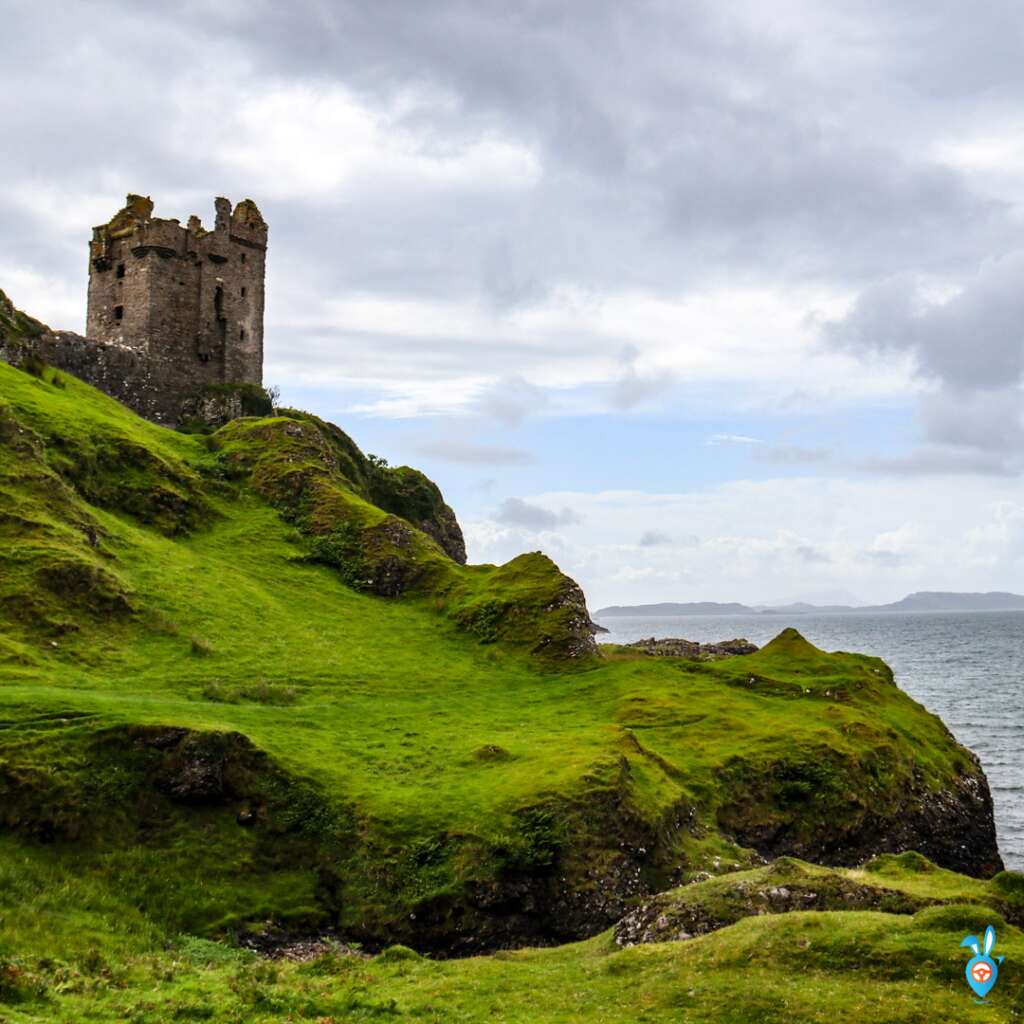 ---
Where to Stay & Eat?
---
Day 15: Inveraray, Scotland
We explored Inveraray which was a surprise visit for me as I had no clue how charming it was. We just had gone to see the castle. We stopped by the Falls in Loch Lomond and then took the famous Ballach route back to England. It was fun to see the village Luss which I have been to before on our way as well as say Hello to Edinburgh.
---
Top Experiences of Day-15 Scotland Road Trip
Inveraray Castle
Inveraray Town
Loch Lomond Falls of Falloch
Balloch
READ: Best castles to visit in Scotland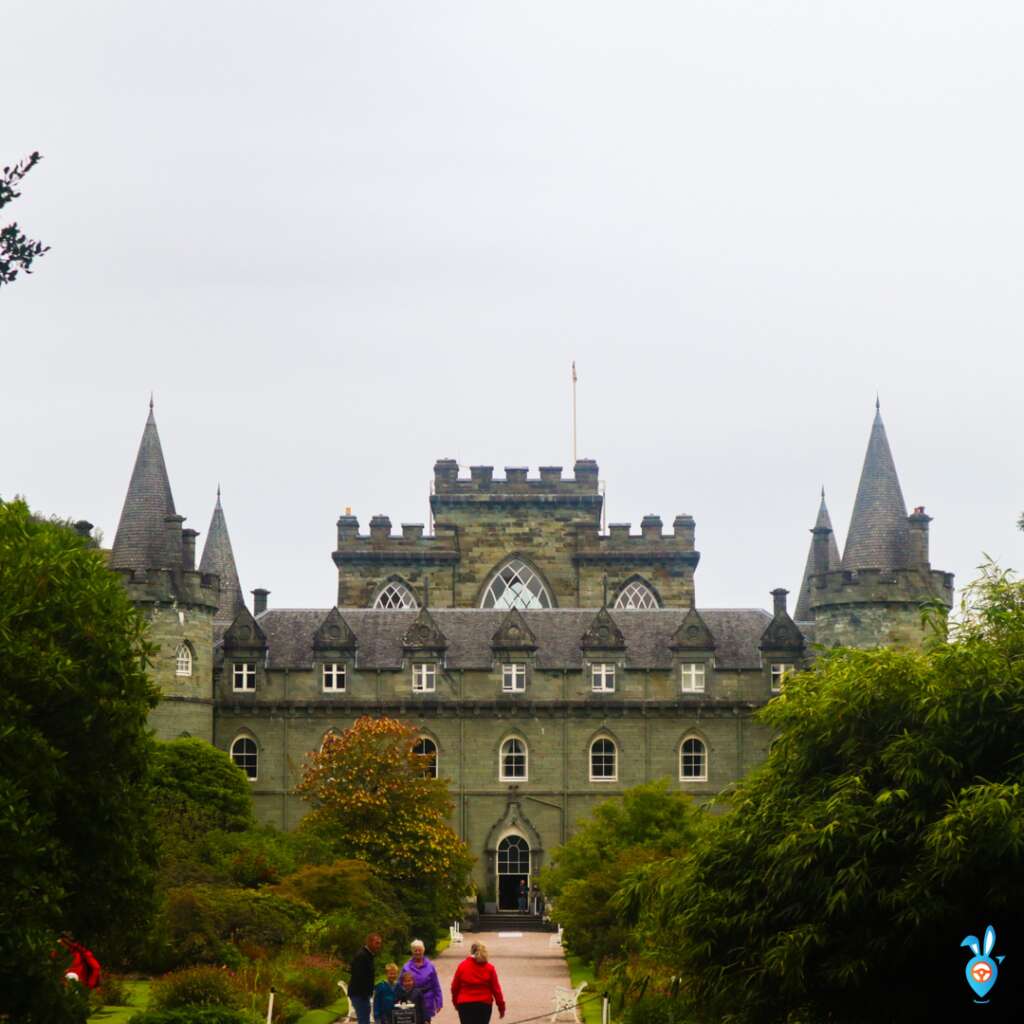 ---
Where to Stay & Eat?
Loch Lomond
Inveraray
Edinburgh
Glasgow
READ: Best Scottish Highland Towns for a Staycation
---
Inveraray Village
That brings us to the end of this Scotland road trip exploring the Scottish highlands, NC500, and islands nearby.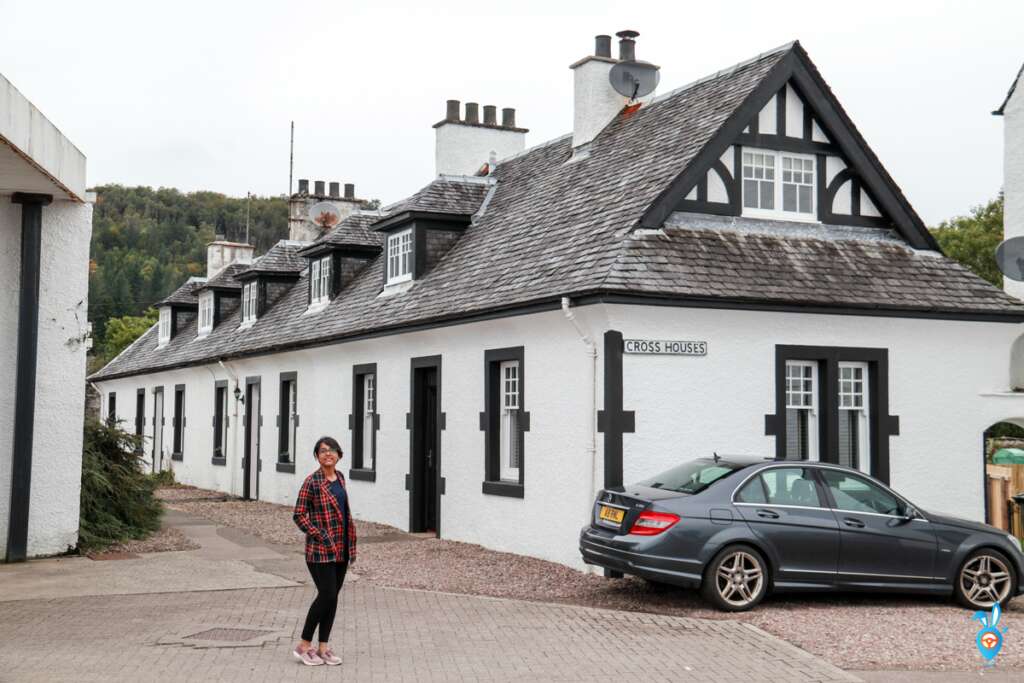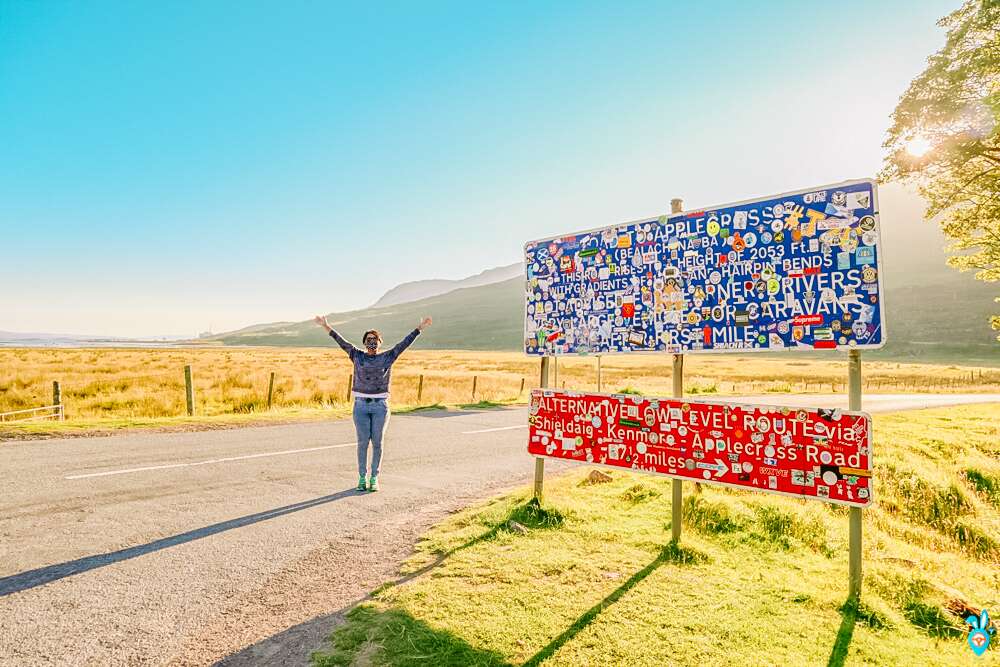 ---
Final Thoughts on 2 Week Scotland Road Trip
This epic Scotland road trip was a true mix of diverse experiences with scenic drives, mountains, lochs, wildlife spotting, island hopping, castles whatnot. I would go as far as singing "those were the best days of my life". Hope you enjoyed it! The plan worked very well for me covering all the highlights in these areas, landscapes, castles, islands, wildlife hunting you name it. As I traveled during the Covid situation, I was definitely nervous about this travel plan including being on the remote route in the middle of nowhere for long periods of time. But everything came together very well, including the journey, the stays, and the food options. I am thrilled to share my itinerary here and subscribe to my blog for upcoming journey highlights, tips, guides, etc.
Follow my journey on Instagram Story Highlights
---
Pin This Scotland Road Trip Itinerary to Plan Your Scottish Adventures