Many of us have heard about safari trips and exclusive wildlife vacations for animal lovers and photographers, especially in African continents. I didn't realize we can have a similar experience in Europe in Scotland which is a wildlife haven with diverse animals and birds inhabiting the top of mountains, down through the forests, moors, and sea/lochs below. In this blog, we will look at 20 wild animals in Scotland and where to find them.
Wildlife Encounter Experience in Scotland
Scotland will fill your heart giving you the opportunity to see animals native to Scotland in the wild very closely. Though I have seen many highland pictures with Scottish cows and sheep, a two-week road trip in the Scottish highlands uncovered many other animals found in Scotland during my visit. The wildlife discovery was very refreshing for an animal lover like me whose affection for them was pretty much devoted to the stuffed animals I carry as zoos make me really sick and I don't enjoy it at all as I keep pondering how cruel it is to lock animals down.
Top Tips: When you visit it is really worth it to bring a decent camera and a set of binoculars. For spotting and tracking dolphins and salmon, you need to be patient and plan ahead, but for the majority of animals here you are guaranteed to see a lot of them during your journey in the NC500 route and nearby islands.
READ: A Complete Scotland Road Trip Itinerary
---
Here are all the animals that I had the pleasure to meet with and say Hello to!
Wild Animals in Scotland: Swimmers
Dolphins in Chanonry Point, Inverness
Chanonry Point in Inverness is one of the best places to watch dolphins, as they come very close to the shore and swim near you for a very long time. The trick is to go one hour after the low tide time to maximize your chances to catch the dolphins. Note that the car park here gets filled up quickly but it is highly recommended to go early and spend one or two hours there waiting for the dolphins. I would also recommend taking a tripod to get nice shots as it is pretty windy there. Words can not describe how exciting it was to watch the dolphins swim in the sea only about 10 feet from the shore and it is definitely my top wild animal to be found in Scotland.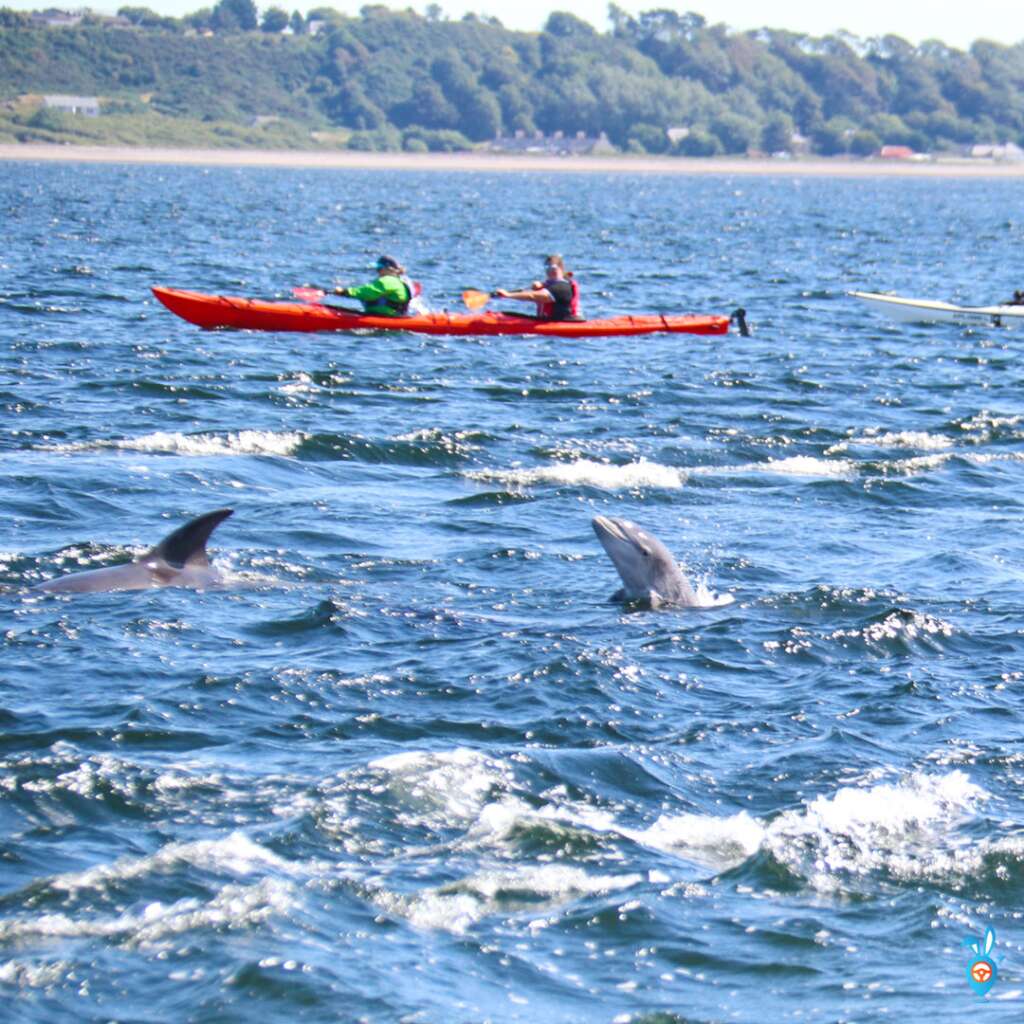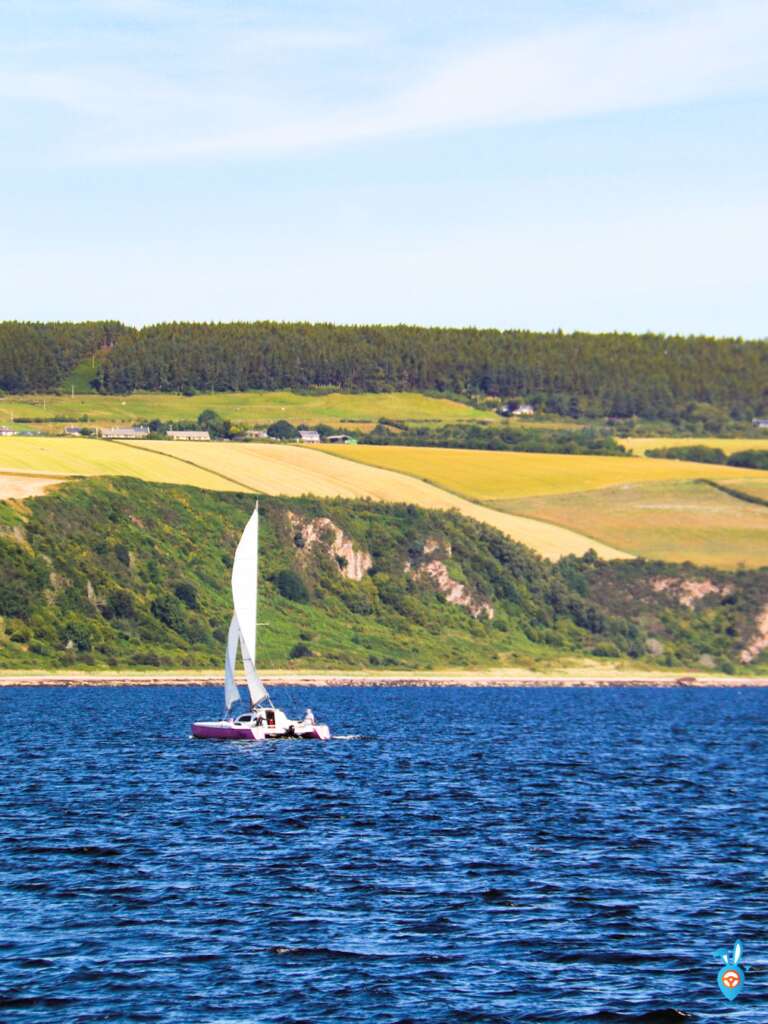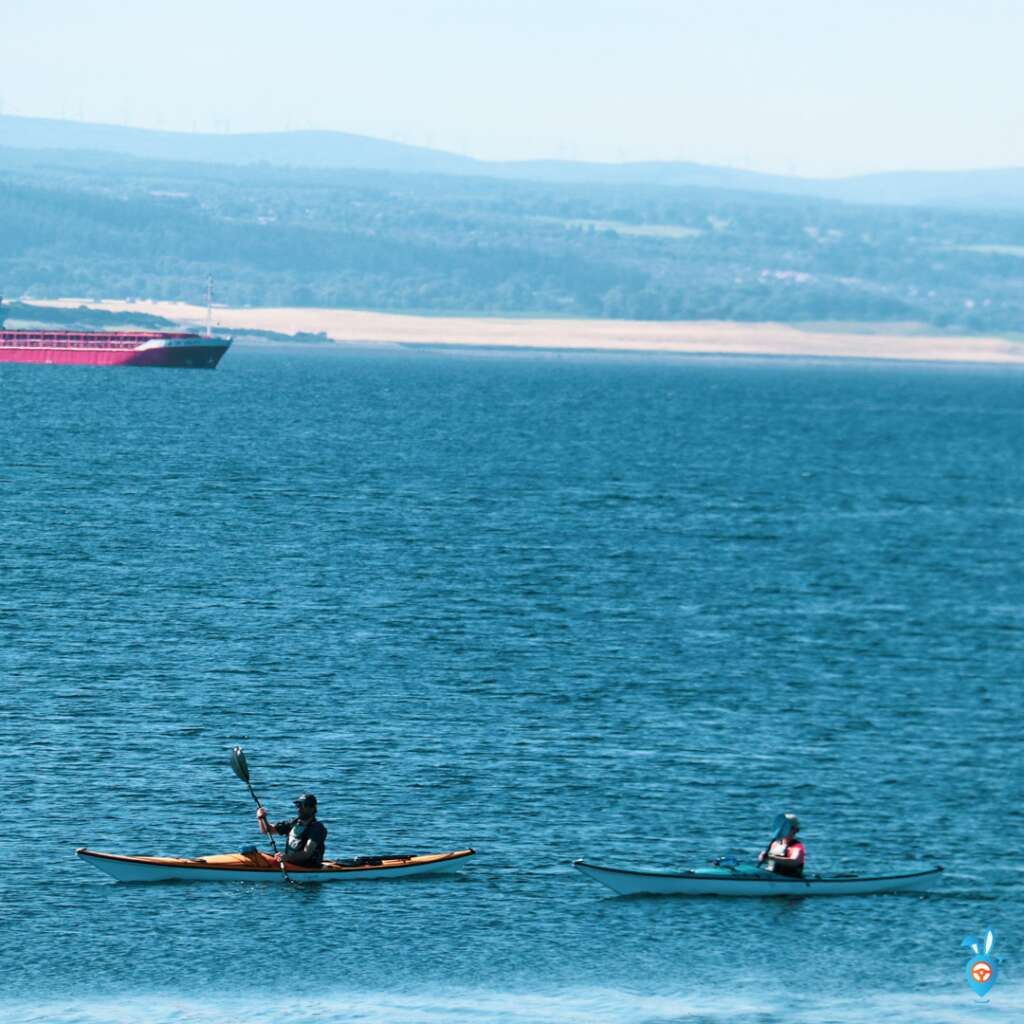 The Mealt falls in the Isle of Skye also is another location to see dolphins as it turned out. While we were at the waterfall, we spotted dolphins swimming but not as close as in Chanonry point. The final location we were hoping to see them was on a boat tour we took from the Isle of Mull as they had seen lots of them near the Isle of Staffa even the day before, however unfortunate weather conditions meant that they had moved on.
---
Seals in Treshnish Islands, Isle of Mull
Watching grey seals swimming in the sea was a such cute experience. You can see plenty of them on a boat trip from the Isle of Mull to the nearby islands. These grey seals are animals native to Scotland.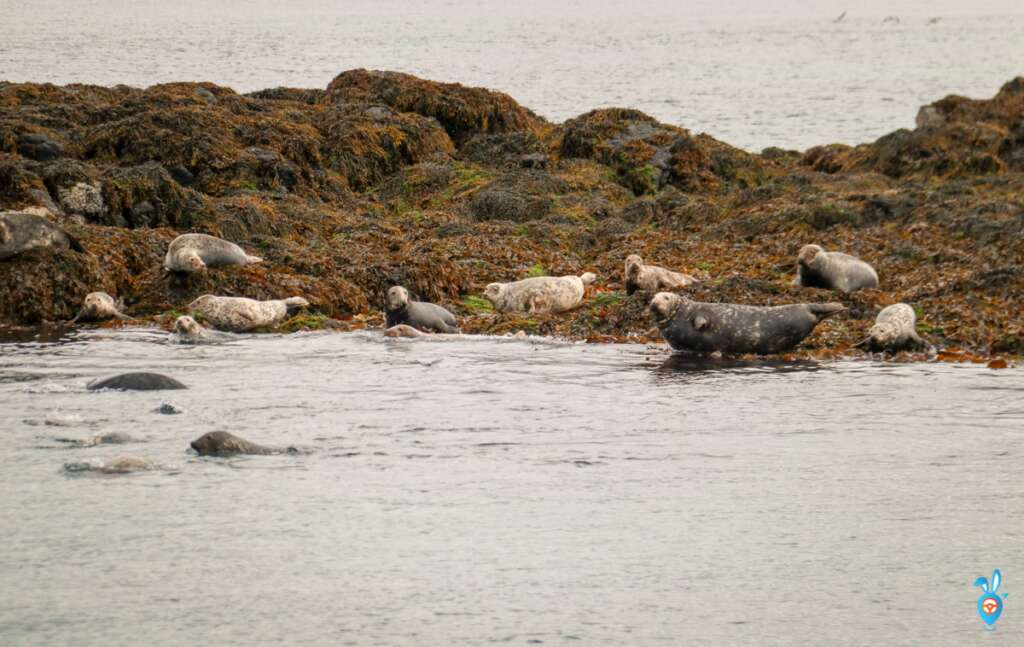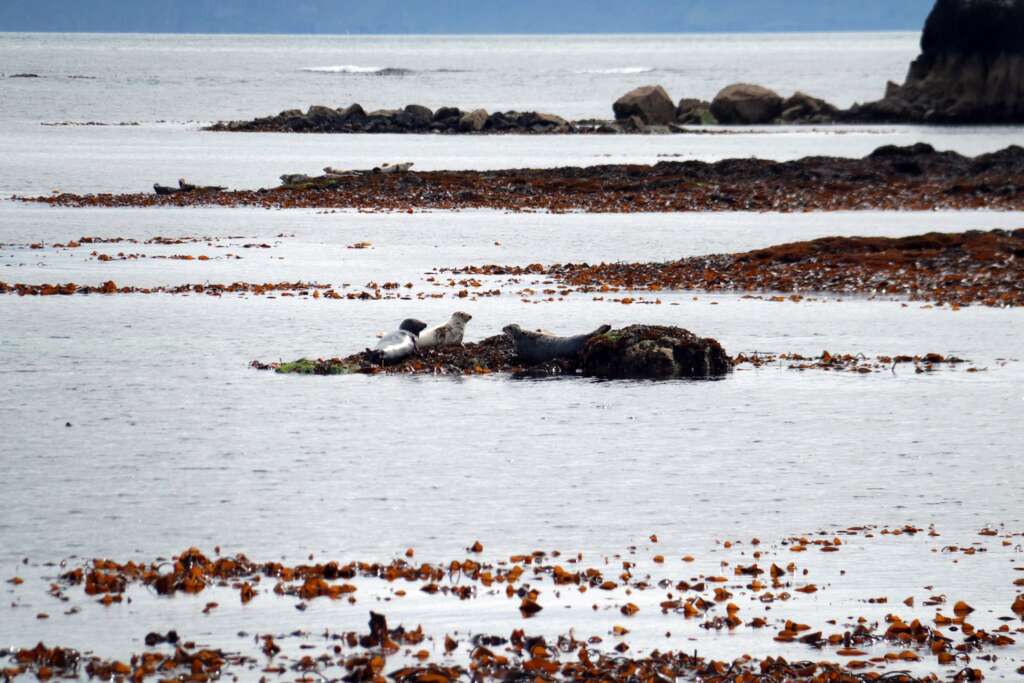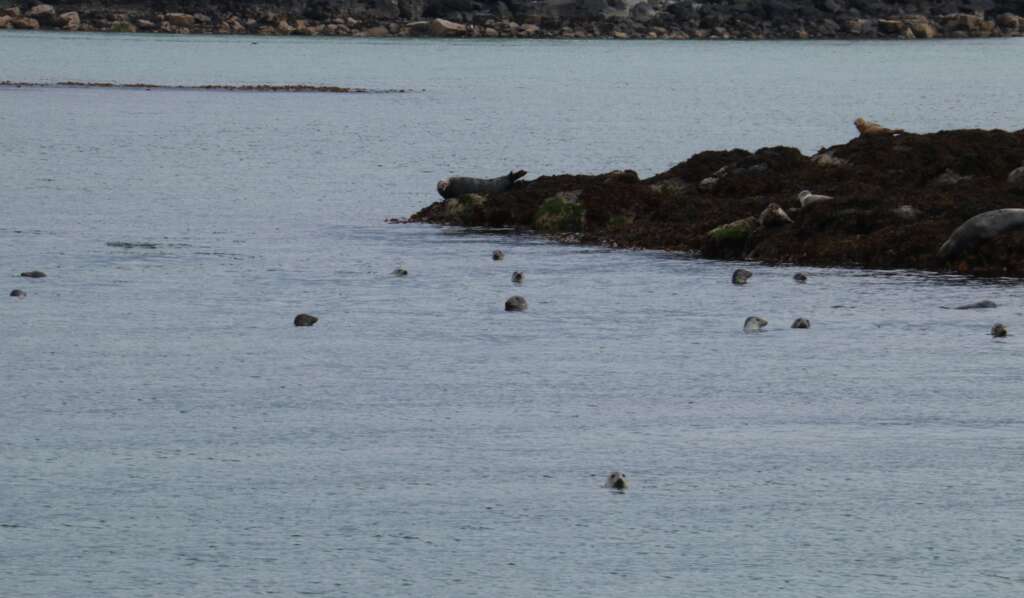 ---
Salmons in Rogie Falls
The story of a salmons life cycle is a great life story on its own. They are born upstream in freshwater before swimming out to sea, when it is time for them to breed they swim thousands of kilometers back to where they were born. In the waterfall areas, you can and watch them jump constantly trying, again and again, to escape the river to get to their breeding location. Pitlochry dam is a great spot for this but it was closed when we went there due to Covid. The other famous location is Rogie Falls where we were lucky to watch the salmon jump. I kept tracking a salmon for quite a while and managed to get a clip of one actually succeeding to get to the top of the waterfall. Vow, Salmon has a lot of lessons to teach us about persistence and sacrifice. Do not miss watching this wild animal in Scotland on your trip.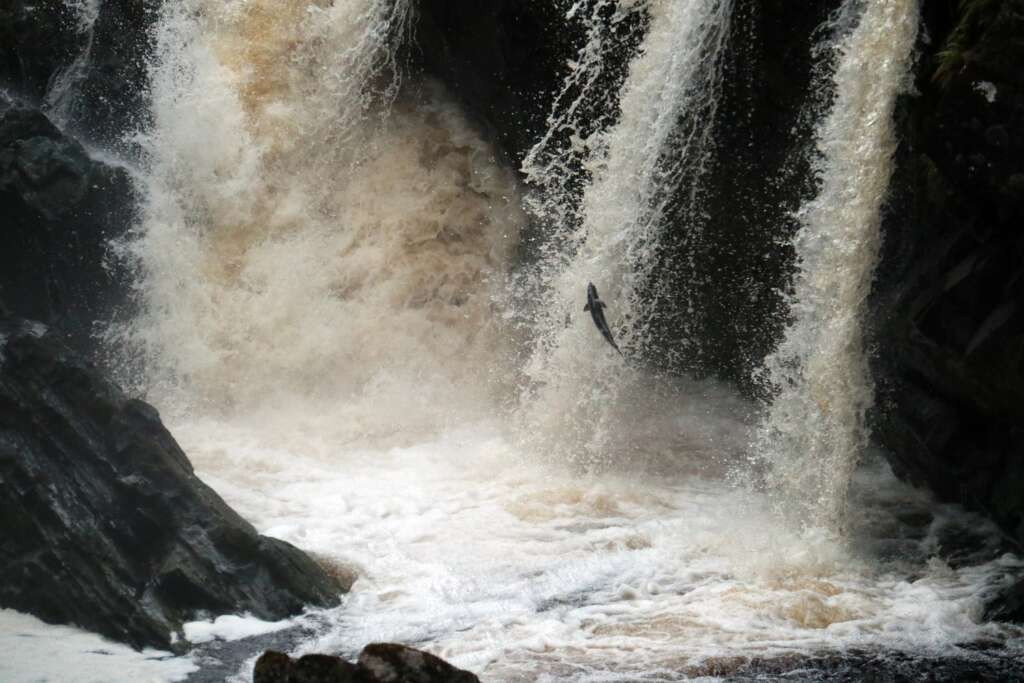 ---
Jellyfish at Achmelvich Beach
Jellyfish are everywhere on all the beaches so you will spot them easily if you look into the sea. I had never seen these big jellyfish before and in varying colors, so adding them in here for those who have not seen many.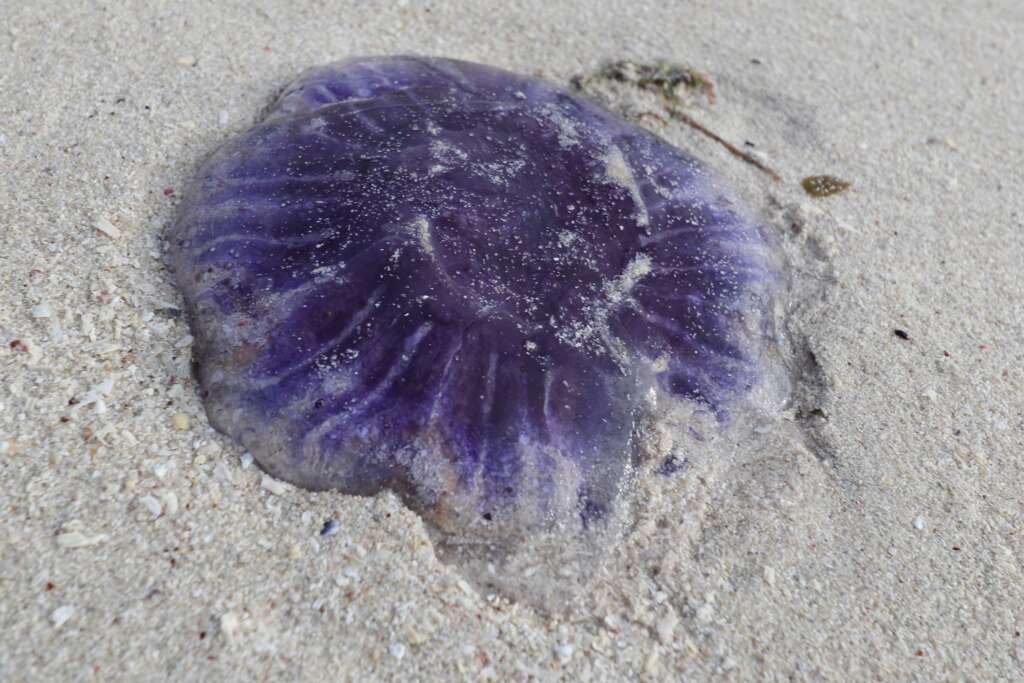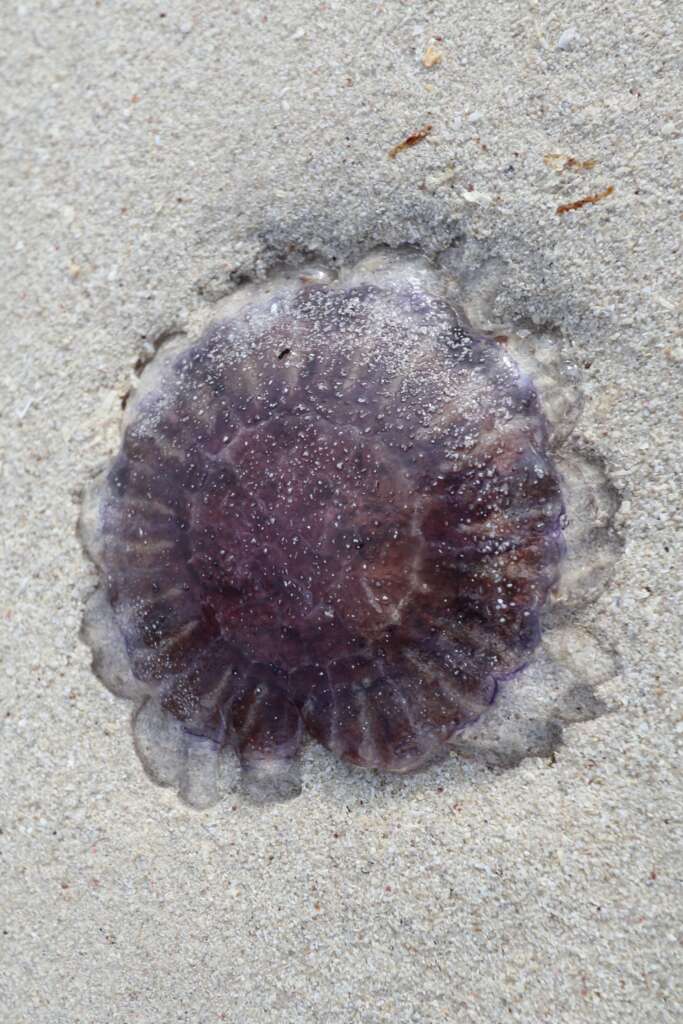 ---
Wild Animals in Scotland: Walkers
Stags on NC500 Route
You can spot stags in many places on the NC500 route, including Applecross, Torridon, Glencoe, and Fort William area. In Applecross, the stags were resting in a forest and I almost could not distinguish between their antlers and the tree branches. The amazing art of camouflage in play! Stags are widely found native wild animals in Scotland and don't forget to interact with them if they are close by. Most of them were very tame.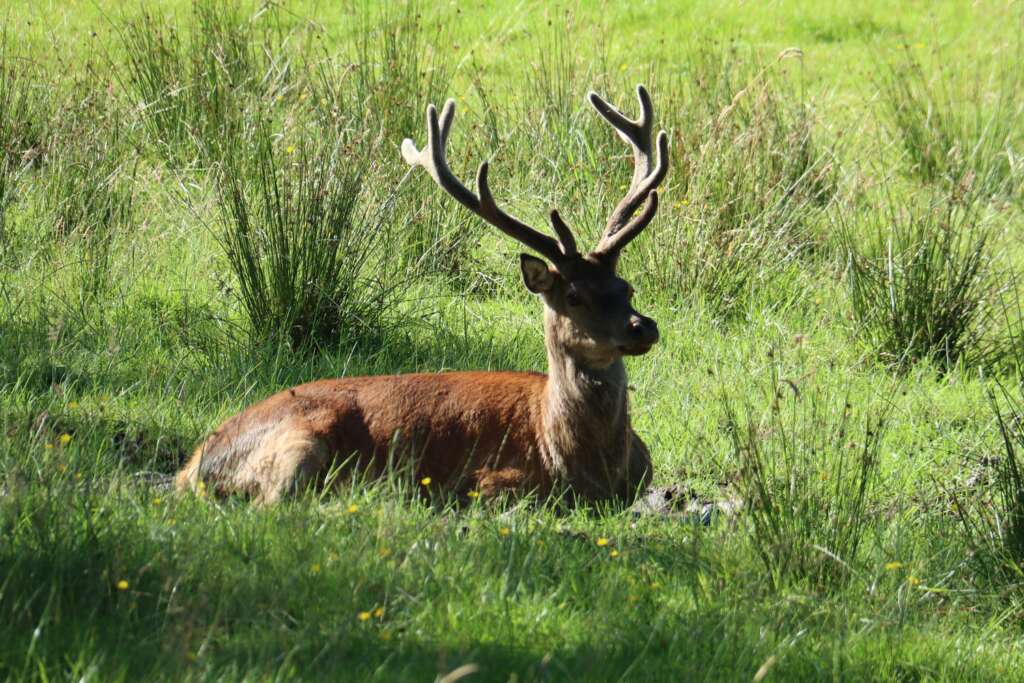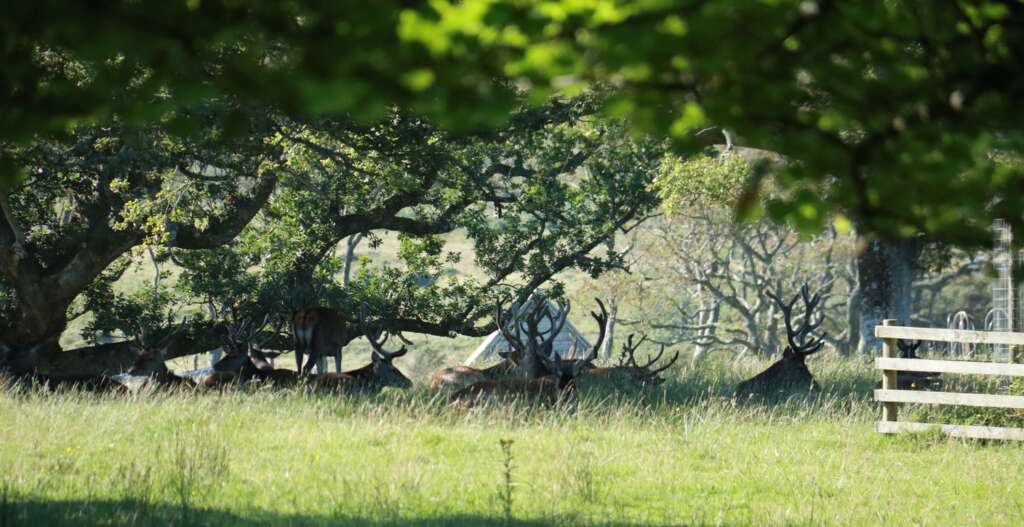 Another joyful experience was finding a stag in a car park while we were on the road in Torridon, we found many other travelers around and feeding it. Though I love animals I have never had the opportunity to feed one before as I never had a pet. This was an amazing experience to see one very close, very tame, and friendly. See you never know when you come across a stag in this area.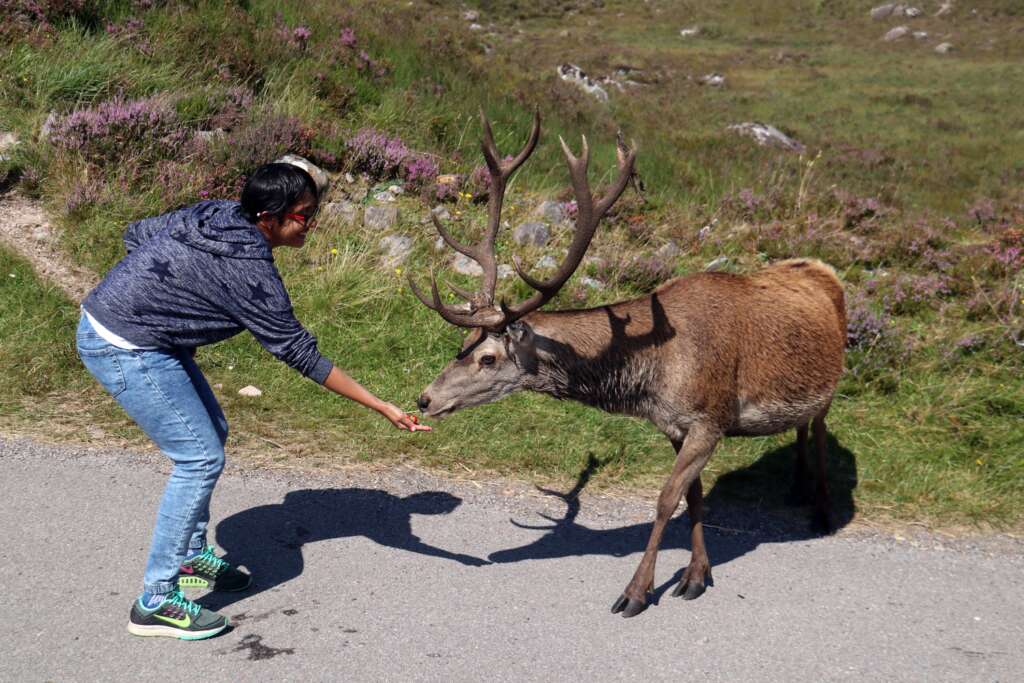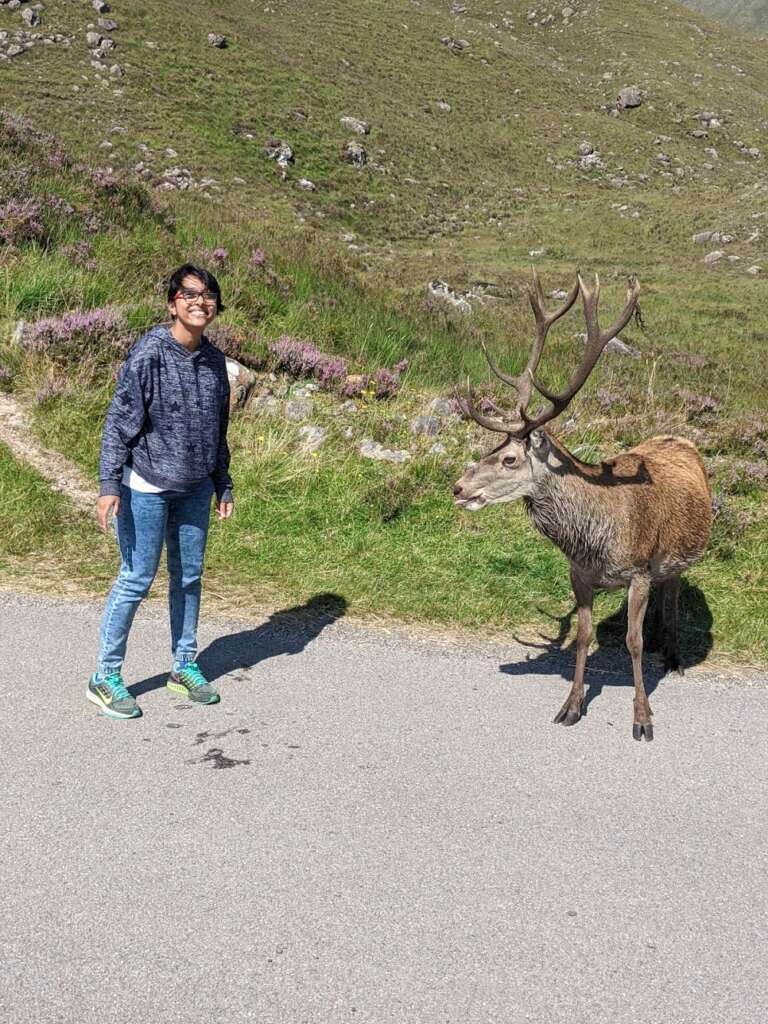 ---
Deers in Glencoe and Fort William Area
Deer are relatively easy wild animals to find in Scotland if you kept an eye for them even (especially) when you are on the road. We spotted many of them crossing the roads and in the wild or mountains while we were driving especially in the Glencoe and Fort William area. You will also find these animals native to Scotland grazing in some private properties. I am sharing all pictures with places I spotted them. The Harry Potter Viaduct in Glenfinnan is actually located in a deer garden, so we were lucky to see one just before the viaduct too!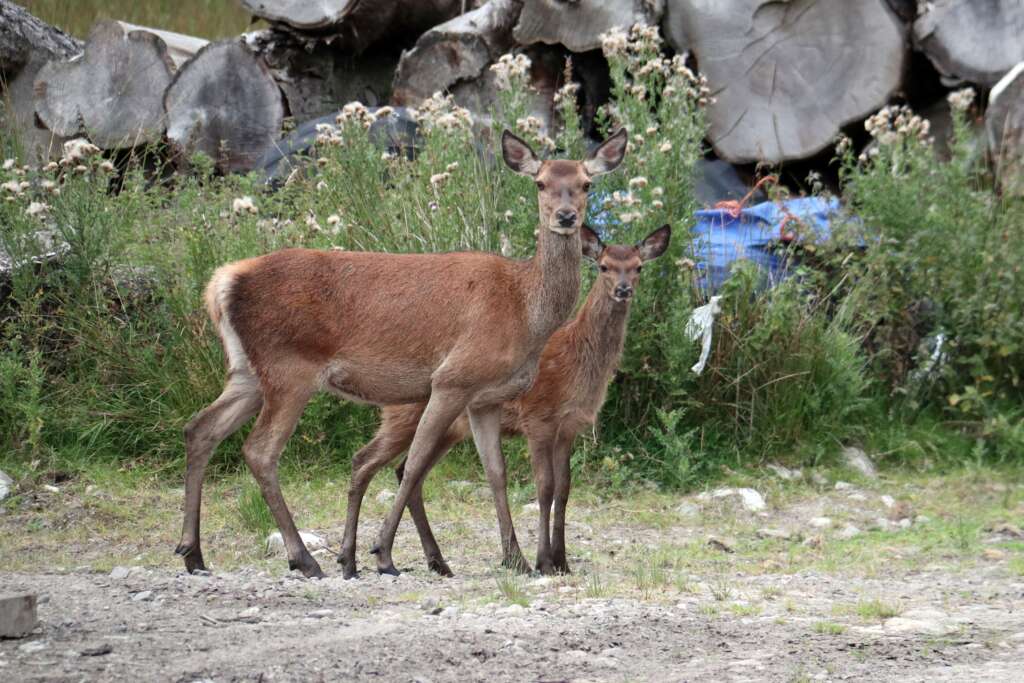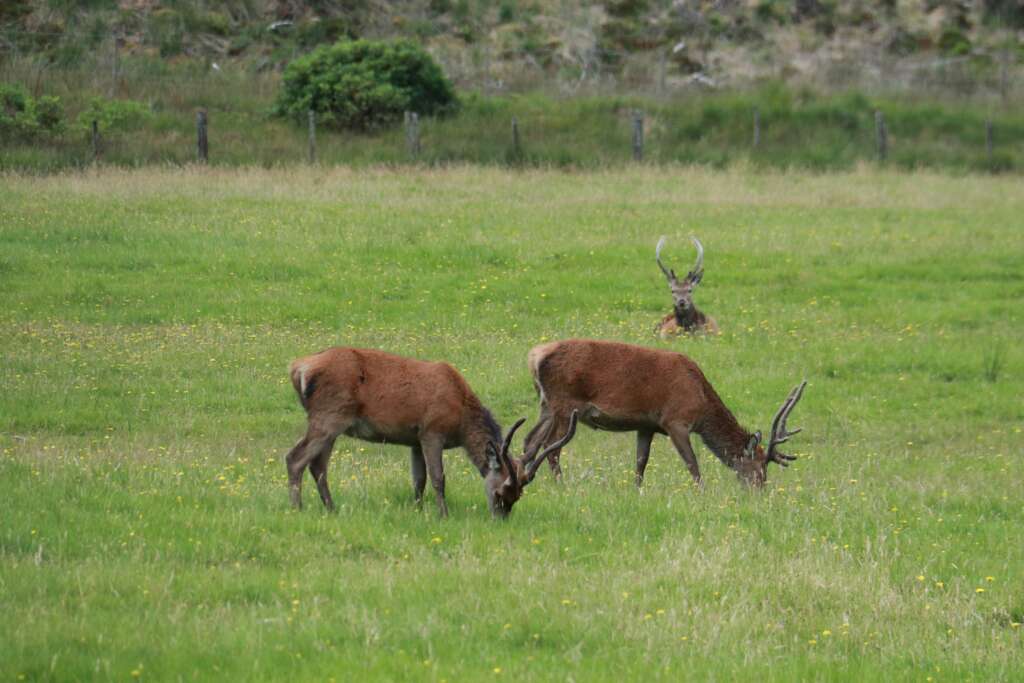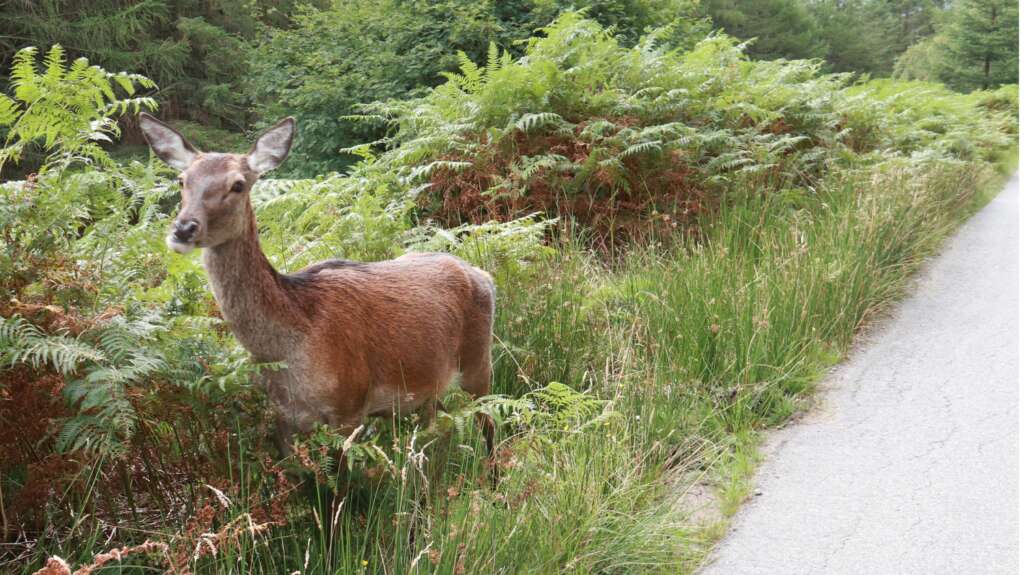 ---
Sheeps in Scottish Highlands, and Sanna Bay
Sheep might be a familiar animal for many, but it was still a great experience to stroll around them and enjoy the diverse ones you come across on the roads, mountains, etc. A highlight of my trip included watching early morning traffic of sheep on the road guided by the sheepdog. It made me so happy to watch this and I was jumping out of excitement as I fondly recalled the nursery rhyme "Ba Ba Black Sheep". These native animals rule the Scottish highlands and the roads many times.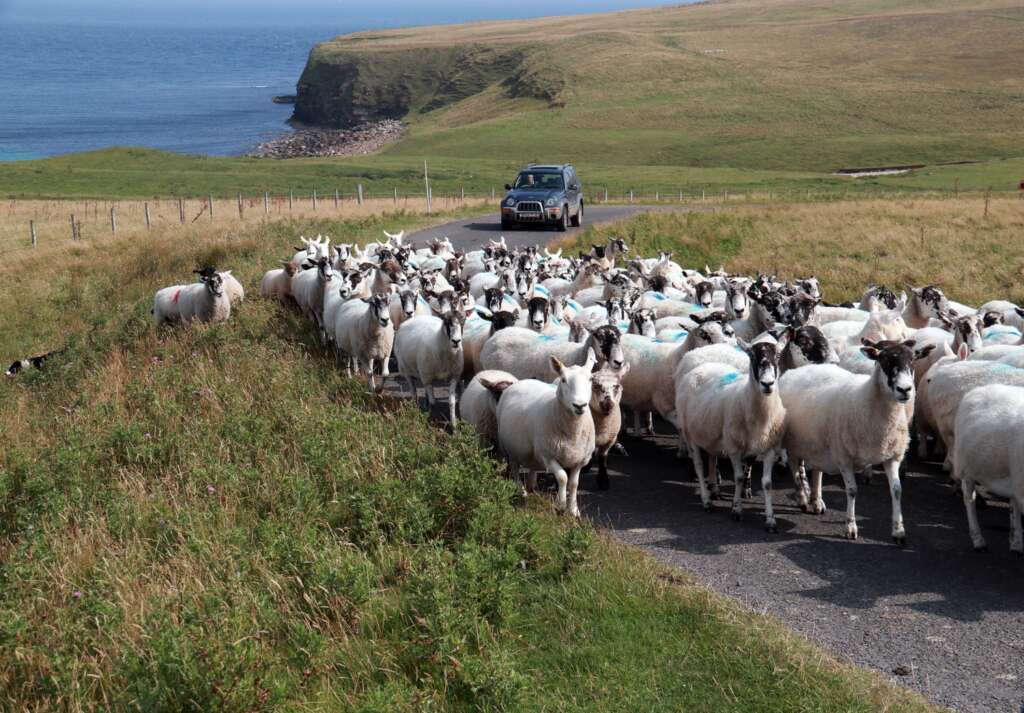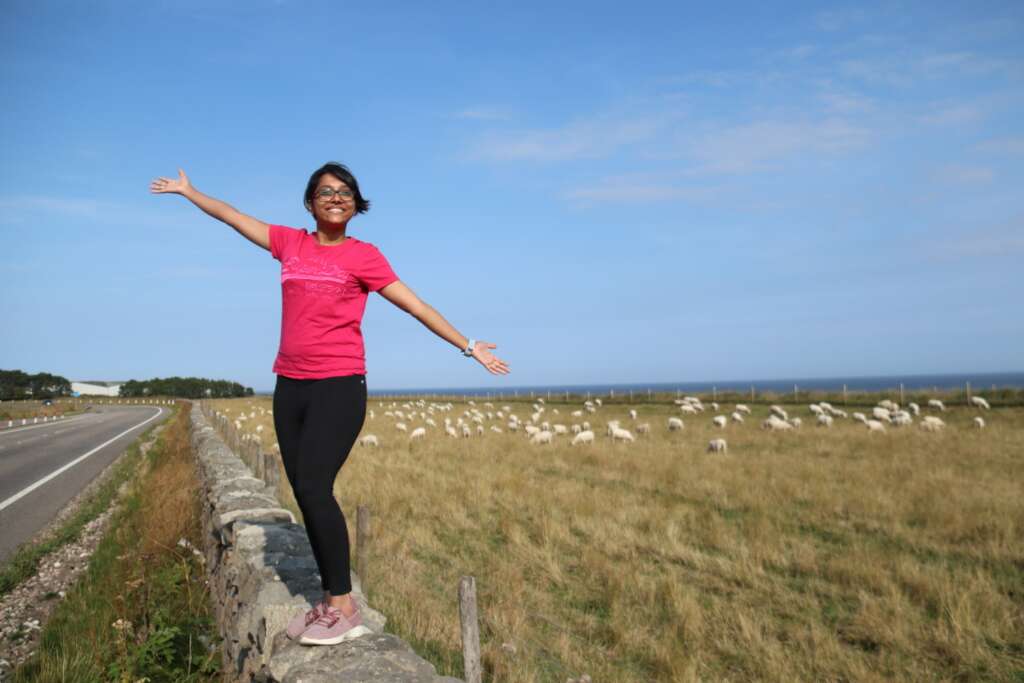 Another most diverse wild animal experience in Scotland we had watching a duo of sheep, one white and one brown. These two spotted in the Sanna Bay area, we're like best friends and they always moved around together. What an amazing duo, telling the message of diversity very loudly. This duo is my friend's most favorite moment from the trip.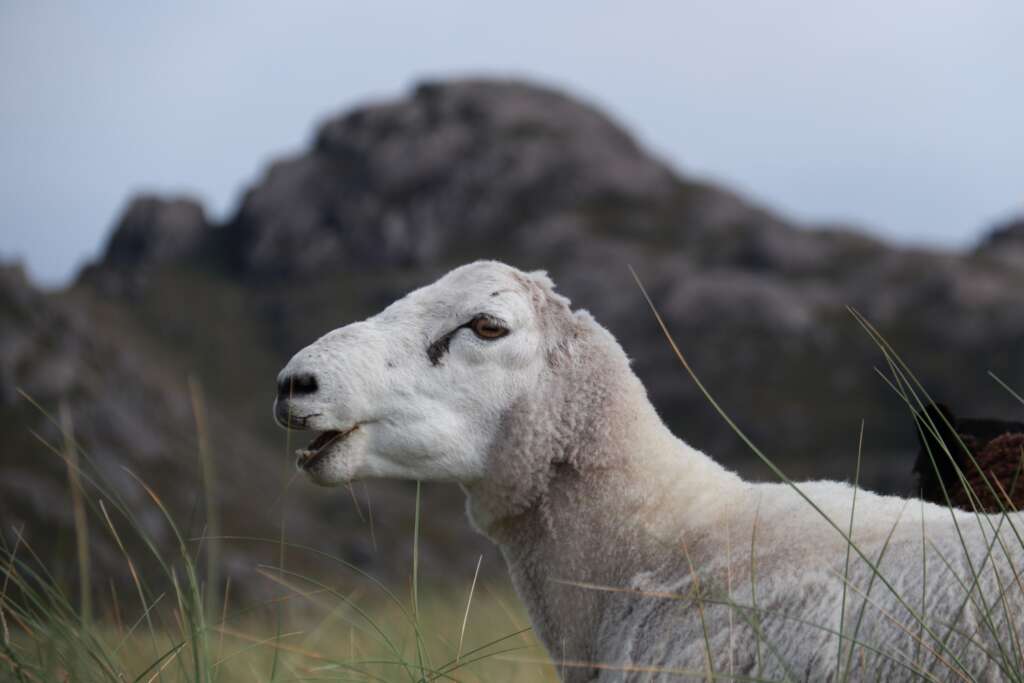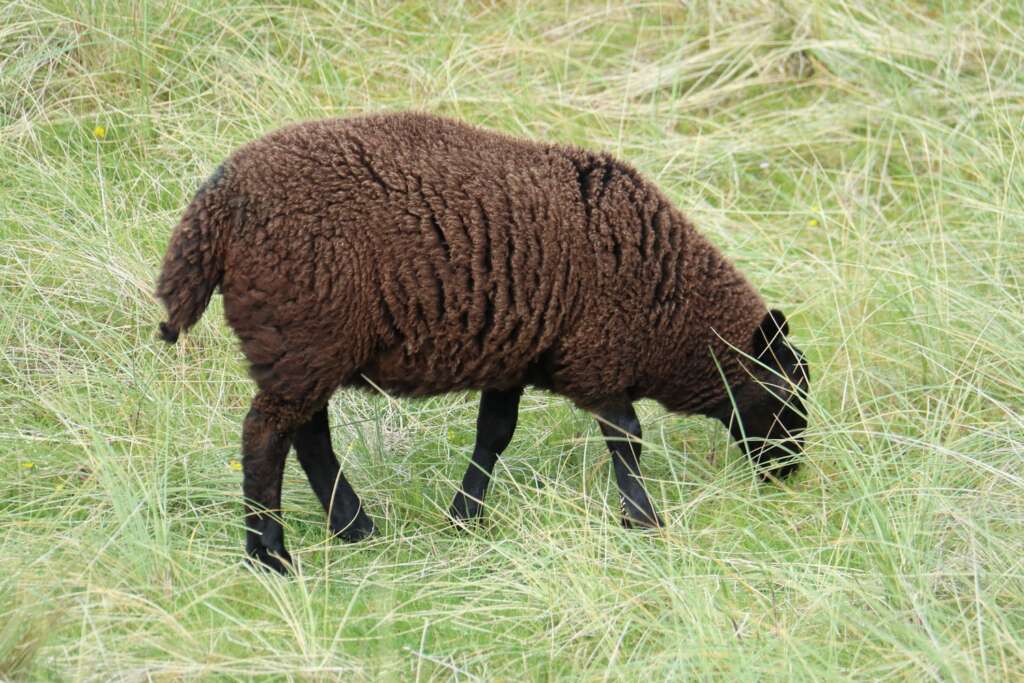 ---
Wild Goats in Isle of Kerrera, Scotland
Goats are also familiar domestic animals for most of us, but we spotted a Scottish wild goat very unique with this stellar beard in the Isle of Kerrera. While this one was seen resting over a rock, look at the other one inside the cave. This was also a very enjoyable moment.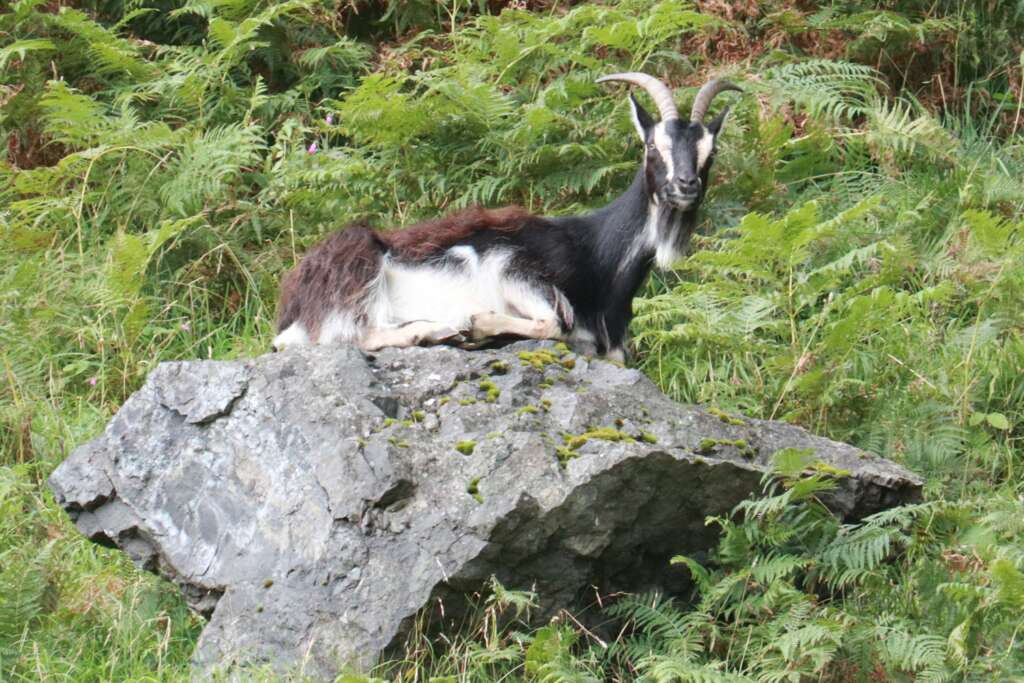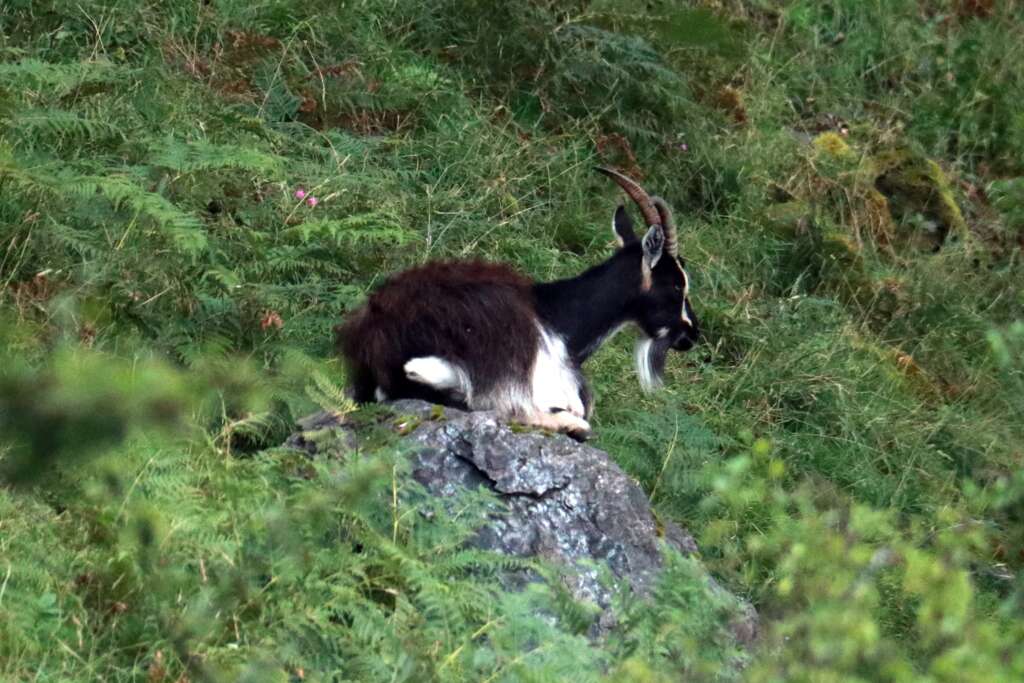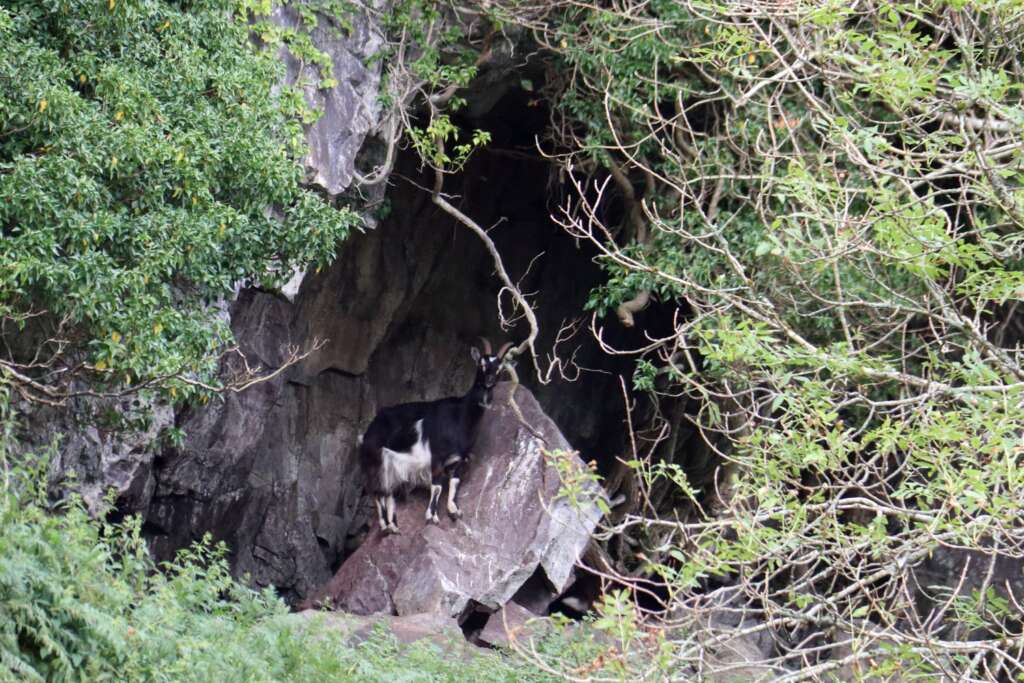 ---
Scottish Highland Cow/Coo in Ullapool and Torridon Area
Highland cows or Coos are special native Scottish animals. For me, they always looked grumpy and a bit not so friendly when I went near them. You can see them in the NC500 route especially in Ullapool and Torridon area.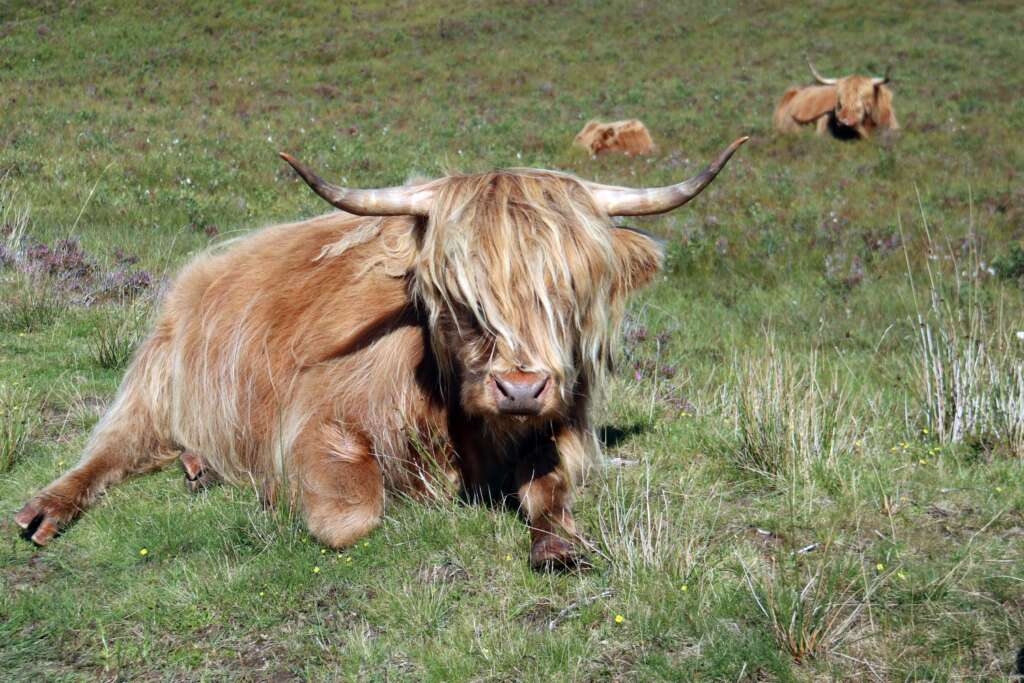 ---
Cows in Isle of Kerrera
Scotland's cows are also very cute animals to be found in Scotland and come in various colors too. Here are some of my favorite shots including a calf we came across in the Isle of Kerrera.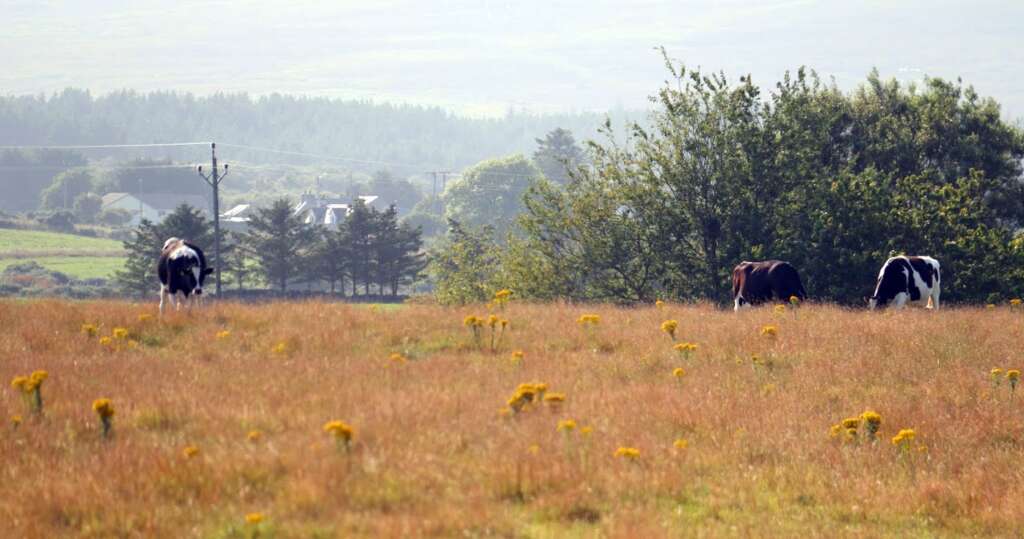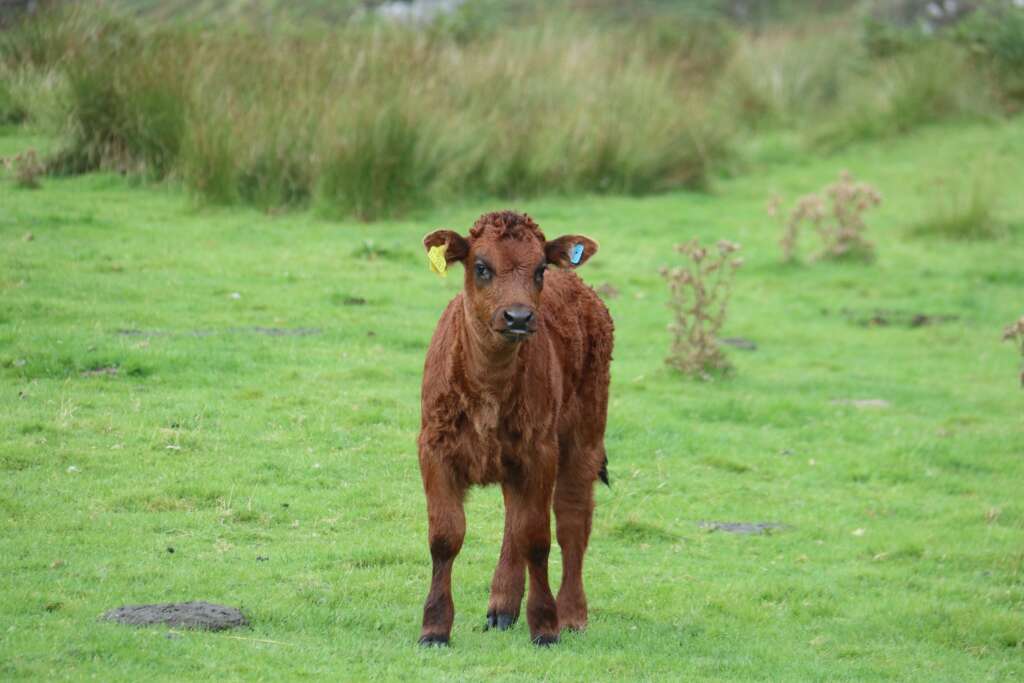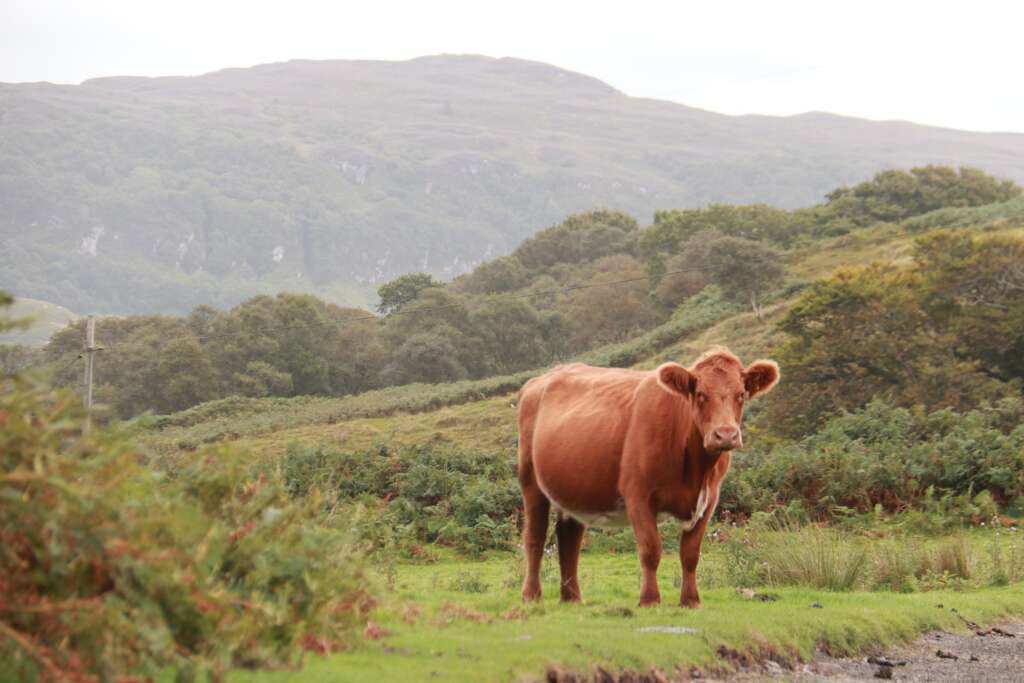 ---
Horses in Scottish Mountains
You will see a lot of charming horses during a Scotland road trip too, most of them grazing with amazing backdrops of mountains.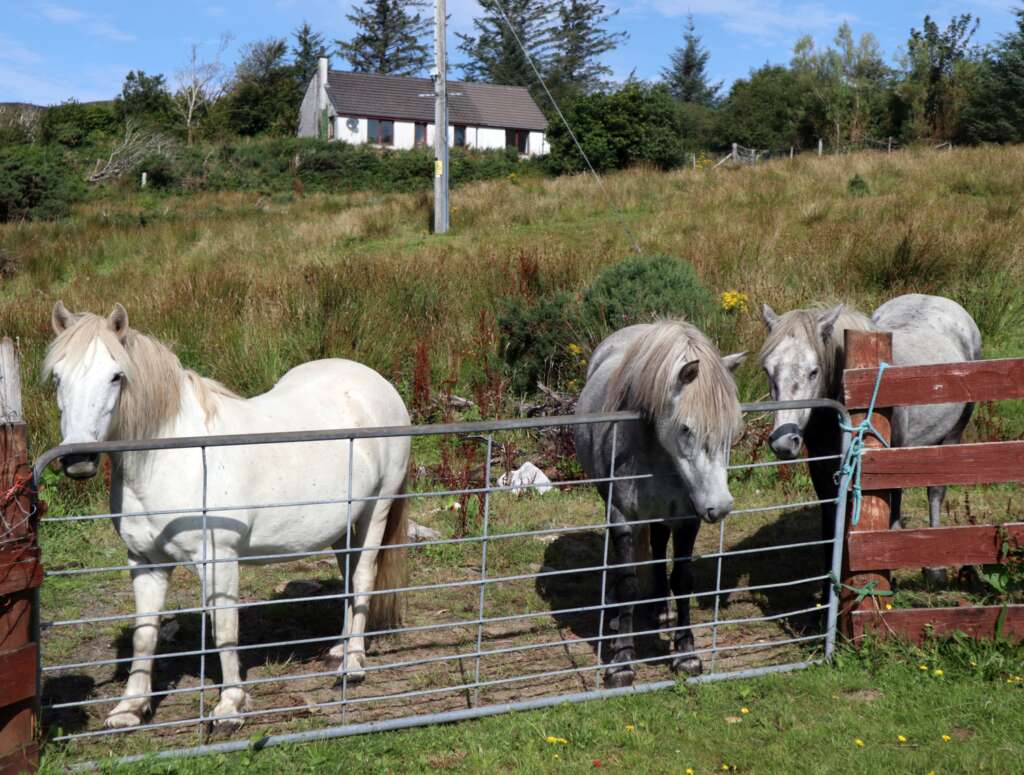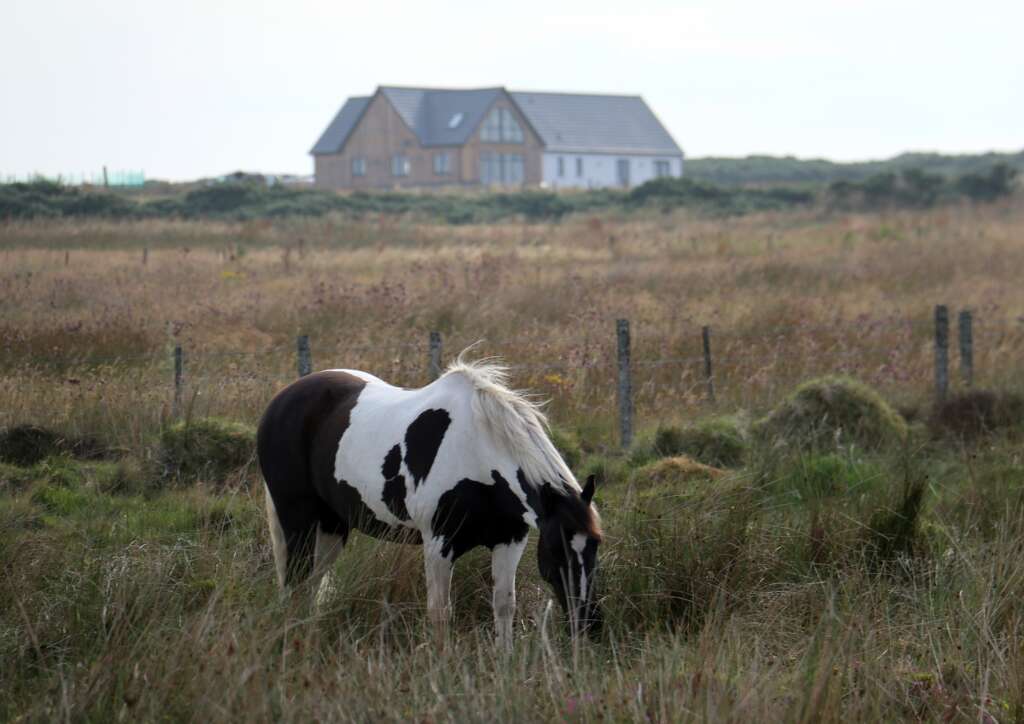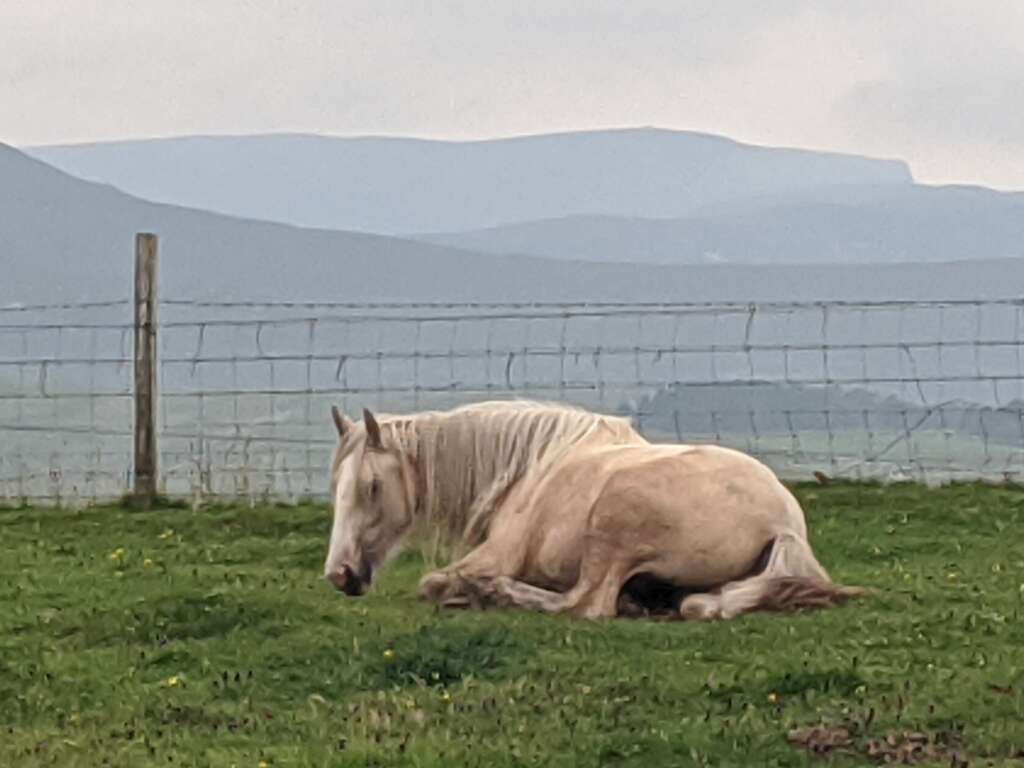 ---
Wild Animals in Scotland: Flyers
Golden Eagle on Isle of Mull and around Duntulm Castle
Golden Eagle is spotted a lot in the northern hemisphere and you will be able to see them in Scotland. Golden Eagles are very unique, have a stylish shape, and look amazing when they stretch out feathers when they fly.
We saw them flying around Duntulm Castle, the northern tip of Isle of Skye, and resting on a rock in the Isle of Mull.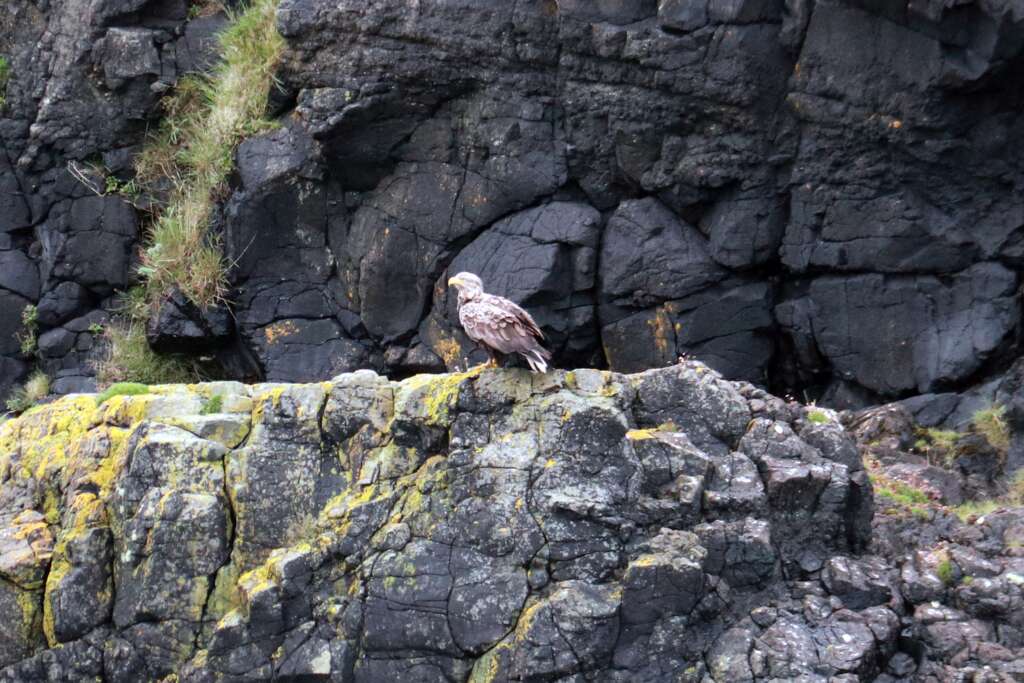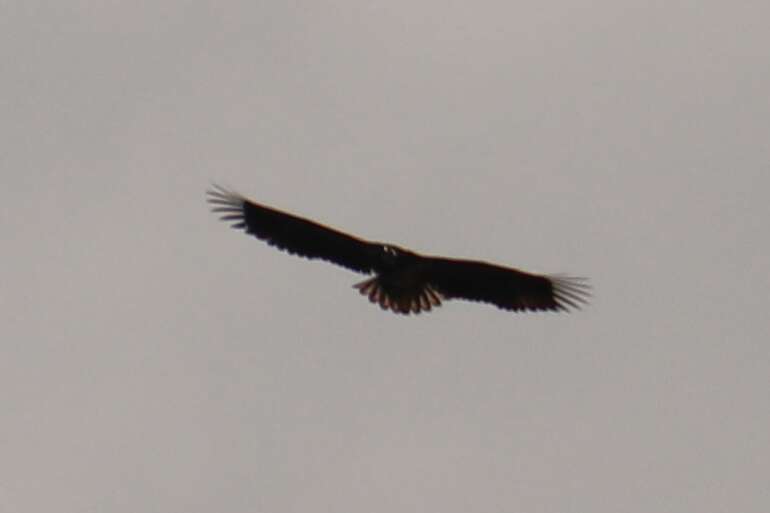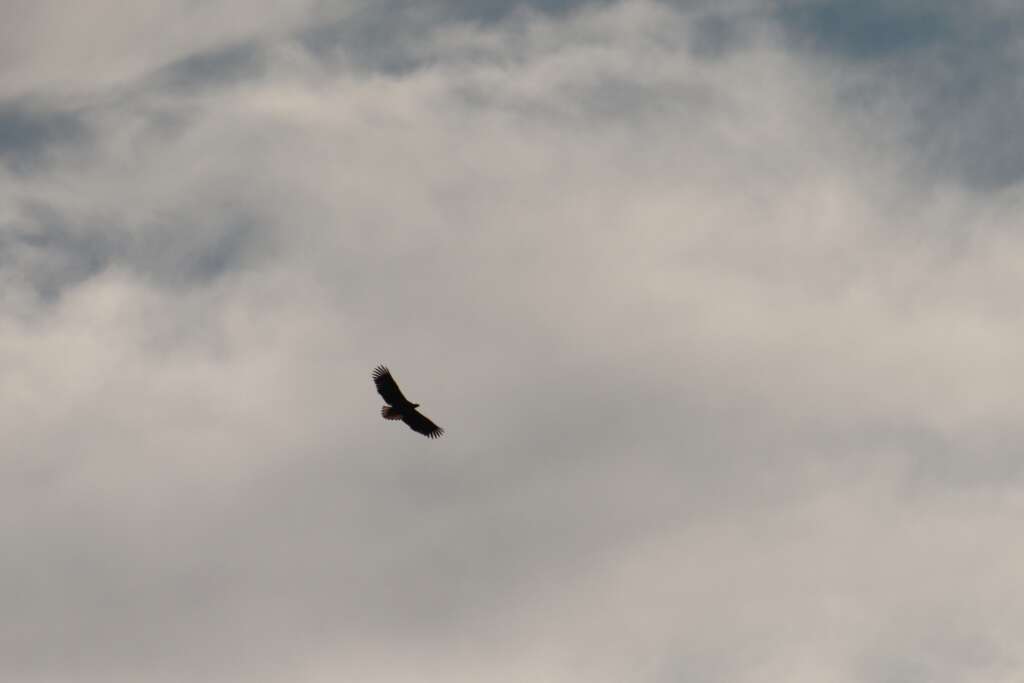 ---
Shags on the Isle of Mull
Shags rule the Scottish islands in my opinion, these animals are native to Scotland everywhere and actively trying to catch fish. You can see them swimming, walking and flying around all the time. Their long beaks make them very distinguished. I personally loved watching them dive while we were on a boat trip on the Isle of Mull. The first picture is more or less a little Shag island in the middle of the sea.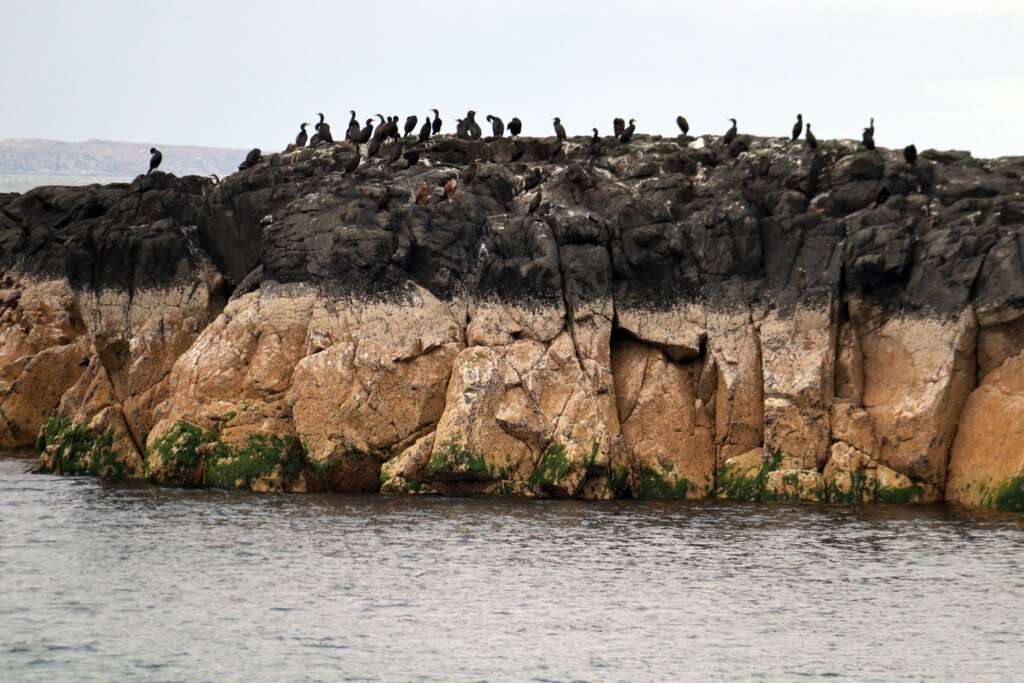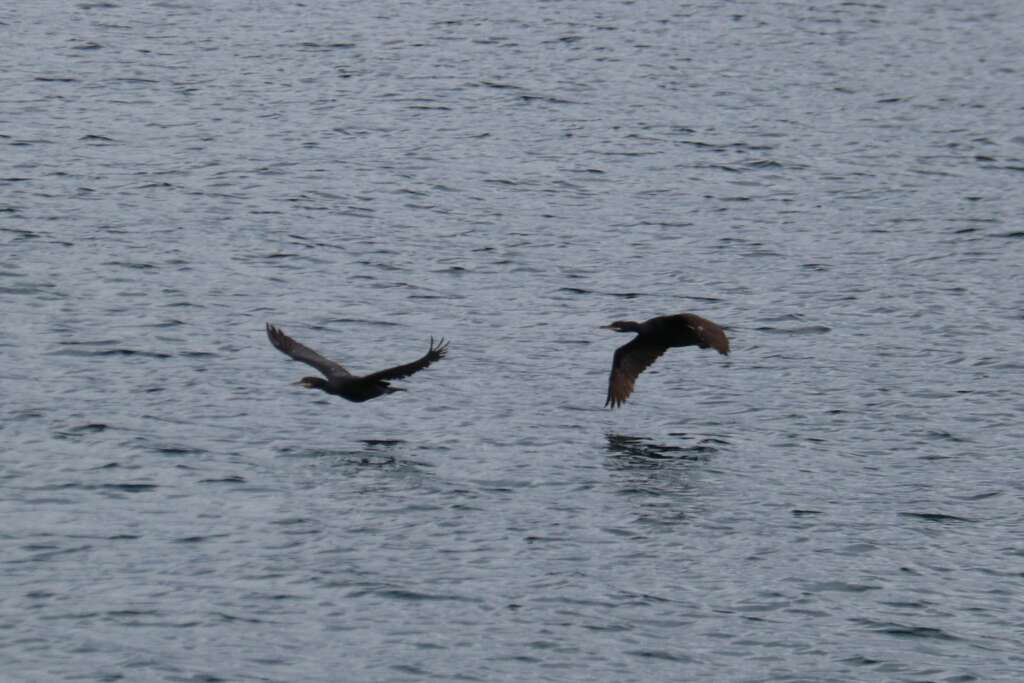 ---
Pelican in Isle of Skye
This was a capture of the moment and a lucky one, as we got into habit of clicking any bird we see after we spotted the Eagle flying first in Isle of Skye. We believe it is a Pelican from a Google search, but would love to be corrected if any bird experts know better.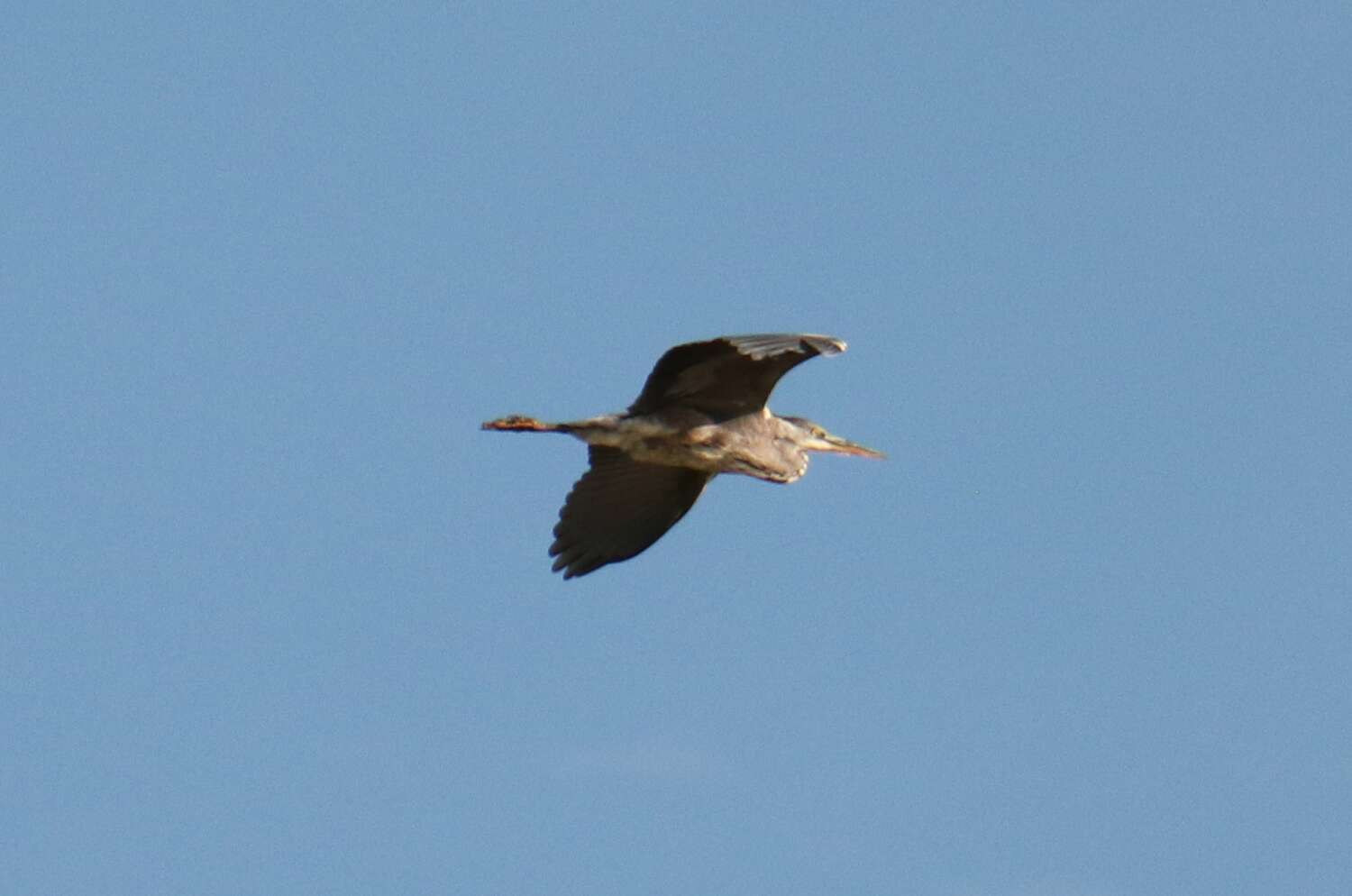 ---
Kittiewake in Duncansby Stacks
The most romantic birds we saw in this area the Kittiwakes. It would have been Puffins if we were early enough to see them before they left Scotland. You will see lots of Kittiewakes in the coves of Scotland. We saw a lot of them nesting in the Duncasby Stacks near John O Groats.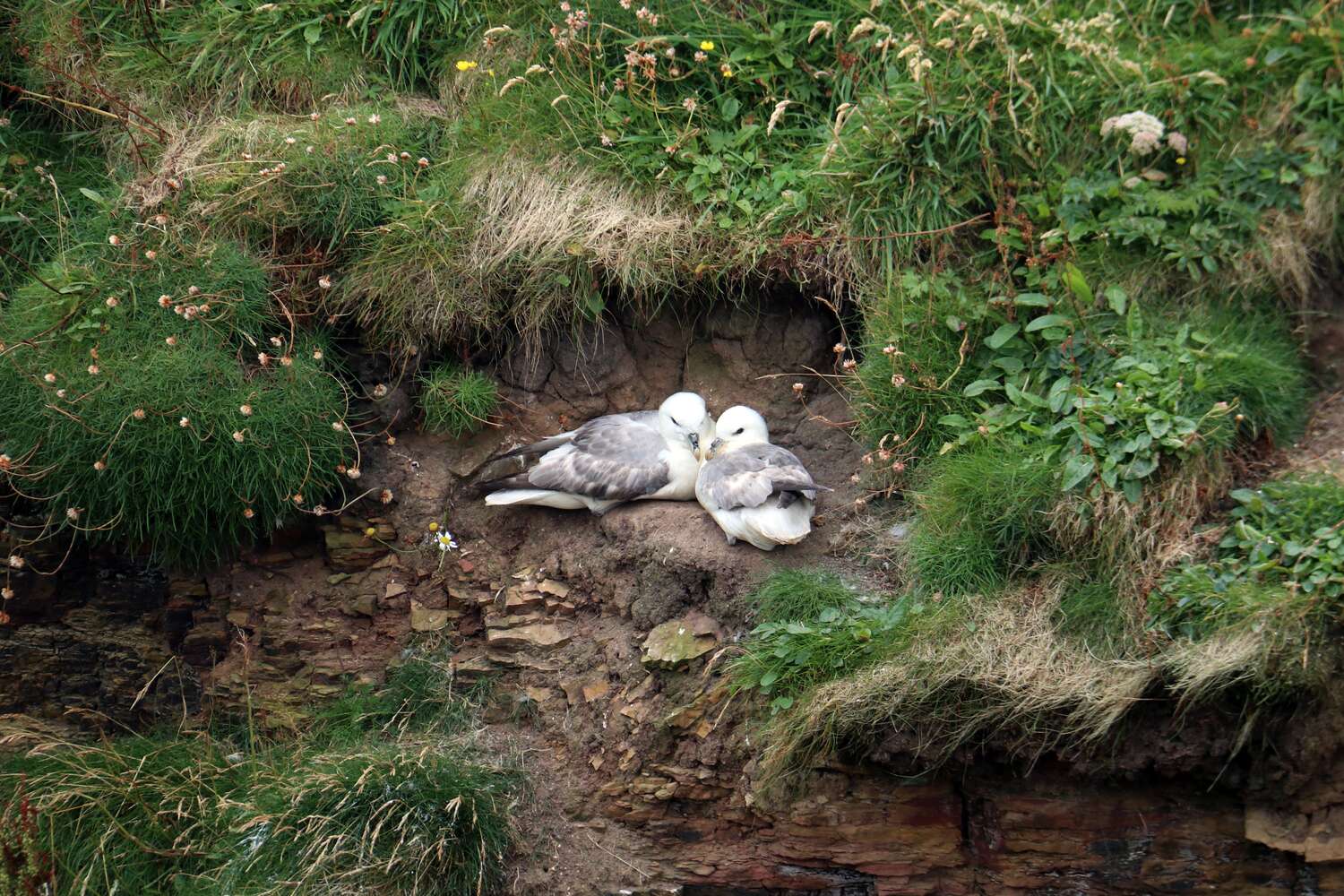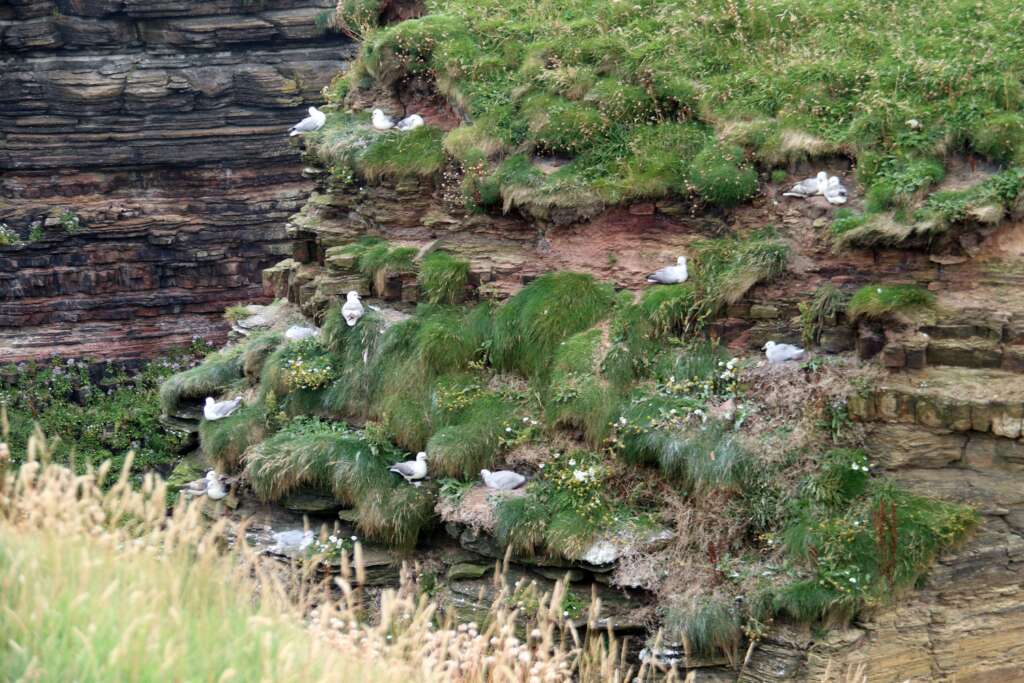 ---
Starling at John'O Groats Coast
John O Groats coast has many starlings nesting in groups. I really love their polka dotted feathers.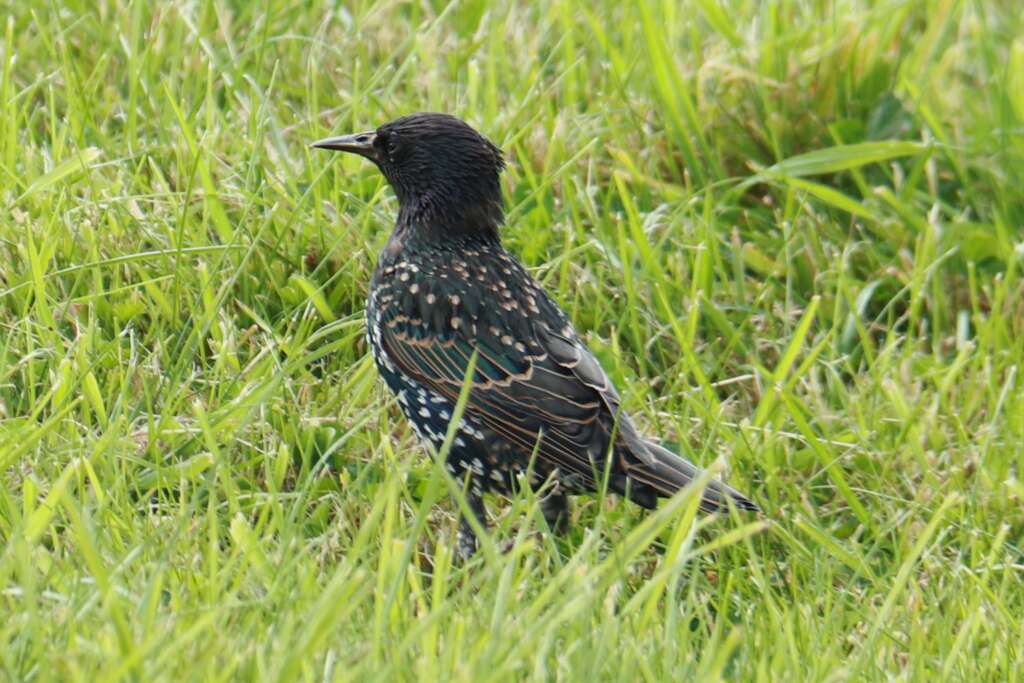 ---
Sparrows in Scottish Highlands
We also spotted many sparrows in many places and here are a few of my favourite shots!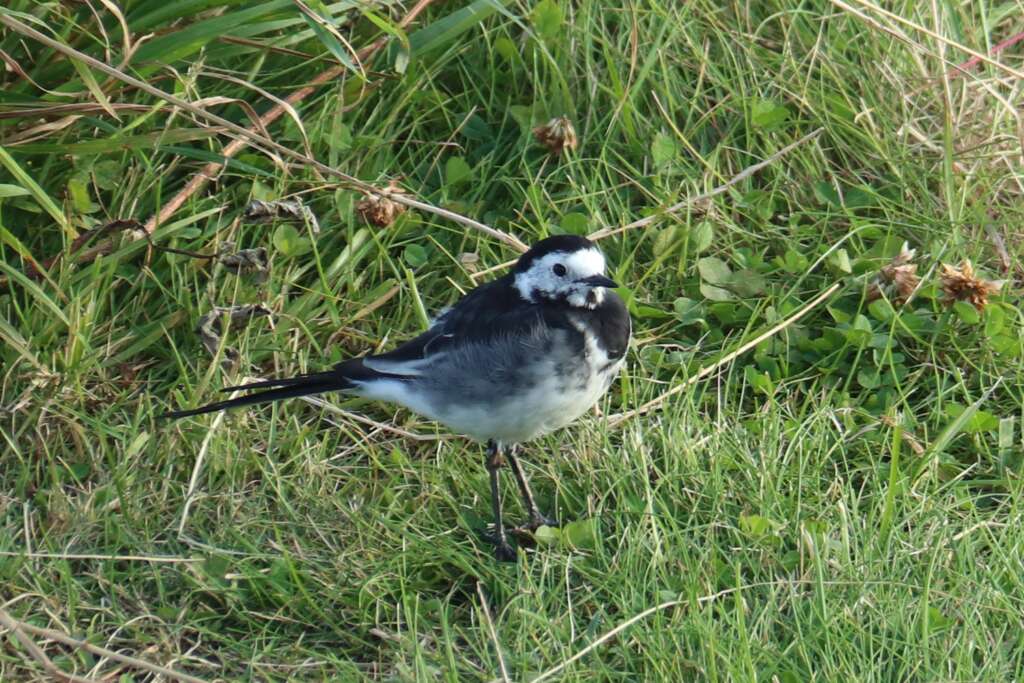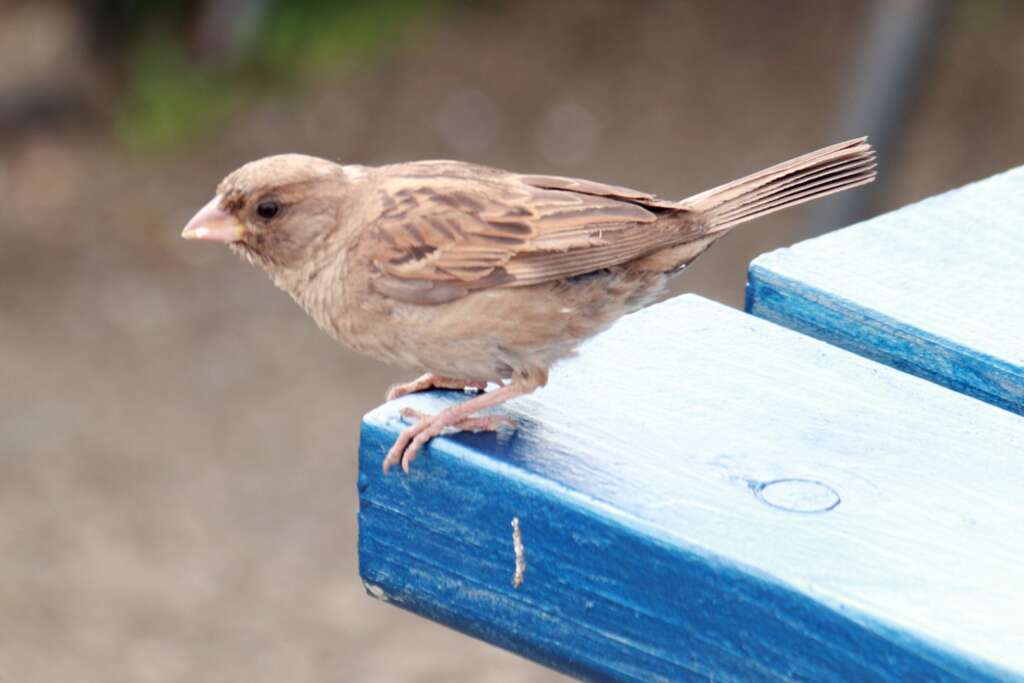 ---
Canadian Geese at Camas Nan Geall The Bay
On the way to Sanna bay we passed by Camas nan Geall where we came across a flock of Canadian Geese enjoying the sunshine and going for a swim.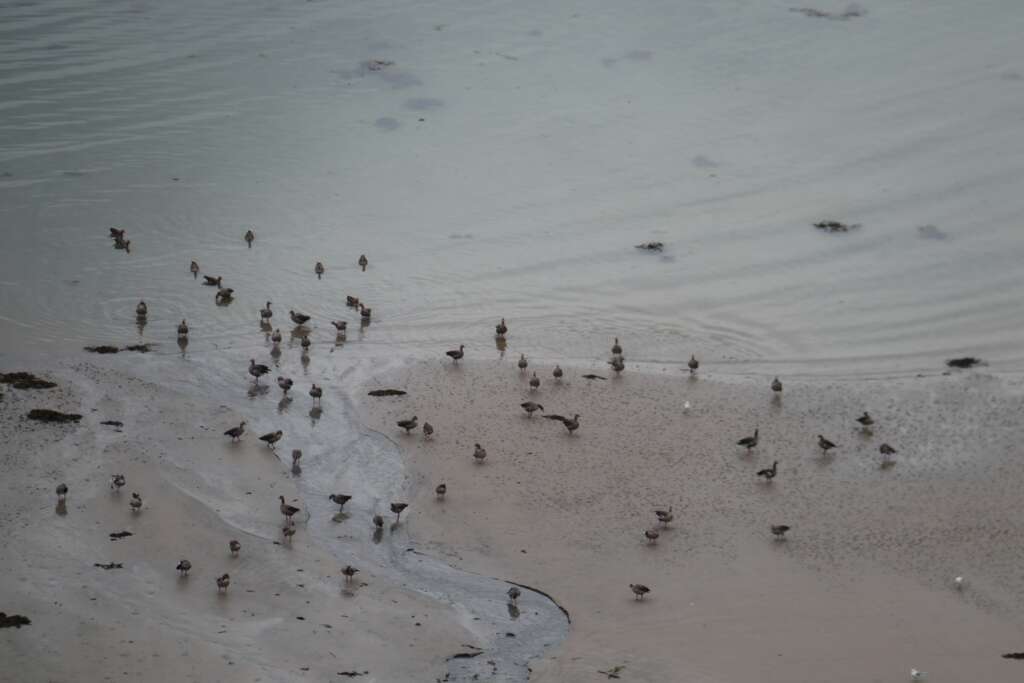 ---
Dragon Flies at Dragonfly Trail
From the Glenfinnan visitor center there is a short walk called the Dragonfly trail which true to it's name had lots of Dragonflies darting about for us to see. Here is a cute little one.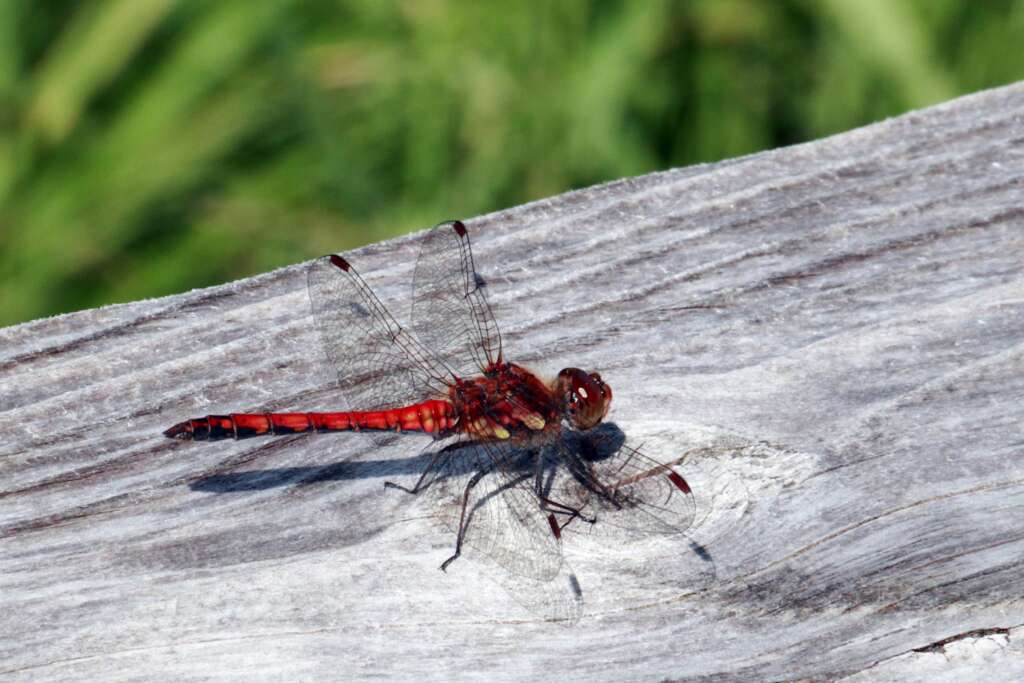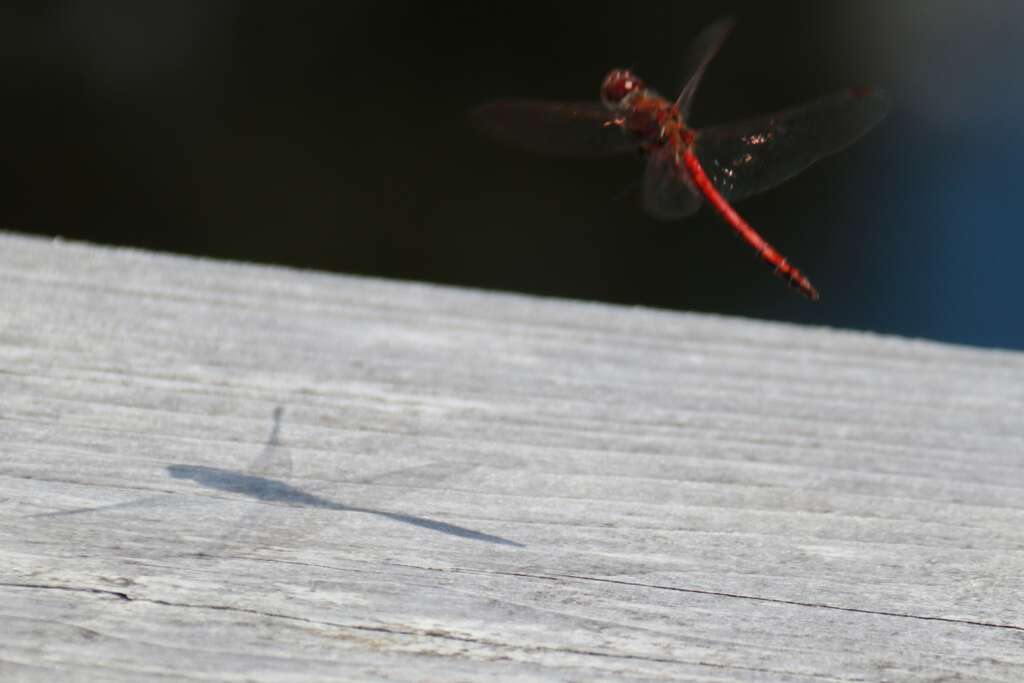 ---
Seagull, Scotland
We can't finish a wildlife post not showing seagulls. They are the most common but still amusing. Here is a seagull taking off shot somewhere in Scotland.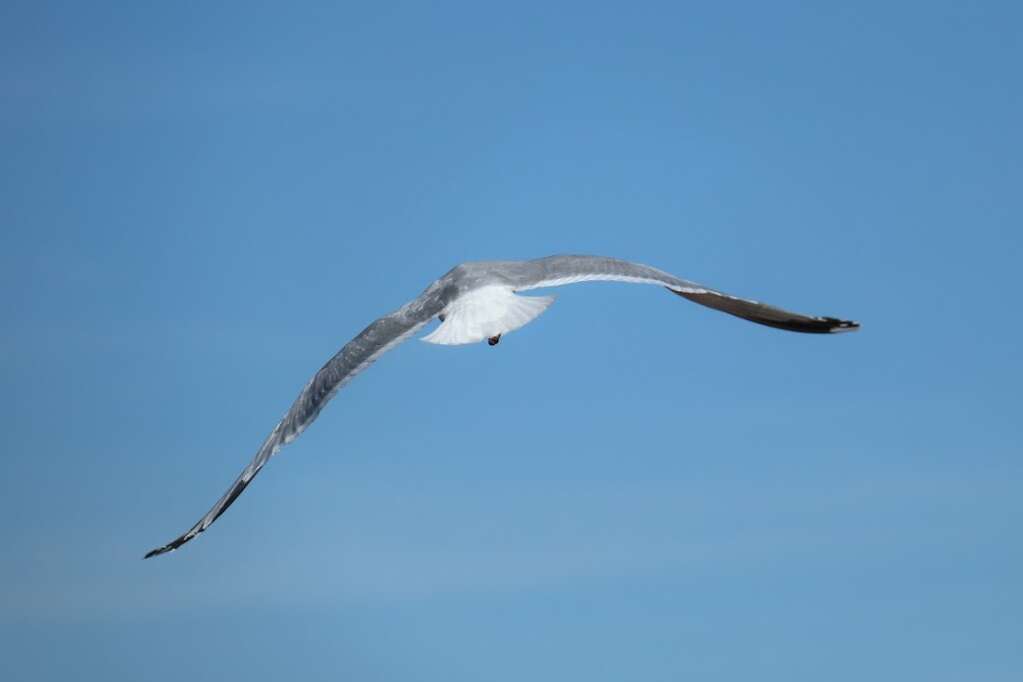 ---
Where to see the wild animals in Scotland I spotted during my trip?
For being familiar with the locations, I would recommend taking a closer look at the downloadable itinerary map on the road trip itinerary post to spot the locations. We saw the all wild animals in Scotland mentioned along the route covering NC500, Isle of Skye, Isle of Mull and other islands. All the exact places are specified for all the listed animals found in Scotland along with their picture.
Pin This Post for Planning Your Scotland Exploration