Planning an American road trip looking to hit beaches as well as hike mountains, while also partying hard and enjoying some scenic drives? Here is an ultimate road trip itinerary that fits the bucket which includes destinations across USA South West covering Arizona, California, and Nevada. This road trip is unarguably one of the best road trips in the USA across the southwest approximately covering ~1000 miles. This adaptable Arizona to California road trip itinerary can be moved around to start from any three of the three states which can be covered in 10 days to 2 weeks. I have enlisted a day-by-day breakdown with top stops, experiences, and places to stay along the route to make your road trip planning easier.
If you would like some help with road trip planning itself or wonder how to plan a long road trip like this, here are some of our top travel tips and guides: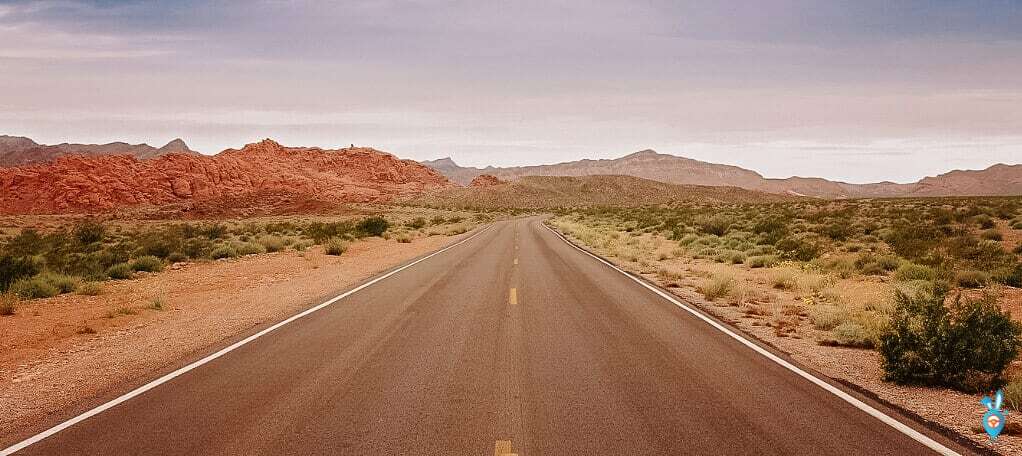 ---
USA South West Coast Road Trip Itinerary: Overview
This road trip itinerary was planned to cover fewer but major highlights along the route, focusing on scenic routes and national parks in Arizona and Nevada and then adding more time for relaxation in California with less driving. It was also done this way to make sure we have room for spontaneous explorations than with a heavily packed itinerary to catch until the end. We thoroughly enjoyed this style and the itinerary was a good mix of multiple experiences. Read on!
Journey Details:
The road trip started in Phoenix exploring Grand Canyon National Park in Arizona state, Las Vegas, and Hoover Dam in Nevada state and ended in Los Angeles and San Diego in California. This is one of the longest road trips that I have driven myself, covering some of the major US Highways 17, 40, 93, and 66. All road trip parts are written as exclusive blogs linked in the end and per destination for those interested in the overall journey.
Road Trip Duration
We spent our days as in the itinerary we followed covered in the blog, but I would recommend adjusting days based on what attracts you more. In the table, you will find a rough recommendation for the number of days and top destinations to cover along the route. In the individual itinerary planning, I will highlight other destinations and reroutes to take for your itinerary customization, some of which are still on my bucket list. Below is my recommendation for the 10-15 days planning. I wished I had more time in Arizona than we could afford to in our ten days trip, so I have made this into a two weeks road trip itinerary.
| | | |
| --- | --- | --- |
| Days | Top Destinations/Stops | Where to Stay |
| 3-5 Days: Arizona | Phoenix, Grand Canyon, Sedona | Sedona, Grand Canyon |
| 2-3 Days: Nevada | Las Vegas, Hoover Dam | Las Vegas |
| 5-7 Days: California | Los Angeles, San Fransisco, San Diego | Los Angeles, San Fransisco, San Diego |
Arizona to California Road Trip Map: Downloadable Map of Route Taken
Our journey started in Phoenix and ended in San Diego as shown in the route below that is downloadable. You could also start this journey from somewhere in California.

---
Arizona to California Road Trip: Arizona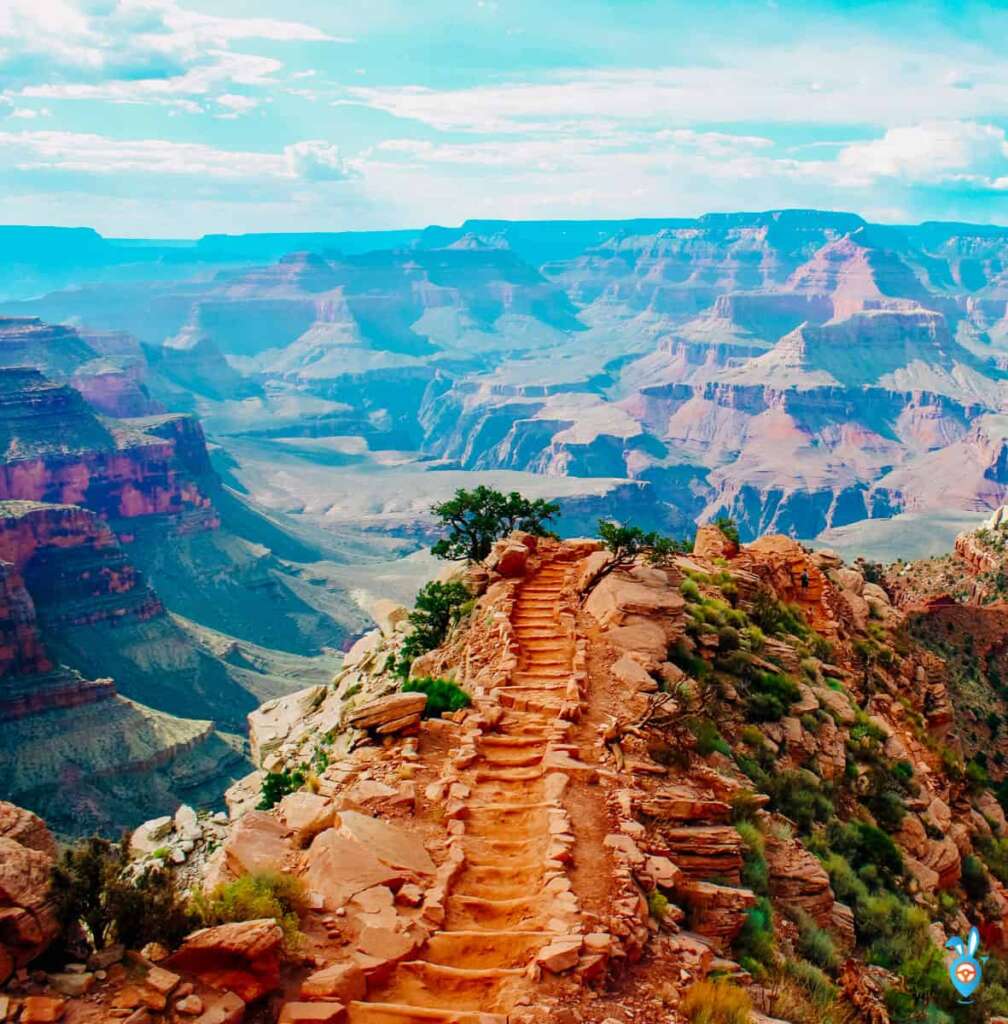 Arizona Road Trip Stops
Below is a list of major bucket list items to cover in Arizona Road Trip:
Phoenix: Capital city of Arizona with an international airport
Sedona Red Rock State Park : A red rock heaven, stunning natural beauty and best for hiking
Grand Canyon National Park: A natural landscape wonder and great for hiking
Kaibab National Forest: Good for wildlife tour
Coconino National Forest: Arizonian forest experience
Drive Across US Highway 66: The American road trip dream route
If you have more time, you could also do a trip from Phoenix to Saguaro National Park, which is the ultimate cacti desert of Arizona. Similarly, you could add Monument valley to the Northwest as well as both lower antelope canyon and upper antelope canyon as well as Horseshoe bend for an ultimate Arizona road trip.
Arizona Unique Experiences
---
Day 1 – Phoenix
We arrived in Phoenix around late afternoon, where we started this road trip across South West of America from Arizona to California. The evening drive from the Phoenix Airport to the hotel was already pretty exciting with sights of mountains and huge trucks on the wide American highways. Phoenix is one of the largest cities in Arizona, one of the desert states in America especially known for the Grand Canyons, and is sprinkled with national parks, forests, and large varieties of mountains.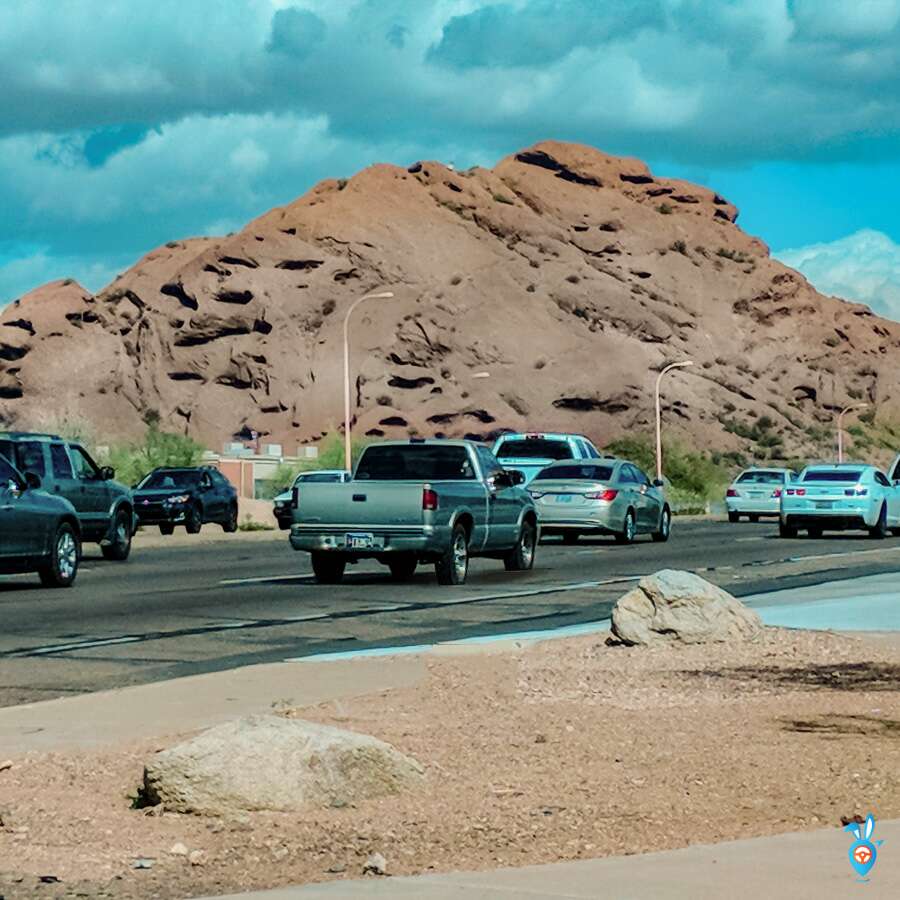 Top Things To do in Phoenix
Explore the Botanical Garden
Phoenix Art Museum
Phoenix Zoo
Checkout the Hall of Flame Fire Museum
Hike Camelback mountain
Goldfield Ghost town
Scottsdale Old Town
---
Day 2 – Phoenix to Sedona
We drove from Phoenix towards Grand Canyon and spend the majority of the day exploring Sedona red rocks. I would recommend spending one more day here to go on the hikes. There are some nice outdoorsy staycation sites here to explore including some popular retreats in Sedona.
READ: Road Trip to Sedona & Grand Canyon, Arizona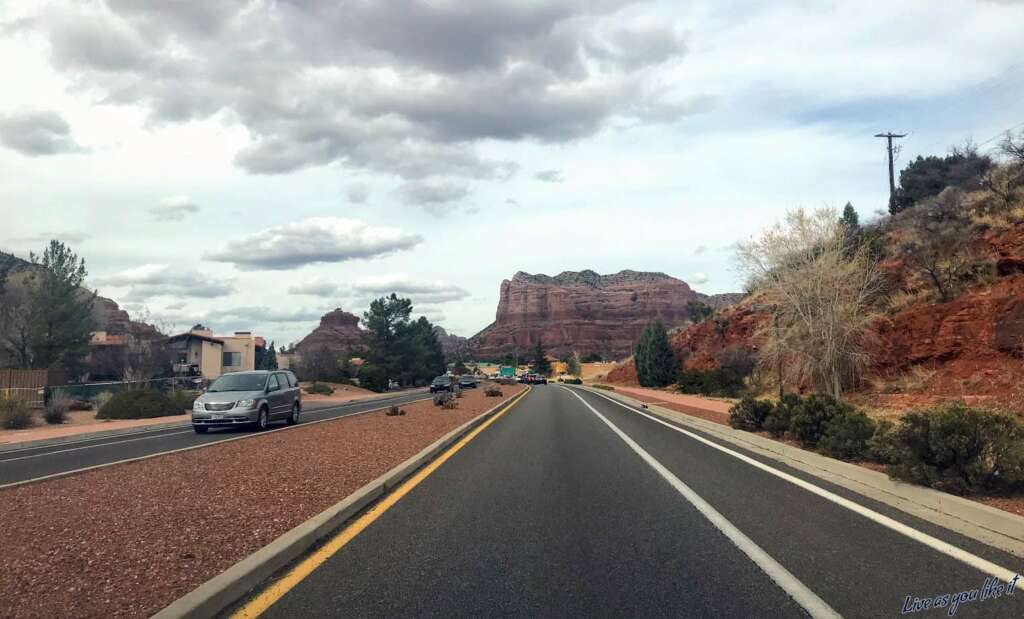 Top Things To do in Sedona
Hike Chapel of Holy Cross
Pink Jeep Tour (very good if you have time, takes 2 hours)
Cathedral Rock
Oak Creek Canyon
Devil's Bridge Trail
The red rock city is a stunner, which is so unique and leaves you breathless. It really reminded me of ancient temples in India and even made me think of the pyramids of Egypt in a funny way. The red rocks look like a big piece of architecture from a far sight.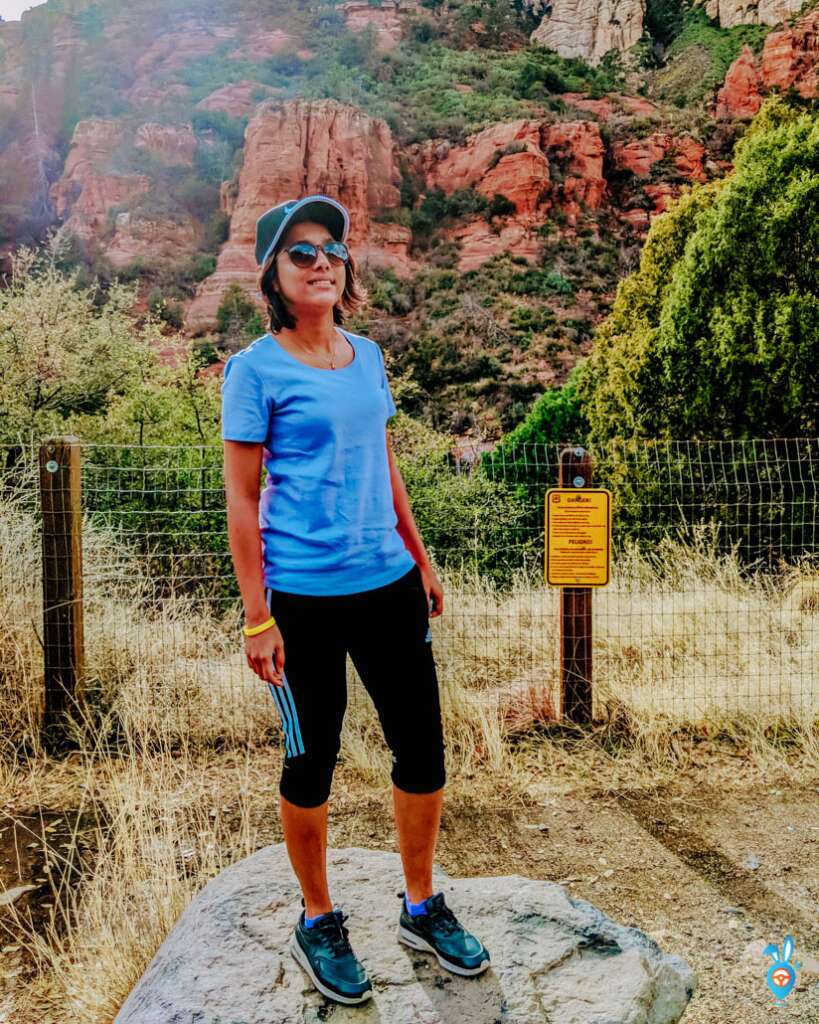 Sedona Unique Experiences
---
Day 3 – Sedona to Grand Canyon
Sedona to Grand Canyon is an easy drive with some stunning views when you approach the grand canyon national park south rim. You need to get a national park entrance pass to go inside here and as expected there was a long queue.
Entry Ticket: 35$/vehicle, 20$/individual.
All information to find a pass is here.
READ: Road Trip to Sedona & Grand Canyon, Arizona
Top Tips for Grand Canyon
Plan a hike based on how much time you have at hand
Don't miss the sun rise and sunset here. There are specific points and hikes for best sunrise and sunset views that you could plan accordingly. Just turning up to the canyon wont give you the experience you are looking for.
Checkout Kaibab Forest if you are into wildlife photography
Grand Canyon Unique Guided Experiences
---
Arizona to California Road Trip: Nevada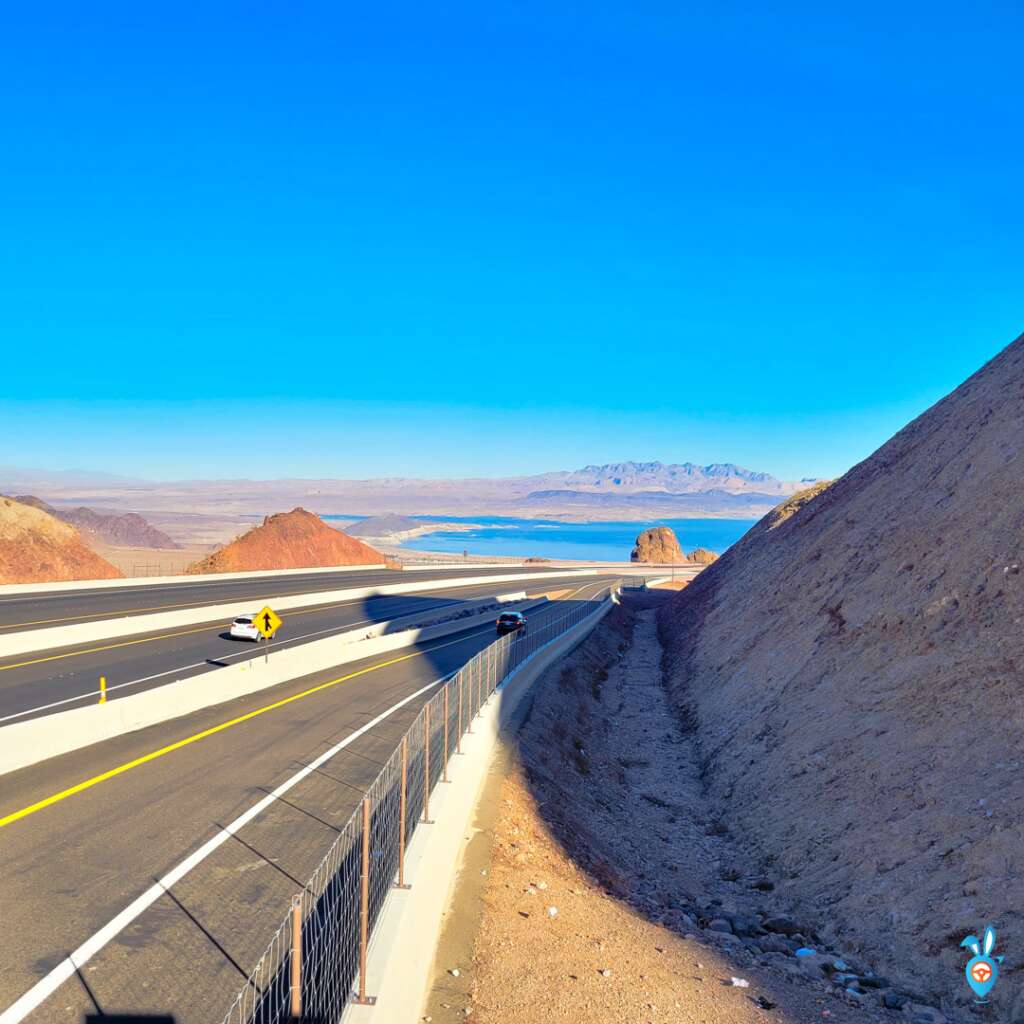 Nevada Road Trip Stops
A few major bucket list items to cover in Nevada a Road Trip include:
Hoover Dam
Las Vegas
Lake Meade
Other top itinerary items to add to your list include exploring the Red Rock Canyon, Death Valley National Park, and Valley of Fire State Park.
---
Day 4 & 5 – Grand Canyon to Las Vegas
We drove along the US Highway 66, across Hoover Dam to Las Vegas, via Boulder City. Nevada is really underrated in my opinion as the drive along this route is scenic and enjoyable. The border between Arizona and Nevada is cut by the Colorado River and the lakes and river views in this area are spectacular. The signboard that welcomes you to Nevada is a great road tripper experience to get to that roadside landmark.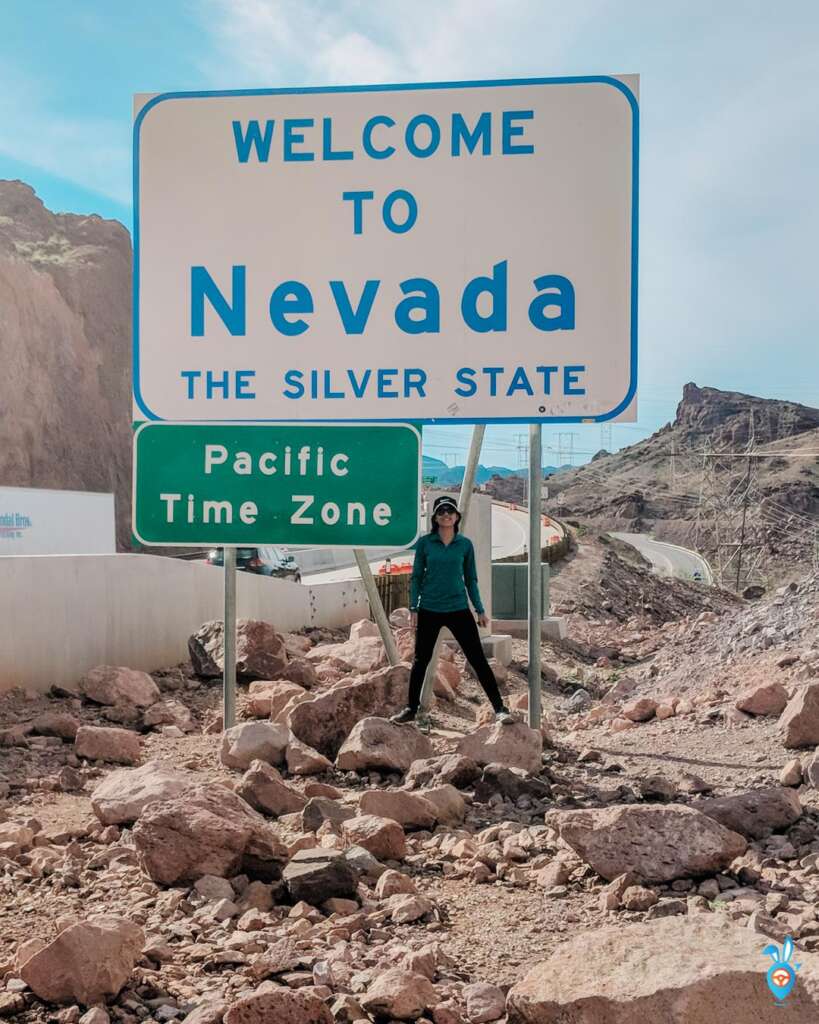 When you are approaching Vegas, the view of the city is captivating when you suddenly see a grand city with tall buildings appear on the horizon far away, in contrast to the mountainous side views from the road. Unfortunately, we didn't manage to capture a nice picture of our approach.
Top Things to Do in Las Vegas
Casino hopping (The Mirage, Luxor Hotel, MGM Grand)
Watch the fountains of Bellagio
Stroll around the Las Vegas Strip
Watch a live show
Strip club – (go for it if you fancy 😉 )
Las Vegas Budget Friendly Activities
---
Day 6 – Las Vegas to Hoover Dam & Lake Meade
We drove back to Hoover Dam from Vegas via Bounder city via Lake Meade on this day, and this is the best day trip for those who visit Las Vegas that offers such a fantastic scenic route to drive on.
Top tip: Hire a fancy car at least for this route and thank me later!
READ: Road Trip from Las Vegas to Hoover Dam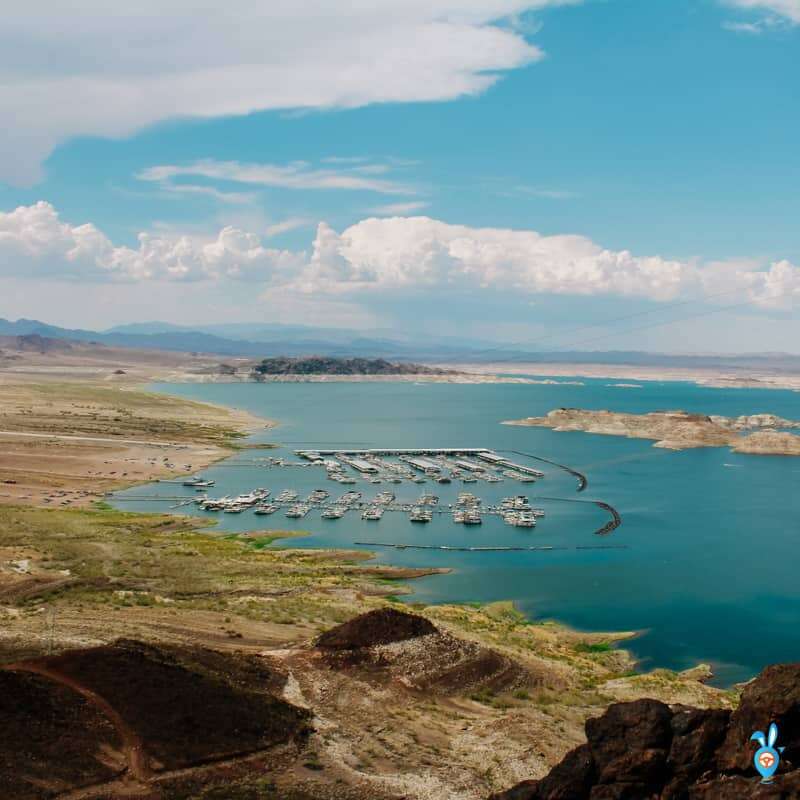 Top Things to Do around Hoover Dam
Take the Lake Meade route
Explore art and mural in Boulder City
Stroll around the serene Hoover Dam and try your photography skills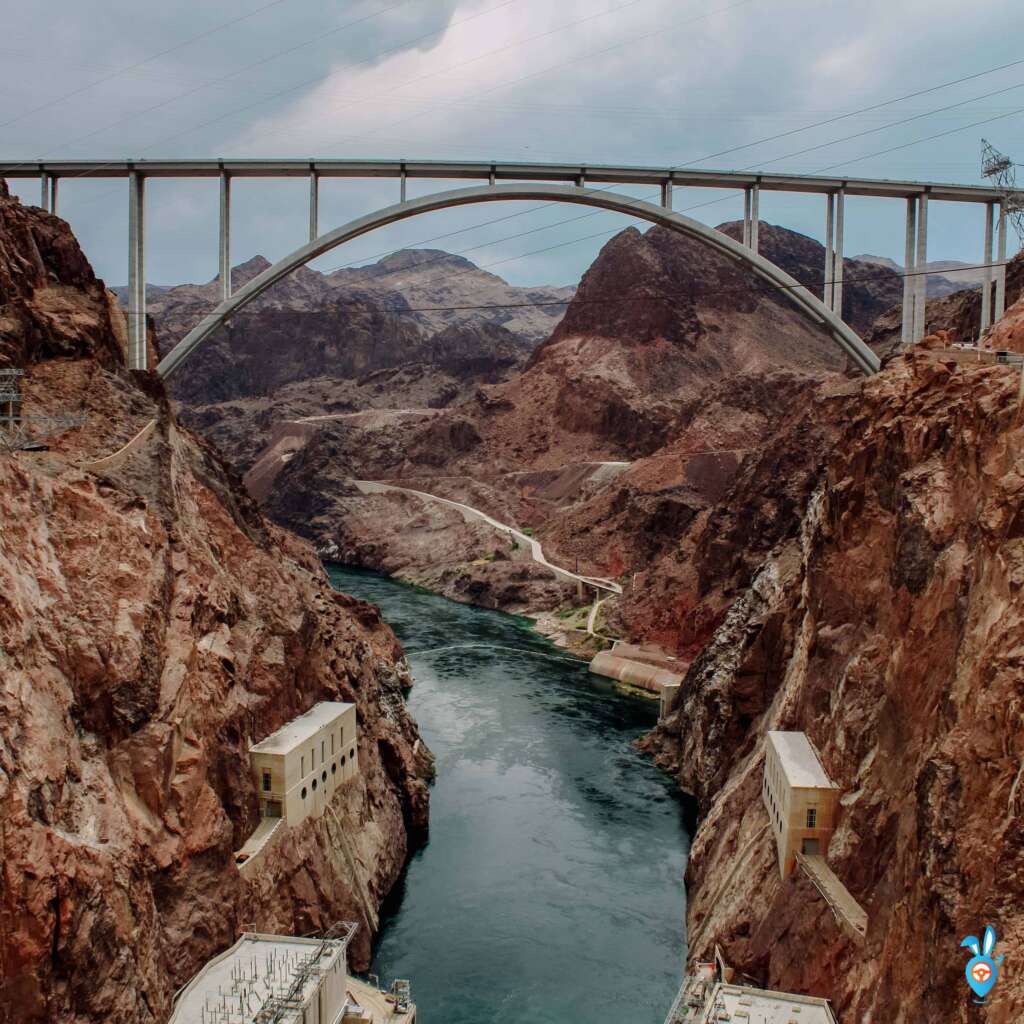 Hoover Dam Tours from Las Vegas
Some highly rated tours from Las Vegas to Hoover Dam are:
---
Hoover Dam to California via Boulder City
We drove from Hoover Dam to Los Angeles California by taking a small break in Boulder City. We drove in the evening time to reach Los Angeles during the night time, so this was just a highway drive with not much sightseeing.
---
Arizona to California Road Trip: California
California Road Trip Stops
We covered two major bucket list cities during the Road Trip California time:
If you have time, you could also try to hit Lake Tahoe as well as the Joshua Tree National Park around this area. Another hidden gem is Lake Havasu which is top of my bucket list for our next visit.
For those of you not been to San Francisco, I would recommend adding the city in in and do the PCH- the famous Pacific Coast Highway Route and visit the Redwood National Park where you can see the tallest trees in the world. I plan to go back and do this another time when I visit Cali, as it is undoubtedly one of the best things to do in California for a road trip lover.
---
Day 7,8 – Los Angeles Road Trip
We spent two days in Los Angeles which is good enough to see the majority of LA attractions, but you can add more days to enjoy the beaches and the vibe here for longer.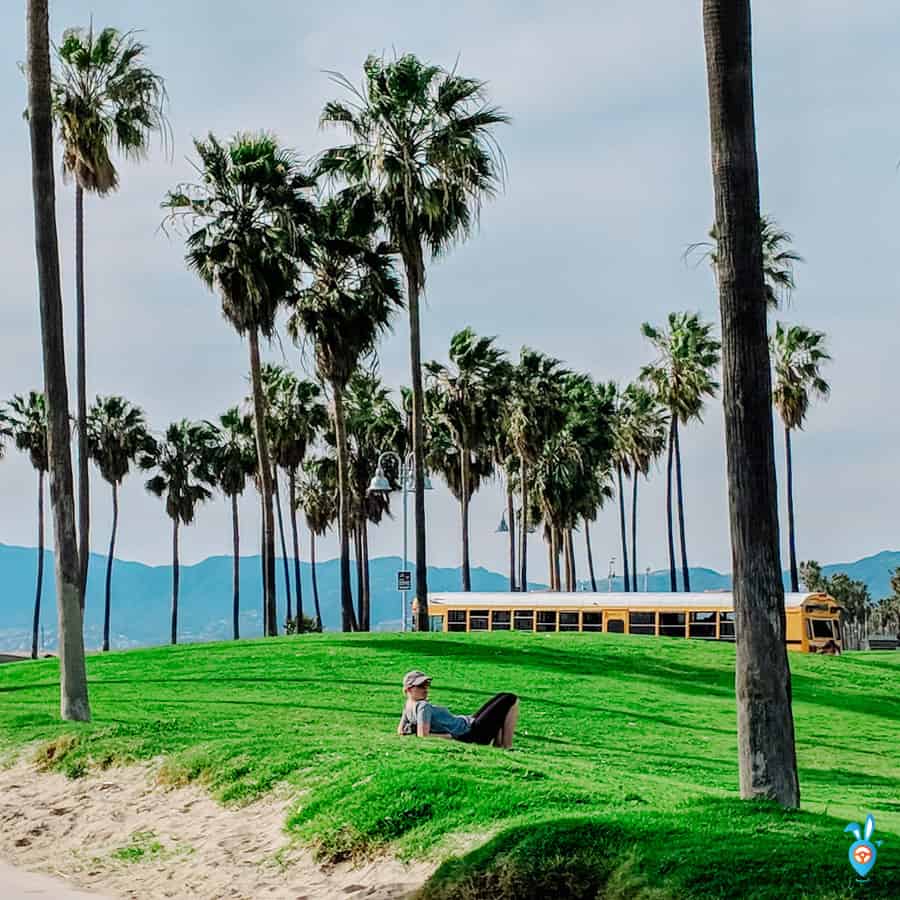 Top Things to Do in Los Angeles
Venice Beach
Santa Monica Pier (Sunset)
Hollywood
Walk of Fame
Griffith Observatory (Sunset)
Mural hunting (Venice)
Disneyland Park
Museum of Art
READ: Los Angeles Road Trip Itinerary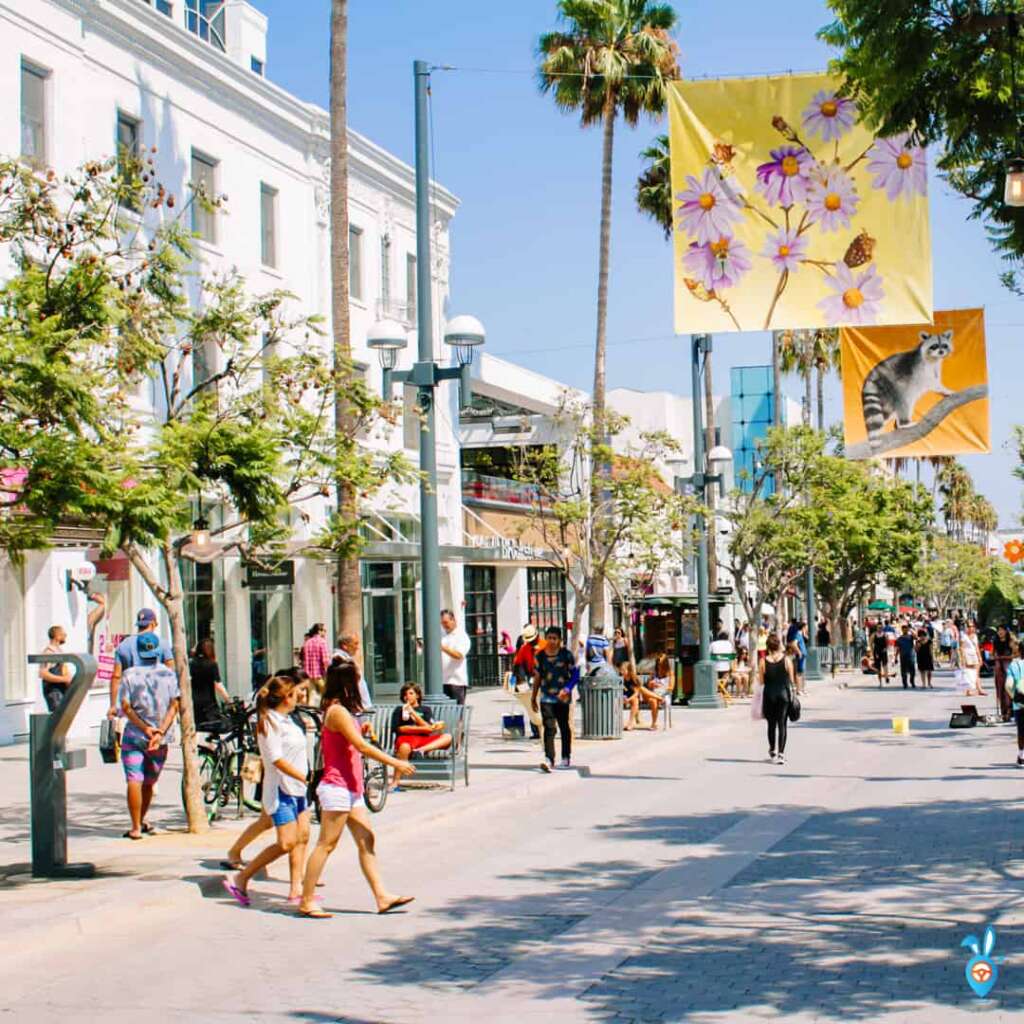 Griffith observatory is my personal favourite in LA. You get here via Hollywood and you can see the Hollywood sign landmark from here. The sunset view is perfect at LA LA Land moment and the observatory is absolutely worth it. This is one of the most romantic places I have been to ever.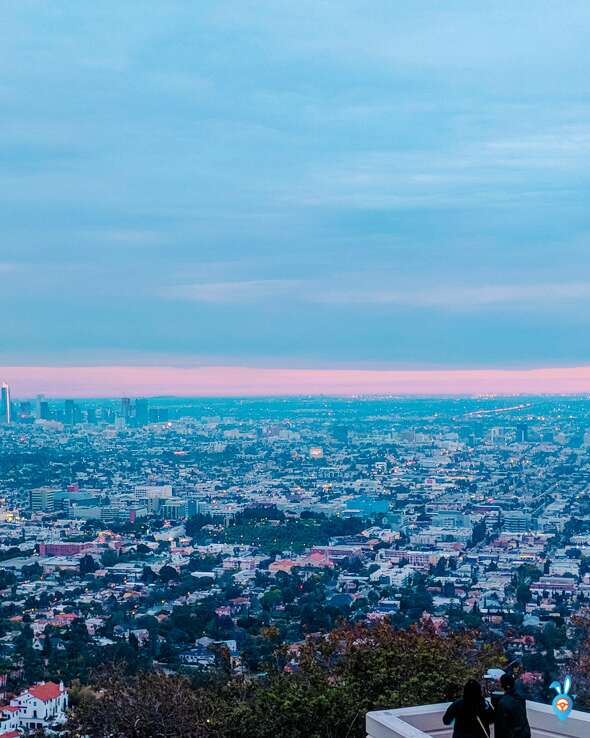 Los Angeles Unique Experiences
---
Day 9 – Los Angeles to San Diego taking Amtrak Train
From Los Angeles to San Diego, we took the most popular Amtrak train journey along the coast in California. We added this break in our drive to have some time to relax and we picked up our rental car in San Diego for road tripping in San Diego.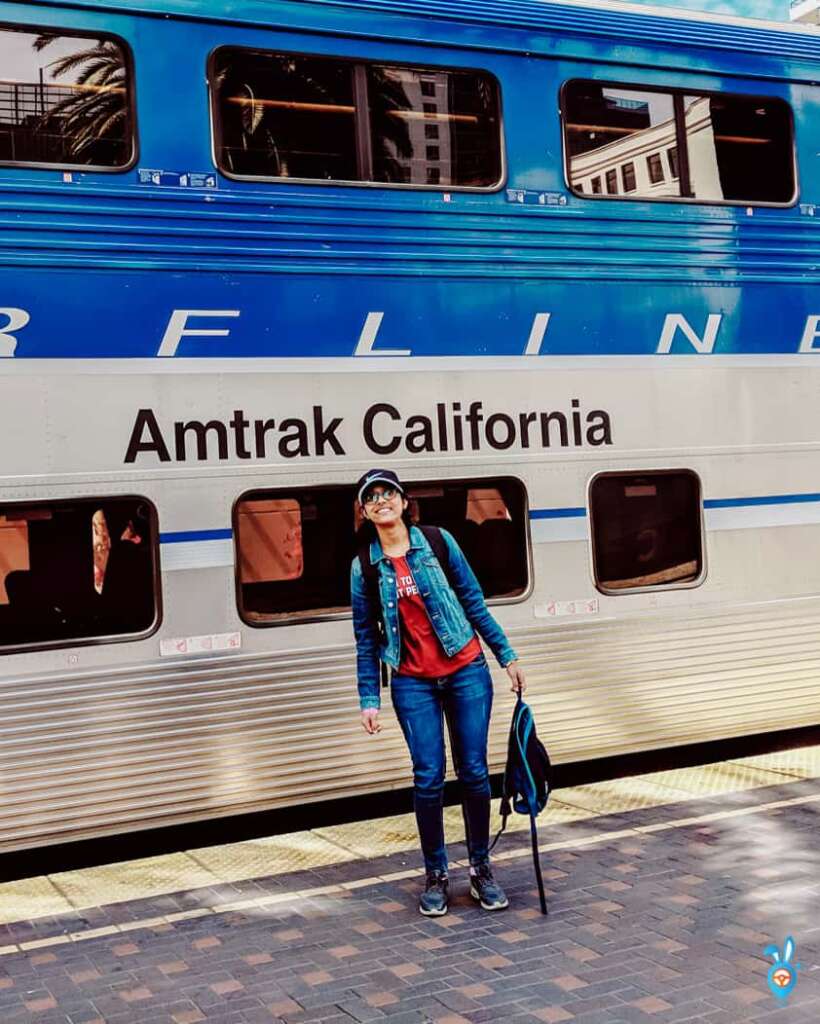 ---
Days 10,11 – San Diego Road Trip
San Diego was the most relaxed leg of the road trip, it being the last place as well as an epicenter of one of the best beaches in California. We enjoyed beach hopping here, including kayaking, while we also enjoyed the city. San Diego's old town is great and there are some cool bohemian-themed shops here that are very vibrant. La Jolla was my favourite most beach. Don't forget to walk around here to see some of the best houses in San Diego.
Top Things to Do in San Diego
La Jolla
Sea World San Diego
Old Town San Diego
San Diego Zoo
READ: San Diego Road Trip Itinerary for Three Days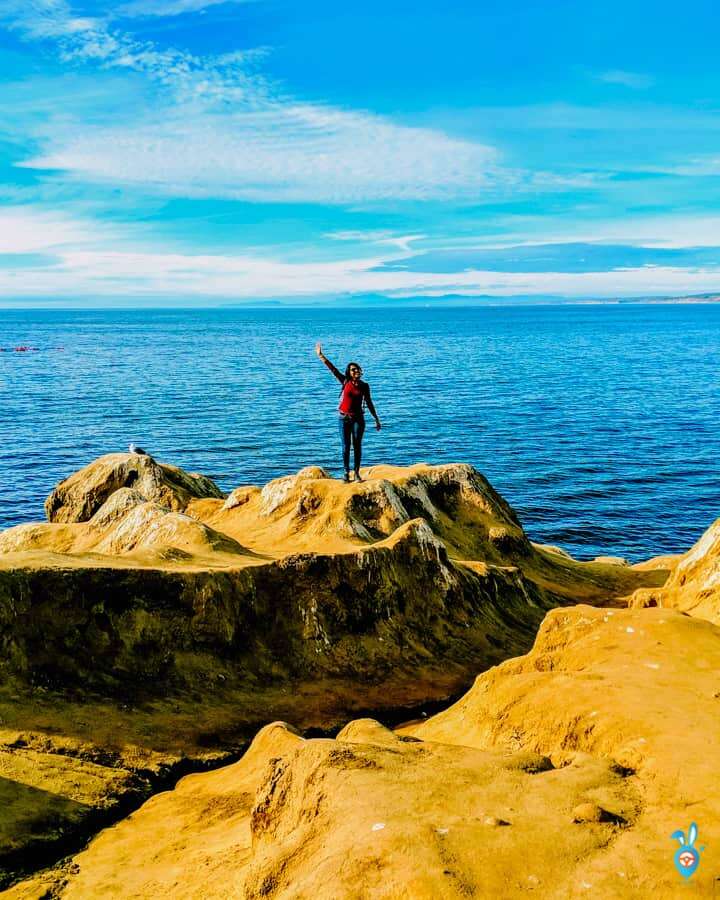 San Diego Unique Experiences
---
Day 12 – Coronado Islands
On our last day, we spent a relaxed day at the Coronado islands which is a short drive from San Diego and one of the coolest places to hang out. We particularly enjoyed kayaking here at the San Diego bay.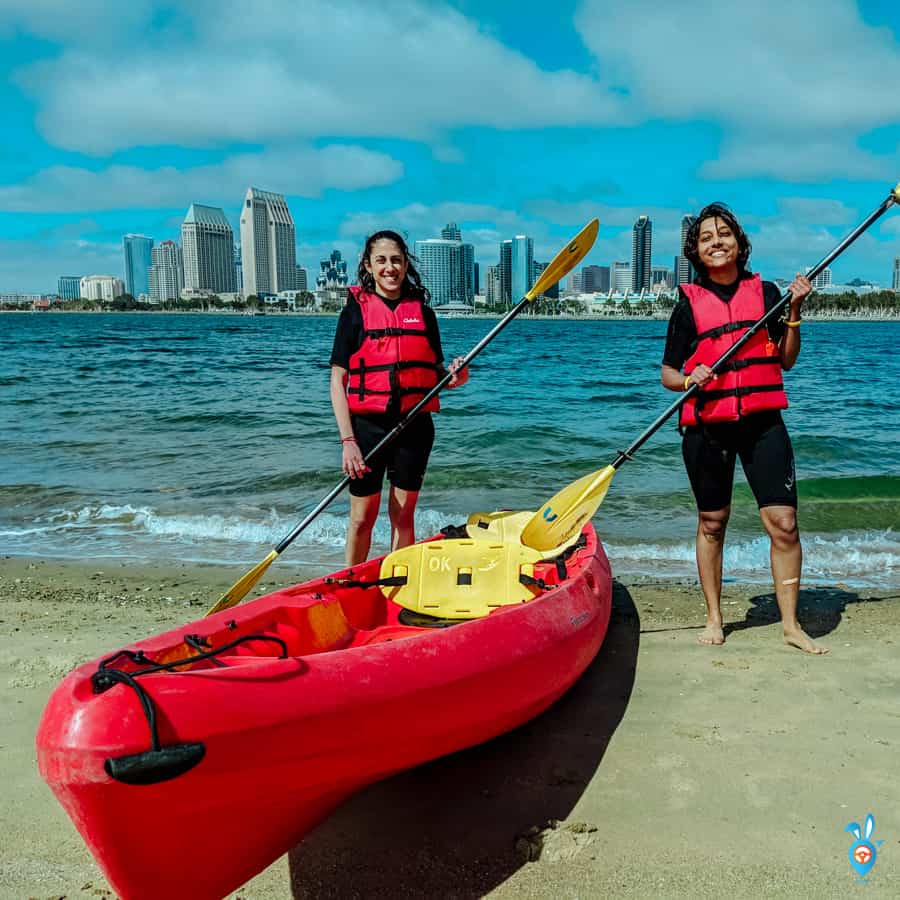 Top Things to Do in Coronado Islands
Water sports
Take a tour of the island
Hotel del Coronado
Coronado beach is perfect for pets
You could take a Segway tour from San Diego to Coronado, which is highly recommended to see the islands.
---
USA South West Road Trip from Phoenix: Journey in Parts
For the detailed itinerary of all these top bucket list destinations that can be covered in this road trip, below are the exclusive blogs of all parts of the journey.
---
Pin the road trip itinerary for future reference