Scotland's famous for it's salmons- but did you know that you can actually see salmon leaping in Scotland? During the salmon reproduction season, wild salmon jump up and down rivers. They're most often found at Rogie Falls near Inverness, Pitlochry dam in the south, Fall of Shin, Hermitage and Glen Tanar. I was incredibly fascinated to learn about this great sacrificial migration nature of salmons as they come home from sea to their birthplace where they were born just so they could reproduce!
If you are considering a trip to Scotland, and want to see salmon leaping in their natural habitat, then this article has some great information for you on where to see salmon leaping in Scotland. We have compiled the best places in to see Salmon Leaping in Scotland that offer a chance to witness these beautiful creatures jump out of water while they migrate upstream, a unique experience not to miss in your wildlife bucket list. Salmon leaping Scotland was one of the most memorable experiences in a two week road trip to Scottish highlands, which was filled with many wildlife encounters.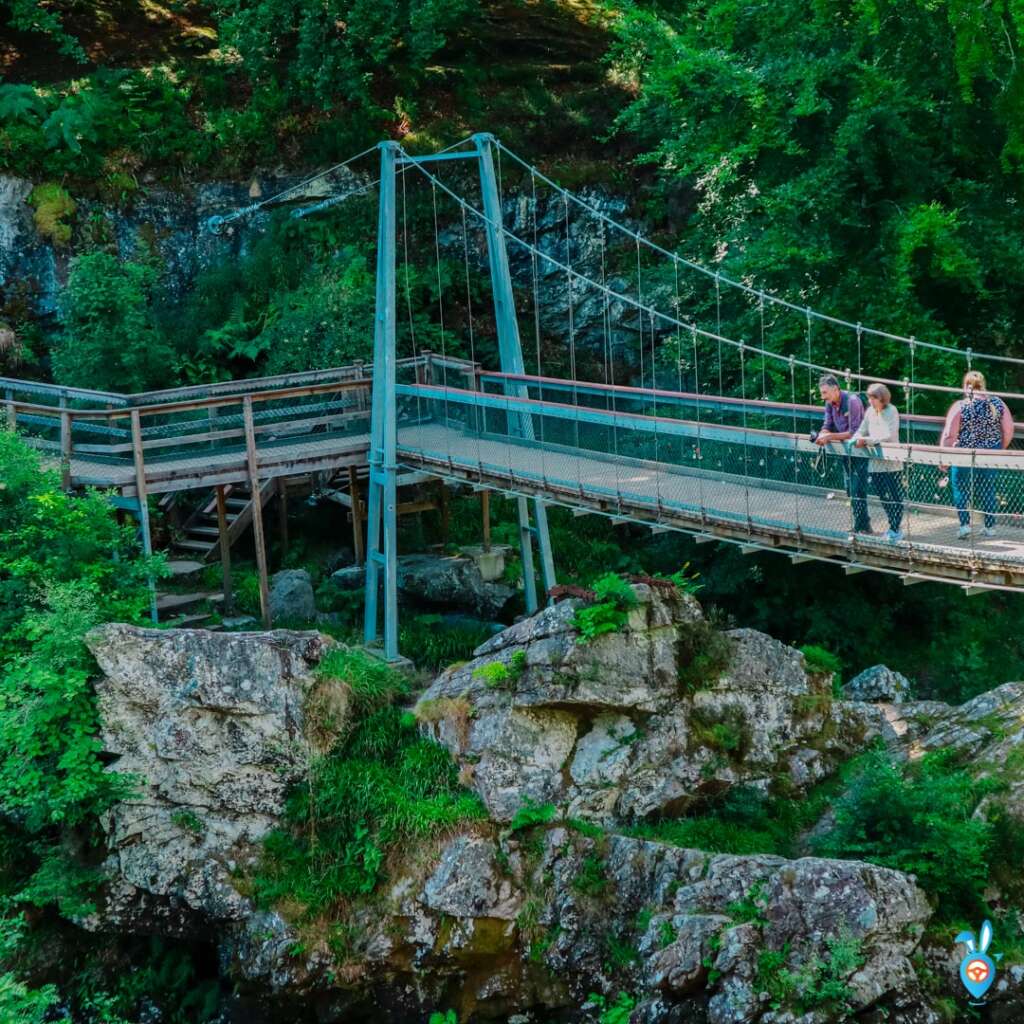 Best Places to See Salmon Leaping in Scotland
Top places to see salmon leaping in Scotland are scattered around the country- both salmon ladders as well as open waters.
Rogie Falls: Rogie falls near Inverness in the North, is an ideal spot in a river to watch salmon leaping up waterfall against heavy and very high waterfall. This is perfect stop for an NC500 road trip, and the waterfall is very near to the car park.
Pitlochry Dam: Pitlochry dam has a salmon fish ladder and there is a viewing room here for visitors to watch salmon leaping through the fish pass upstream. Pitlochry is one of the scenic towns in Scotland perfect for a staycation too and can be a day trip from Loch Lomond or Edinburgh.
Falls of Shin: Falls of Shin in the North of Scotland has a viewing area too to watch the salmons jump against the waterfall. The salmons are visible here from March until Autumn. another spot to catch during a NC500 road trip. There is a visitor centre here with spots to grab food/coffee as well.
Glen Tanar: Glen Tanar in Cairngorms National Park is another spot for watching salmon leap, by the river Tanar. Glen Tanar estate offers so many other Scottish activities in this area making it a perfect staycation spot. Glen Tanar is the closest from the Aberdeen area.
Hermitage: The Hermit woodland walk in Dunkeld is perfect treat in autumn with grand leaf peeping view and the waterfall here is a top spot for seeing salmons leap. This is in the north of Edinburgh and worth a day trip from Edinburgh with other attractions like the Beatrix Potter Garden around.
Philiphaugh Salmon Viewing Centre: This dedicated salmon viewing centre is in Selkrik in south east of Scotland closer to England Scottish borders. In this salmon viewing area by River Ettrick, you can watch not just the Atlantic salmon jump, but also kingfisher, heron, dippers, goosander and otters in spring and autumn months.
READ: Best Scottish Towns and Villages in Scotland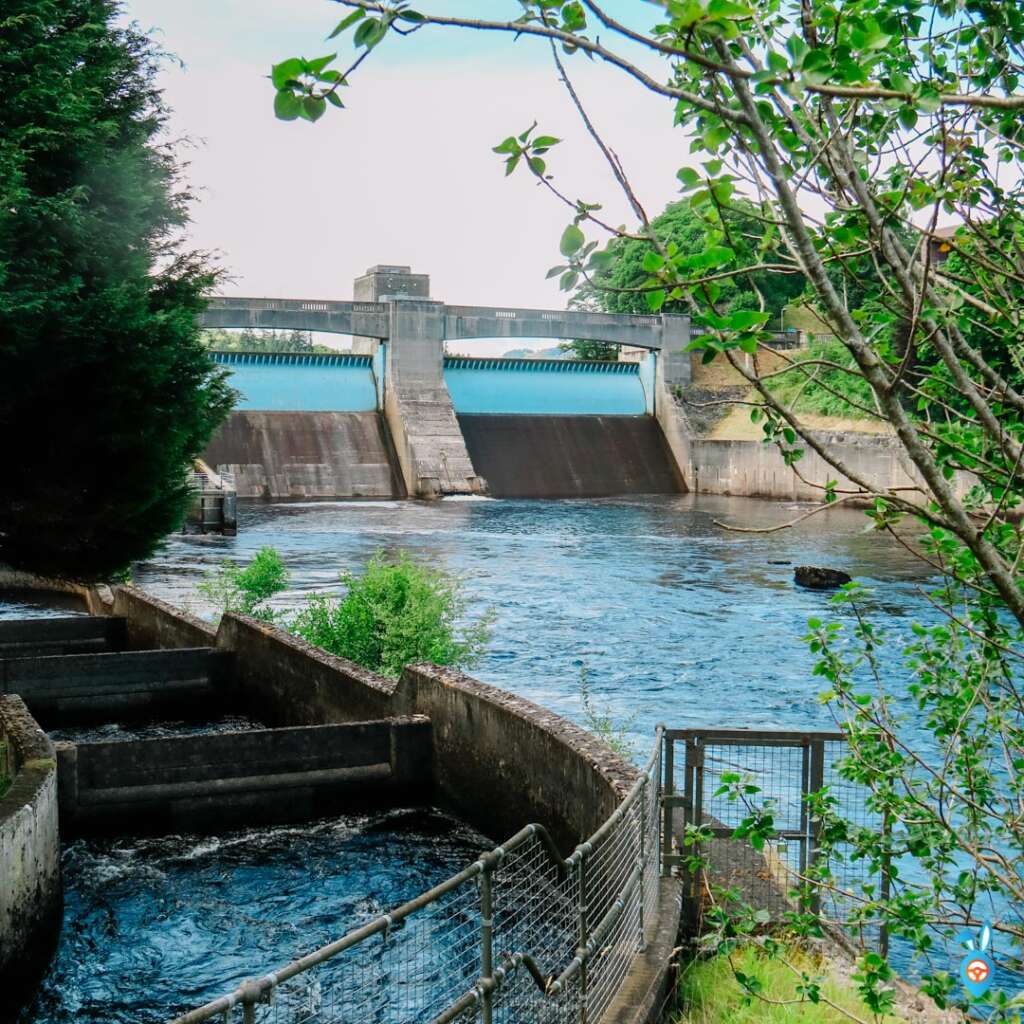 When visiting Scotland in the salmon season, be sure to go and visit one of these amazing places near your destination. This is an experience that will make you feel all warm inside when it succeeds just like this fish did! Bring your camera for a cool photo opportunity with this special catch.
Best Time to See Salmon Leaping in Scotland
The best time to view the salmon leaping in Scotland is from October and November. This is when they are migrating upstream, which makes for some incredible viewing opportunities. There are places where you can see them through Fall to Spring- from September to April. The best time of day to see salmons is generally early morning or early evening.
---
Watching Salmon Leaping in Rogie Falls, Scotland
Rogie Falls is one of the most popular destinations in Scotland during salmon leaping season. Rogie Falls is a popular black water river with an iconic suspension bridge, offering a scenic walk through the Abernethy forest. The falls are located on the River Rogie, attracts hikers and fishermen alike as well to enjoy its rugged scenery amid rolling hillsides covered by pine trees – all while exploring these beautiful waters!
Rogie Falls is very close to Inverness, Loch Ness, Ullapool and the NC500 route. You can travel here from any of these places or route. The falls is seen from a suspension bridge which is pretty spot and is easily walkable from the main parking spot.
Top Tip: Try to go as early as possible to find a spot in the parking lot as it can be filled easily.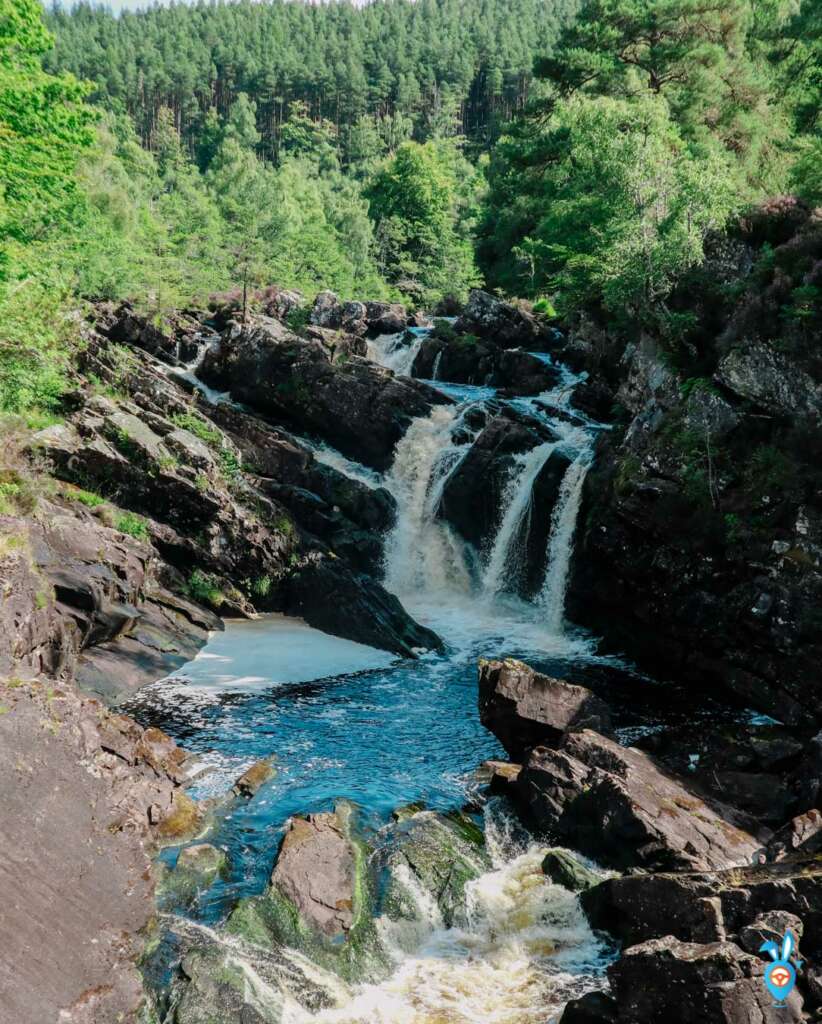 In the summer of 2020, we visited the Rogie Falls during a road trip covering NC500 and Scottish highlands.
How to get to Rogie Falls?
From the parking lot, the walk way is a marked forest footpath with rocky terrain. As you get close to the falls, it's easy to spot and can be viewed from a suspension bridge that is easily walkable. s. Follow the path marked in red and green and enjoy this adventurous walk through the forest, with some downhill and uphill, not that tiring. Walking here in the midst of the pine before reaching the falls, was enjoyable. You will spot the suspension bridge from where you can see the Falls.
READ: Ultimate Scotland Road Trip Itinerary for two weeks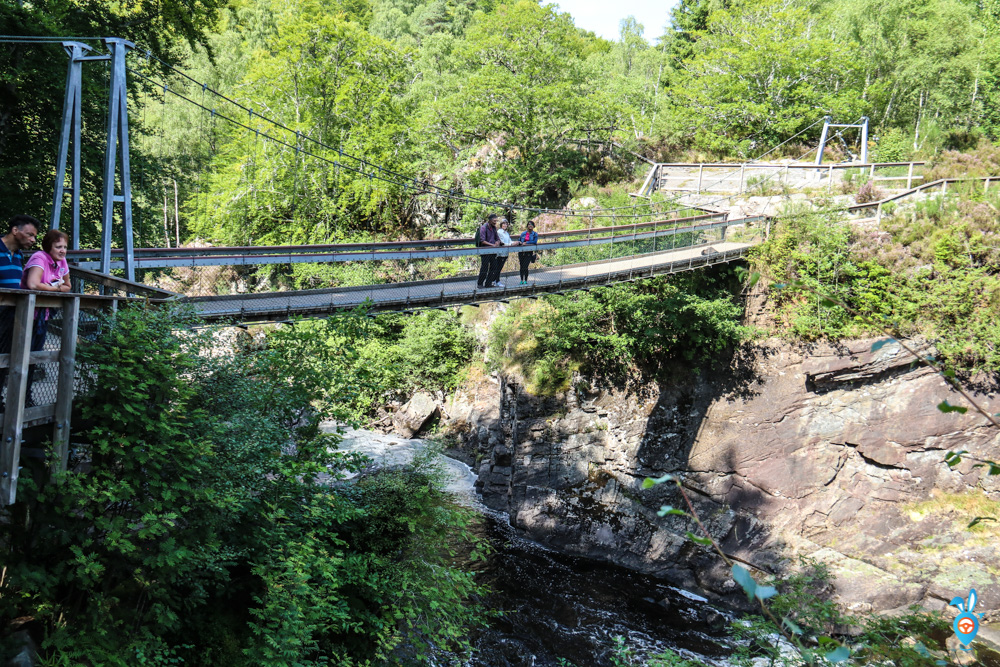 Public Transport: If you are not driving you can take a bus between Ullapool and Invernes
Watching Salmon Leaping
We had to keep looking at the waterfalls for a while when we spotted the salmon leaping up against the waterfall. It was incredible to watch salmon trying again and again to jump high to cross the waterfall. If someone told you "Dont Give Up", here is an example. We started capturing a shot for a while and didn't succeed. Having a Zoom camera helps a lot to get the shot and you need quick actions shots.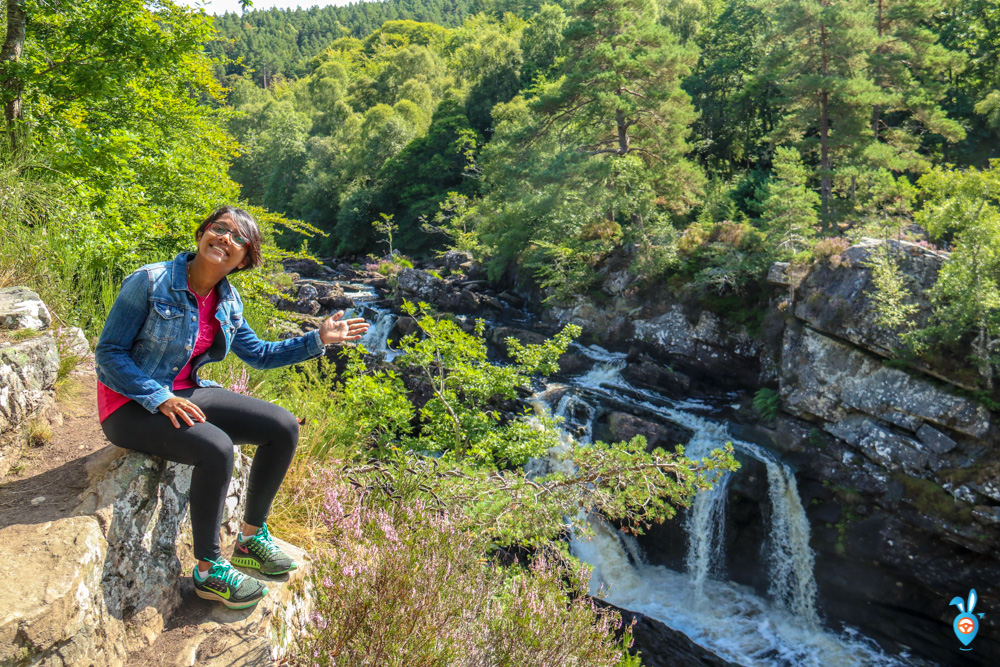 Salmon Leaping Footage from Rogie Falls

When my friends tried to snap their wildlife photography techniques, I took the clever approach of filming a long video. My battery had been killing me so bad that it actually paid off in the end when I captured one. I kept shooting one minute videos and erasing them until I actually caught a shot of salmon jumping and salmon succeeding. You should have seen me celebrating then 😉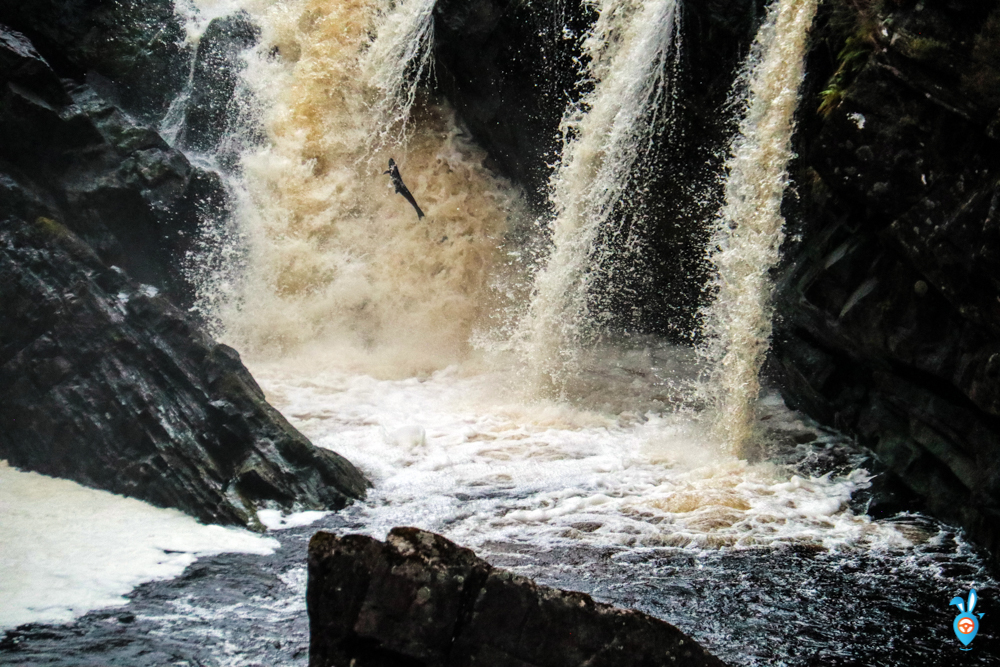 Final Thoughts on Watching Salmon Leaping in Scotland
Scotland is the perfect place to see salmon. You've seen salmon jumping in the rivers and streams of Scotland, but have you ever seen them leaping up waterfalls? If not, we encourage you to check out some of these best places. The experience is sure to be exhilarating for both children and adults alike!
Other Scotland Experiences Not To Miss