Husky sledding also called as dog mushing in the frozen wilderness is a unique winter adventure which can be experienced only in few places in the world majorly the Arctic countries like Iceland, Alaska, Norway, Sweden and Finland. There are many dog sledding tours organized by local dog sledding tours who will pick you up from a location and provide an experienced guide who will not only teach you how to ride a sled, but also shows you the unique relationship with the trained dogs. Before the days of snowmobiles, the huskies were the only available fast and easy way to transport goods over large distances and was the major form of communication during the world war I.
Norway is a great location to try Dog Sledding. I got a chance to visit Northern Norway during which I experience this adventure when I visited Tromso as part of a ten day Arctic Road Trip in winter with Arctic adventures in mind. I can easily say that Dog Sledding in Tromso Norway was one of the major highlights of the trip. We thoroughly enjoyed the drive to the dog sledding camp the country side, the ultimate husky ride experience in the snow wilderness and the camp site experience with Norwegian dishes to finish the day off.
*Disclaimer: This post contains affiliate links. If you click on them and make a purchase, I receive a small commission. There is no additional cost to you. I would appreciate the support.
Budget Friendly Dog Sledding Tours from Tromso
There are so many winter tour companies offering day trips to reindeer/ dog sledding adventures and snowmobiling in remote camp sites from Tromso. Almost all of them will pick you up from the city center. Make sure you check whether they provide the required clothing for the experience. We went with Lyngsford Adventure, a famous winter tours company that organizes dog sledding trips, who drove us to the beautiful Camp Site Tamok along a breath taking route.
Most of these winter tours are usually fully booked and we struggled to find a spot at the last moment and had to get help from our Airbnb host, so I recommend BOOKING IN ADVANCE. You could choose Get Your Guide Tours for getting a full refund if you can't make it. I have added a few links from Get Your Guide below that I think are the best value for money.
Dog Sledding Tour in Camp Tamok
Camp Tamok is an hour and a half southward drive from Tromso near to the Swedish border and also very close to Lyngen Alps, where we spent a day during our road trip on our way back from Sweden to Norway. The Lyngsford Adventures tour bus picked us up from the Tromso city centre early in morning and this scenic bus ride reminded me of my childhood journeys to visit my grand parents at the Wayanad hill station in Kerala. The scenery contrast was a stark contrast from the green rain forest view to white frozen snow view.
The scenic bus ride was spectacular and no matter how hard we tried to take pictures from the moving bus they didn't do it justice so we settled for just admiring the view as we went. This was one of the most beautiful bus rides I have ever taken. Our first encounter with Camp Tamok was the barking of the sled dogs (huskies) in small sheds in a snow filled forest. The camp is absolutely stunning consisting of amazing snow huts and a backdrop of Norwegian fjords.
Camp Tamok Experience
Upon arrival, we were greeted by welcoming staff and were taken to a changing room where the team explained about the activity and the gear they provide (they had a wide selection of sizes). All of us were kitted up in a snow suite, boots, gloves and the classic viking leather hats. Once we were fully equipped to go out in the snow, we were divided into groups and introduced to our sled guide who took us on a dog tour introducing us to the huskies that were going to take us forward in the snow. Our guide was a husky trainer from Poland who spends the winter in Norway. He is a winter adventure fan who loves country skiing and dog sledding. My friends and I and formed our own team and I got to ride with the guide.
READ: Ultimate Guide to Chasing Northern Lights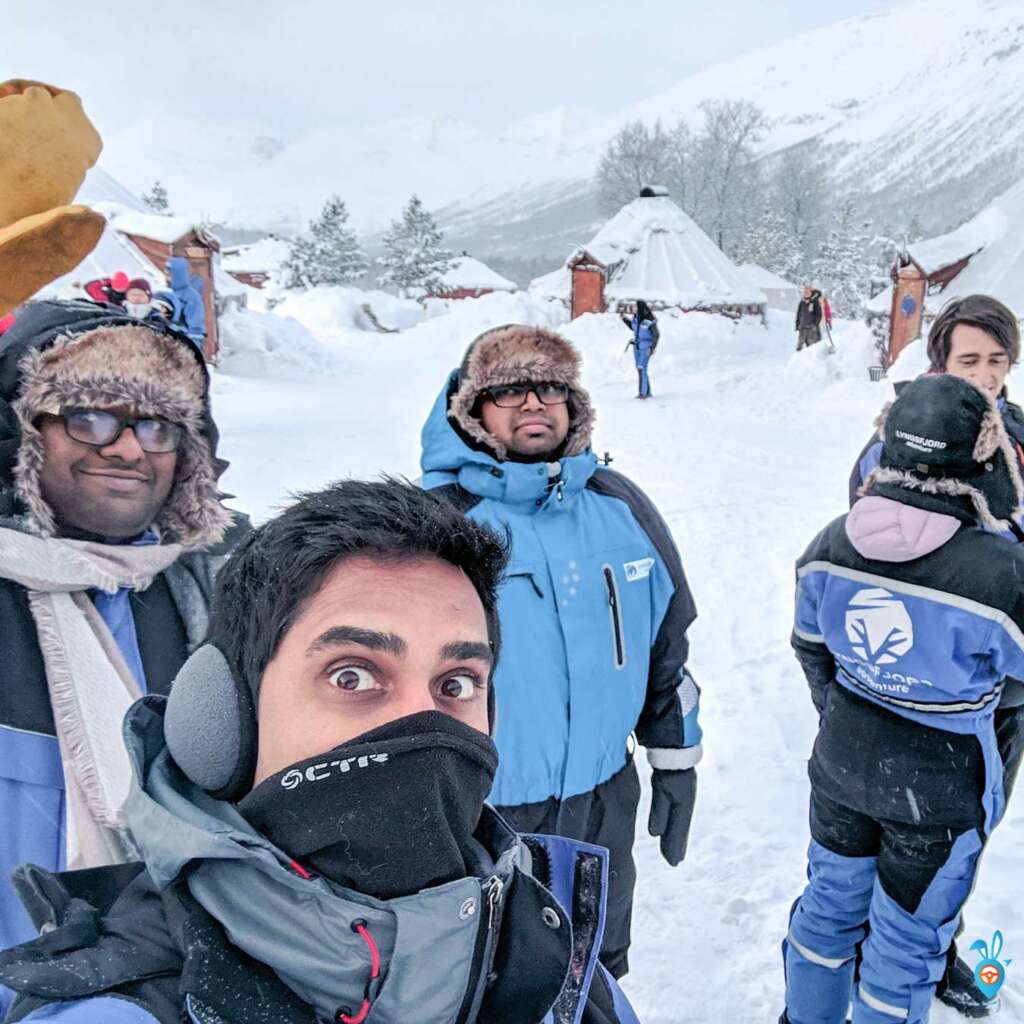 Dog Sledding Adventure: Preparation and Logistics
The sledding is done in pairs with one person sitting and the other one controlling the movements. The driver is responsible for activating the snow break on the sledge, essentially an anchor that you could stand on, to maintain the correct speed and give the dogs a helping hand on steep inclines.
Once we were all comfortable, we began our sledding journey through the trails in the snow forest in the Norwegian fjords. With no prior experience around huskies or skiing, I decided to sit back and be sledded 🙁 I know so lame, but my friends loved it so don't be like me. Go for it!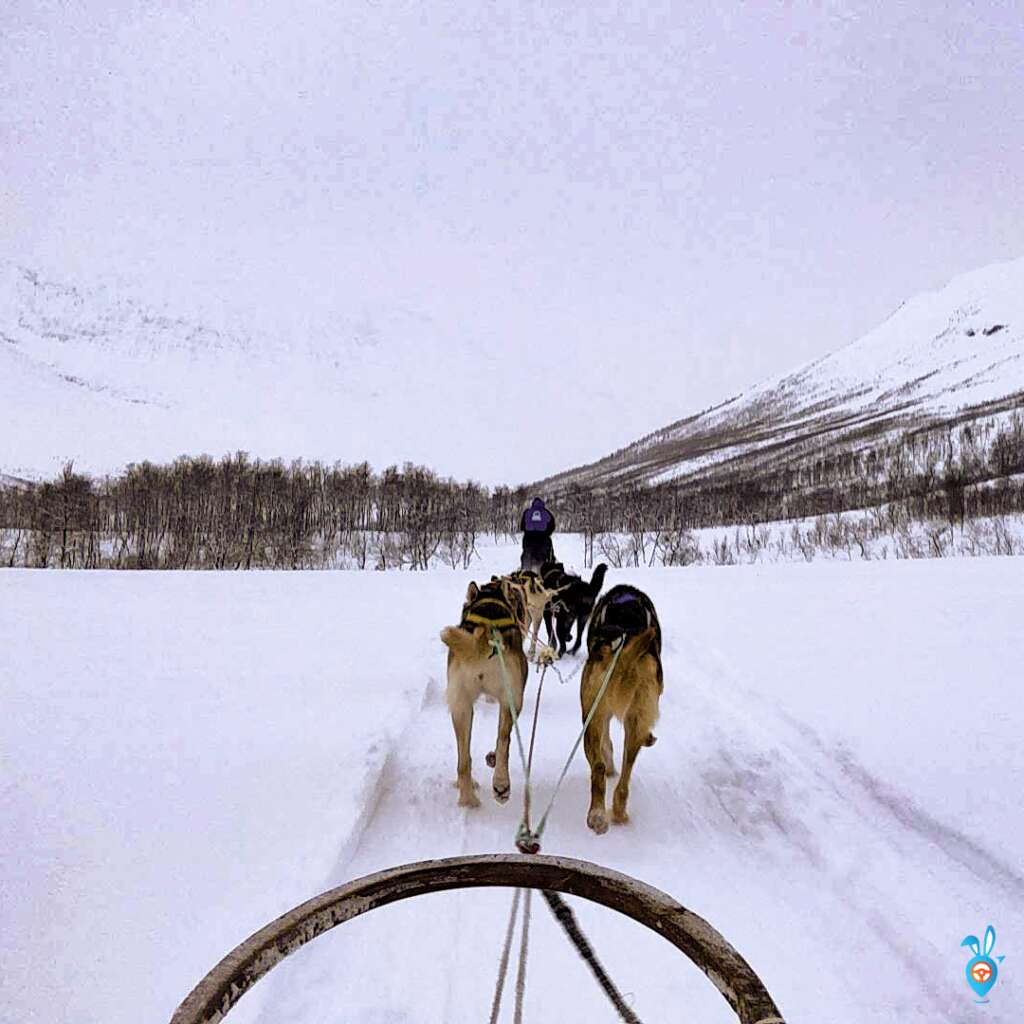 We started off the 12 km trail with plenty of stops at first while we got use to it however once everyone got a hang of things learning the basic techniques, , we started moving ahead fast and it felt thrilling just like being a roller coaster. Sometimes when we encountered a narrow section steering presented more of a challenge, however overall the pace was good and made for a very enjoyable ride.
After a while we got to the open snow field with majestic mountains all around us making for a splendid view. Folks also go on a dog sledding northern lights tour in the evening to try chasing northern lights and I could imagine how that would have been a rewarding experience.
Break time during the dog sledding adventure
We were out for 1.5 hours sledding but we did stop for a quarter of an hour break in the middle of the mountains. Here you can switch the roles as driver and sitter as well as the opportunity to chat with the guide as well as getting to to know the dogs better.
Is Dog Sledding Cruel?
I know what you are thinking, is it easy for the dogs to carry you? You can see they do struggle a little bit on steep uphill stretches, but they are well trained for this and the number of dogs chosen is based upon the weight they have to carry. All of us enjoyed spending some time with the huskies, and learning their names which I have now forgetton. Kishore on the left particularly enjoyed playing with the dogs. And of course we clicked lot of pictures as usual.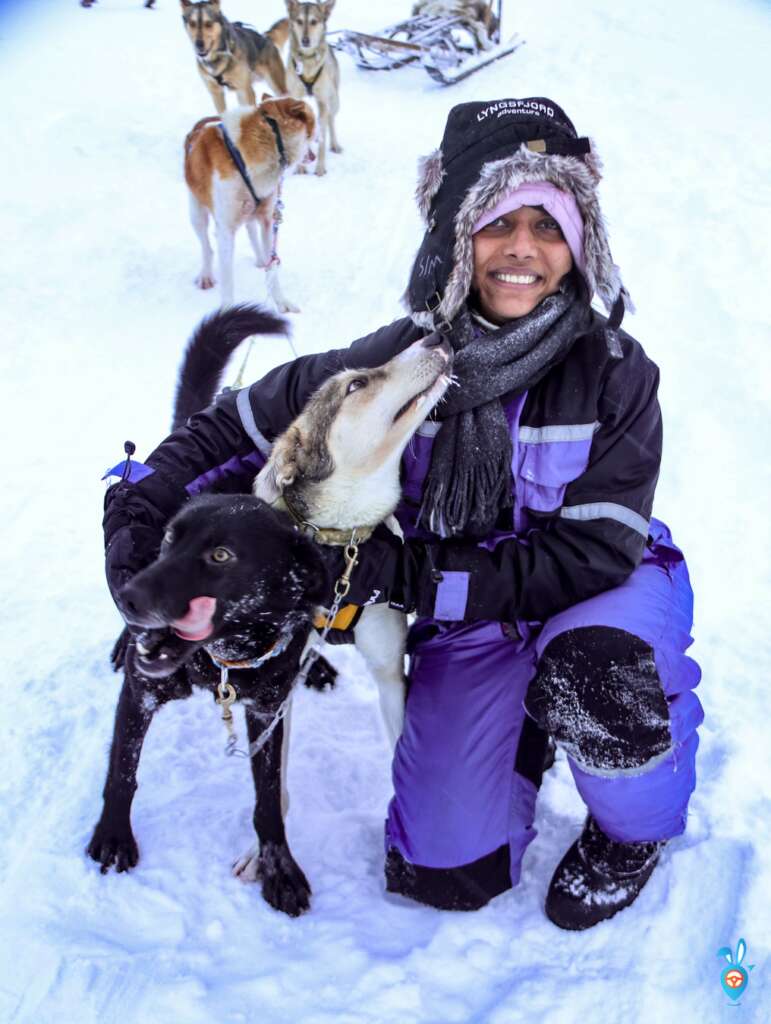 This was the first time I actually decided to be close to a dog, as I'd had a bad childhood experience being chased by a dog and I am still scared of them. I really loved seeing the energy and excitement of these huskies and tried to hug them, with a little hidden fear of course. I guess the padded winter suit helped elevate my confidence :).
Camping Experience at the Camp Tamok
After the 1.5-hour dog sledding adventure we were back at the camp which was beautifully lit up welcoming us for a hot drink in one of the Lavvos (tent like structures).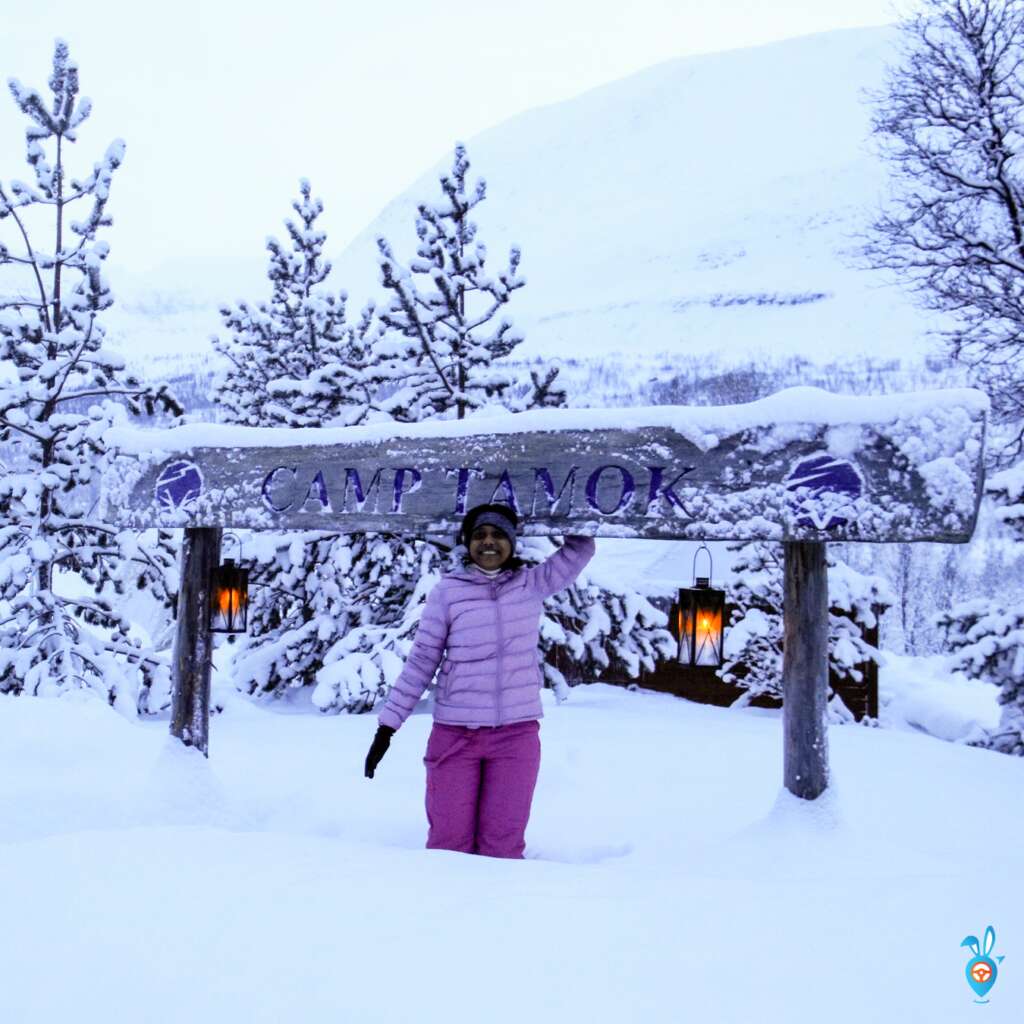 The Lavvo entrance reminded me of the Vikings and their boats from outside. This camp tent was very intriguing and a traditional Norwegian experience was waiting for us inside.
Inside was a complete contrast to the outside, with an amazing campfire and seating making this cosy experience just perfect after our freezing adventure. We were all seated on chairs with reindeer skin and were served some reindeer soup. The soup was unlimited and my friends manged 8 or so rounds as they had worked up quite an appetite sledding. What is even better? Gluten free bread was available for Marc who often has to skip these delicious food items, now you know who had the 8 rounds. At the same time, poor Kishore, being a vegan, found this experience a bit daunting with the animal skin and soup. So if you are sensitive to this you may want to skip this part. I personally found this heart and body warming and it was perfect moment to think a bit about the Vikings history.
Want to book dog sledding in Tromso Norway?
Here are some top options from Get Your Guide, which is a great safe booking option as they fully refund you if you don't make it.
What to Wear/Carry during Arctic Adventures?
Warm woolen underwear or thermals – Merino wools
Cap or bands to keep your ears warm
Fleece
Circle Neck Scarf
Winter boots
Ski pants- if you have not tried these before, skiing pants make your arctic adventure much more comfortable
Action Camera
Water bottle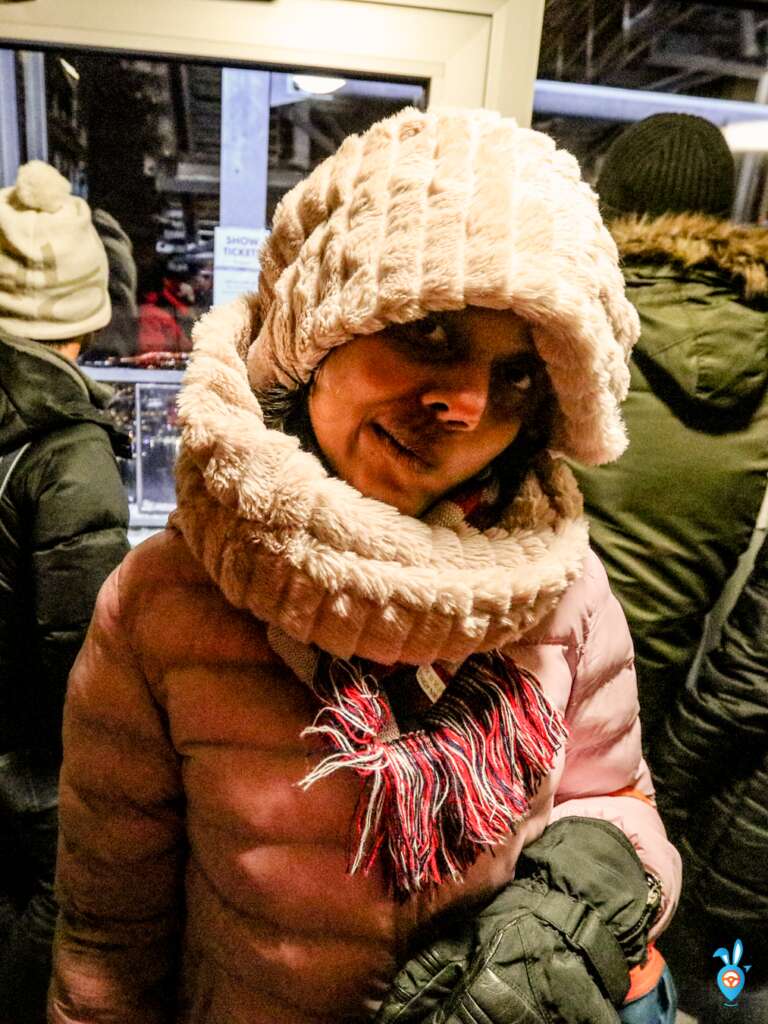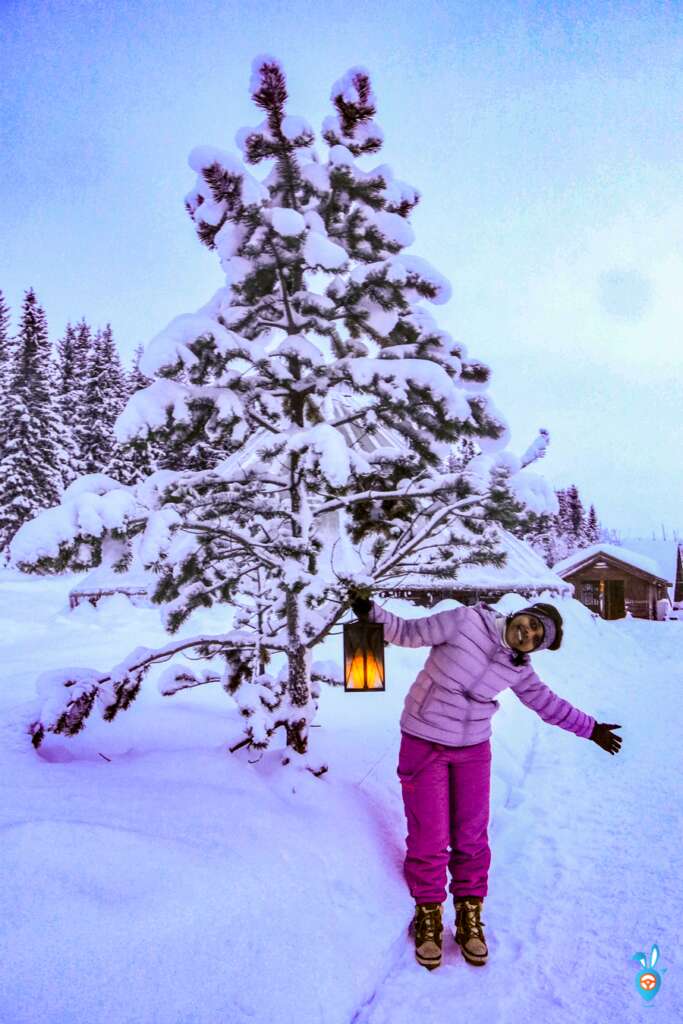 My circular faux fur scarf from Accessorize was a life saver for me during my trip to the Arctic. It helped a lot with keeping my head, neck and face warm when needed and I found it just perfect. I lent the scarf to another friend when she visited Tromso and she thought the scarf was a life saver too. I fully recommend it as it is one of my most important winter possessions, suiting any cold environment which I later tested out in Toronto Canada during winter as well.
Final Thoughts on the Dog Sledding Experience in Tromso Norway
I thought dog sledding was a very memorable adventure and fully worth the money we paid for it. It was a perfect Arctic day to remember, getting to experience the huskies and to sled in the ultimate cold weather. The whole team in Campo Tamok made this dog sledding experience very welcoming, comfortable and enjoyable.
It was such a fantastic memory, I bought myself a husky soft toy to act as my virtual guard dog, complete with a motion sensor attached to him.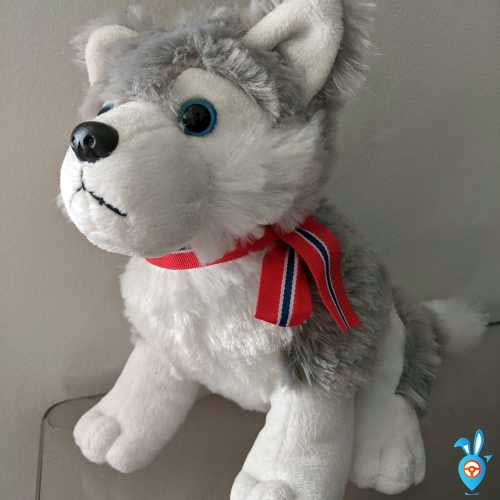 Other Things to do in Tromso in Winter
This dog sledding adventure was done as part of my road trip to Arctic for ten days, including three days in Tromso in winter.
We mostly spent our nights Aurora chasing and exploring Tromso during the day time as we were on a road trip and rented car. If you don't have a car I would advise going on an Aurora chase tour to try and maximise your chances. Also I think it is well worth taking the Funicular for a top view of Tromso and going for a whale watching experience as I mention in my guide.
READ: 3 Days in Tromso in Winter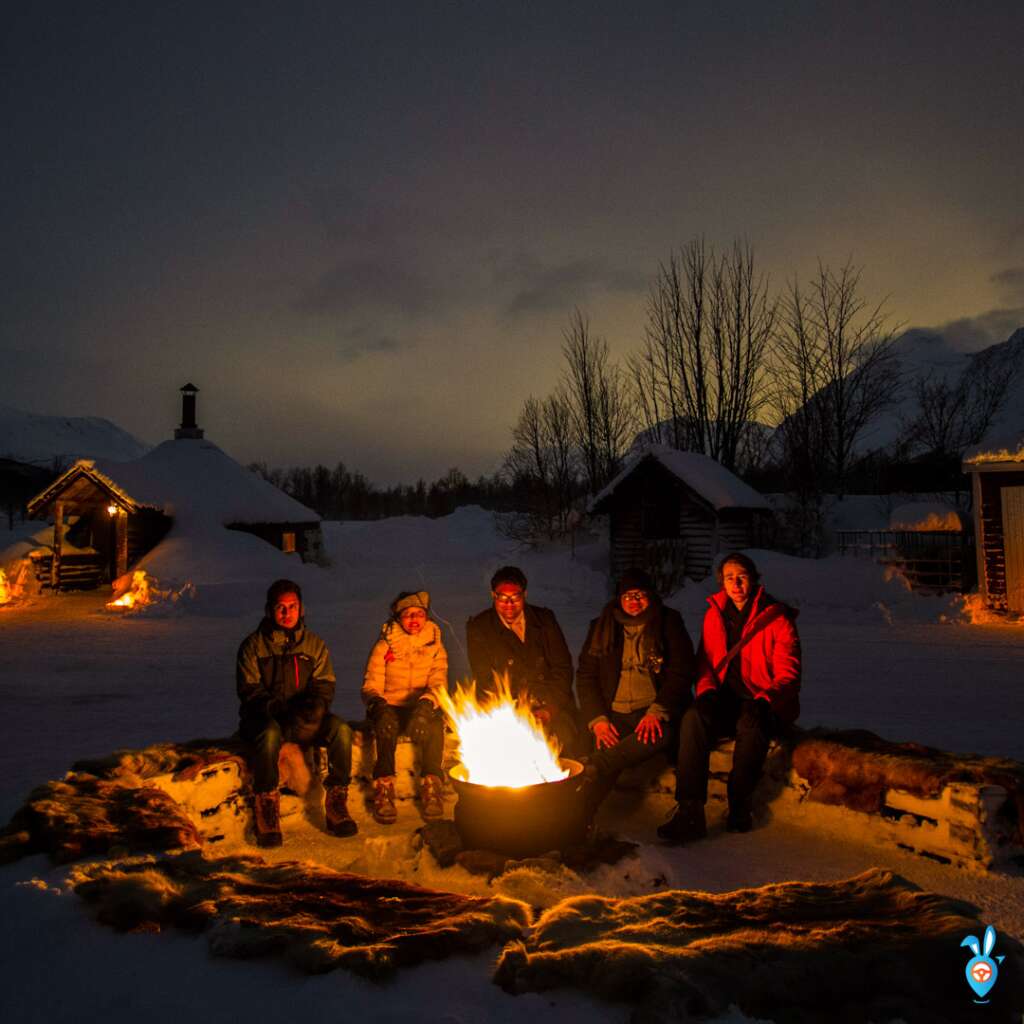 Pin This Post for Planning Your Dog Sledding Adventure